G'day friends – Nate here.
Goodbye Spanish wells, hello EXUMAS !!
The day dawned beautifully as we set out from Spanish Wells on a rising tide scraping over the shallow entrance. After our usual strong coffees we set off early to make the most of the day as well as the wind which was predicted to die off in the afternoon.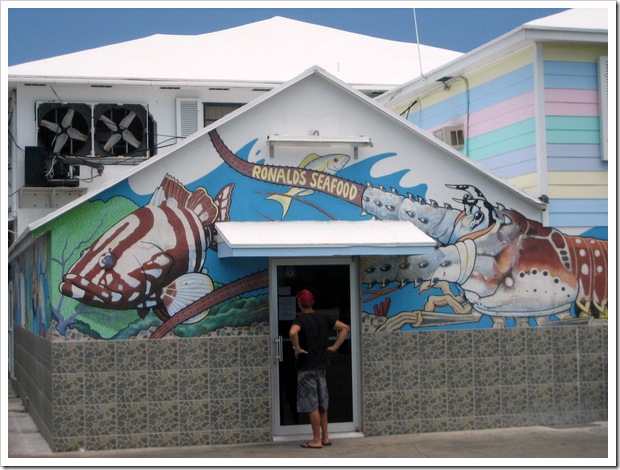 Spanish Wells Seafood shop
We were greeted by a nice 12 to 18 knot wind and calm flat seas.
Time for some nice sailing, a great 2 hour reach down to "Current Cut" – a narrow passage, no more than 10M wide. We dropped the sails and approached the narrow channel that cut the two long islands. The water was boiling like crazy and despite it being almost high tide we still got sucked through with a freaky 5 knots of current which we timed to be in our favour. (on a falling tide it would have been against us!!) – our boat speed over the ground was almost 10 knots!!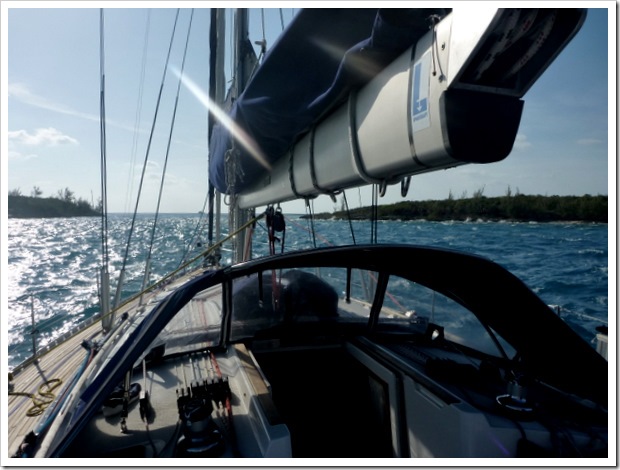 Approaching Current Cut – getting sucked through!
Once through, we all breathed a sigh of relief having come through unscathed. We hoisted sails again to set off towards our first destination – HIGHBORNE CAY on the northern tip of the EXUMAS. More fun sailing as we had a downwind run for an hour or so with a goose winged Genoa and a few jibes to get us into practice. (next time it will be a spinnaker!!)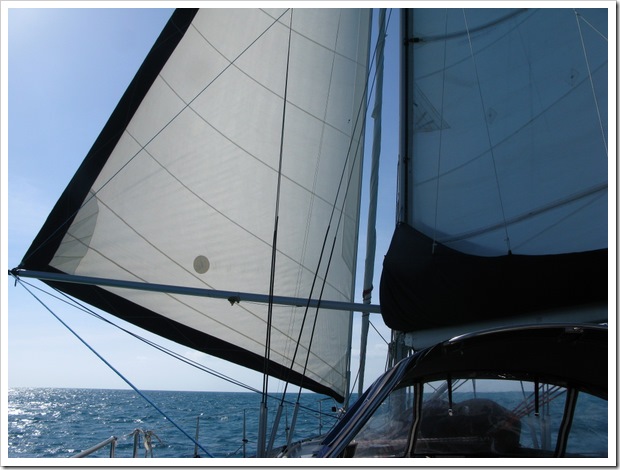 The charts said that there was an area with numerous shoals and rocky outcrops but this place was insane – it was like playing Galactica – yacht style with endless death traps coming at you from the horizon!!
Here we were in the middle of nowhere, no land to be seen and ahead we see shallow water and it stretches on for as far as we can see.

2.6-3.4 metres of water and patches of rocky reef like this one to starboard.
Righto then – drop the sails and get ready for three hours of very nervous navigation.
The water was so shallow and there were so many rock and coral shoals we had double watches on the bow with hasty instructions yelled back to captain Gav as we zig zagged our way through an amazing yet very treacherous stretch of water. We had planned to be there with the sun high in the sky and thank god for that – towards 4:00pm as the sun started setting it was already starting to get difficult to spot the obstacles.
It seemed to go on forever and there were some very tired boys after that stint of intense concentration but we made it through unscathed and proceeded onto our destination.
This was also the time that we caught our very first FISH . Woo hoo ! (as opposed to Wahoo!)
It was on – we hove to and reeled in a 70cm…. BARRACUDA…. damn!! We heard that they weren't the best eating so we let it go. It seems that "good from far but far from good" was going to develop into a bit of a pattern as our fishing journey continued but we'll leave that for a bit later.

We reached HIGHBORNE CAY in the late afternoon / evening dropped anchor alongside the usual array of vessels ranging from small yachts to Super sized monoliths and readied ourselves for tomorrows ACTIVITY DAY !!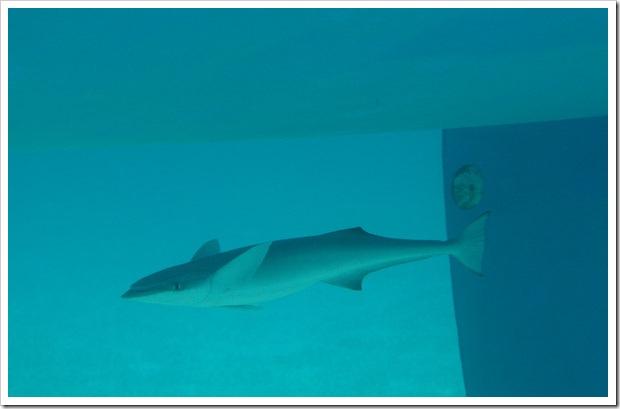 At anchor, we're visited by a school of strange looking shark-like fish.

Strike, our Activities coordinator showing us how it's done!
The next day was snorkel day and after our initial plan was thwarted by the current we did a great couple of hours of drift snorkeling with beautiful white sandy bottoms and some nice coral and colourful fish.

This is underwater – crystal clear!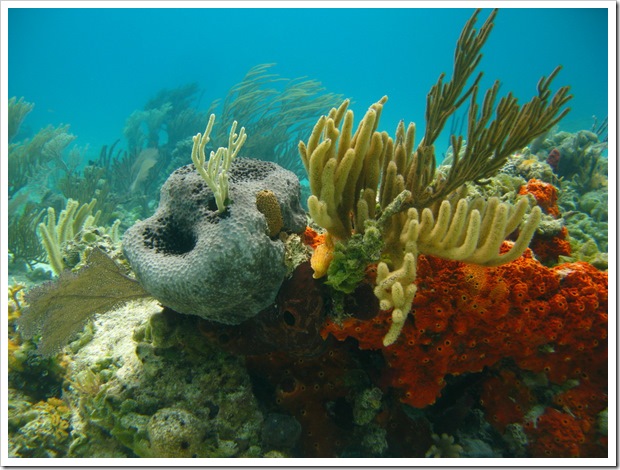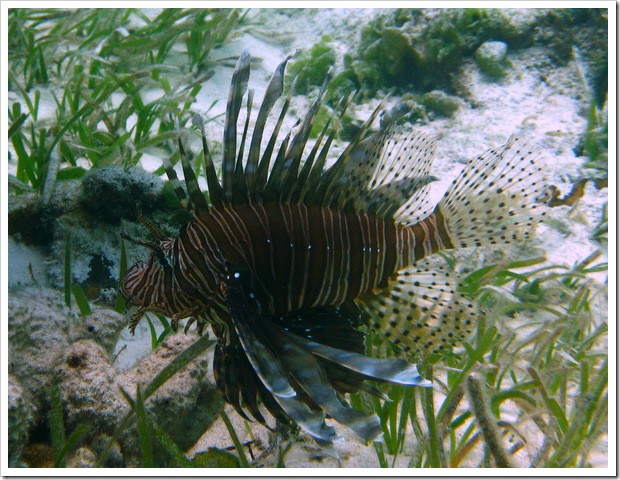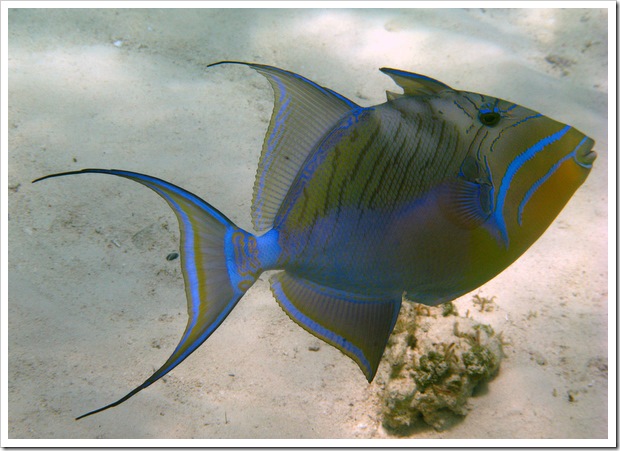 Then back for lunch and we went exploring the supposedly private (oops- denial works for us)Â  island with our usual game of fitness frisbee thrown in and some street signs Bahamian style to keep us entertained.

The EXUMAS really are a nature lovers paradise as when we got back to the small marina to go home we spotted some action at the end of the wharf.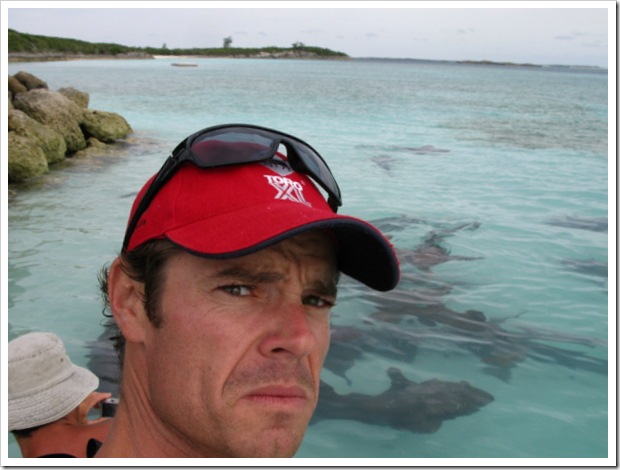 SHARKS !! and heaps of em.
Nothing dangerous – just Nurse Sharks but still a pretty impressive collection as the 2 to 3 metre sharks swam around gobbling up the fish guts from the fisherman cleaning his catch, all in knee deep water right next to the swimming beach!
Also plenty of rays, garfish, yellowtails and other varieties all joining in on the feast.
After getting back to the yacht we saw a little 30 footer sail in and said g'day to the Cody's.
Thats right folks Cody and Cody – Two young blokes from the States sailing to the Dominican Republic with not much more than a handheld compass and handheld GPS.
Nice one guys – the spirit of adventure and daring lives on.
We invited them over for some beers and cooked em dinner and generally had a good yarn .
They asked us what weather service we were using and then told us they were using a service called GREG .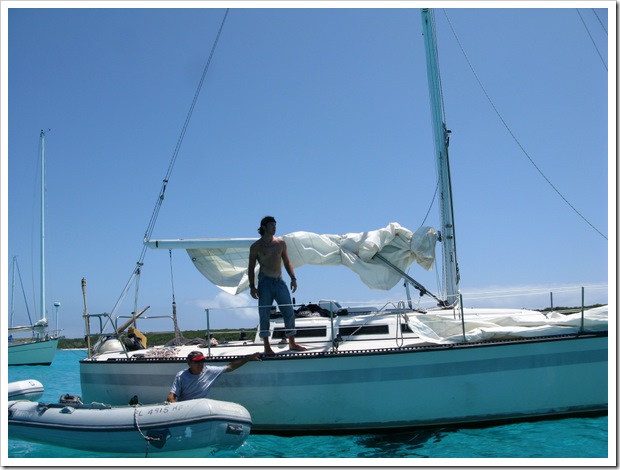 One of the Cody's and GREG the weather man in his dinghy.
Never heard of that one – turns out they've met a guy called Greg going to the same place and they're tagging along and getting the reports off him. Hilarious !!
The next day we hauled anchor and set off for another Cay further south called SHROUD CAY.
Another nice sail on a close reach with everyone having a go at captaining Squander.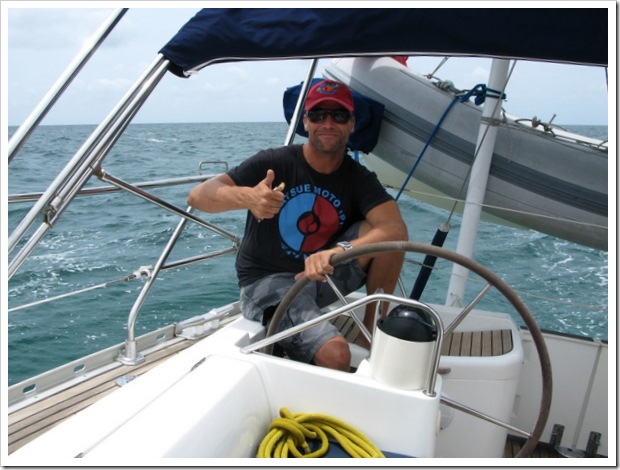 Captain Nathan in charge
We were visited by some Dolphins and caught another FISH – you guessed it – another bloody BARRACUDA !! What the ??
After days of not even a bite we get two bloody 'Cudas in two days – no Tuna, no Mahi Mahi just another bloody Barracuda.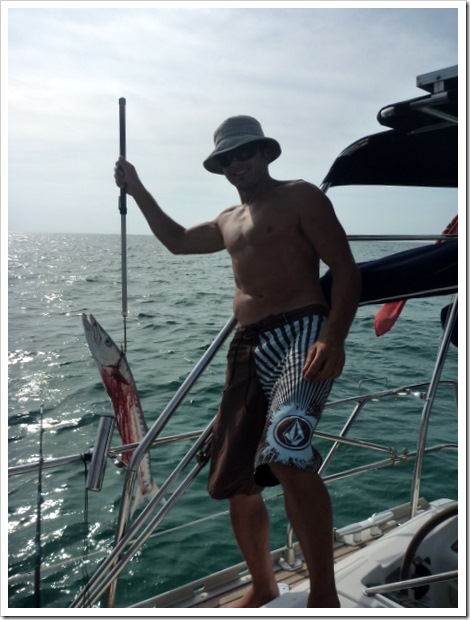 Action gaffs the 'cuda!
Now these fish are supposedly Ciguatoxic if eaten over a certain size. We volunteered Dmitrij to taste it (just kiddding!!) seriously, after much deliberation we decided to keep this one as we were about to enter the EXUMA LAND AND SEA NATIONAL PARK where we weren't allowed to fish and this one was a fair bit smaller than the last one.

Biting the bullet – so to speak!
We've also unanimously decided to call Gav  – "Captain Gavin BARRACUDA Gorazdowski'" after this latest exploit along with another we wont mention on this family blog – HA HA !!
That's right folks Gav is now referred to by the tag "BARRA" !!

Moored at Shroud Cay – part of the Exumas Land & Sea Park
After picking up a mooring at the beautiful and very isolated SHROUD CAY (no civilization to be seen apart from the moorings) we were contemplating what to eat when who should we see – our friends from Spanish Wells – Paul and Carol from Colorado who were just behind us in our passage.

Paul & Carol on Odysseus – a beautiful Valiant 42
Hi guys !! Good to see you again.!!
The trip from Highborne was short – only a few hours and we were there by 1 in the afternoon and so we had plenty of time to explore.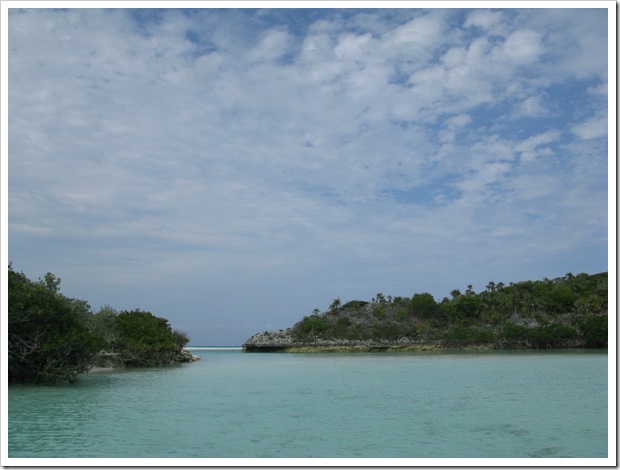 Dimitri wanted to go kite surfing and so Action, Strike and Barra went zooming off across the bay to see an amazing tidal system that cuts the cay in half . (by the way a Cay as far as we can tell is an island, usually small and covered with lots of white sand)
It was lined with mangroves and really shallow and so we had a tricky time negotiating the dinghy with engine tilted but it was worth it when we hit the ocean at the other side.
This place was cool as and to make matters even better on the way home we saw a massive manta ray which was pretty elusive but Gav still managed to get a great shot or two.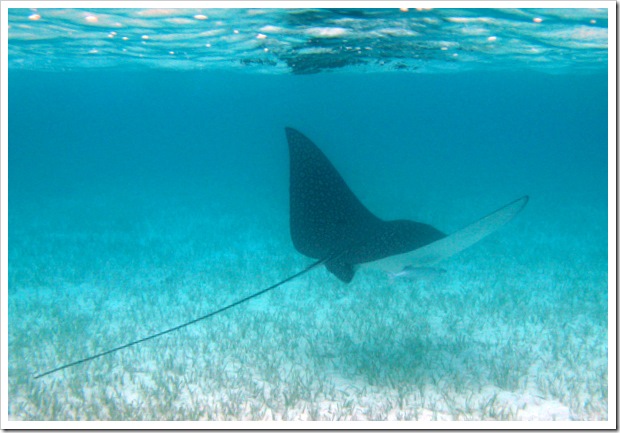 Huge spotted ray (about 3-4 metres from head to tail) – see the fish under it's right wing – it was about 2-3 feet long.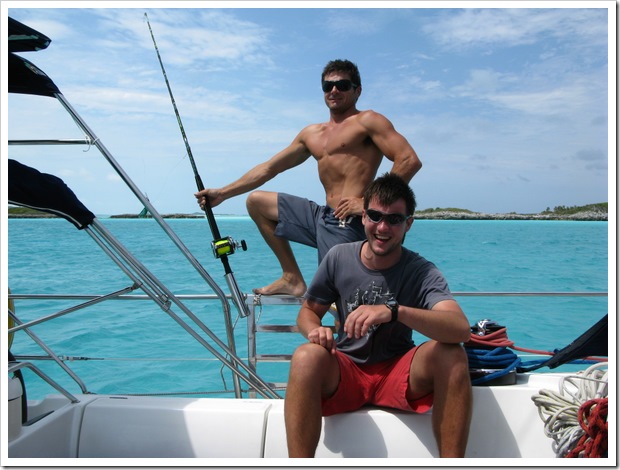 Simon trying to show Dimitrij how to look natural in  a photo!??!
Now when I say contemplating what to eat – the fact of the matter is we've been eating like kings for the entire trip. All the boys have been adding their recipes ( except for a certain Russian who cant cook but makes a mean mashed potato) and the Squander menu has been everything from Asian curries, Lasagne, Honey Soy Chicken, Pork Loin and other delicious meals with Capt Barra leading the charge .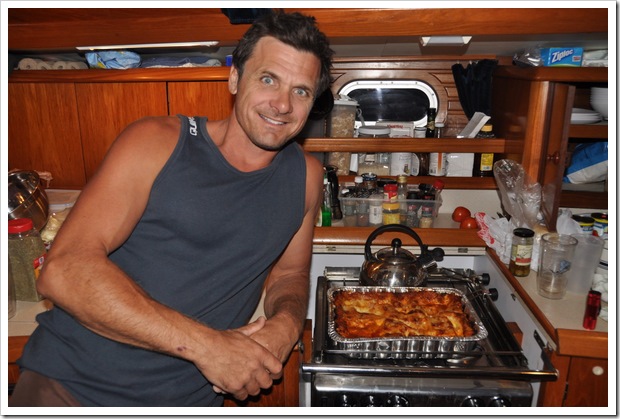 Action and his home made Lasagna.
It certainly has paid off to be so well stocked particularly when we haven't been to a marina in a while.
AND SO – faced with the prospect of potentially paralyzing ourselves with a Ciguatoxic Barracuda curry you can understand the boys being a little apprehensive. Especially when there's prime steak still in the fridge.

Does curry kill all toxins?? maybe throw in a few extra veggies for good luck!
Perhaps that was why we decided to turn up the music really loud and crack the rum.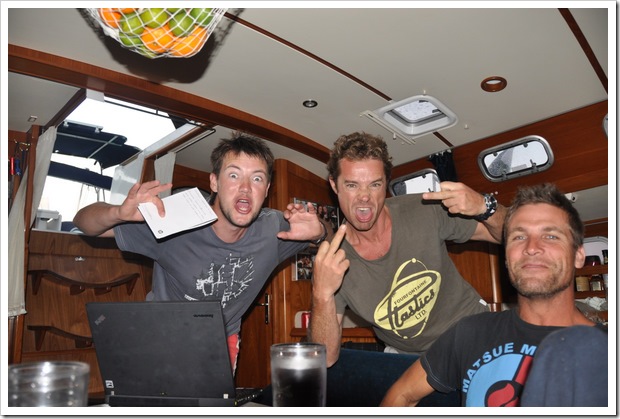 Perhaps that's why we got so plastered before the meal was even cooked.
Perhaps that's why we forgot we had invited Paul and Carol over.
Perhaps that's why two blokes upon hearing said loud music swam over from a neighbouring super yacht and then swam straight back.
Perhaps that's why Simon and Nathan attempted handstands & arm wrestles in the cock pit and sent mugs of Rum flying.
Perhaps thats why we werent paralyzed within 6 hours of eating the BARRA CURRY – we killed it off with Rum !!
One thing's for certain – when you leave 4 blokes unattended with a boat full of alcohol of various varieties and a potentially dangerous gastronomic experience miles away from any civilization – all hell breaks loose.
Another thing's certain – we all woke up with serious hangovers the next day and we had to set sail and of course the wind had changed.
Not the ideal situation – a beat upwind – with a serious hangover.
Well we had no one to blame but ourselves and maybe that damn Barracuda !! (not Gavin – the fish)
Onwards to STANIEL CAY – the bastion of civilization in the Exumas and a long hungover day of tacks and beating into the wind.
We have a scale of 1 – 10 on the feeling shite scale – 1 being the worst and 10 being the best.
Dimitri didnt drink much so he was at least a nine.
I was a shady 5 or 6 at the start but then Gavs amazing wrap of leftover tuna pasta, ham, salami, salad, cashews, cheese and philadelphia  perked me right up to an 8.
Gav was a solid 7 to 10 and poor old Simon ACTION Fraumeni was a piss poor 4 the whole trip !!

HA HA – then he had the nerve to accuse me of spiking the nips in his drinks – SOFT !!
We were all a bit soft that day and as it was nearing sunset and a Saturday night we motored the last hour past the salubriously named Harvey Cay and finally into the anchorage of Big Majors at Staniel Cay.

Anchored at Big Majors – Squander on the far right

Nearby Fowl Cay
It was Saturday night and somehow we had miraculously healed ourselves of our hangovers and after a hasty shower and dinner with plenty of mash and corn we headed into town with fun in mind.
OK so which one is town ??
It was well past dark and a very long slow dinghy ride and a lot of guess work but after mistaking a super yacht for a pub we pulled into the one and only place with any signs of life.
THE STANIEL CAY YACHT CLUB


Taken the next day!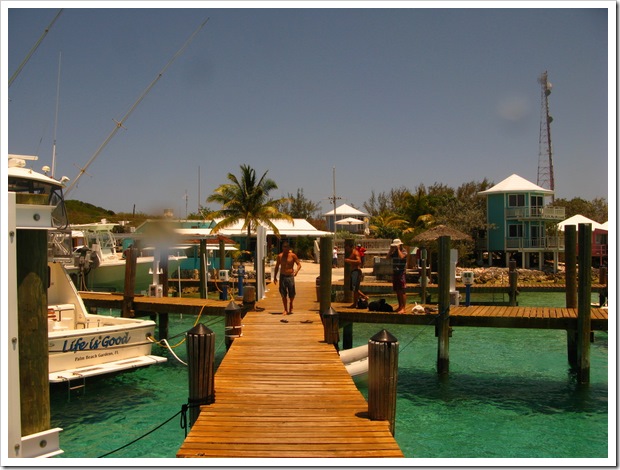 It was around nine on a Saturday night and there were perhaps thirty people there and the crowd was dwindling. We had fun though as we do and Dimitri was in overdrive. I don't know what he had that night but we all wanted some.
He was in fine form and after an eventful trip back in the dinghy where I was told by said Russian to SLOW DOWN, KEEP LEFT , and to USE YOUR   @#?KING BRAIN NATHAN – we all arrived safely home ready for the next day's ACTIVITY DAY !!

Gearing up for Activity Day in Staniel Cay
What a day of activity it was – the best so far !!
First thing we did was go to an adjacent beach where we saw – get this -  SWIMMING PIGS, and some of the girls weren't that pretty either!
It was the funniest thing ever. We weren't sure whether they were aggressive or not but it turned out they run up or swim up to you because they think you have food. They even swim after you in your dinghy it was hilarious.

Best looking 'Babe' we've seen in a while.
On the way back after a little more exploring we bumped into the Codys again.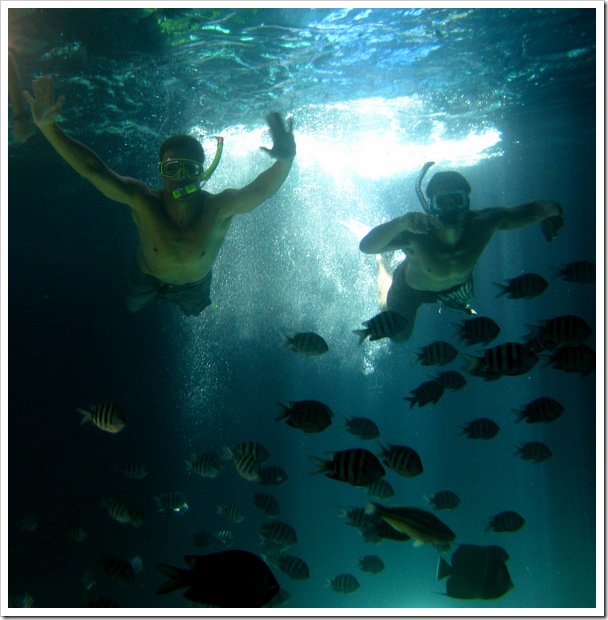 Nath & Simon making friends
After that we went to Thunderball Grotto and I think we all all agreed it was one of our most amazing snorkeling experiences ever.

Capt'n Barra – laughing at the size of the shark behind the photographer!

Gav going deep whilst Simon does the underwater running man

This is the same grotto that was featured in the James Bond movie of said name. You literally swim under what looks to be a normal cliff into this magnificent grotto.

The entrance that we all swam through

After a short 8-10 metre underwater cave dive Dimitrij pops up inside the grotto.
At first it was a little sketchy because the current was strong and we weren't sure if we were at the right place but seriously this place was AWESOME !!
We hung in there for ages exploring all the little passageways and meeting the very friendly fish !!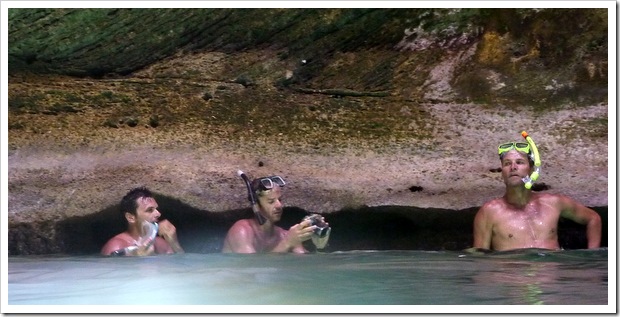 Whose fins belong to what mask?
Whereas James Bond no doubt had a gorgeous bond girl with him we were just 3 Aussie Dudes and a Russian but hey the fish were very pretty !!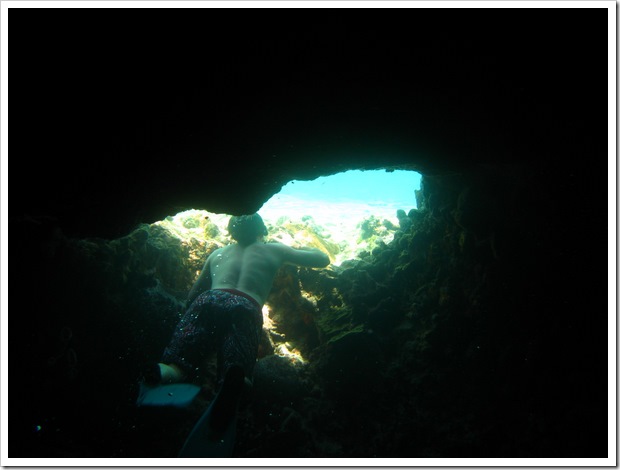 Dmitrij negotiating the narrow exit point – not for the faint hearted.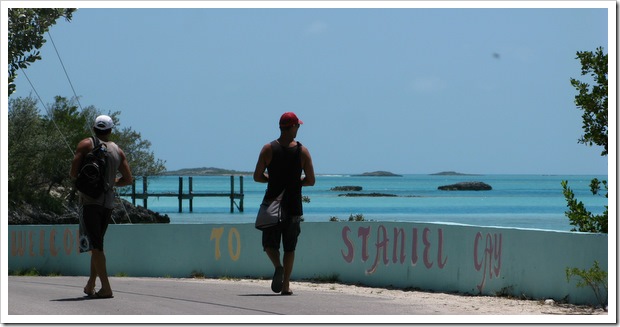 With our spirits up we headed into town to explore and after quickly realising there was not much to see we settled into a long lunch of conch bits , burgers and beers.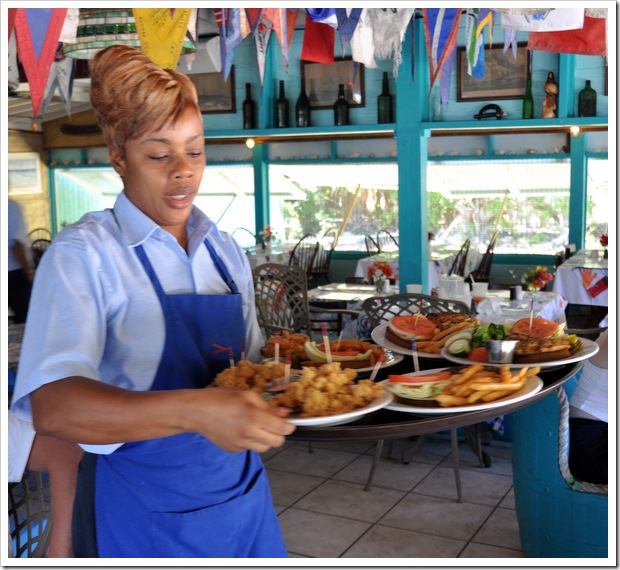 In the evening, inspired by the abundance of pigs on the surrounding beaches, we tucked into a solid serving of Capt Barras marinated pork loin for dinner.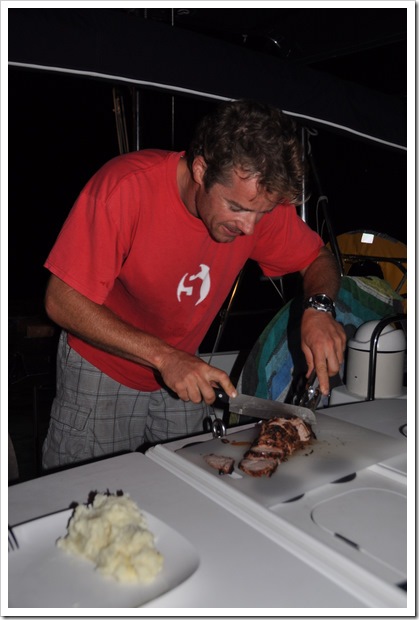 Check out that Mash – nice work Dmitrij!
Thanks Pappa G (Gav's Dad) for the recipe! All this was followed  by a game of cards – 500 is our game of choice – won by the good guys – Gav and I that is !!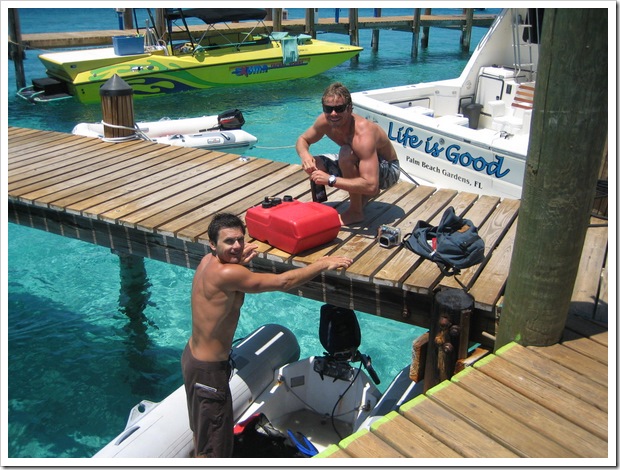 Life is good!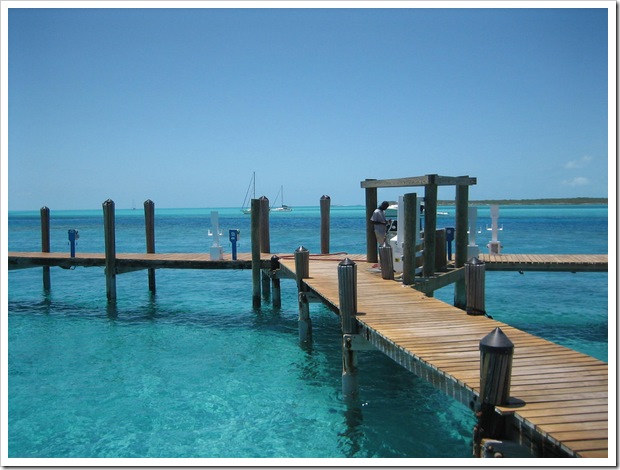 This is a fuel wharf – beats going down to the local BP!
The next day was maintenance day with plenty to be done including fixing a leaky water maker , an alternator problem that turned out to be an isolator problem WTF ?? Shopping for fresh groceries and a few Bosuns chair rides up the mast, it's now dinner time !!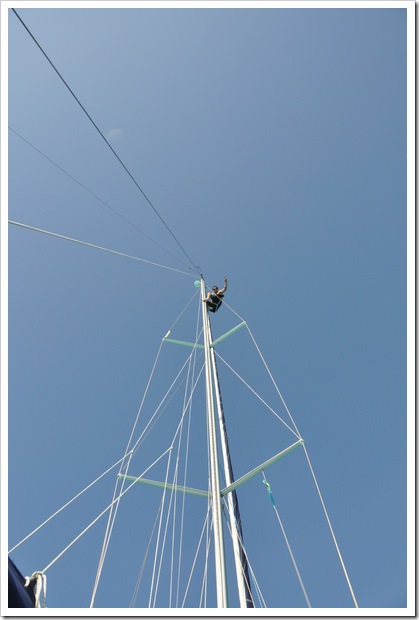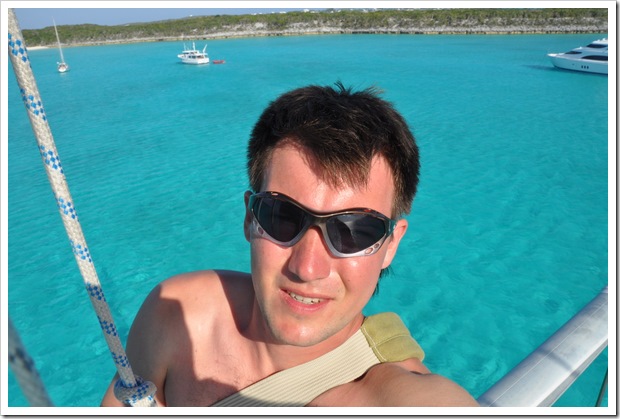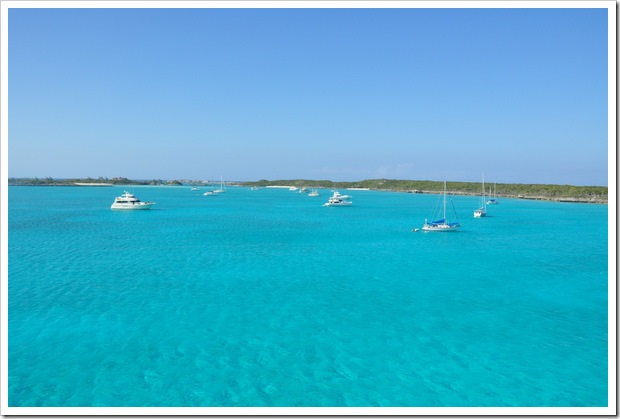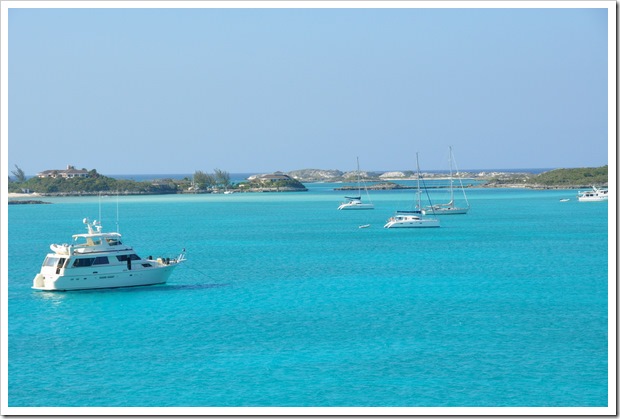 We end on another great 500 scorecard – taken out by Nath & Gavin!!
Squander signing out – we're off to celebrate Gavin's 36th birthday at Paradise island!!!