10 June 2010 – three of us (Dmitrij, Simon & Gavin) arrived in the Azores, landing in the small island of Faial in the port of Horta. We have so far crossed approximately three quarters of the Atlantic from Florida to the Azores, via the Bahamas and Bermuda.
Crossing the Northern Atlantic was always going to be a challenge –  the unpredictable and ever changing weather patterns, the bitterly cold temperatures that keep you awake on watch at 3:00 am , the occasional 12 hours of driving rain and blustery winds and at other times dead calm and sunny. We had winds from every direction, ranging from 3 to 40 knots – we sailed up wind, dead downwind & everything in between – we had many things 'not go to plan' and just as many things that worked perfectly and made our lives infinitely easier & more enjoyable – in short so far it's been a true adventure, rewarding, challenging, at times taxing on body & mind alike… & occasionally frustrating – yet overall exactly what we came looking for and I'm sure we've all gotten a lot out of having completed this leg of it!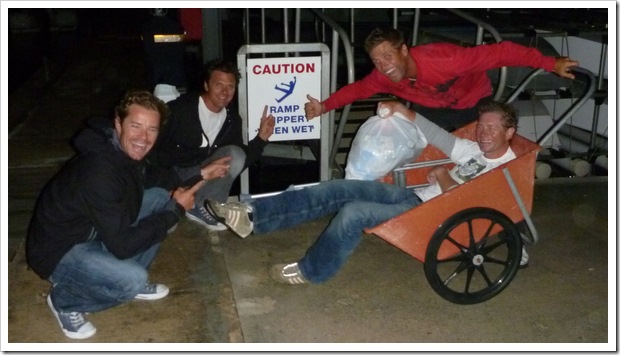 To our old mate Todd, who was meant to be here with us, but for a mishap in Bermuda involving walking of a pier whilst texting his girlfriend, we wish you a speedy recovery and hope the knee operation went well!!
For a change, we have decided to document the trip using video and as such the rest of this blog is dedicated to a more 'technical' sailing oriented download of the experience which may or may not interest you – where as for pure entertainment value we recommend the video below…. enjoy (and you may need to be patient as it takes a while to download the 85MB – youtube version coming soon!
Many years ago, when I was 18 or 19 I was strolling through Balmain markets in Sydney. An old hippie who had seen me pull up in my Green VW Kombi, invited me over to his stall and recommended that I buy a book from him – it was called "Divine Right's trip" – it became my favourite book – this was in the days when i was reading a lot of Jack Kerouak, Hunter S Thompson and so on – anyway – Divine Right (the lead character) bought an old VW bus called "Urge" from a family who had loved and cared for Urge. Divine proceeded to go on an adventure with his girlfriend, a bunch of hitchhikers and whole heap of pot. The book kicks off with Urge (the VW bus) speaking "… I hadn't gone five hundred miles with that son of a bitch before I'd have given my fuel pump to be back in that parking lot. That bastard drove me from Boston to Chicago to St Luis to Cincinnati without once checking my oil…" and it goes on…
I hadn't thought about that  book for a long time but for some reason the adventure with "Squander" has reminded me of it – I wonder what Squander would say about us given the opportunity??!! 🙂 I'd like to think we're not quite as bad as old Divine Right, but we've made a few rookie errors that I'm sure Squander is not used to and is wondering what the hell we're doing…
Atlantic crossing – What went right
– Three man crew. We were meant to do it with 4 of us initially, but due to Todd hurting himself and having to fly home early, we were left with 3. I made the decision that three people whom all knew each other and had over 6 weeks experience with the boat was a better crew then having a 4th crew member who didn't know us or the boat. It worked brilliantly. Nice work guys for stepping up to the challenge and making it such a smooth and relatively pain free passage.

Half way across the Atlantic approx 42W.
– Water. We have 400 litters in the main tank as well as a 100 liters in various containers as emergency water should the main tank get contaminated or something else should happen to it. With 3 of us onboard and 14 days at sea including a shower every 3 days or so we have only used 275 liters. (a little over half of our total) if pressed we could have lived on half of that again.
– Food – we've eaten like kings. we prepared about 5 meals which were ready to eat for rougher weather days or lazy ones… and have used fresh and frozen ingredients to cook daily. Fruit has been a bonus and after 2 weeks at sea it's great to chomp into a fresh orange or apple. Some surprises have been Lemons that have lasted 2 months, Lettuce and tomatoes that have lasted 2 weeks refrigerated – and old staple that just keep on delivering – pumpkin, potatoes, onions.
– Easy sail options have made us faster, safer, drier and more in control. We have a triple reefed main with a harken track that means we can reef in 5 minutes flat with only 2 of us on deck and can shake reefs out on our own. It's meant that we have sailed to the conditions 24/7 including running full main at night if the conditions allowed it, having the confidence that if need be we can reef it at a moment's notice.
We also have 2 self furling headsails – a big heavy Genoa and a decent, actually very good & versatile jib. The Jib has served us as a furled 'handkerchief' in heavy running conditions as well as being a great upwind sail. The Genoa has been polled out when running at night in heavy or very light conditions (spinnaker during the days) as well as being a great reaching sail.
The Spinnaker got a big workout this trip with it being our sail of choice for approximately 25% of the trip (including 36 hours nonstop in about 15-20 knots). We flew it in anything from 10-25knots and were guided more by the sea state then the wind strength per se. – it handled it well although the braces have almost worn through where they were attached to the pole.
– Dinghy storage on foredeck. We deflated our dinghy and stored it on the foredeck. it initially looked like being in the way and annoying. But we soon got used to it and I will definitely do that for any extended passages form now on. Aside from allowing us to see the sunsets behind us now that the dinghy is not blocking them, it's given me far more peace of mind in heavier weather. I left it on the davits when we were sailing from Florida to the Bahamas and had to constantly re-tighten the ropes in 35 knots as the lurching was causing them to stretch and slip… not fun and fairly nerve-racking.
– 3 hour, 1 man watches. These have worked brilliantly with 3 of us. (and would work well with any odd number of watch teams) It means that there is a rotation system and that every 3rd night you get a full night's sleep (or as much as 6 hours can be considered a full night).
If you need help with anything whilst on watch we have agreed to wake up the person that just came off watch to ensure anyone coming on watch is as rested as possible.
When all is going well you're 3 hours on 6 hours off – which gives plenty of time to rest, relax & enjoy.
What went wrong or didn't quite work as planned
– Generator water pump leaking again. Lesson learned check vital equipment prior to departing. (i tried fixing this issue in Fort Lauderdale and probably should have used the opportunity to replace the water pump) Luckily we made do by running the engine to charge batteries. I replaced all the house batteries recently with 7 brand new deep cycle 110AH. that combined with the trickle charge from the 3 solar panels meant we could get away with running the engine every 2 days or so (ie when we had calm days/nights). Overall we had enough power to run the autopilot and all other equipment 24/7.
– Freezer thermostat – that's what we thought went wrong when all of our food defrosted after day 3. It seems that we packed the freezer too tight and we had a bag of frozen something wrapped around the thermostat fooling it into believing that the freezer was cold… on second thoughts it may have actually been related to us running the batteries down to too low a voltage… either way it works fine and we managed to rescue most of the food.
– Inner forestay. The first 2-3 days we were doing a lot if up wind sailing in 20-25knots and fairly rough and confused seas. The inner forestay and staysail were being used overtime and it seems that 2 bolts that hold the furler down decided to abandon ship… we didn't notice it until Dimitry went up on the foredeck to take some footage of the rolling seas and spotted the fittings lying on deck – a closer inspection revealed there were more nuts loose and the inner forestay was millimeters from saying goodbye to the deck that it was attached to – lesson learnt – inspect & observe fittings, joints, connections etc daily… catching this one in time really saved us a  big headache and we've since avoided a bunch of other issues by inspecting and maintaining things – specifically shackles that seem to wor themselves loose despite us having cable ties on most of them.
– SSB Radio was meant to be our primary link to weather information – through voice communication with Herb the legendary "Atlantic weather" forecaster in Canada on 12,359.0 at 20:00 UTC daily and by using our Pactor modem to download weather faxes and Meatarea4 text weather forecasts and warnings. Initially we had trouble hearing or transmitting… some basic trouble shooting identified the interference as being the fridge compressor, so by turning off the fridge whilst using the Radio we got near perfect reception, however it seems there may be a grounding issue with the radio (it needs a ridiculously large quantity of metal to ground it properly) and our ability to transmit may be limited to a 300-500 miles rather then the 2000-3000 required… but I'm not an expert and will need to find an expert to help me solve it.
We were lucky to have boats like Naroly, Circus, Laurel Blue in front of us and behind us and by listening in to the advice given to them we were able to deduct our own best approach. We also used our Iridium Sat phone daily to download regular GRIB file snippets using UGrib.
– PC went flying. That was my stupidity… leaving the laptop just sitting on the nav table in 30 knots and 3-4 metre seas is not the definition of clever. Here's a shout out to HP – it hit the floor hard as we got broadsided by a decent wave and the whole boat lurched… the wave managed to find its way down the hatch and land straight onto the laptop. Simon was up to the task and grabbed the laptop and immediately wiped it with a towel – happy to report that the hard drive had dislodged itself and it was easy to get to it and reconnect – touch wood all is operational and the laptop now has a safe new home when not in use.
– Windlass stopped working. The anchor locker fills up with sea water when we're in heavy seas and in particularly large waves the water reaches and I guess engulfs the Windlass. After the first storm had passed and I was doing routine inspections I decided to see if the anchor windlass was working – it seems not. Luckily it's not a piece of equipment we need out here nor will we need it in our first port – but it's still vital and something we need to fix – no idea what the problem is but I'm guessing Salt water has either corroded something or shorted it out.