Morocco is a colourful land of contrasts – be it the deep blue Atlantic ocean meeting the red dry desert, the proud Berber culture mixing with westernised ideals, the traditional Muslim people living their lives next door to Christians and less adhering Muslims, the extremely rich and the extremely poor, the list goes on… It seems that most cities perpetuate this contrast by having an old or often ancient side to the city as well as a new, more modern city.
MOROCCO – 17th to 30th October 2010

The 'metal works' area of fez
What is particularly striking is that many of the old cities retain not only the architecture, the primitive sewerage and water supply systems, the smells – good and bad, fashions, shops, markets, but also the way of life, the traditional trades, crafts and modes of transport, whereas 1 mile away the modern end of town works in banks, air-conditioned offices, drive the latest European and Japanese cars and shop in French & Italian designer stores.

No cars allowed in old fez – deliveries are by Donkey or hand pulled cart.
The old city in Fez, is my favorite by far in Morocco and I would recommend it to anyone who visits this part of the world to go and spend a few days absorbing this incredible place.
Simon and Michelle returned to Squander a few weeks ago after three days in Fez, with a multitude of stories, experiences, souvenirs and not to mention  Simon's ongoing reminder of the dodgy Moroccan lamb or was it the tagine that he ate… apparently Bali belly and Deli belly have nothing on the "Fez express" – 'cause that's what you need to make it to the bathroom in time..!


Simon admiring the Camping Gas bottles – we use these on Squander and have often spent days looking for a supplier, never knew they did home delivery!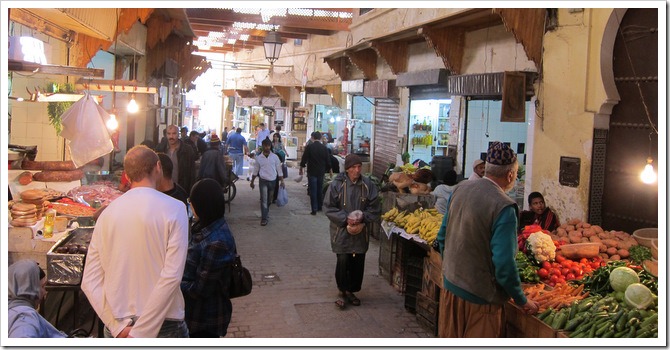 So with Squander's water & fuel tanks freshly filled, my latest BAS and tax returns almost finished and the recent memories of Fez still fresh in Simon & Michelle's minds, we set sail out of the capital of Morocco, leaving behind some newly made friends and a modern city in the making.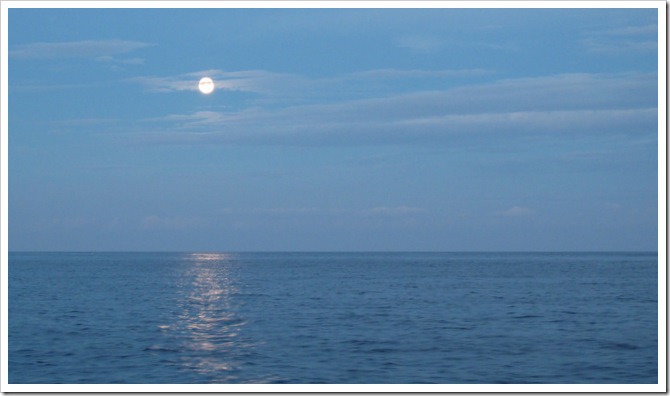 It was a full moon, and other then the lack of wind, conditions were perfect for the next 36 hours – with night watches being illuminated by a huge moon that came up before the sun set and set after the sun rose – incredible to see a spectacular sunrise to port and a full moon fairly high in the sky to Starboard whilst sailing along the North African coast.

Sunrise to Port (our left).
The other good thing about full moons is fishing…!! which is of course different to 'Catching' but fun nonetheless – our rods were going off all day long hooking all manner of fish, but despite over a dozen hook ups we only managed to land 4-5 Tuna and no Mahi Mahi despite hooking a fair few of them only to see them getaway before we had a chance to slow the boat down and reel them in.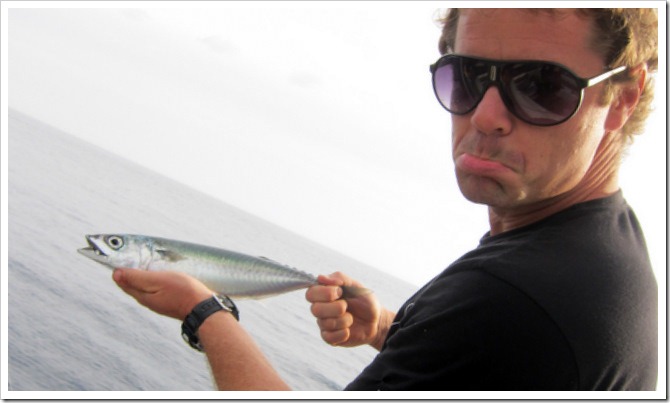 We sent this one back…!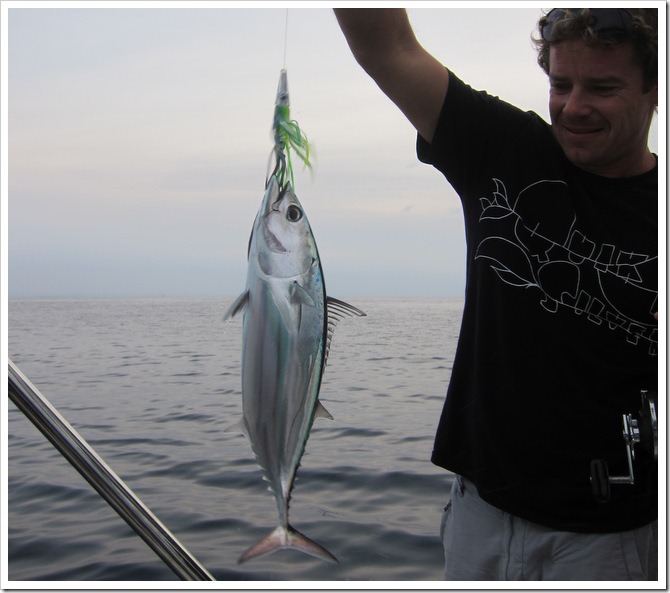 Ahhh… that's better!!

Michelle got in on the action and landed a great Tuna shortly after sunrise. We made good use of it that evening – a Sushi and Sashimi feast – kirko, if you're reading this we dedicated this one to you mate!!

We've been doing extensive research on Tuna preparation and have drawn inspiration and guidance from as far afield as Japan, New Zealand and California to learn to properly kill, bleed, set and prepare tuna for Sashimi.



Strips of tuna ready to be made into Sushi.

Sushi rice and seaweed sheets – check.

Short on ingredients… improvise – tuna olive sushi!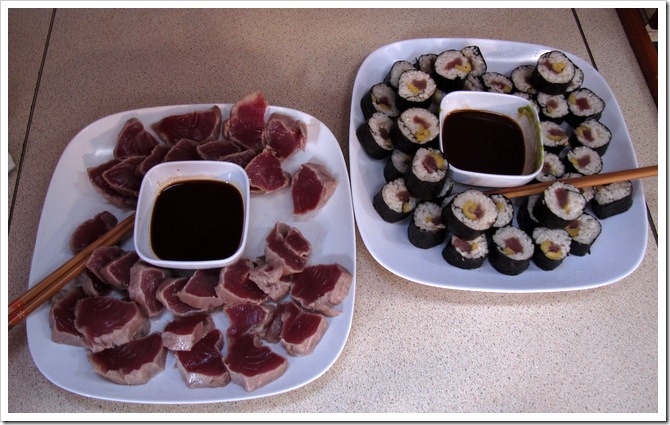 Et Voila!! Freshly caught, lime juice seared Sashimi and Tuna/Olive Sushi…. served at sunset!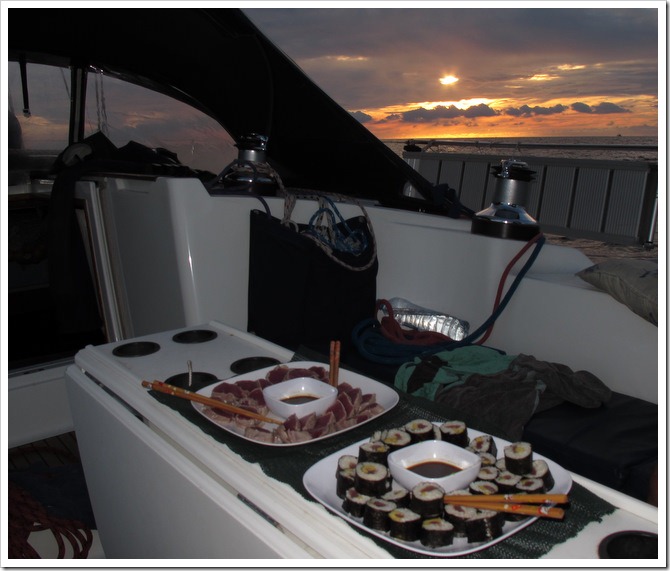 And what a sunset it was! definitely one of the most spectacular ones we have seen in a long time!   

This is my new desktop picture – you too can have it by downloading it exclusively here.
Sunset desktop background download Standard:
2000×1124 pixels
CLICK HERE TO DOWNLOAD
Sunset desktop with Windows 7 short cut reminders:
2000×1124 pixels
CLICK HERE TO DOWNLOAD with Windows 7 Shortcuts
===========================================
It seems that every passage, no matter how big or small is marked by something new happening. On our last night at sea this time around, we were motoring and managed to get an old fishing net tangled around our prop. It was midnight and I was alone on watch. Simon's cabin is right next to the engine and he instantly heard the drop in revs and the banging sound as a big clump of plastic netting weaved itself around our prop and drive shaft – he was standing on deck before I even had a chance to slow Squander down… we fairly quickly ascertained that I hadn't run over a working net and that whatever it was, the only way to get it off was to go overboard with a knife and torch…
Simon was still feeling crook from his dodgy camel burger in Fez, and so I volunteered to jump in – there was a bit of wind and some lumpy swell around – definitely a new experience – diving under a 10 tonne boat as it lurches up and down whilst moving at 2 knots through the water, holding on to a rope in one hand, razor sharp knife in the other and a torch half in mouth, half out – it was a professional operation – NOT!   it took a while, and wasn't something I would want to do again in a hurry, but it was worth it as we managed to get going again within half an hour and it earned me a Hot shower at sea – yeaaaaah!!!
As a new day  & Michelle's final day at sea awoke, the wind started picking up and the fish started getting bigger… the fishing lines were buzzing every hour or so but  today the fish were going to win the day… the elusive Mahi Mahi kept on getting away, however this did not deter us from going after them nonetheless. In the end, not only did  a big one get away, but it got away with one of our fishing rods… it was the skipper's fault from beginning to end, who set the fishing line out for one last try, forgot to put on the safety line on the rod and managed to put it in the rod holder that wasn't done up tight enough…. nice one GAV!!!

One of the last known photos of the fishing rod  lost at sea– we miss you!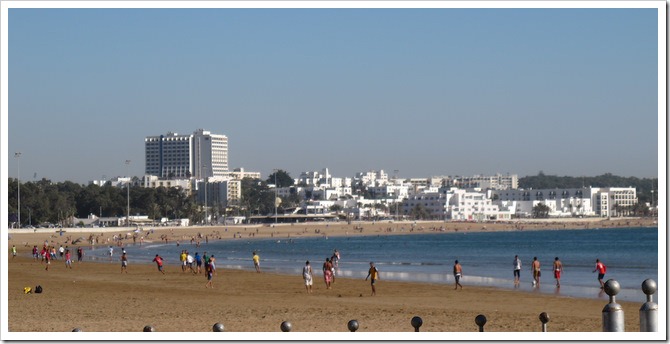 By mid afternoon we were back in the land of contrasts – this time in Agadir… a kind of Moroccan Los Angeles where instead of a film industry there's a large fishing fleet. Agadir was completely destroyed by an earthquake in the 1960's and as such is a very modern city by Moroccan standards. A sprawling, seaside city of lo-rise buildings, industry and 30,000+ beds aimed at European tourists.
Arriving at the Marina – friendly, yet thorough, officials are housed in this building.
We saw a couple of boats anchored outside off the beach, but at 120 Euro per week, we opted for the modern facilities of the Agadir Marina. It is right next to beach that stretches for a good 10 kms or so and it wasn't long before we introduced our newest crew member, Andy Patrick from Queensland, to beach frizbee – the squander game of choice.
… and of course our other favourite pass time soon followed.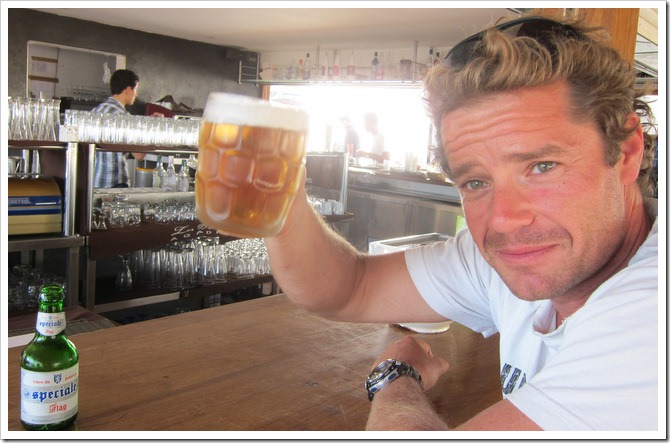 And as evening fell, the mountain behind the marina lit up in full glory, the streets came to life and for team Squander it was time to have one last night out with Michelle who was leaving us to continue her epic journey… I will let Simon take over from here. Simon's Squander's entertainer and comedian – keeping us all laughing aboard for hours on end – take it away Seeeemon!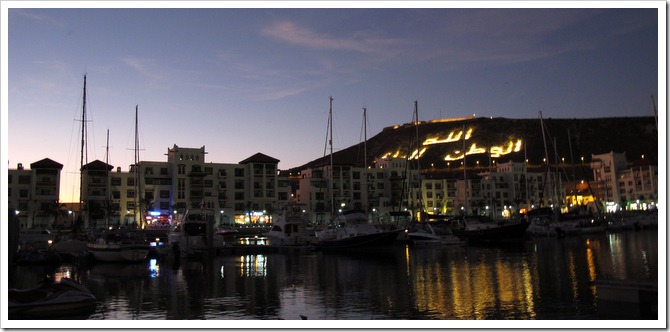 Thanks Gavino. Well as Gav just said, we all decided to go out for one last night with Michelle. The night didn't start off that well as the taxi we flagged refused to take the four of us in one cab forcing us to get another cab then both of them charging us double the normal fare so we ended up paying quadruple what we should have! Being that the total amount came to a little over $2.75 we decided to let it slide.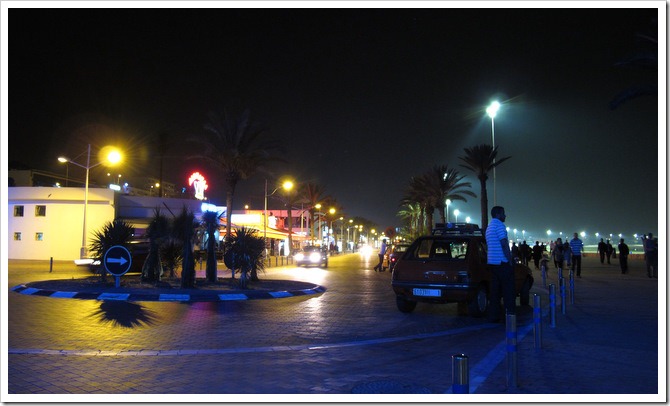 After a word or two to the shifty taxi driver we went to find a decent place for dinner then afterwards, at Michelle's request, to the local English pub to watch her perform Karaoke.
She'd been hounding us to go for weeks and we'd all managed to side step it but being it was 'her night' we indulged her and we have to give credit when credit's due, she was really good. Her rendition of Alicia Keys' 'Falling' left many a Moroccan man in awe. Well done Michelle. Hope all is well in Amsterdam.

And then there were three. With it now an all Aussie guy crew with no exotic females to encourage us to watch our p's and q's, we stopped sucking in our guts, exhaled and went on a bit of an exploration of down town Agadir. We ended up at the local souk (market). Now I had only just met Andy and wasn't sure whether  he was going to be a 'stiff' or not, so I kept him under observation for the first few days. He opened his account with a big plus by announcing he has an appetite that rivals mine and suggested we start our market tour with him shouting us a little snack. Next thing Gav, Andy and I are all gnawing on a 'minced fish ball cooked in beef fat' sandwich. Awesome. Keep it up Andy – you haven't consolidated your spot yet but you're on your way.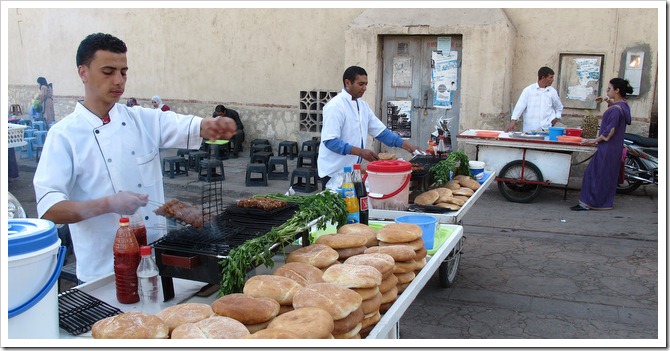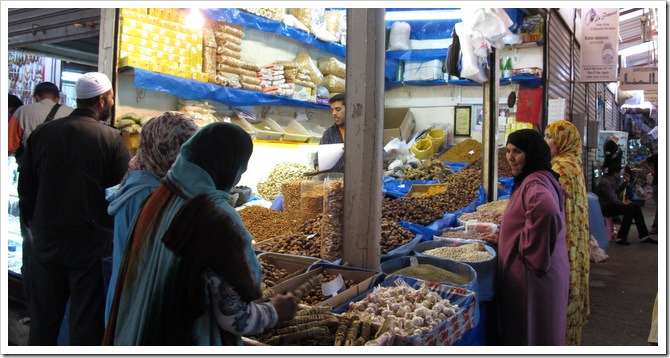 Once inside, the market resembled Flemington's Paddy's Market in Sydney only a little more old school and a few less birka-clad ladies around. All the expected stalls were there. Fruit and veg, nuts , meat and clothes. One of the highlights of the day was Captain Gav buying us a couple of kilos of the forbidden fruit – Bananas!. "Make sure these are eaten before we get back to the boat boys" was the order.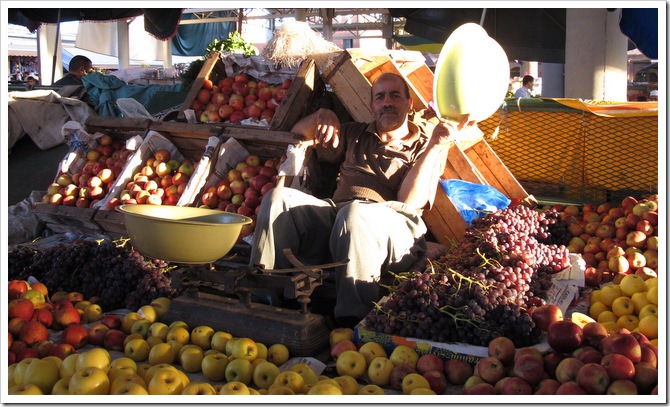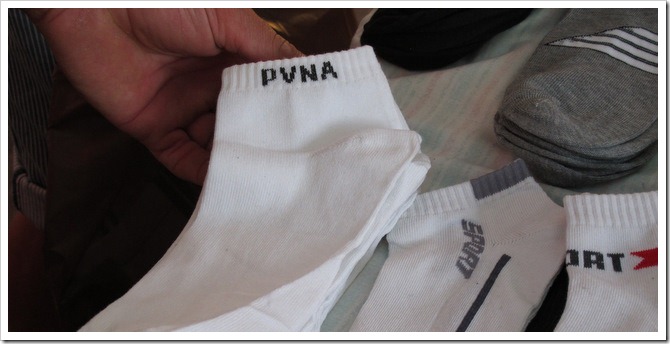 'Hey my friend, buy my socks they're 100% original'
We made our way through the wholesale mayhem picking up some good supplies for the trip to The Canaries. Gav managed to find a guy selling wooden products and went in to try haggling over a backgammon set. After 1/2 an hour of verbal fury he walked out of that stall with a snappy backgammon set and 400 of the 600 Dirham asking price in his pocket – Nice work Gav.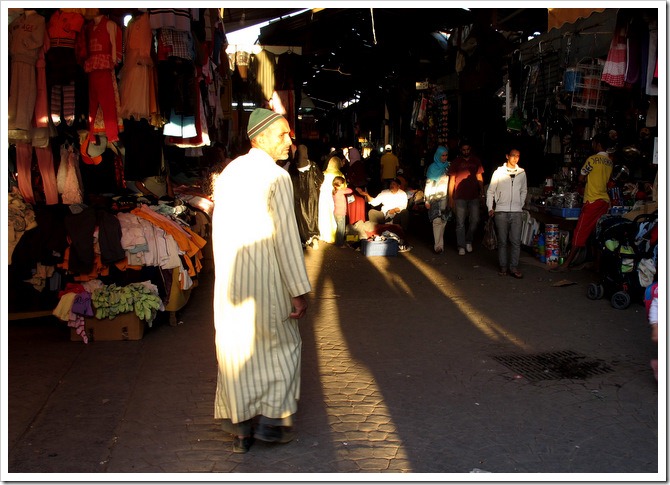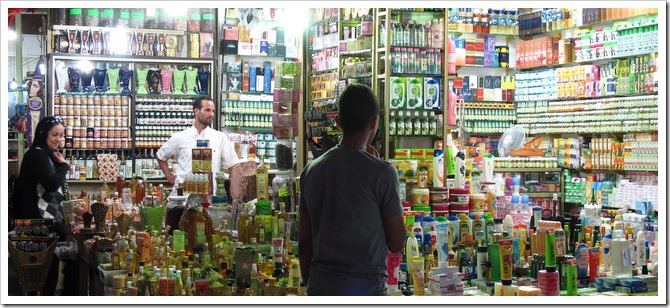 The magic potions made of the local of Argan oil
The local "Fatima's secret" lingerie stall was doing a bustling trade, with "Bras, birkas & things" across the road in close second.
The most intriguing thing about this photo is the "Inspector Clouseau meets Inidana Jones" guy on the left of the picture.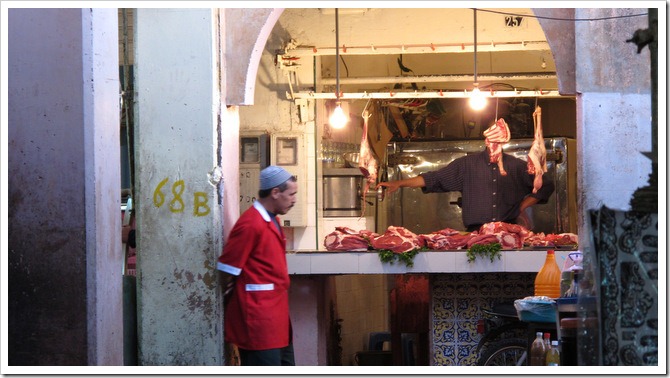 This guy behind the counter was a bit of a meat head.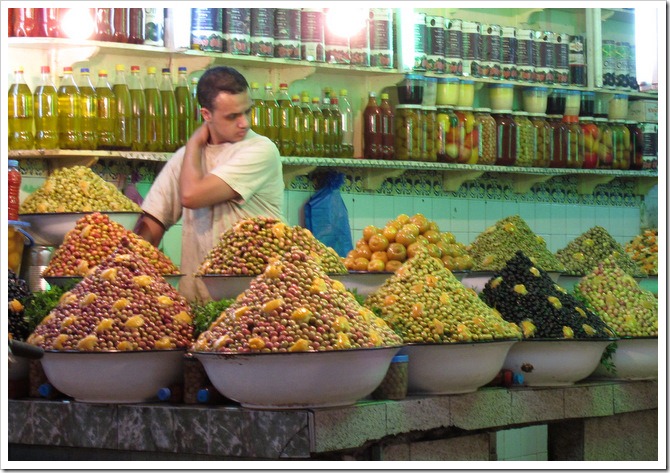 Farouk – North Africa's most famous olive artist.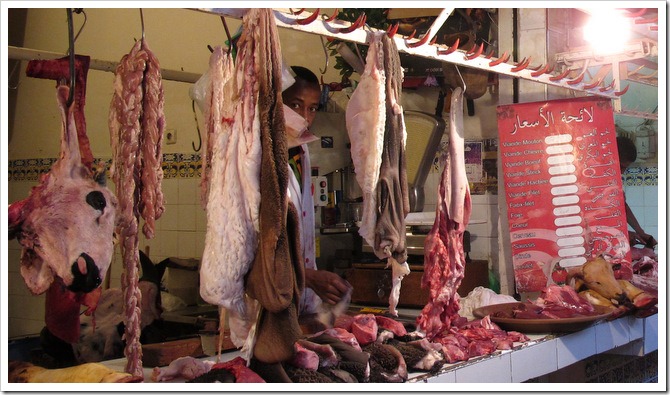 So much to choose from. In the end we couldn't make up our minds and just left it.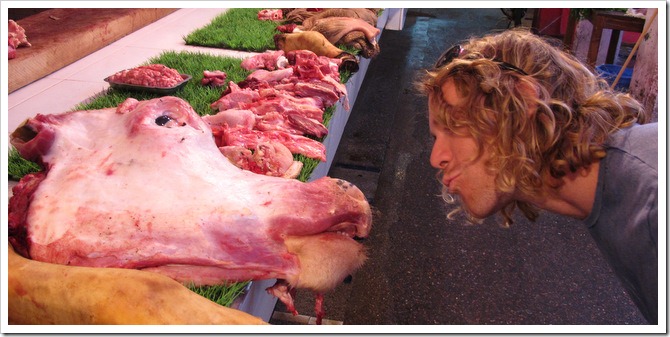 Andy & Bessie hit it off from word go.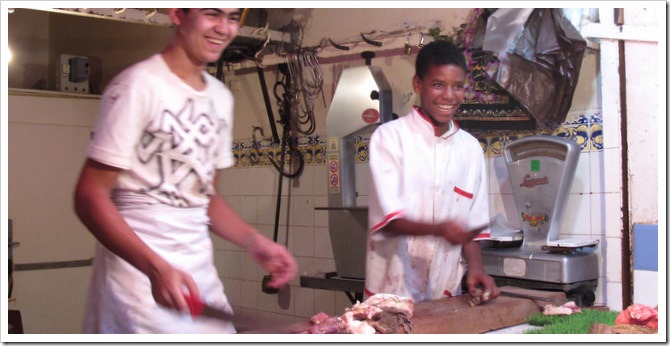 The Doogie Howsers of the Moroccan meat world, these young guns finished their apprenticeships at age 9.

I wonder if this truckie was an Albert Einstein fan who famously said "Life is like riding a bicycle, you have to keep moving to keep your balance."
After a quiet night we rose early the next day, hired a car (small car!) and headed north to check out the surf. 50 kms later we ended up at ……………. where we found a nice little 4 ft wave. It was great to finally hit a beach with waves after hanging around the surfless Mediterranean.   
Another bonus of having a car was that we got to check out a few cool little beach towns. One town in particular stood out, Taghazout. We stopped there for some lunch and to check out the local surf culture. We took a look around and stumbled upon a surf shop which was selling 'authentic' Billabong board shorts for a fraction of the price. We actually couldn't tell whether they were fake or not so needless to say we collectively walked out with 10 pairs – wardrobe sorted for the next few months.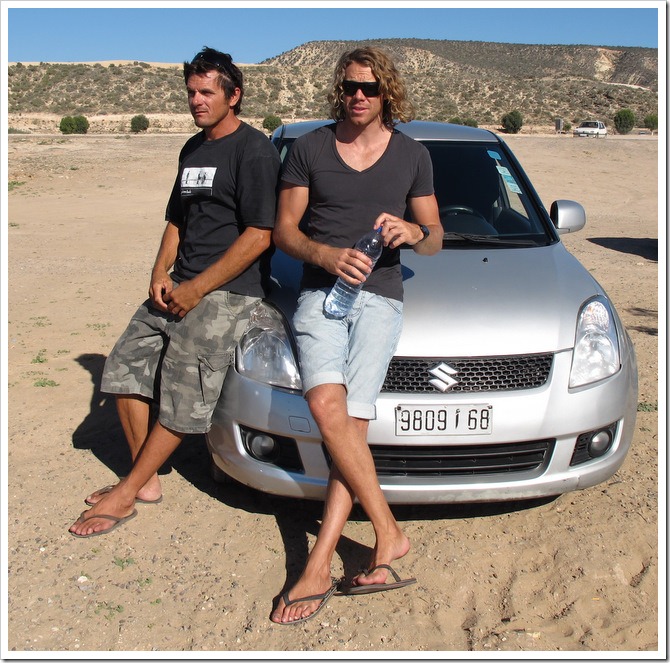 They say that car break ins are common in the beach carparks – not today boys!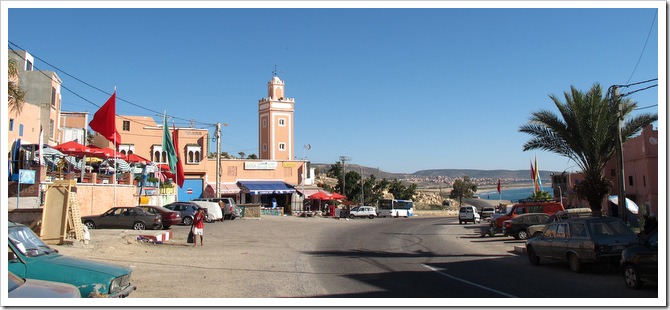 Scenes from Taghazout.


The Africa Surf Shop selling original Australian, made in China, Billabong board shorts for $20.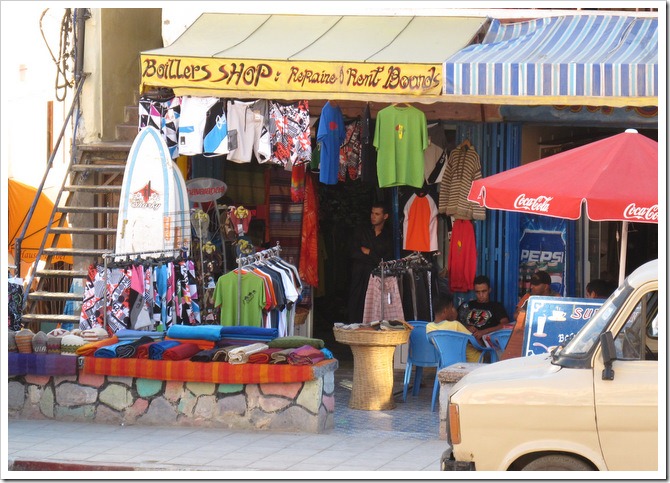 That afternoon we headed back to the boat to finish off a few  jobs in preparation for our leg to the Canary Islands. One of the more pressing items was to repair the dinghy which had a slow leak. You'll understand the necessity of a reliable dinghy a little later on.
So with our work done and the boat ready to set sail , we thought we should invite our Swedish next door neighbours over for a drink. They were quite happy to join us for a quiet drink as they were planning on leaving bright and early the next day for the Canaries. Henrik, Kirsten and Kalle were the three people in question, Henrik and Kalle best friends and Kirsten, Henrik's sister. These guys are on their way around the world in a boat half the size of Squander. They say that its a little crammed but comfortable enough, but after the 'quiet' drink we ended up having with them I don't think that the Queen Mary would be comfort enough for them the following day.
After spending a good two weeks in Morocco it was time to set our sights west,  so on the morning of 30th October we left Agadir en route to the Canary Islands and beyond.
============================================
CANARY ISLANDS – 31st October to 17th November 2010
On the trip over from Morocco, we couldn't stop hooking tuna on the fishing rod that Gav didn't drop into the ocean. Unfortunately the freezer on the boat was playing up and we were only able to keep two and throw the rest back. 8 lucky tuna live to see another day – Oh well, we're after dolphin fish anyway.
The following afternoon we landed in Graciosa, a small island at the top of Lanzarote. We anchored at Playa Francesa at around 4pm and got word of a beach Halloween party so we decided to check it out. Unfortunately instead of the bikini clad girls that we imagined, it was a party for families with little kids and turned out to be the third most boring event I've ever attended. Fortunately a storm blew in and the party prematurely ended so we got to go back to the boat to eat our fresh tuna and afterwards watch a few episodes of Entourage over a few rums. 
Playa Francesa anchorage with a volcano to the right soon to be conquered by Gav, Andy and Simon.

There are no sealed roads on Graciosa.

We spent the next few days checking out the island and its main town Caleta del Sebo. A cool little town centred around the marina with laid back bars and cafes that we used wisely to pump a few Euros into the Island's little economy.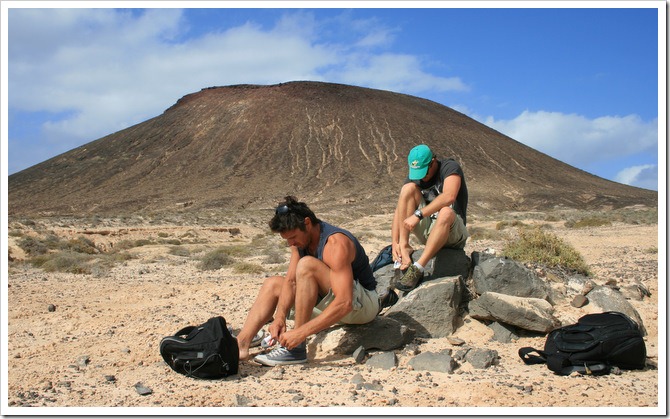 On our final day on Graciosa we decided to do 2 things that we don't get to do that often these days – wear shoes & walk. We had been hanging out on the boat every day being looked down upon by the highest volcano on the south of the island and decided we had to climb it.
Andy and Simon negotiating the steeper than it looked ascent in 50 knot winds

View from the top. Squander hiding in the crowd.
Not only did we climb it but we made our descent on the other side and trekked back around the island checking out the beaches and coastline. 12 kms in total – We're not forgotten.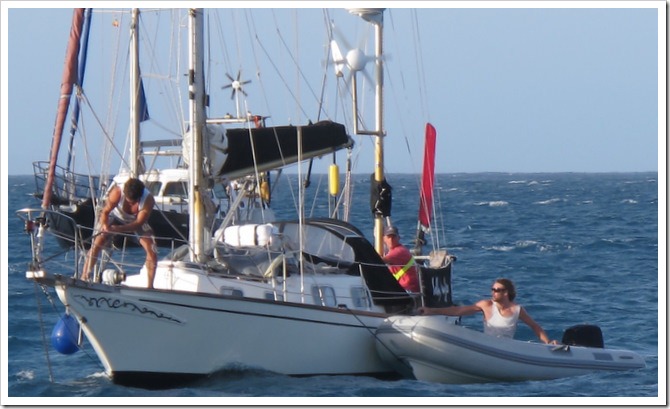 The next morning we were having a bit of a sleep in after our Everest like climb when Jim, an English guy on another yacht, came over in his dinghy and asked if we could give him a hand. The wind was up and he had a problem with his engine and needed us to push him with our dinghy when he raised his anchor so he didn't get blown into the rocks. Gav was busy plotting our course to the next island so Andy and I went to sort him out. " Andy you stay on my port side and give me a push. Simon you can raise the anchor" says Jim. I asked Jim where the switch for his anchor winch was but like everything else on Jim's boat it was broken. "You'll have to pull it up by hand" Jim say. 45 metres of chain later, we finally got Jim on his way. "I'll buy you boys a beer in Rubicon if I see you there" were Jim's parting words. We saw him in Rubicon and he didn't buy us a beer….Stiff!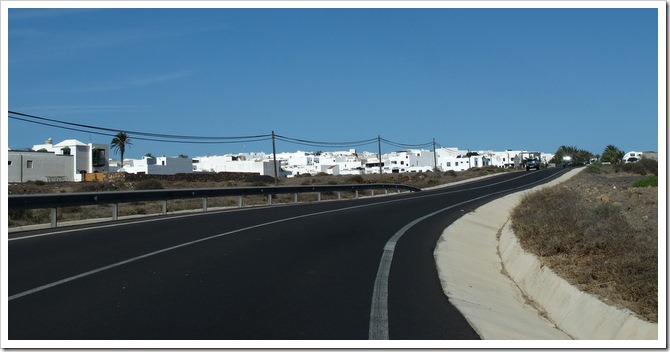 We hired a car in Lanzarote and went exploring and in search of a wave.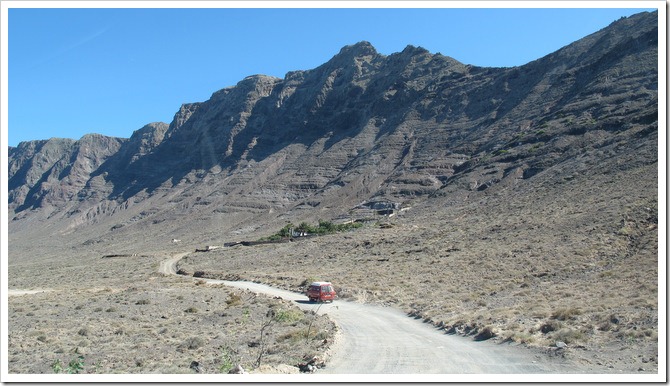 The old trick of wait for a van full of surfers and follow them from a distance to find the local breaks.

Hi everybody, Andy here – I'm new on the boat and thought I would throw some initial words down… As I understand it, Gav had huge ambitions for this trip. A direct quote from his advert on Findacrew.com – "My partying days are mostly behind me, we will be in search of unspoiled bays… avoiding party towns and tourist traps… blah, blah, blah". As you can see from the following photos he has failed miserably. Nothing un-spoiled about air hockey, bowling, Sega rally and a good old fashion bender chasing girls. – Andy out!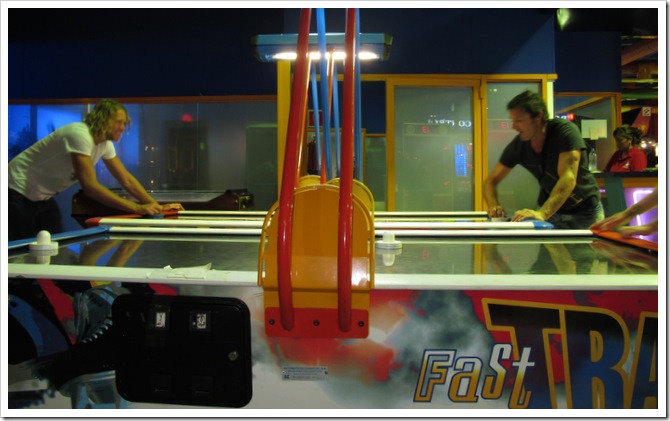 Andy ended up air hockey king but I smashed him in bowling
We left Graciosa on the 3rd of November and headed down to Rubicon Marina on Lanzarote island, where we got a berth in the marina and did a bit of maintenance on the boat. Ran into Jim a few times but never managed to get that beer he promised… Such a Stiff.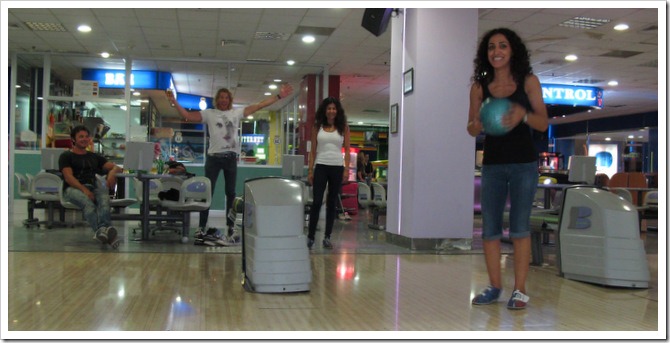 From Rubicon it was an overnight hop to Las Palmas, the capital of The Canary islands, on Gran Canaria Island. We had to be there by the 8th of November to meet two rendezvous'. Firstly Agatha, our floating crewmember was flying in to rejoin the crew for the Atlantic crossing. Great to have you back on board Ag. Secondly, the ubiquitous Juliana, our friend from Ibiza, was also flying in to catch up with our fearless leader.
We arrived a day earlier which gave us time to clean the boat and generally get it ready for female company. Agatha is good value and I'm happy she's coming back but the down side is that I now have to share my double cabin with Andy as she gets the single to herself.
With the boat all clean and Andy relocated into my quarters we decided to go and check out the local sailor bar. Now it usually takes us 1 or 2 days to find our feet after landing in a new place but today it took just one afternoon. Introducing Mojgan and Rebecca. Two Norwegian girls of Persian decent on a boat called 'MAD" who are participating in The ARC, a rally for cruising yachts starting at Las Palmas and ending in St Lucia in the Caribbean. We got talking to these girls and before long they became part of our posse joining us for our new found hobby…… bowling
Supercoach Simon… "If you just hold the ball like this Mojgan, let me put my arm on your hip… yep that's it…, nice form"
Rebecca had her own style – Looks ok but ended up in the gutter
Just one more game… then back to the unspoiled bays. Gav was the king of Sega rally  but I smashed him in bowling.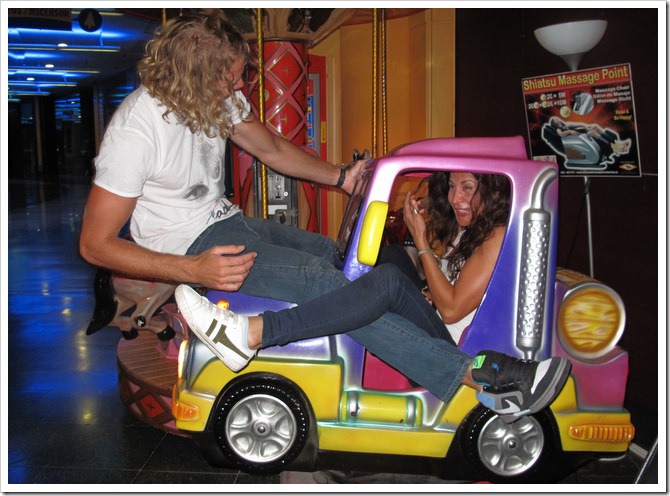 Andy and Rebecca in a bit of road rage.
The next day our two new guests arrived on their respective flights. Agatha in from Paris and Juliana from London. We all met at the local bar for a drink then dinner at Pier 19 – good food and lightning quick wi fi internet. Then it was back to the boat for our jetsetters to get some rest.
The next 8 photos were taken over the following 3 days. You may or may not notice but there seem to be no images of Gav or Juliana. I wonder where they got to?
Denise, Rebecca, Agatha and Mojgan
With our new crew down to 3, Andy, Agatha and I hung out with Mojgan and Rebecca getting in on the official ARC party where free food, beer and wine was on offer. A good night was had by all, especially Agatha who led from the front after a good nights rest.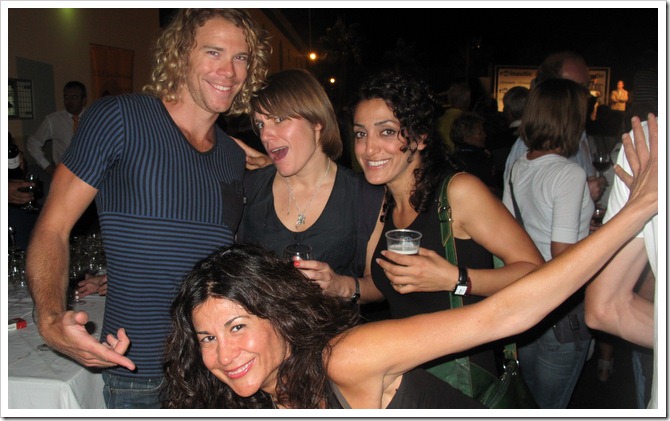 Mojgan took a liking to Simon, wrapping him up early…
Now the following 5 photos show the benefits of having a reliable dinghy. Andy and I recently serviced the outboard, cleaned the fuel filters and threw some new spark plugs in – she's purring like never before.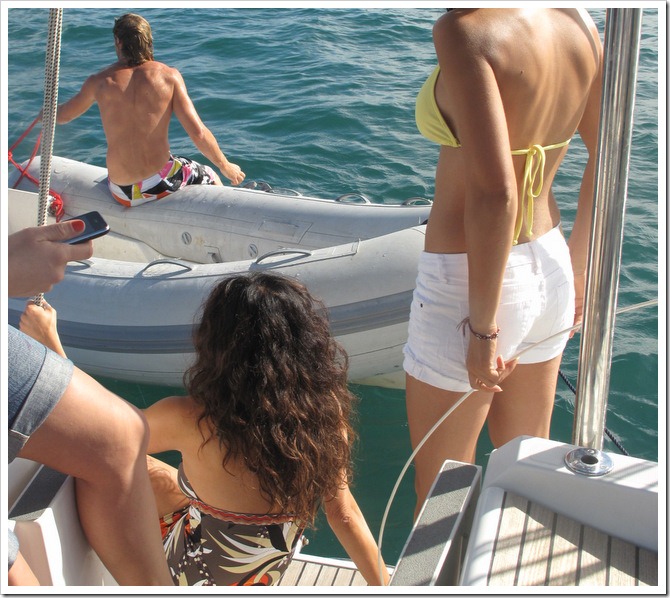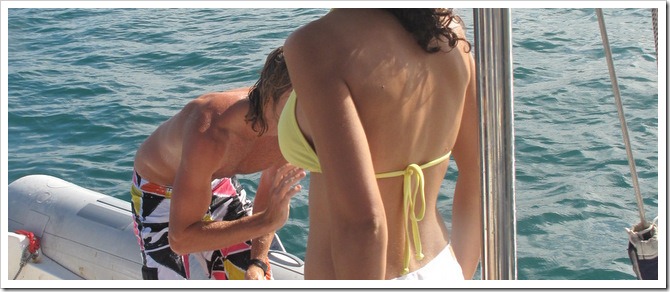 Real subtle Andy…..
Skipper's away, the crew at play – nothing like skurfing in a packed anchorage!
Nice form….
Anyway I think I'll hand the blog reins back to Gav for the next series of photos which incidentally were taken over the same 3 days as the above ones. Back to you Gavino.
=================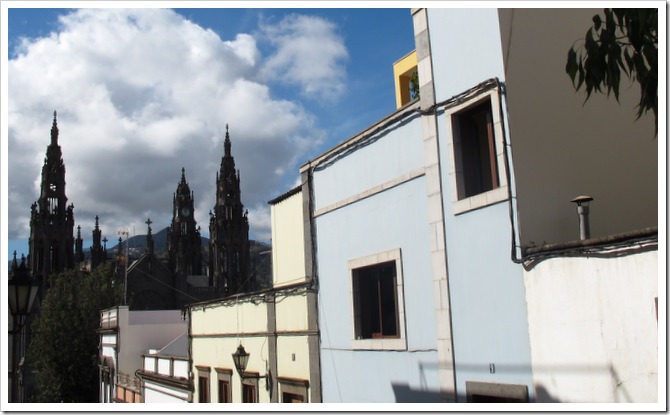 Thanks Simon… nice work, I think we have definitely tapped into a hidden blogging talent and look forward to some READER COMMENTS!!!
Yes, when the skipper's away the crew shall play – it was great to come and hear all the stories, meet new members of the cruising posse and recount some of my own experiences from a great three days exploring Gran Canaria with Juliana.

I sheepishly suggested to Juliana that we could visit a rum distillery… and to my surprise she supported the idea wholeheartedly… the 100 year old local producer in the town of Arucas holds approximately 2 Million litres of rum of various vintages and has started a fun tradition whereby famous people either autograph or paint a barrel – they wouldn't buy my story of being a friend of a kinda infamous celebrity in the infamous town of Manly in Australia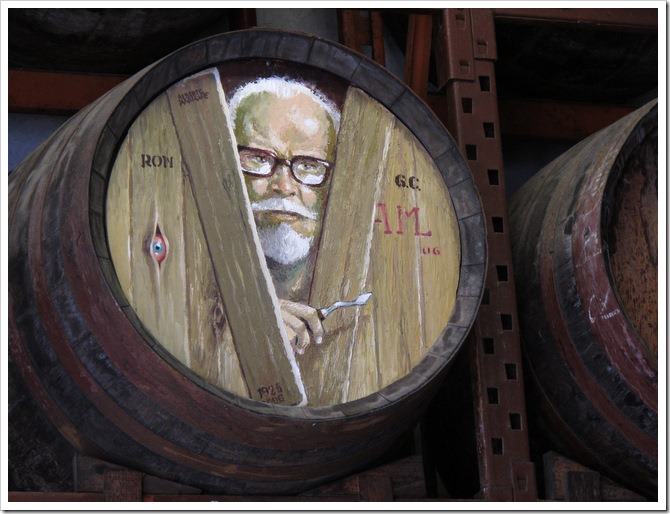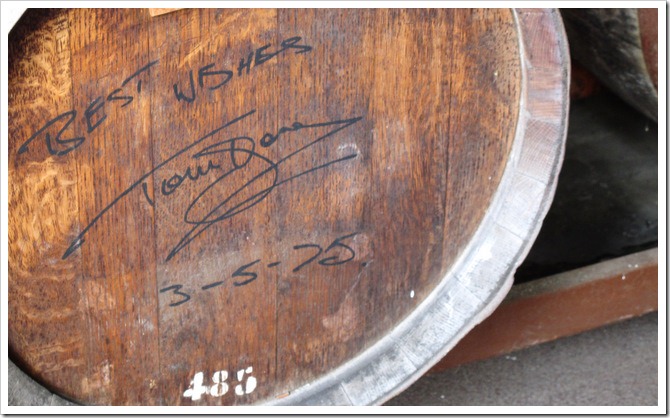 A rum tasting at 11:00 am is always fun!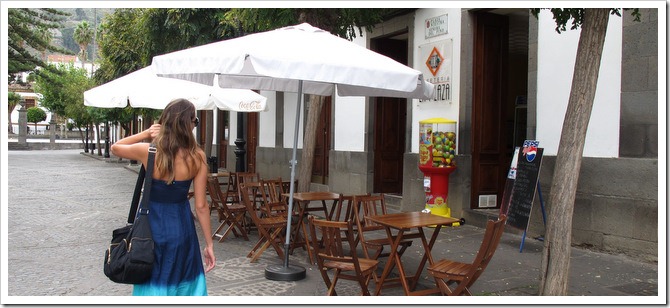 Then it was time for lunch in the town of Teror.

Before finding our hotel hidden in the middle of a Banana plantation.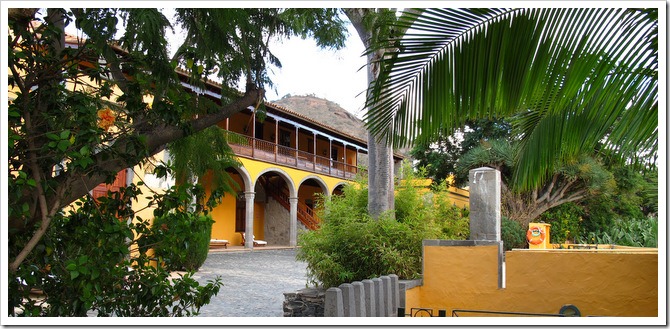 The next day we explored the North western part of the island.

There was a BIG swell hitting the shores which added to the eerie isolation of this area.


Abandoned vineyard??


And time for an afternoon swim followed by an ice cold beer….! nice.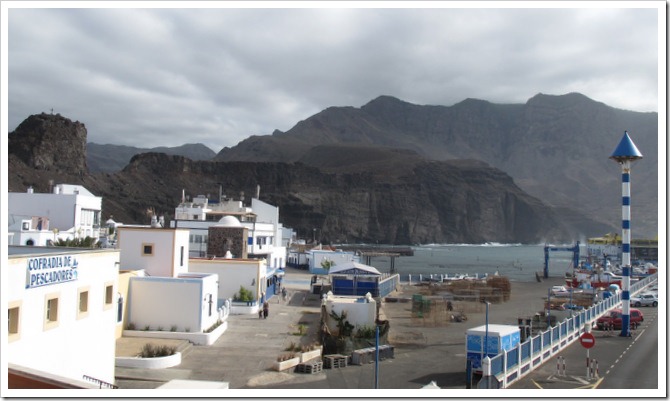 We spent the rest of the afternoon slowly exploring the dramatic western coast, before realizing that we were some 50 kms away from the hotel we had booked for night two – it was at 2000m, on top of a mountain that was accessed by a winding, single lane track…. nothing like a few games of Sega rally the night before to inspire putting a manual, 1.3 litre hire car through its paces, hammering up a mountain road with a sunset in the background…. oh and Juliana enjoyed it tooo!! 😉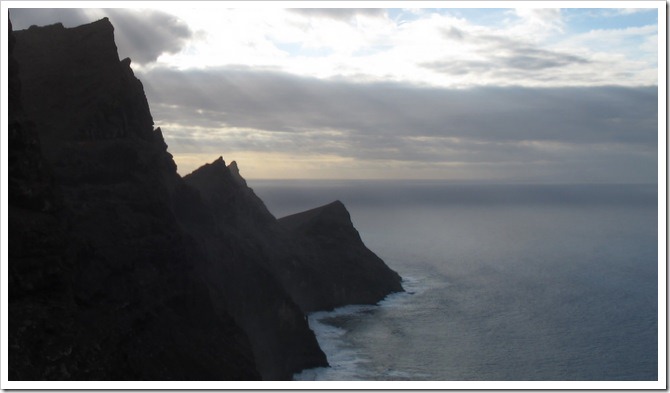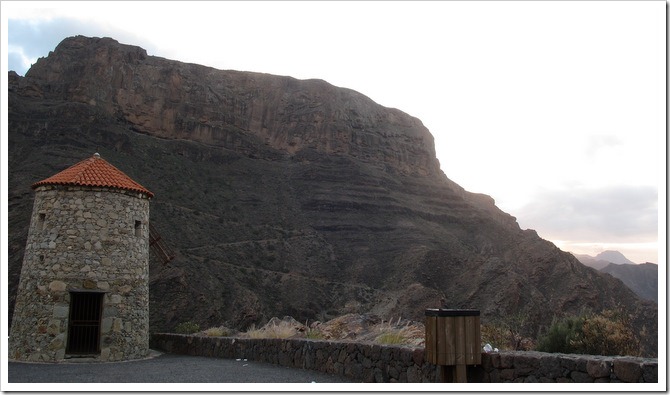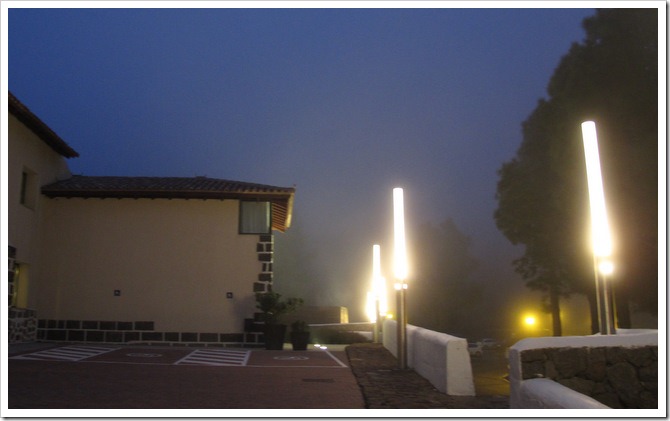 We arrived just on dusk, having gone form 28 to 15 degrees and thick fog.

The next morning we were greeted by some sensational views, blue skies and the realisation that it was time to say goodbye again. Thanks for a great couple of days Ju, hope everything worked out in Belgrade!

I dropped Juliana at the airport, and spent the afternoon putting final touches on my side project – www.ChartSwap.net – a website for buying, selling and swapping second hand electronic charts & cruising guides.
By the time I got back to Squander it was early evening and we all stayed aboard, cooked dinner and exchange tales from the previous three days.
The next day we ran around buying bits and pieces for Squander, fixing what needed fixing and putting final touches on the preparation for another Atlantic crossing. We got a lot done including replacing the Speed transducer, getting gas, buying a new flat screen TV for Squander, restocking our grog supplies, buying some scuba diving equipment, getting the Scuba diving compressor serviced, replenishing our fishing equipment and a bunch of other small things.
======================================
Incidentally, as I write this, the fishing  has taken a positive turn… preview from the next blog below!
More of this to look forward to in the next blog!! This one metre long Mahi Mahi was caught 200 miles off the coast of Mauritania on 21 November 2010.
======================================
Back to the canaries and some more parties…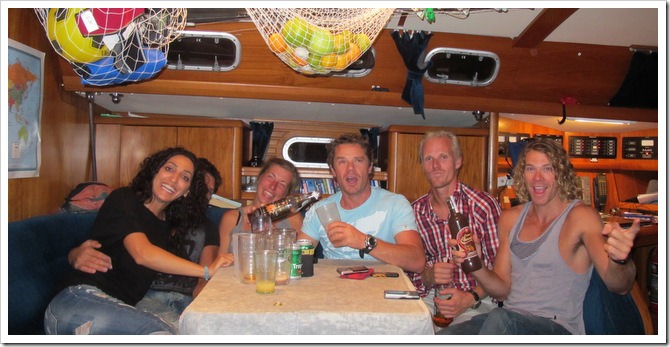 Friday night, we invited the MAD girls and the crew from Birka (www.28fot.com) for a few pre going out drinks.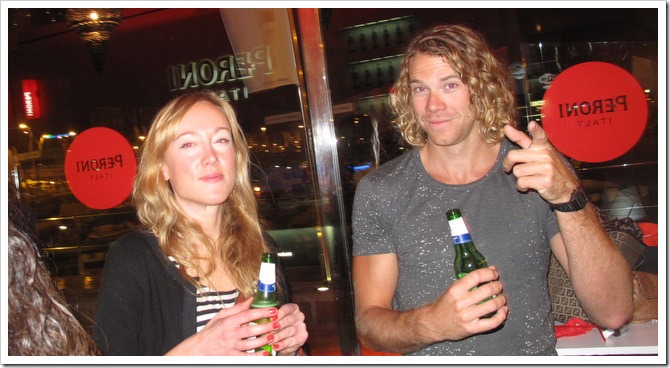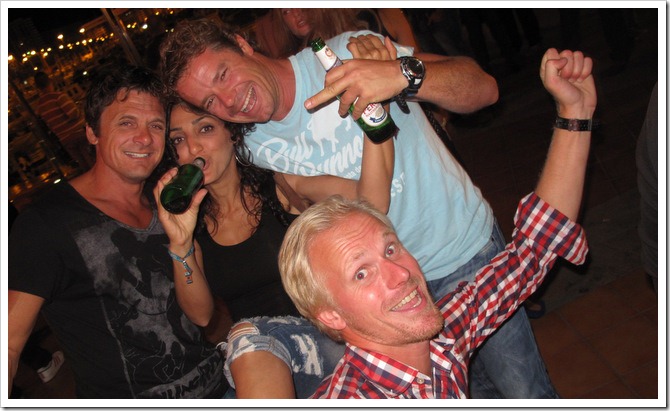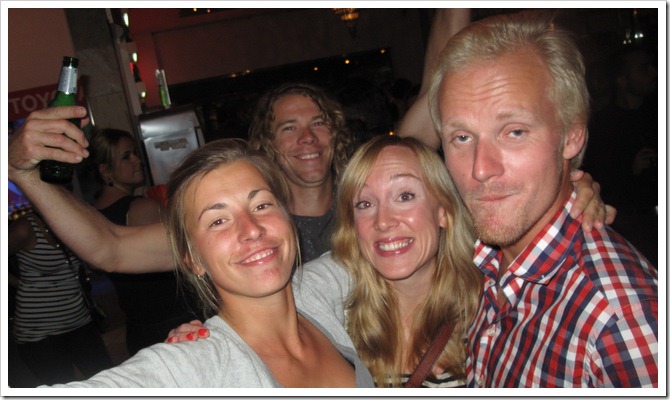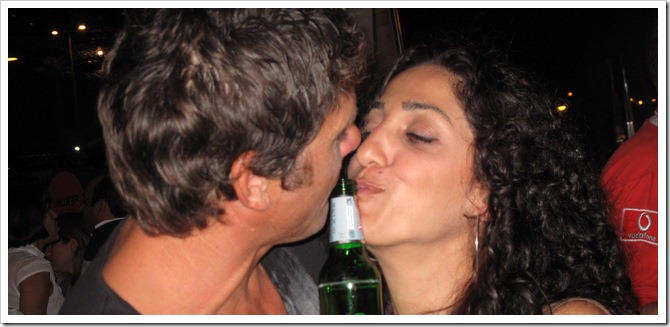 Simon setting the rules early – we come as a package Mojgan – it's ME &THE BEER or nothing at all – now gis a kiss!
ANDY: Looks like your partying days are behind you Gav…… Better stick to those unspoiled bays…! GAV: see what happens when you leave permanent markers lying around young kids!! 
Martin (MAD), Gavin, Agatha, Mojgan, Piers, Rebecca(MAD), Simon & Andy – incidentally MAD stands for Make A Difference – a charity project run by Rebecca and Mojgan helping street people get back on their feet by helping them develop business ideas.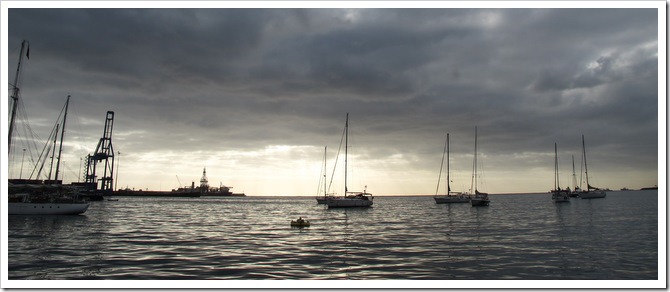 Time to say goodbye to The Canary Islands and head for Cabo verde.
Andy's super work softening the spreaders to save the mainsail over the next 20,000 miles home. 
and we're under way – Agatha is adapting really well seen here having a shower off the back of the boat….as Andy contemplates a new haircut  – you heard it here first!
Until next time readers.