Tuesday, 16th December 2010 – most things were done, the weather window looked OK for at least 4 days and it was time to set sail for the 900 or so miles from Las Palmas to Mindelo in Cabo verde. A few last minute things, we got the scuba diving compressor serviced, printed up some promotional materials for the best electronic chart swapping network in the world – www.chartswap.net and finally stopped at the local Fuel dock for some cheap diesel, water and a couple of ice creams before casting off the bow lines on what was going to be Leg 1 of a 2 Leg Atlantic crossing to Barbados.
Having said goodbye to many of our new friends and a few of the old ones, we left the 250+ ARC boats, the parties, and the sailor bar in our wake.  The trip was a smooth one and largely uneventful, For Agatha it was her first time sailing more then 24 hours non-stop and was undoubtedly going to take some adjusting to (read her account here), Andy was also getting more and more familiar with Squander having then been onboard for 3 weeks and Simon took on the leadership role of being our in-house safety officer.
We joined the rumrunner net, a daily SSB Radio based "ring-in" of boats heading in roughly the same direction, exchanging tips, weather information, anchorage suggestions and so on which was a good way for everyone to learn some basic radio communications – with the UHF Radio being a big part of our Safety procedures.
Simon's father was a radio man and the family lineage clearly showed as Simon took over the airwaves. Unfortunately the rather dry aspect of the Rumrunner net didn't quite suit Simon's style and he quickly rebranded it STIFF FM and proceeded to hand over the radio reigns to Andy.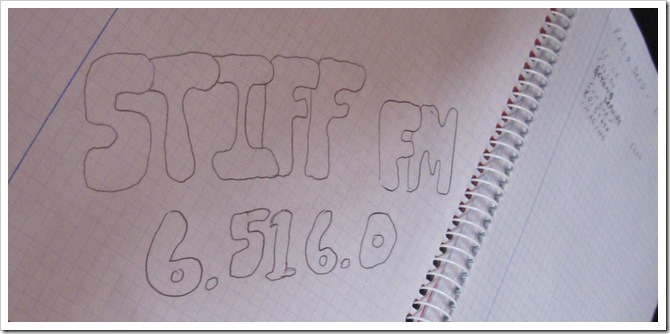 Simon's logo and STIFF FM merchandise worn by yours truly below

Andy took over STIFF FM with great enthusiasm, rising bright and early for 2 days straight before announcing that we had sailed ourselves out of range… which brought an end to out Rumrunner contributions – it was fun while it lasted!
We finally started catching Mahi Mahi too – which has been great fun and great eating. The Mahi Mahi (AKA Dorado or Dolphin Fish) are veracious hunters and tend to chomp at anything that moves… so we decided to try our hand at making Lures – a great pass time and yet another level of competition onboard – who can come up with the best name for a lure!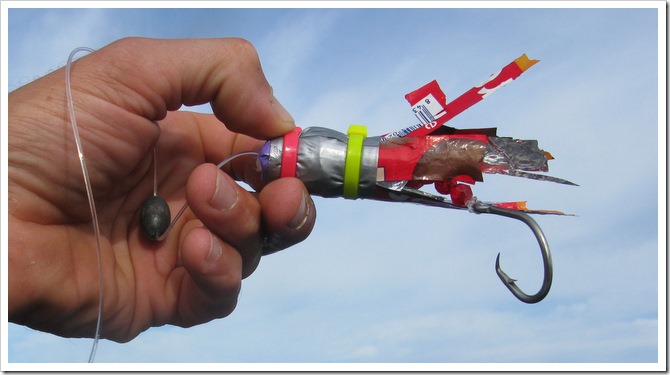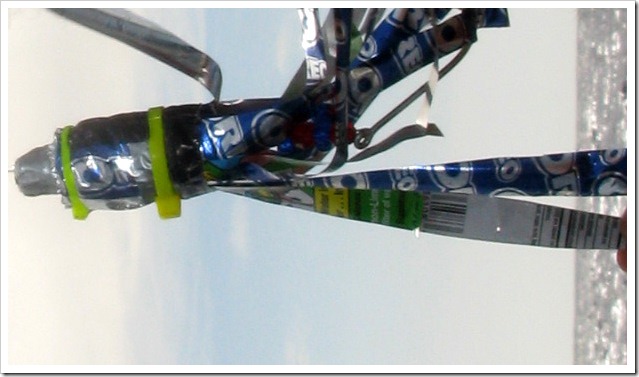 The early prototypes weren't perfect.

Andy resorted to writing threatening messages on his creation.
Agatha adapted really well and was soon making good use of a bucket, some assistance from her fellow crew members and some crystal clear, blue 'eau d'Atlantique'
Speaking of Agatha, here's an email she wrote to our parents, kindly reproduced with her permission.
Dear Mum & Dad,

It is Monday morning 22nd of November day 6 at sea and i imagine ours is very different to yours. The sun rose at 6:45 am local time.. the moon was still high in the sky and there was not a cloud to be seen.

All crew were on deck shortly after, and as we were running on the engine all night due to a lack of wind, the sails soon went up and we have been trying to get the most out of the little wind there is with the main sail and spinnaker.

Currently cruising at around 4 knots, which leaves us another 17 hours or so before we hit Cabo Verde.

Yesterday was another successful fishing day with the boys pulling in a sizeable mahi mahi once again. The poor thing put up a mighty fight, but it was no challenge for the filleting team, and before he knew it he was skinned filleted and partially frozen, whilst a little was left for what made a Gorazdowski fish soup for dinner.

The lures are out again today.. I am personally hoping for a tuna as we have a good supply of wasabi, pickled ginger and soy on board which I am hanging to sample with some fresh tuna sashimi.


Ag got her wish soon after.

As I write this it looks like the wind has died off totally, as the engines are being started once again and seems the spinnaker has had its time for now!!!… suddenly we now have 22 hours left to our destination.

These little calculations take up a portion of each day, along with a competitive regime of push ups and sit ups.. Andy is leading the way with 500 push ups yesterday!
Other activities have included custom lure making to attract the fish.. and now all shiny food packaging is being set aside for further and more elaborate lures to bring in the fish..

Home made hummus and an attempt at making rye pita bread (unfortunately not so successful) were just some other activities from yesterday.

I hope this allows you to further imagine what our days entail..
And so on the night of the 6th day we pulled into Cabo verde for a week of fun, exploring and meeting more great people.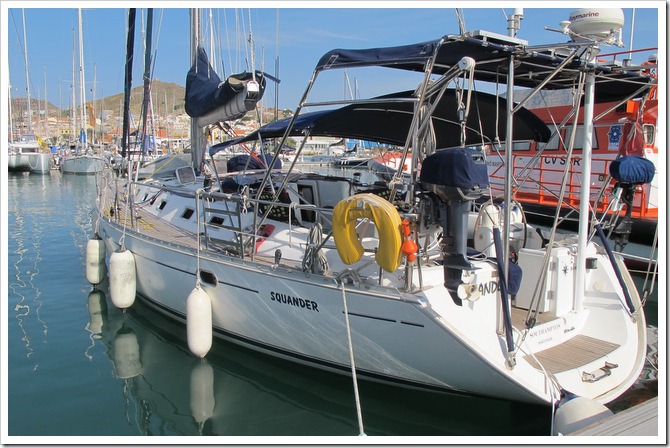 Squander ready for crossing the Atlantic.
I often wonder what people in third world countries make of us 'travelers'?
When I used to live in Sydney's Bondi beach I was often perplexed by the busloads of Korean or Japanese tourists that would arrive on a hot summer's day, dressed for a Tokyo winter, complete with scarves and sun umbrellas and equipped with the latest creations hot of Sony's, Canon's or Nikon's production line. All most of them seemed to want was a photo with an Aussie surfer on the beach… but every so often there was someone amongst the tourist group that 'got it'!! They would use their 15 minute stop at the beach wisely. it wasn't pretty to watch a 50 something year old person who hadn't seen sun since their 12th birthday, strip down to their underwear and behave like a 10 year old in a fun park as they ran down to the sand and launched themselves into the surf, more often then not right into a rip, but that's by the by, and besides it kept the lifeguards entertained!
The point is that somehow that act seemed to make that one person far less alien then the rest of his fellow travelers that stood there sweating in their winter gear and collectively shooting thousands of photos of their seemingly mad, lucky to be alive, 'Bondi Surf Rescue' protagonist!
It is that kind of awareness, the '….Ahhh, I get it now feeling that is sometimes hard to tap into, how do you become the person that isn't just another tourist following your tour guide or in our case what the lonely planet recommends. Don't get me wrong, the lonely planet guides are actually a damn good start to becoming underwear wearing, drowning guy, or better still, an independent traveler that gets the  privilege of being accepted into local life for a minute, an hour or even a day. but sometimes it takes a little more luck or more effort – or both!!
Cabo verde was one such country, where effort and luck paid off and allowed us to meet and interact with some local characters that make up the fabric of the city of Mindelo and get glimpses of what life is like here. Although to be fair, I'm fairly certain that at times we stood out like a middle aged, Yves Saint Laurent clad Japanese woman stepping off an air conditioned bus in Bondi beach cooling herself with a battery operated, blue tooth enabled, blackberry phone-fan!
Agatha took the camera out one day and came back with this great series of photos:

Roadside market stalls



With a little research anything can be found.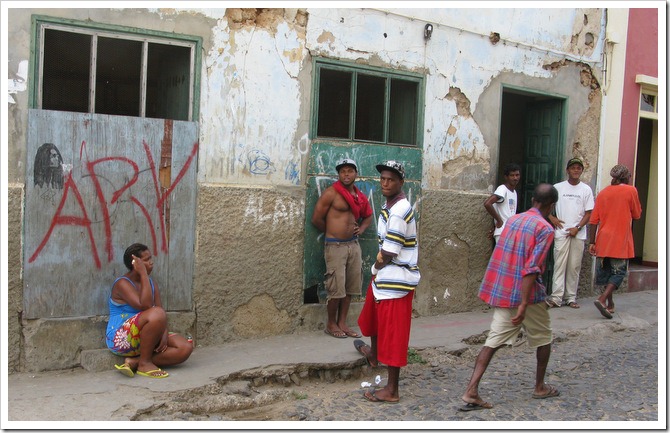 Hanging out is popular.



Local Hardware store.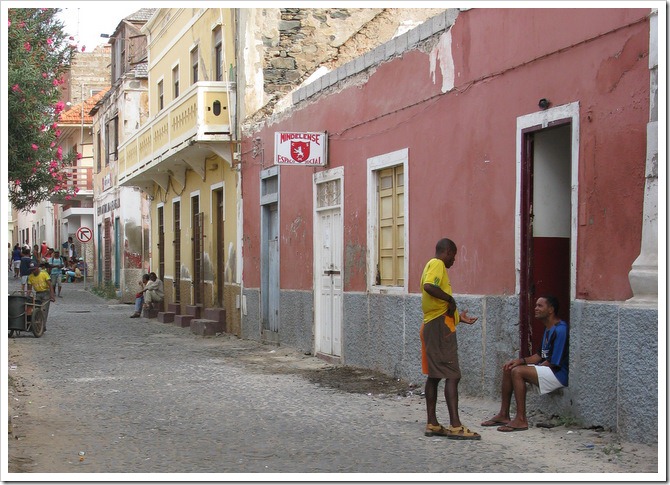 That afternoon, the boys went to the fish markets and came back with 6 Coral trout which we barbecued for lunch. Yum!!!

we also had the option of buying fresh lobsters, delivered to the boat by local fishermen!
With our bellies full and a short siesta to recoup some energy, we decided to head down to the beach for a bit of exercise and a swim. It was there that we befriended Kenny and David, 2 brothers 17 & 18, Mindelo locals who were into a mix of break dancing and Capoeira and would train most afternoons on the beach. David, the younger brother was still at school, whereas Kenny had left school at 12 and works painting fishing trawlers when he can get the work… his motivation for leaving school was to be able to earn money to buy nice clothes and cool things. He was a mean break-dancer!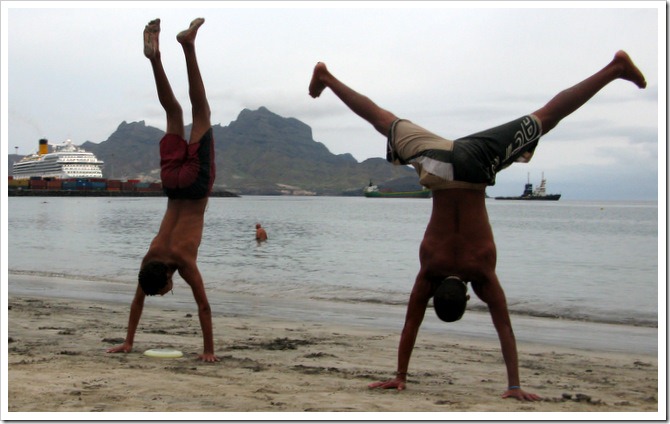 The brothers demonstrating their acrobatics.

Kenny teaching us how to focus on holding a handstand. Simon watches on.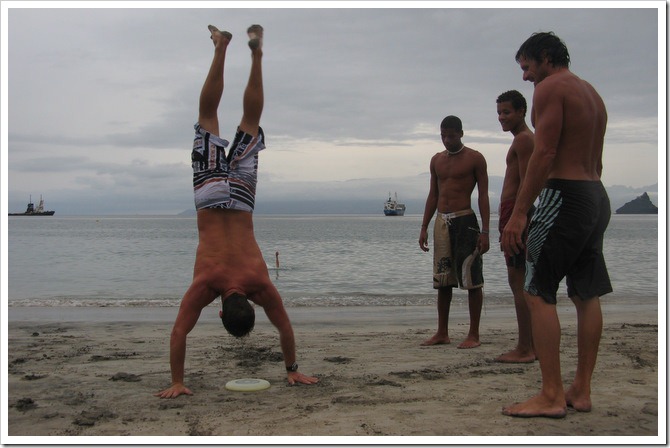 I had a go and managed to hold it for 500 thousandths of a second! 

Next it was somersaults into the water Simon lead the charge on the left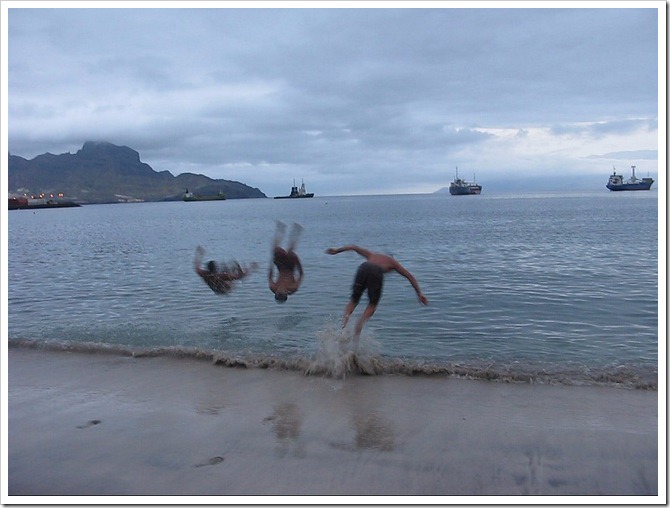 An then there was synchronized tumbling!!
With the sun setting and the appetite levels rising we bid farewell to our friends and headed for the sailor bar for some live music, dinner and a few quiet drinks!
We soon met some fellow sailors… Christian and Anne-Christine, a young couple form Norway sailing alone from Norway to the Caribbean and home via New York, Canada and Greenland – all in 12 months!

Three Norwegian guys in their early twenties who were following the stars on their way around the Oceans, Viking style with no navigation instruments other then a compass!  (Anders in centre of pic above)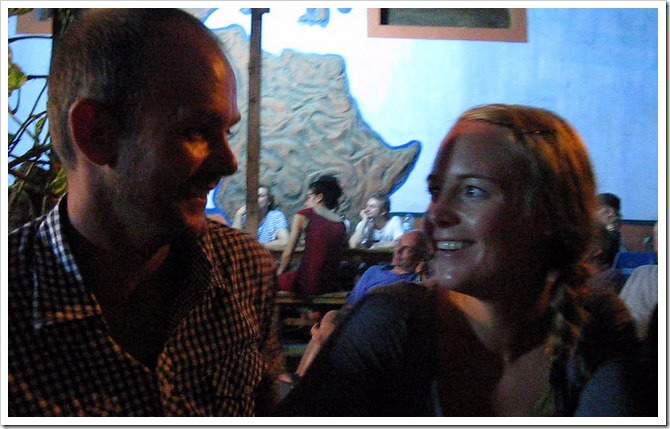 … and Espen & May Linn on SY Maggie who have taken 2-3 years off to circumnavigate the world – we may well cross the panama Canal together!
The next day we rose bright and early and caught a ferry to the nearby island of Sao Antao… a beautiful island well worth spending the day on.
Once all the cargo was loaded, we set off for the hour or so voyage across the strait – the trip can often be rough and everyone got given a little plastic shopping bag for emergency use.

The ladies weren't feeling crash hot.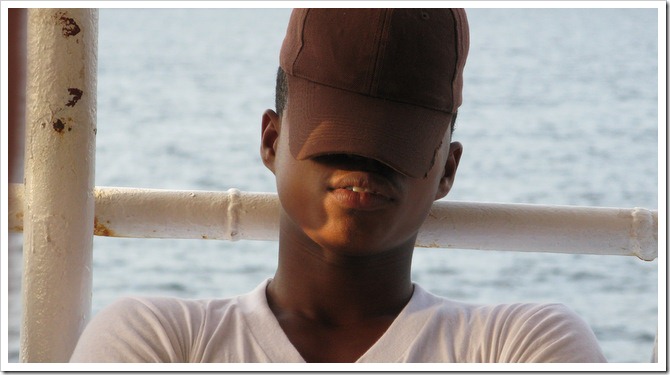 Whereas this fella was catching up on some much needed rest.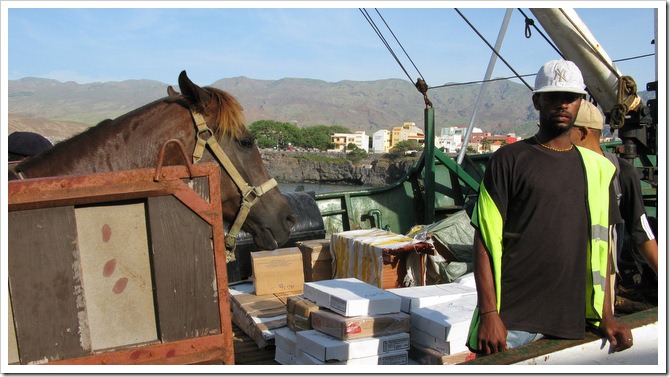 And the horse in a box was just happy to be heading home!
Our little ferry soon docked and we went about finding a guide and car to take us around the sights for the day.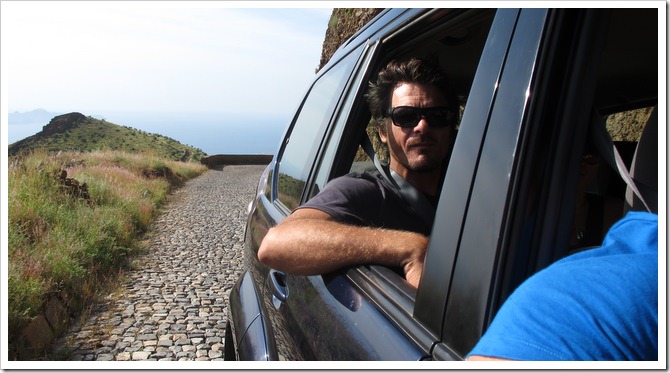 We soon found Piedro and negotiated a good deal for him to drive us around to the major sights in his Prado. the island is spectacular, lush vegetation, mountainous and incredibly peaceful. The main industry seems to be farming and a modest level of tourism.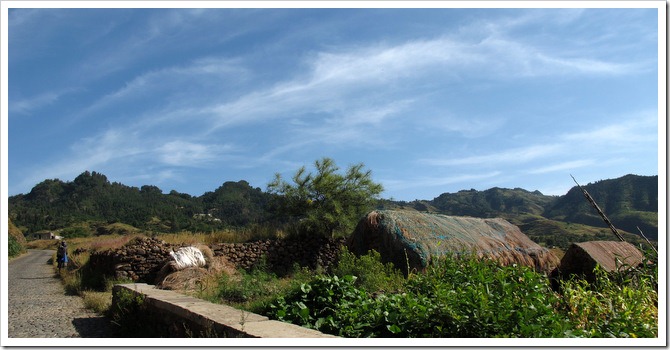 Looking East, Sao Vicente and Mindelo in the distance.


The lush, farming town of Paul (pronounced Pa-ool) in the valley below.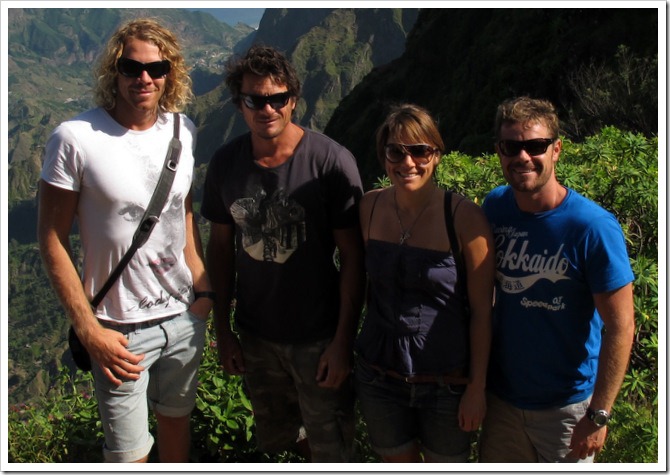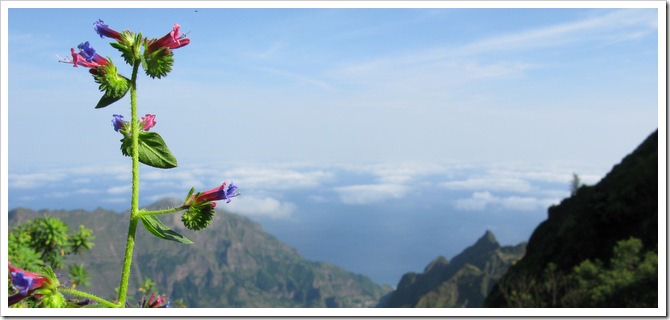 The view down to Ribeira Grande – the big River

The people of Cabo verde always have time for a chat.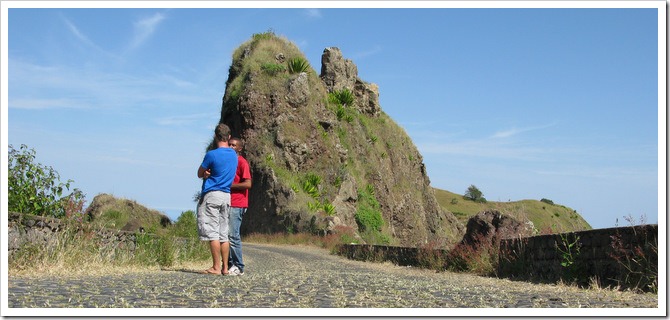 Piedro didn't speak English, but we managed to communicate in Bitsa, my new favourite language – BIitsaeverything!

The main mountain pass between the east and west coast, is an incredibly well maintained 36km cobble stone highway.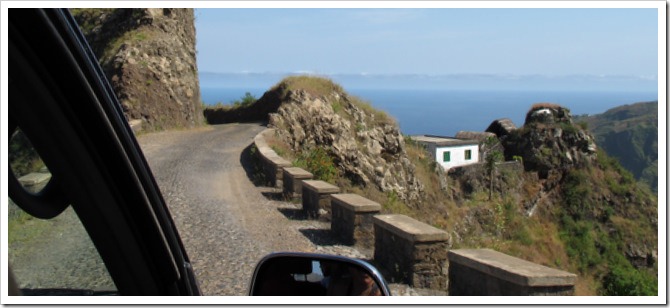 The coastal road on the east and north coasts is equally impressive.
We arrived in Punta del sol just in tome for lunch and to see the local fisherman put their skills on show as they negotiated one of the hairiest harbour entrances that i have ever seen.
We sat at the restaurant perched over the cliff face, sipping on ice cold beers and waiting for our fresh seafood lunch, and watched the spectacle unfold.
The centre of the pic above is the harbour entrance!! The fisherman time the waves and motor in and to the right of the photo.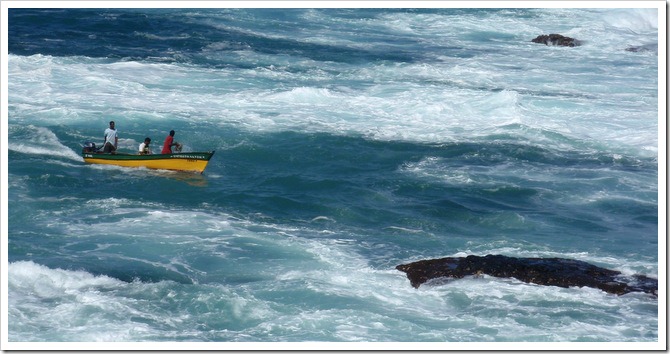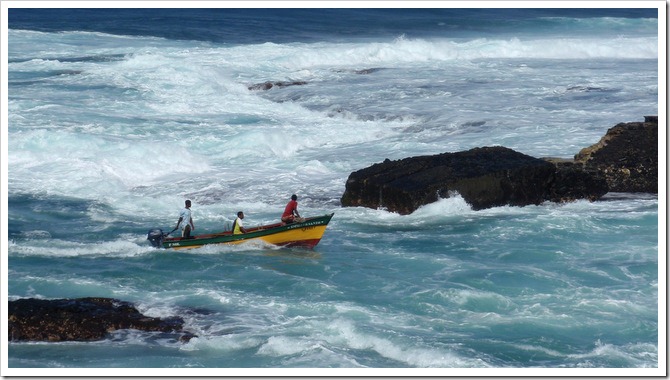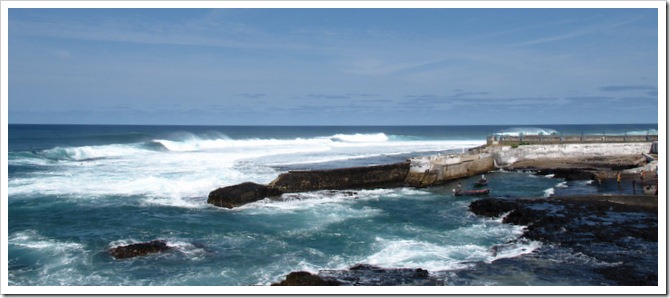 They wait for a break between sets and motor in. You can see two boats anxiously waiting for the crowd to help them  beach the boats.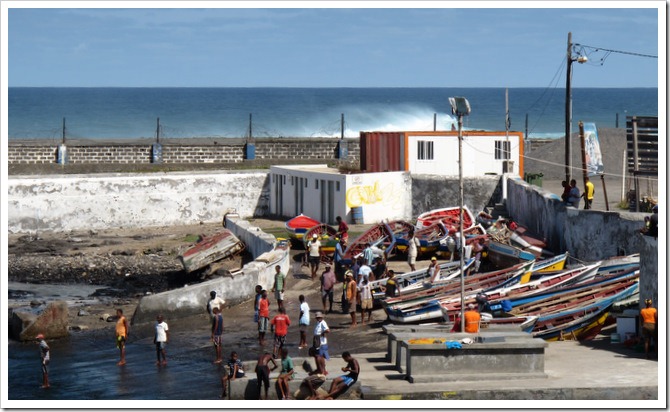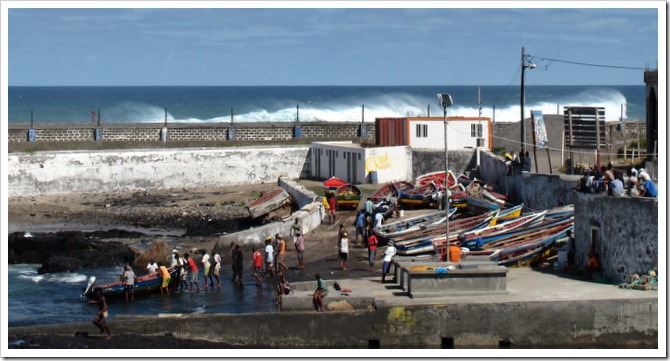 Everyone gets involved as boat after boat comes in from a day's fishing.
After lunch we walked around and checked out the sights and people of Punta del Sol, before returning to the Prado and taking the more modern coast road back to Porto Novo.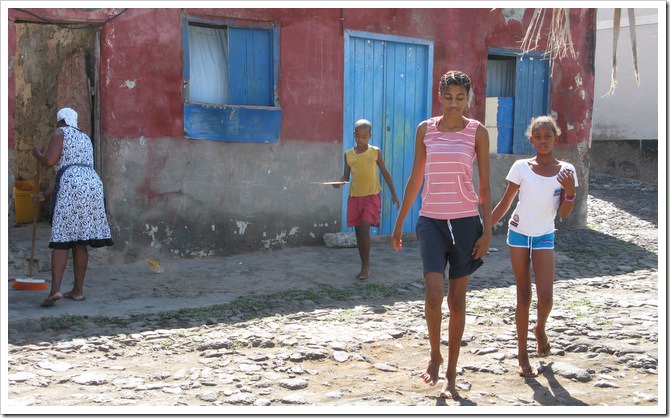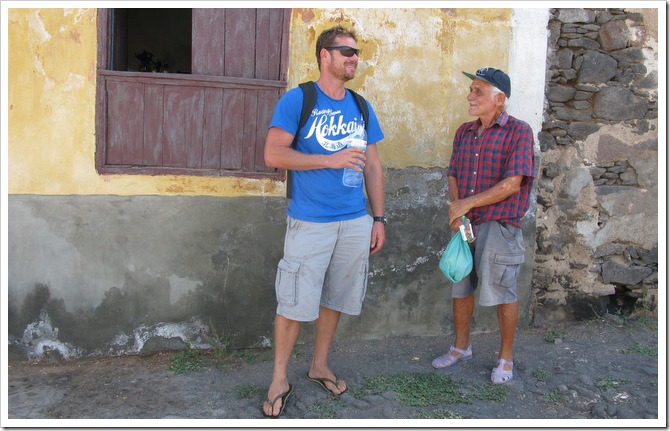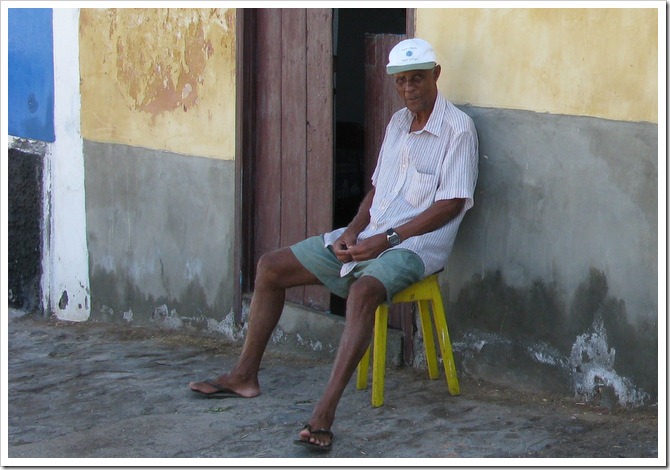 We never found out who was behind this sculpture, but it would make a great entrant for Bondi's Sculpture by the Sea!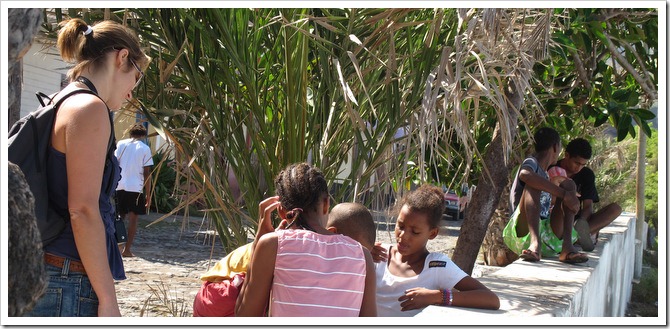 Agatha was already tiring of male only company and decided to make friends with the local garrotas!

By 4:00pm we were back in Porto Novo and ready to jump on the Fast ferry home.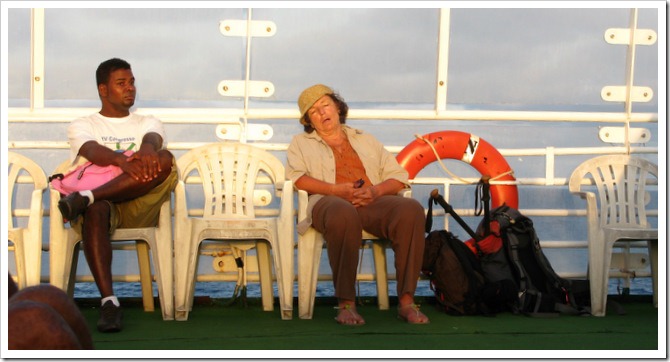 This guy  was a riveting storyteller!!

As the sunset we coasted back into Mindelo harbour and for a moment thought we were back in Las Palmas… the marina was full of  ARC boats making unscheduled and out of the way stops in Cabo Verde to pick up fuel. It seems that 2010 will go down in history as one of the slowest East-West Atlantic crossing seasons, with little to no wind.
Does an upside down flag usually suggest Distress ?? 😉
With the No-wind panic well and truly gripping everyone, the local fuel station was making some serious moolah as were the local entrepreneurs who started selling jerry cans outside the marina for ridiculous prices. The boat above seen fuelling up on at least 500 litres of diesel!!!
Incidentally, Andy made the observation that Cabo verde has to be one of a very few countries around the world where you have to speak at least 4 languages fluently in order to pump gas… seriously these young guys and girl would switch between Portuguese, English, French, German & the local Creole without batting an eye lid.

The following day, the guys and girls from MAD surprised us with a visit, they too were in the ARC and decided to stop over to pick up extra supplies and fuel, before heading off for St Lucia! See you in Bequia for xmas!!!
Then the biggest surprise of all…. Simon was doing some research on Caribbean islands, when he got distracted by his new appreciation of the joys of Facebook, whereby he found a friend request from his long lost uncle Arturo, who happens to live in Mindelo – unbelievable!
Arturo dropped by for a visit…the resemblance was uncanny!!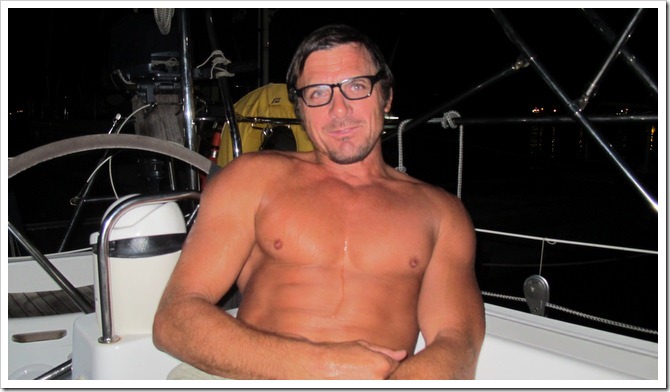 We bid farewell to Arturo and decided with all the panic of potential long hours of motoring, we should do an engine service. In doing so Simon discovered a small oil leak coming out of the intake side of the Turbo charger. It didn't appear catastrophic and with some consultation with a few people in the know we decided to wipe up the small quantity of oil, keep an eye on it and check it out on the other side of the pond.                                 

There was about a half teaspoon of oil gathered on the rim.
With all said and done we went to the local Sailor bar for our last beer, a decent fish burger and to say goodbye to the friendly staff!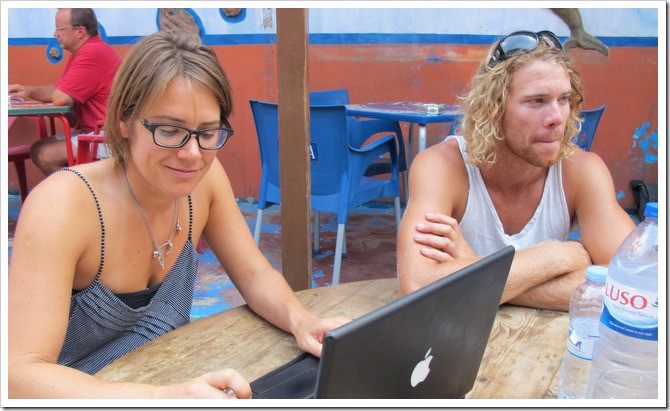 That evening, we negotiated with Nena the fuel boss to tie up overnight next to fuel station and be first in line for fuel for an early morning getaway from the islands. The wind was up and it was time to roll… all was going to plan until 3:30am when a boatload of Bosnian/American drunken loud mouths decided to carry on right next to us, waxing lyrical at a 100 decibels delivering the kind of bovine fertiliser that made us question whether consumption of alcohol was indeed a bad idea!!
As it turned out, before long we drifted into sleep and managed to get an extra couple of hours… the morning came and we managed to download weather, top up water tanks (we have 20 litres per day) get diesel and get going.
On Wednesday 1st of December 2010, at 10:30am  we set off heading west across the Atlantic.