After the excitement, the preparation, the antifouling, replacing spreaders, provisioning, buying the last minute essential spear gun, extra lures, surfboard wax, sunscreen and whatever else we could think of, we crossed the Panama Canal and…. relaxed… we were in the PA-CI-FIC – it wasn't so much that the Pacific is a more relaxing ocean, but we were past the point of no return, we had all put in big efforts to get Squander as ready as she could be and the Pacific adventure was underway… what will be from now on will be.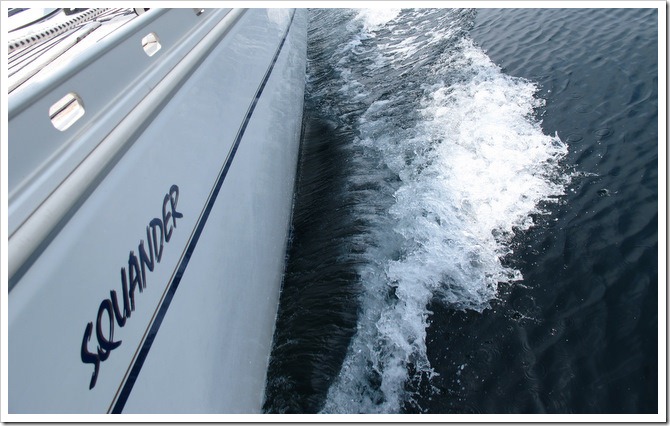 Squander taking her first 'steps' in the Pacific.
It was if Huey and Neptune got together and decided we needed a little relaxing intro into the spoils of the Pacific. We motored away from Panama city and the little wind there was soon disappeared leaving behind a mirror finish millpond that allowed us to appreciate the multitude of wildlife that is so much easier to spot when the ocean is this calm.

Leaving Panama and the Americas behind.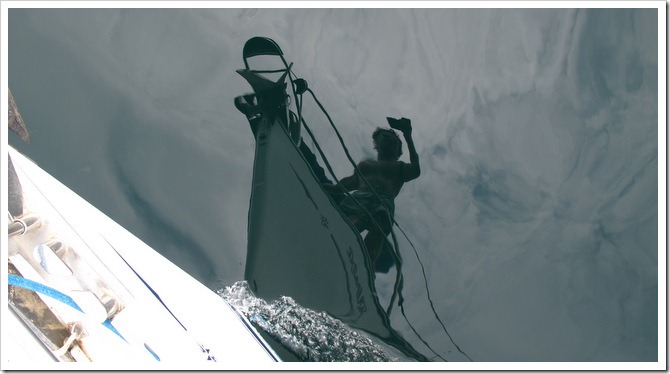 Motoring at 6 knots and barely disturbing the dead flat seas.

Pre haircut bow time!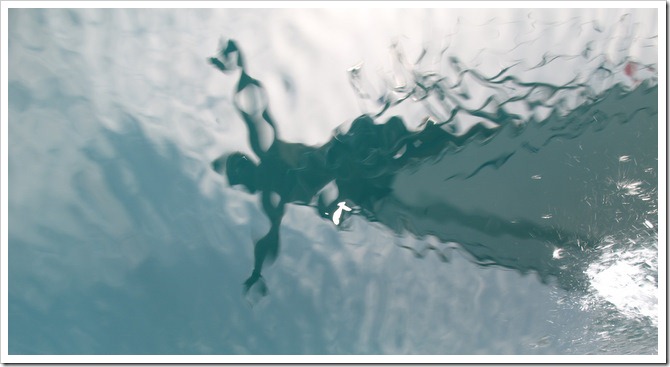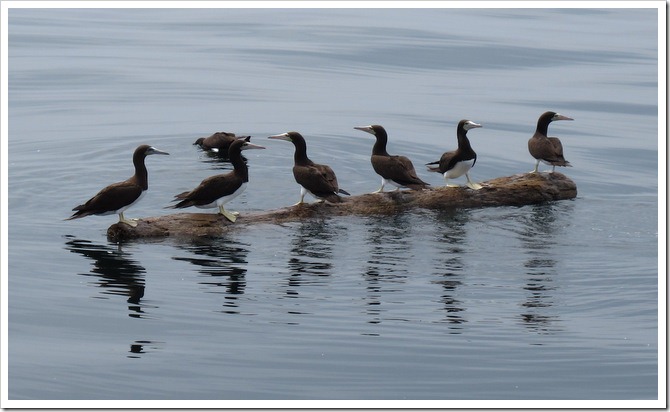 Middle of nowhere Boobie convention


Simon the modern day whale hunter – hunting with a video camera not a harpoon.

And rewards came soon after – we saw 12 whales that day!

As Andy steered us into position, Simon decided he was going to chase whales…


Until he noticed the thousands of Jellyfish in the water, after he dived in – ouch!

So from there on we appreciated the whales from above sea level.

With the whale show over, it was time for the Dolphin show.

Surfing the bow

As the dolphins took off it was the birds turn to put on a show.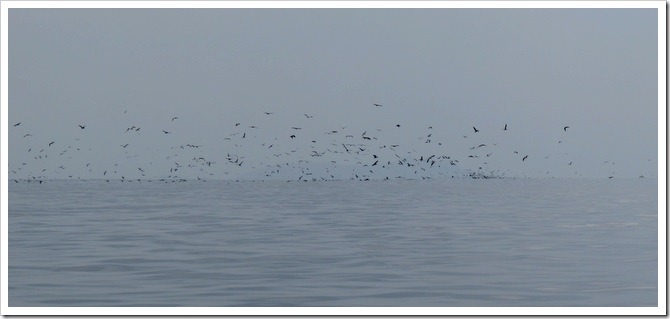 …. that was day 1… and then we moved onto Day 2, which happened to be almost as windless as Day 1 and also the 1 year anniversary of Simon joining Squander… he celebrated in style hooking 3 huge Sailfish – for the record, we don't aim to catch big fish… we love the excitement of hooking a big one, but in reality they more often then not break our lines, don't taste as good as the small ones and are difficult to land onto Squander without a mini blood bath! … but this was a sign… three 2m+ monsters in one day and nothing else…. we let the first two go, but then in the spur of the moment we decided it was time for Sailfish Sashimi!
After a skilful 15 minute battle, Simon brought the monster alongside and it took all hands to subdue it and bring it onboard.


Once onboard we started questioning our decision – at 2.3 Meters long we were going to be eating Sailfish all the way to Australia!


The calm conditions allowed us to setup the tripod and get a group shot….and then start the long process of cleaning, filleting and sorting out all the meat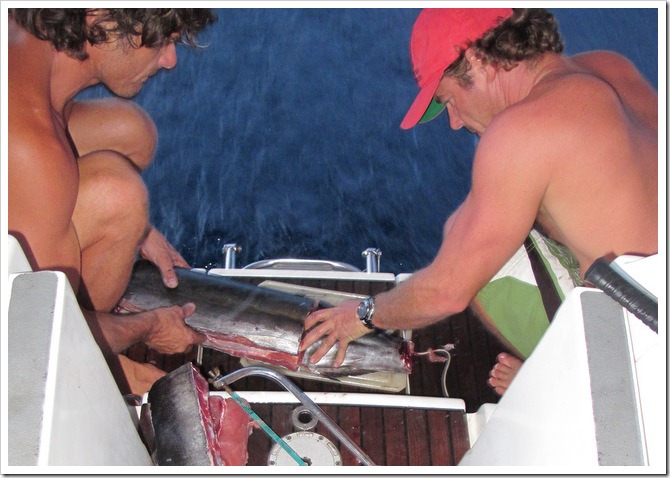 We soon gave up on the idea of hack sawing steaks and filleted the entire fish 

Saving the best bits for Sashimi whilst making 60 cutlets from the rest of it…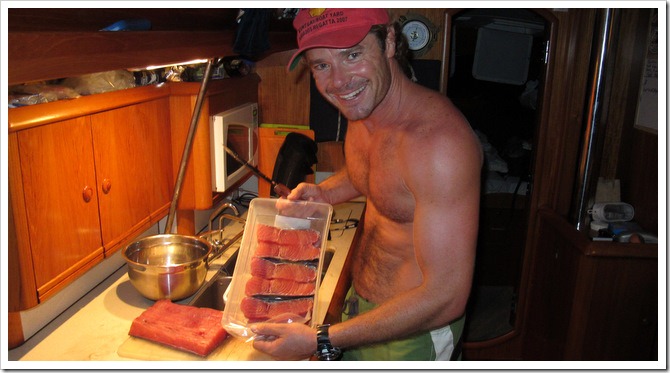 It was smiles all around, but we knew we couldn't eat all of the meat…. so having heard about a small rock called Malpelo island which had been previously used by cruisers as an emergency stop – apparently 10 or so soldiers are permanently stationed there – we found it on our charts (after a lot of looking!!) and pointed Squander at it…. sure enough soon after dawn we saw the not so small rock on the horizon.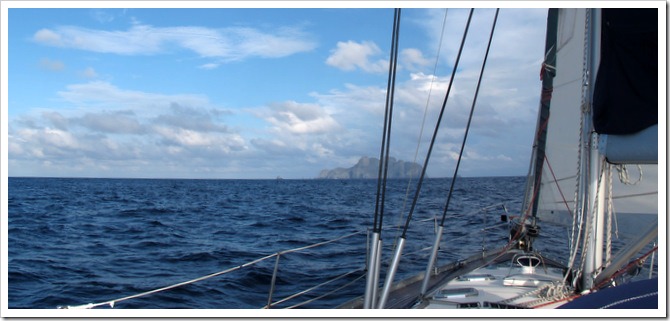 As we approached the island, we got summoned on the VHF in Spanish asking us to identify ourselves. We responded and were promptly advised that we were not allowed to stop without a permit from the government of Colombia…. I made it clear that I understood but that we had a lot of fish onboard and would like to share it as we couldn't eat it all… well that's what I wanted to say but my Spanish may have been a little less eloquent. "WE – FISH – ALOT. YOU WANT?" …. the answer was very animated…. "Si, Si…. muchas gracias capitan!"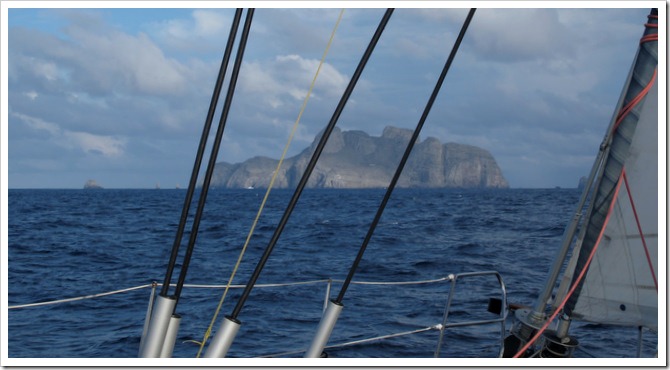 As we got closer we realized why it's called a rock rather then an island 
Two soldiers dressed in black seen scrambling down the face of the barren rock to pick up the fish. (bottom centre left of photo)
there was a dive operation that had arrived there shortly before us, so we asked them to transfer the fish from Squander to the soldiers
And so soon after we arrived, we were on our way again….feeling better about ourselves knowing the sailfish wouldn't go to waste!
…and Andy decided to write a song about it… just kidding, he's been busy learning to play the piano!
And as the sun set, the wind picked up and we started sailing for the Galapagos!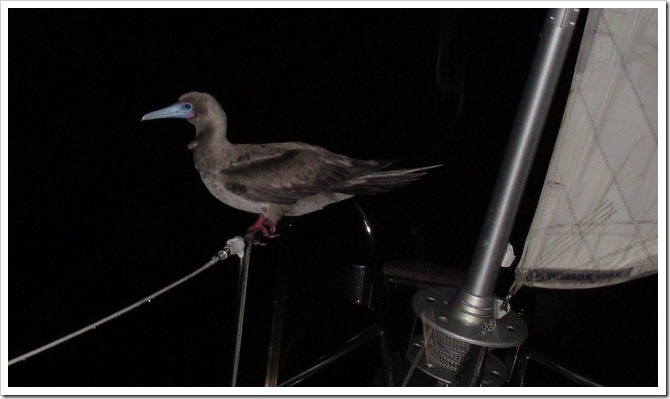 Our welcoming committee flew a long way and decided to hitch a ride back towards home. A Red footed booby sat on our bowsprit for 12 hours or so.

In the morning we woke up with Squander covered in baby Squid… and Andy decided to make some SquidArt on the back step!
The day was a slow one as we neared the excitement of crossing the Equator. Coming from  a long line of sailors, ever since I was a kid I heard about the ceremonies of crossing the Equator for the first time, the importance of pleasing Neptune and making appropriate sacrifices. My repeated efforts to get Simon and Andy excited about the idea were met with lukewarm enthusiasm at best and in the end I was ready to give up… which was when Simon appeared out of his cabin with a three way plan in which we were going to celebrate:
Take a red hot fork and burn a line on our biceps as a permanent reminder
Jump overboard on the northern  hemisphere and one at a time swim across the Equator
Drink a celebratory rum
It seemed extreme, but it was better then nothing and we agreed to give it a go… then… the wind died, the rain started and we slowed down to a crawl… things weren't going to plan.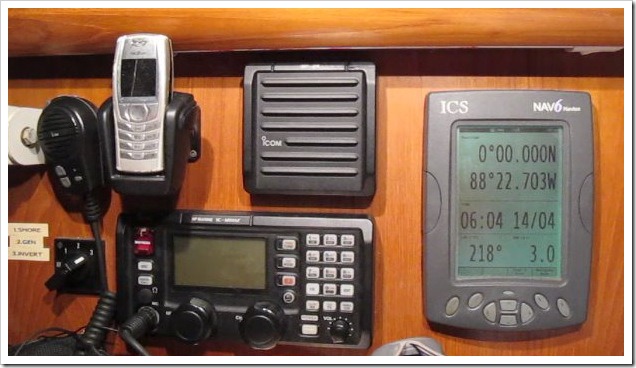 At a little past 1:00am local time (06:00 UTC/GMT) Andy woke Simon and I up to let us know we were about to cross the line that separates our planet into two.
We motored across the line, half asleep and no longer wishing to jump overboard in the middle of the night or branding each other with hot steel – instead we had a quiet rum, thanked Neptune and Huey and went back to sleep.
I'd like to think that it's the thought that counts, and I'm not exactly sure what the ocean gods thought, but for the next 36 hours we got punished with driving rain, no wind, lots of wind, sloppy seas, cold, upwind, downwind and everything in between… but we passed the tests thrown at us and before long we were sailing along the coast of San Cristobal towards our first Galapagos stop.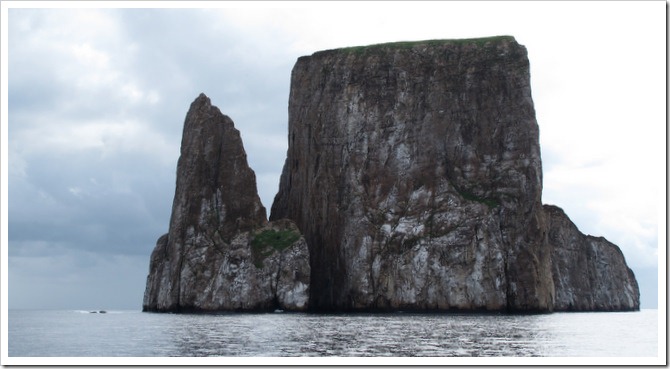 Having dropped anchor in Wreck Bay, we went about drying out Squander and finding the source of our biggest problem… our fresh water tanks had been contaminated with 100 litres of salt water rendering most of our fresh water useless.
The next day the sun came out and we went about exploring the island.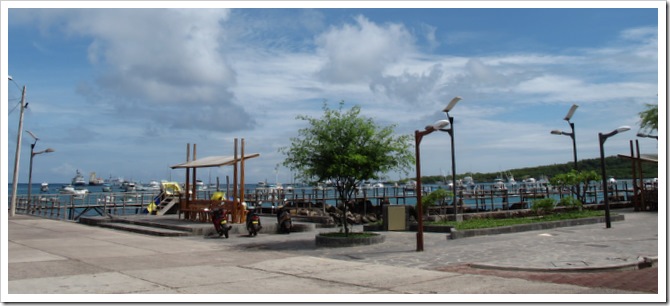 From the minute you arrive in the Galapagos, life is all about sea lions – they're everywhere and they are simply the best – even if they shed fur everywhere, smell a bit fishy and tend to bark a lot!
Andy testing out an afternoon siesta with the sea lions.
An early riser, as everyone sleeps on.
In the Galapagos, you soon learn that if you haven't noticed an animal in a while you're probably standing on it!   The Galapagos Marine Iguana.   
Crab Rock.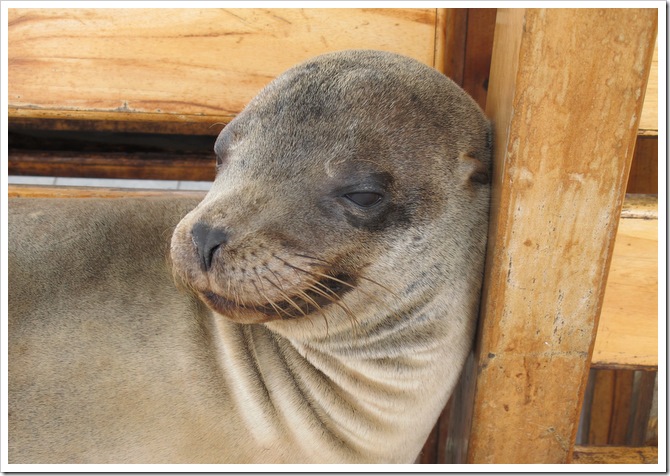 And back to Sea Lions!
heading back to Squander we were surprised to find our latest crew member asleep at the wheel!


he decided to cool off as we continued the clean up…. including getting rid of the last of the sailfish as our freezer had died 3 days earlier.

Frigate birds and pelicans soon got word and we had our own bird show right on Squander.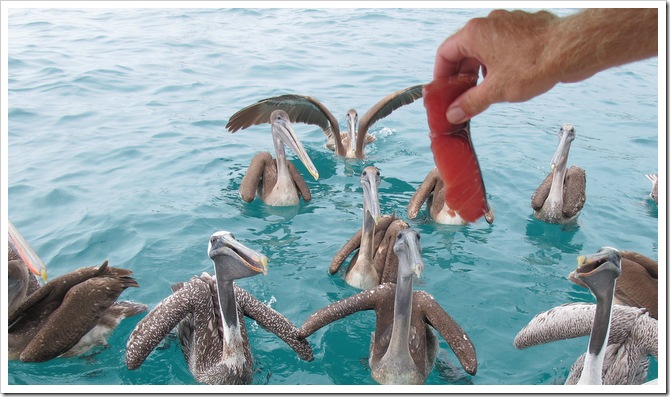 I want it, I want it….it's mine…whatever… watch me…  

This is how it's done boys…. hahahaha
With most of the chores done, we swam to the nearest beach to throw the Frisbee around and see what we could find.
Hey buddy, wake up… wanna play??


Somebody say PLAY??!!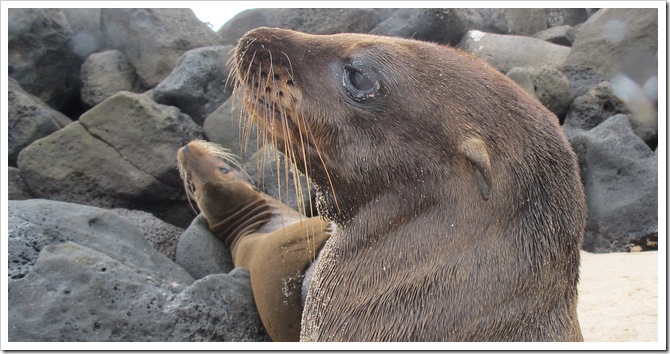 I'll ask mum…


And who are they? friends of yours?


So what are we gonna do???


Hey, can you bend your neck backwards like this?


So buddy, I was thinking… wanna sail to Australia?


Ahh.. you guys are boring I'm off to hang on a rock or something…

That evening we put on a BBQ to get through the 10 kgs of meat, chicken and mince that had defrosted. Rob & Hanne came over with their kids Angus and Freya (Australian/Norwegian couple from Newcastle in oz) as did Espen and Maylin from SY Maggie – a Norwegian boat we had last run into in Cape Verde and Daniel & Stephanie with their son Primo -  A French family from Paris whom we'd met in Colombia and who happens to have mutual friends with JB and Agatha in Paris…. a small world!
It was a great night with 12 people merrily enjoying a night on Squander…. look forward to the next one already!


Andy and Simon finished of the evening getting beaten by Freya and Angus – the king and Queen of Uno!
and as always we had a few uninvited guests hanging around in the dinghy!

The next day was a cracker, as the wind died and the swell picked up. I woke up early and decided to let Simon and Andy sleep as I amused myself with sleepy head number three.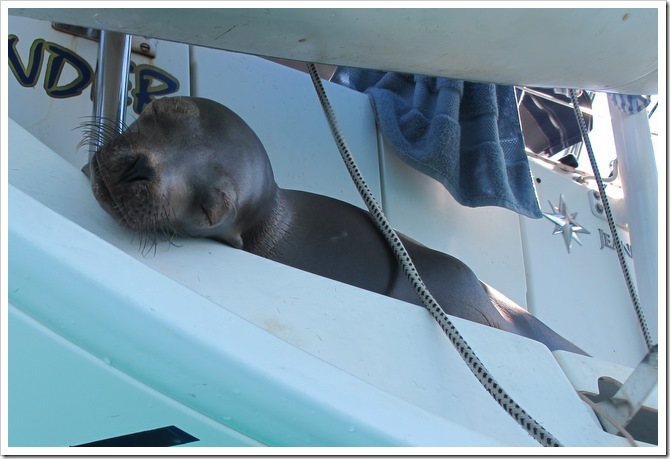 Wake up buddy, time for a swim!
Cop some morning breath pal….!

ohhhh….Alright…. I'll come for a swim!


Wanna play hide and seek?

Follow me…..then I heard a voice "hi Gavin, what are you doing???"  was it really happening…. was I talking to the sea lions???
As I turned around I noticed Angus and Freya looking at me puzzled as they must have seen me diving around under Squander chasing the elusive sea lion…

Turn here, rub your belly on the rudder and end up with a Blue belly…. cool huh!!?

Once the morning fun was over, it was time to deal with the broken Freezer…. I didn't hold much hope for having it fixed here, but thought i would try anyway… and it seems to have paid off…. "FRIO SAN", as he is known, is the local San Cristobal expert in refrigeration and air conditioning – he single handedly looks after the fishing fleet, customs and police fleets as well as their land air conditioning and refrigeration. 
Armed with a blow torch and bits of copper tubing he can do anything, including manufacturing a new capillary for our freezer, turning a two way accumulator bulb into a 1 way accumulator bulb with return tube and all in all doing so whilst singing and cracking jokes in Spanish that we kinda understood!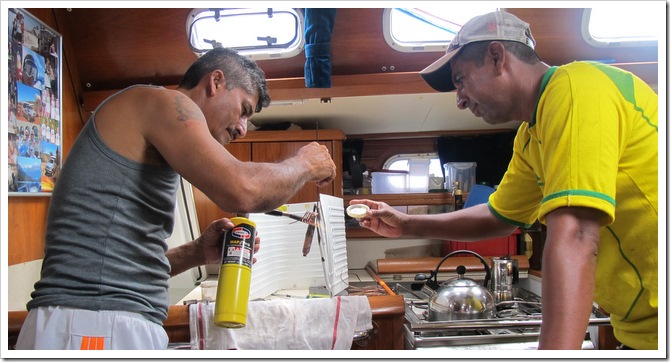 Frio san in action with trusty side kick offering a helping hand.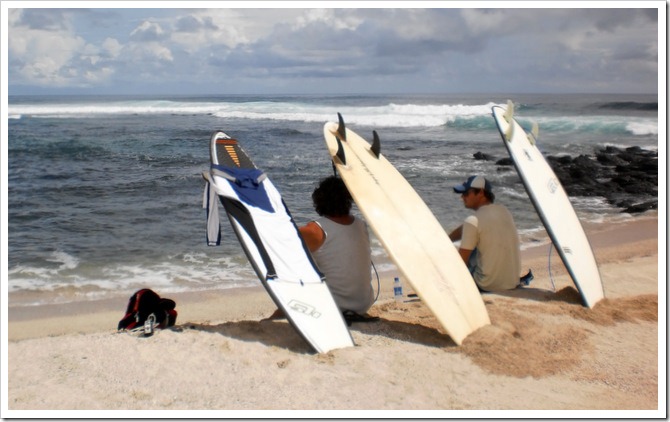 Creating shade as the tide comes in.
With the freezer cranking it was time to head for a surf… we got there a little early and had to wait for the high tide… it paid off with clean, 4 to 5 foot lefts and rights all to ourselves!! We'd checked the spot out a day earlier and got there just as 4 girls had been swept out to sea and were drowning calling for help. A couple of local surfers were helping 3 of the 4, but one was still badly in need of help and was fast drowning…. Andy & Simon jumped in the water and negotiated the heavy surf and rocks with Andy drawing the short straw of having to paddle the young, blonde, Swedish girl girl back to the beach though the rip…. Well done Andy!!     
We got back to Squander starving and remembered that Hanne (Freya and Angus' mum) from Sequel had baked us a loaf of bread…. we love cruising life!! thanks Sequel!!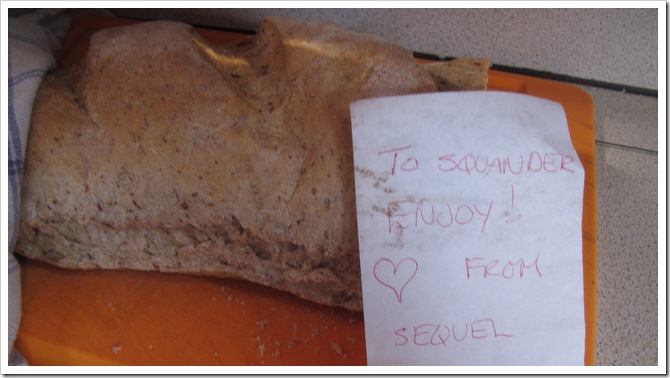 With our bellies full, it was time for a siesta and a quiet night in. The next day we planned a big day of snorkeling and exploring the anchorage and its surrounds.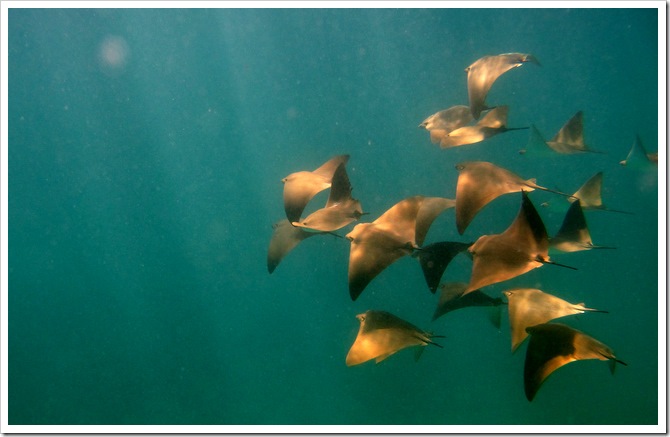 From the minute we dived in, we knew it was going to be a good day…. a school of rays flew past beneath us.

Then it was time for some sea lion fun as they chased us around, showing off left right and centre.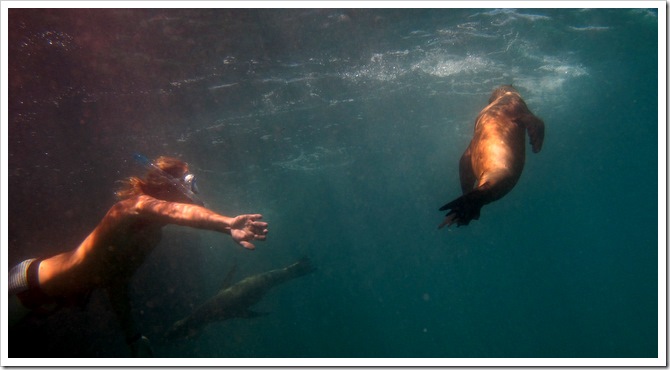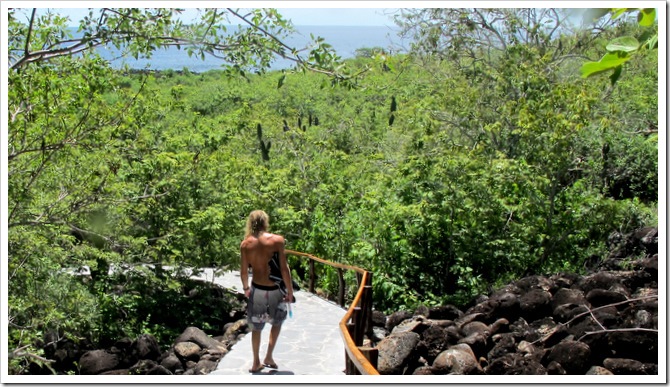 We swam to shore and hiked over the point to another small bay where we planned to jump back in the water and to snorkel as far as we could.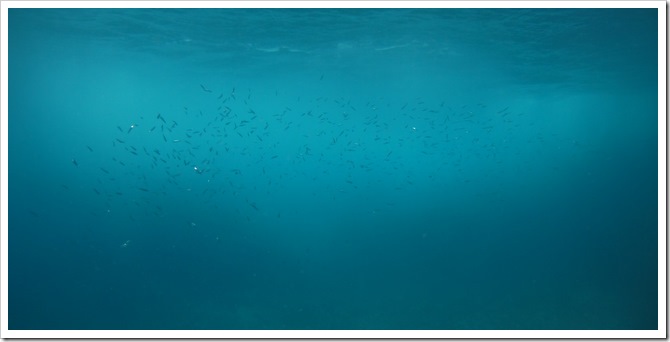 We jumped in the clear blue water and were immediately surrounded by thousands of fish.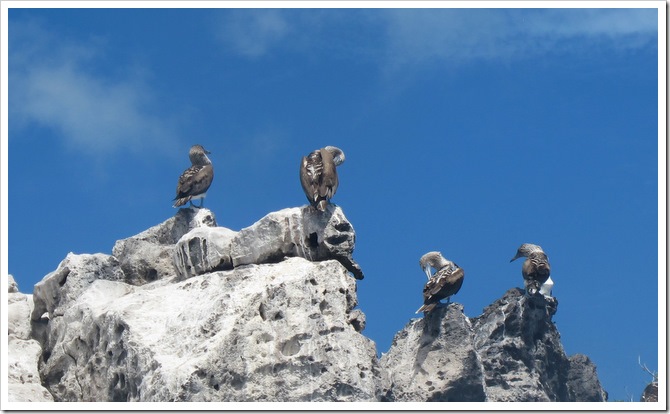 Where as on the shore Boobies of various kind mixed it up with Sea lions. 

Nascar Booby

Blue footed Booby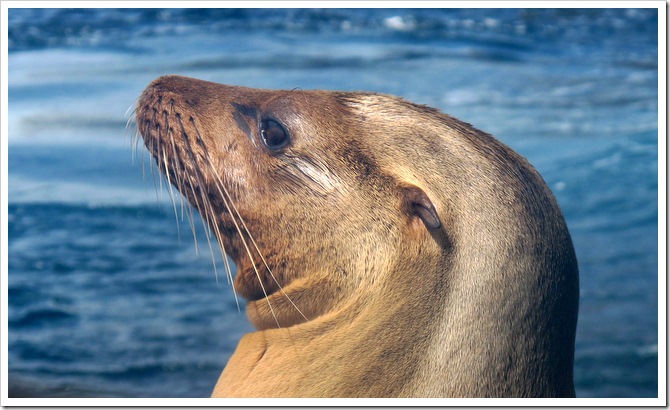 And so after a week of fun, our furry friends came to say goodbye as we motored off towards Santa Cruz island.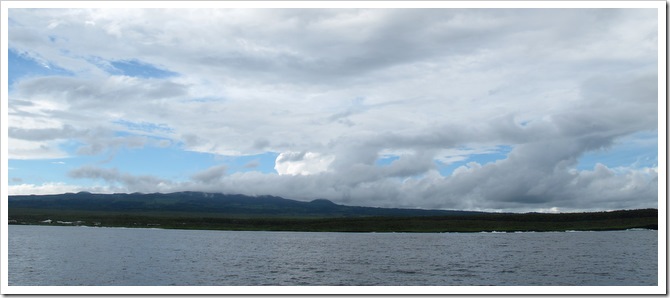 We had calm flat seas all the way and it took a little over 6 hours of motoring to get there.

We dropped anchor in Academy Bay, and headed ashore to check out the town. You're not supposed to use your own dinghies here and there's a cool system of water taxis that charge 60 cents for a one way ride.

On the water taxi on the way into town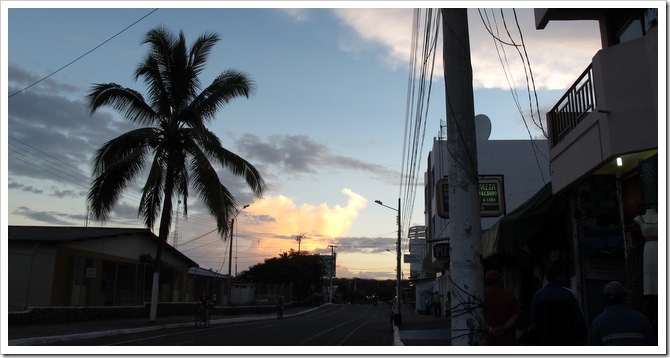 The town of Puerto Ayora is a lot more commercialised then the other inhabited areas of the Galapagos, but still relaxed and a welcome change, with many great options for food, shopping and even a few sneaky bars and even a nightclub that managed to  find us on Saturday night.

Los Kioskes – great, fresh local food for under ten bucks!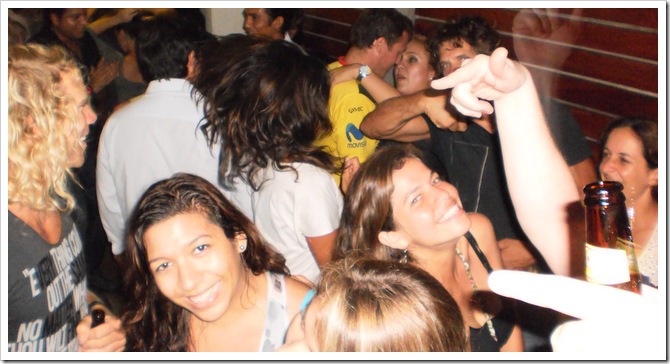 Some of the local wildlife was more appealing then we imagined. Malisa works in one of the hotels whereas Carla is a doctor in the local hospital – they are indigenous to Ecuador but not naturally occurring in the Galapagos.

Andy doing crew interviews.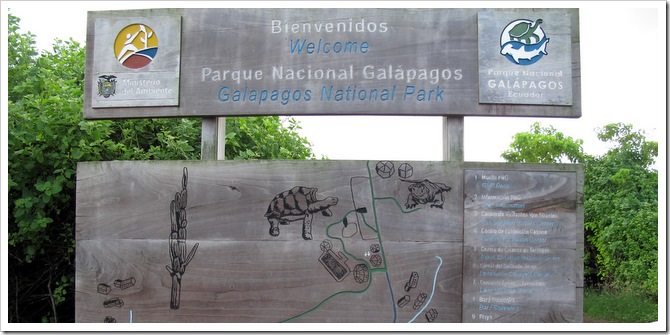 Speaking of wildlife, one of the many highlights of the Galapagos, is the giant tortoise, weighing up to 300Kgs and living over 150 years in the wild.       


The baby tortoises no bigger then your hand end up growing up to be….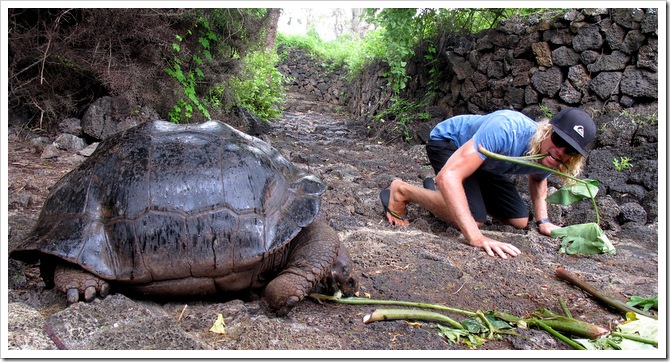 …BIG!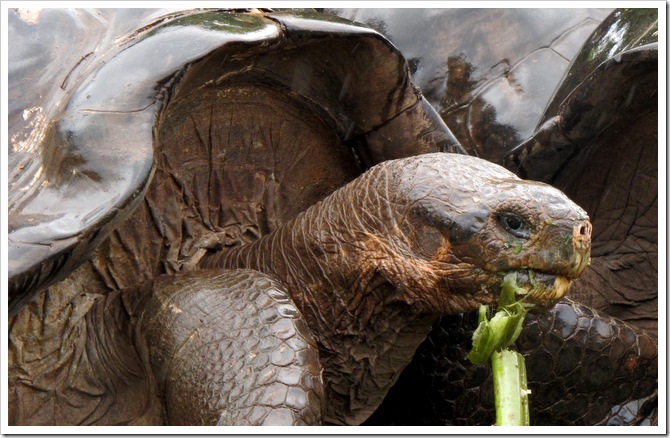 150 year old wrinkles!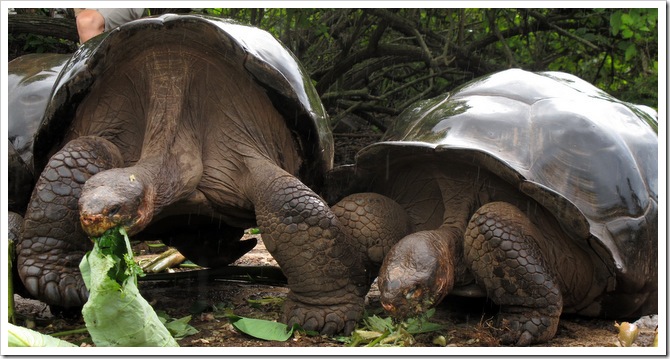 Coming through!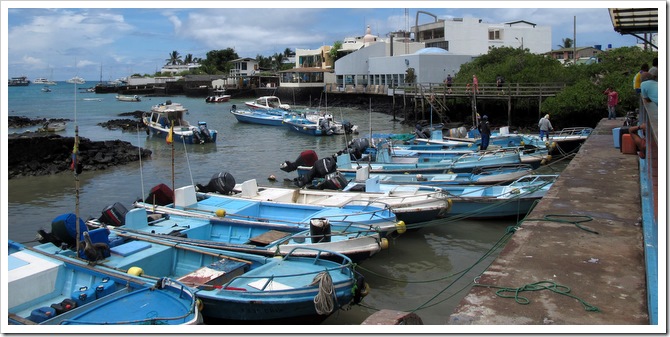 the local fishing fleet and small fish market, where the food chain does some funny twists and turns.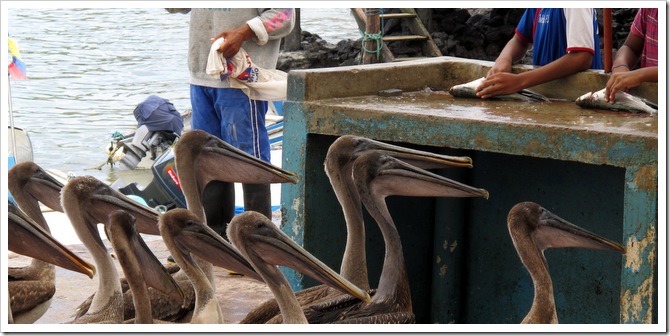 that afternoon we checked out Tortuga bay and it turned some fun waves, so we grabbed the boards and made the most of it.   
Andy coming in after a good session. We met a local guy who offered to take us on a boat trip to right point break that was meant to be on.
We agreed and the next day he picked us up in a 'friend's boat' for the 30 minute ride out to the break. Glassy conditions and an incoming tide, a decent swell… all was looking great except for the fact that our new friend forgot to mention what we were doing was totally illegal…
We met Chris (on left) at the beach from the Gong south of Sydney. He came along for a surf too.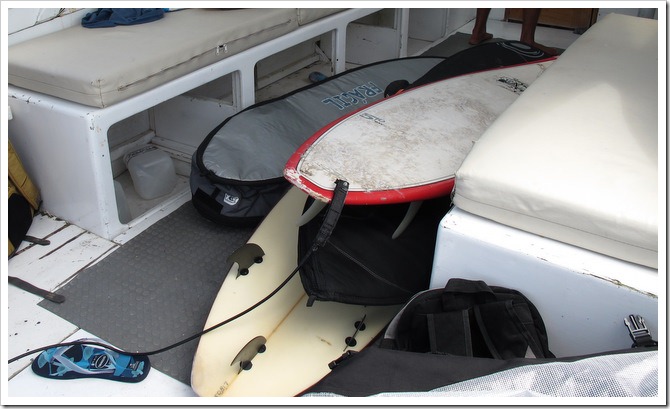 we were in the water for about an hour and a half  enjoying the clean 4-5 foot waves and getting ready to paddle back to the boat for lunch before having an afternoon session, when we noticed a coast guard boat doing circles around our new friend's boat. Our new friend suddenly became a bit agitated and confessed that even though he was charging us $150 to be here and said he has a tourist permit, surfing here is not allowed…. we surfed on but knew in our hearts that the day was coming to a premature end.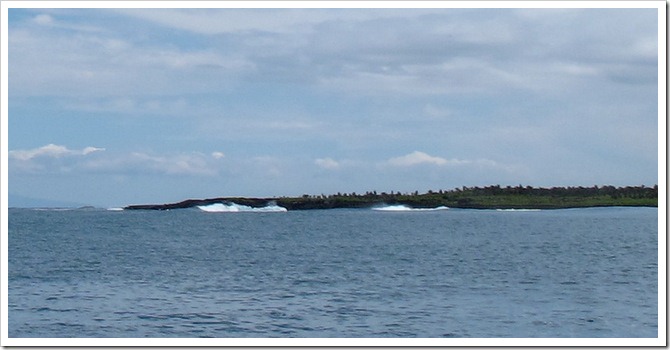 About 20 minutes later the driver of our boat started waving frantically, he had somehow convinced the coast guard we were locals and to leave us alone, the coastguard took off and he didn't want to stick around to find out if they were coming back.
In his enthusiasm to get moving the inexperienced skipper brought his boat straight into the face of a massive set and was inches away from sending his boat over the falls of a 3 metre wave…. Andy was already back on the boat, whereas I was paddling along side and only wished I had my camera with me to capture the big 30 foot launch vertical on a massive wave as Simon dumped his board and swam for the bottom of the ocean assuming the tonnes of water that were about to crash on his head were going to be mixed with 2 running 200hp engines and a lot of fibreglass!!
Somehow the boat managed to get over the wave with the skipper hitting the roof of his boat and then falling on the floor, before having the presence of mind to jump on the wheel and put the throttle down to our combined yells of GUN IT NOW!!!! we watched as he sped away into the horizon over the next 2 monsters that rolled into the point unridden… we paddled the 300 or so metres back to the boat and the adrenalin rush somehow made it less painful to leave this amazing spot.
The next day we decided to stick to land activities. We caught a taxi out of town to the Lava Tubes… a phenomenon that occurs when the lava on top solidifies whereas underneath it continues to flow for a long time without significant cooling. once the Lava flow stops big underground lava tubes or tunnels are formed.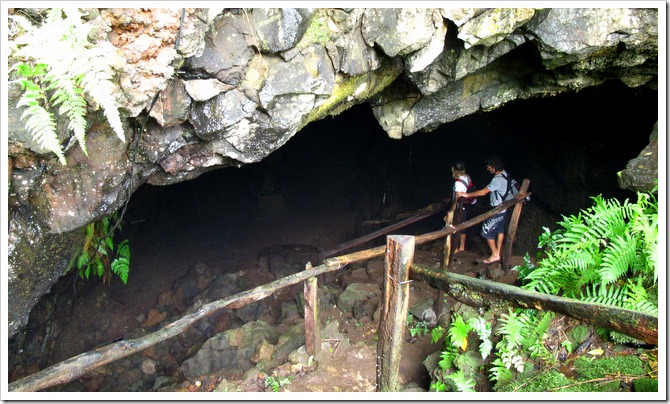 This one stretches for about 2.5 kms underground.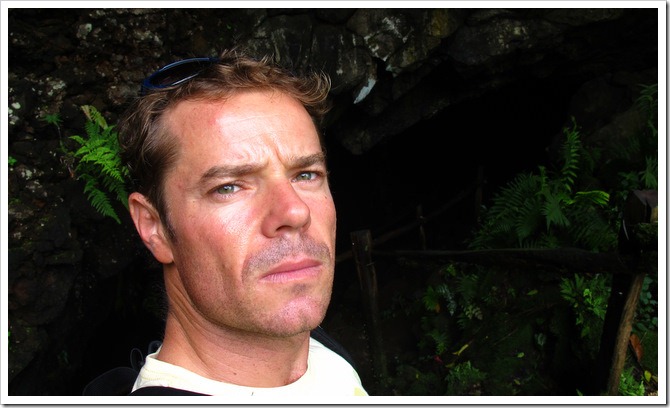 entering the Lava Tunnel with new haircut. I've always wondered if you could cut your own  hair…. so on a slow day whilst motoring I took the scissors and chopped my own hair – 15 minutes and it was done!


That was the way in….and in 2.5 kms there should be a way out.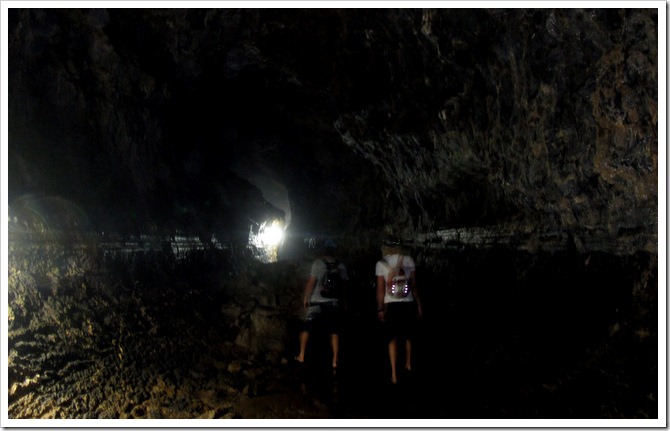 As predicted…. not the most exhilarating experience, but pretty amazing all the same especially when you think about the fact it was all molten rock flowing through there.
With the key highlights of Santa Cruz ticked… we decided to keep moving and sail to Isabela island for a final dose of Galapagos wildlife, beaches and land time before our crossing to the Marquesas.

Fresh water is becoming a scarce resource and we have started testing out ways of capturing rain water.

Sailing past Los Hermanos
After a mix of motoring and sailing for 7 or so hours we arrived in Isabela… 

It's a reasonably tricky entrance especially given that our charts seem to be out by 200-300 metres or so… not sure why. 
But with an amazing sunset at our backs, we dropped anchor in the small anchorage and relaxed.
Our Irish friends on Farr Fly, were already here as were about 7 or 8 other boats from Italy, France, Canada, New Zealand, England and even a boat from Andy's hometown in Australia that cleared out before we had a chance to say hello.


Farr Fly anchored behind us.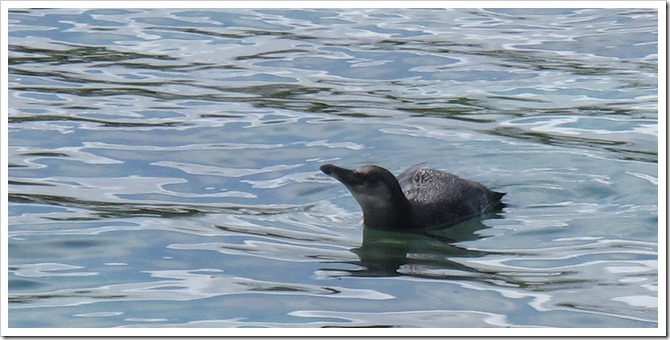 One of the locals coming to say hello… penguins dart around everywhere here!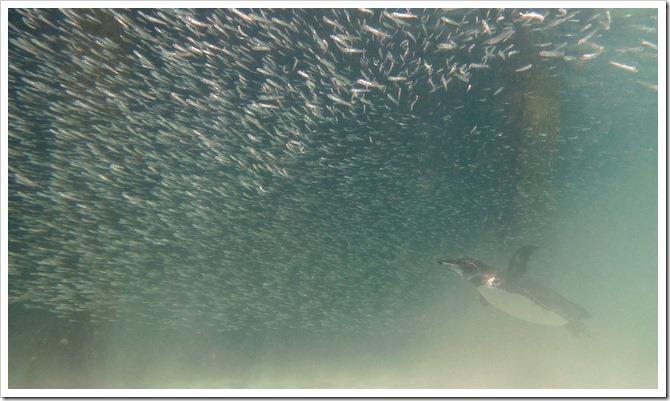 Chasing snacks!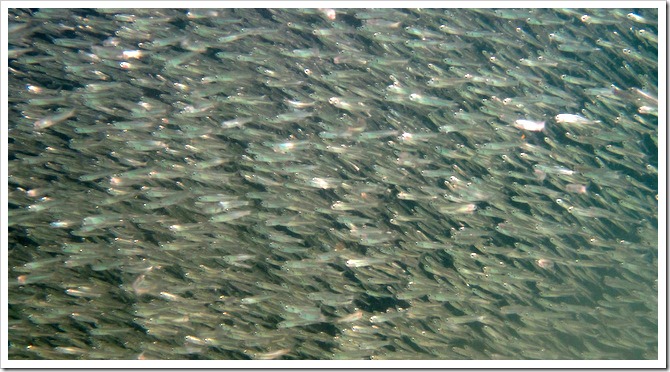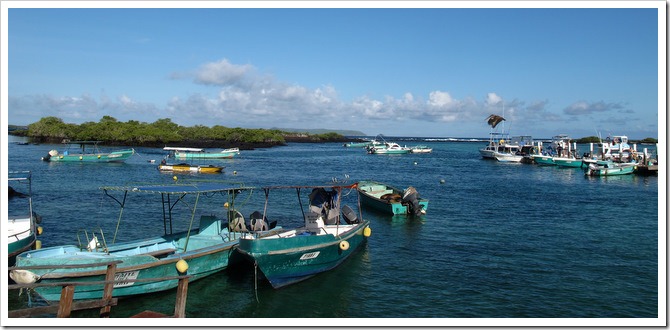 The little wharf is a permanent thoroughfare for boat loads of sun burnt tourists coming and going packed into overcrowded Pangas. It makes you really appreciate having the privilege to explore with the relative freedom of your own boat and dinghy.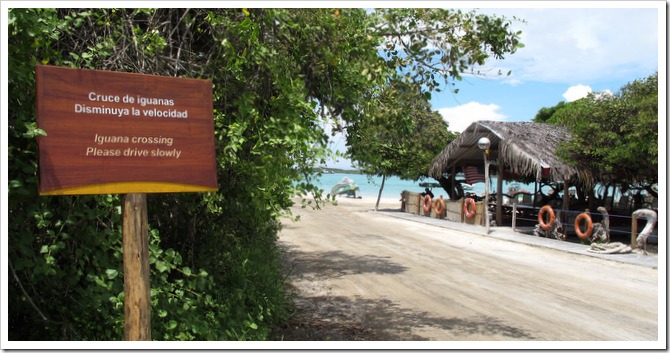 Around the small beach and wharf penguins, Sea lions and iguanas frolic around entertaining the tourists and each other alike.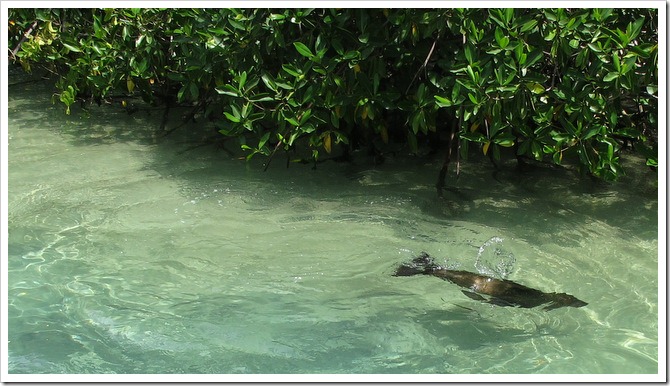 Don SeaMon getting some sleeping posture tips from the Sealion.


The village is a short 10-15 minutes walk away and has a cool, remote central American feel about it, with local music spilling out onto the unpaved streets.
It is set on a beautiful white sand beach, has a couple of restaurants, 2-3 beach bars and the usual array of local minimarkets.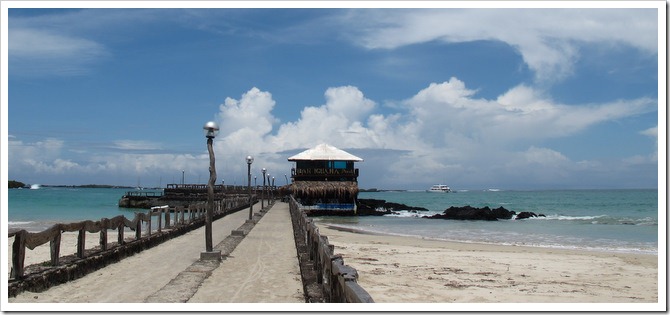 The Iguana Bar – sunset drink anyone?!

Andy and Simon decided Flamingos are for stiffs and didn't approach for fear of being spotted.
I took my chances and came up with a few cool photos….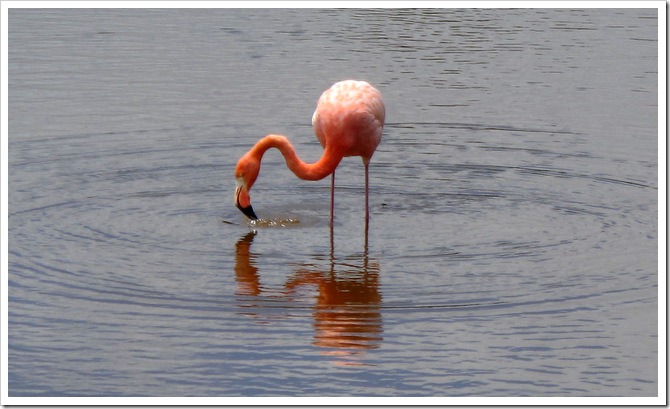 With all the exertion of Flamingo lake we needed to rest…. and Bar de Beto provided the perfect answer!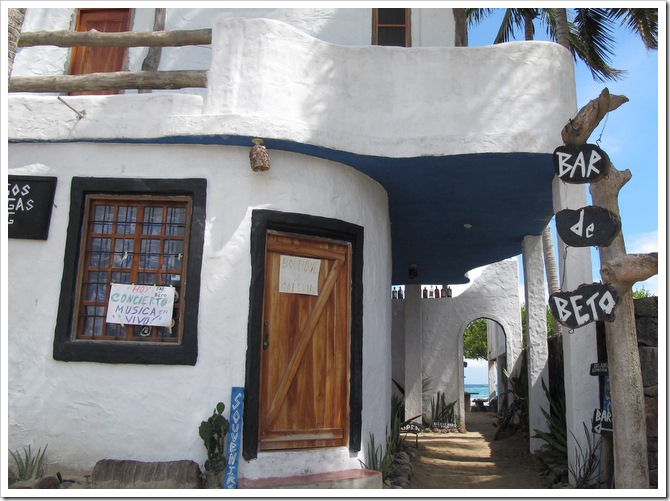 Squander anchored in the distance.
Cold beer, a near perfect beach setting, great hammocks & the foreshore of the beach bar is home to hundreds of marine iguanas.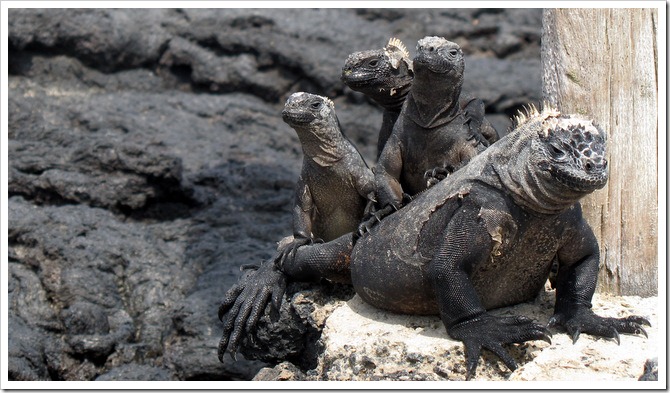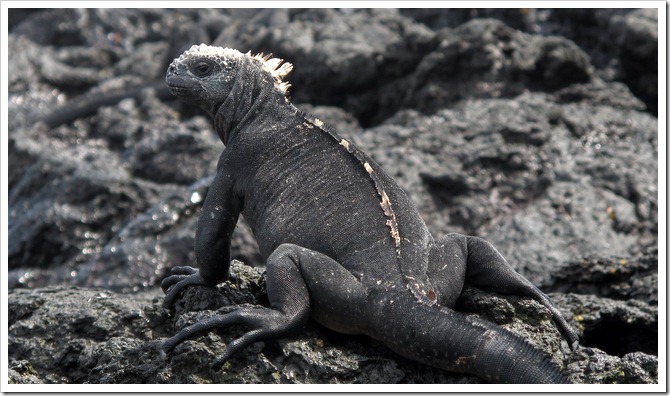 Iguana convention.

Hey human… What do you want? can't you see we're busy over here….!

Sunning on the wall.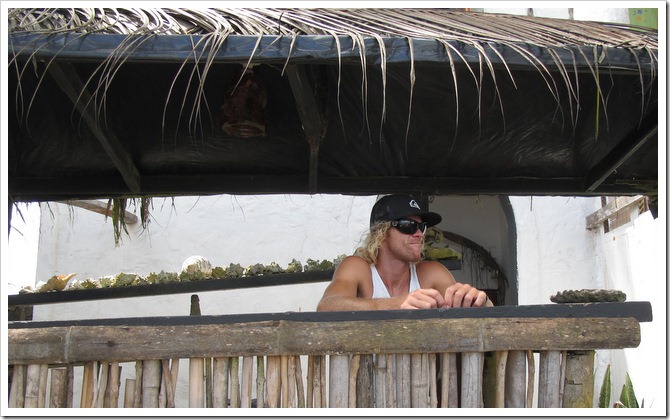 Andy showing off his HANGER face…. an Anger caused by Hunger!
After lunch we went to the Capitania to sort out our paperwork. Whilst waiting for it all to be processed Andy & Simon met Tim, an Atmospheric Physicist from new Zealand working for a Spanish university who picked the right straw out of the hat and got posted here… on the beach…. to measure ozone levels.


Tim's house/laboratory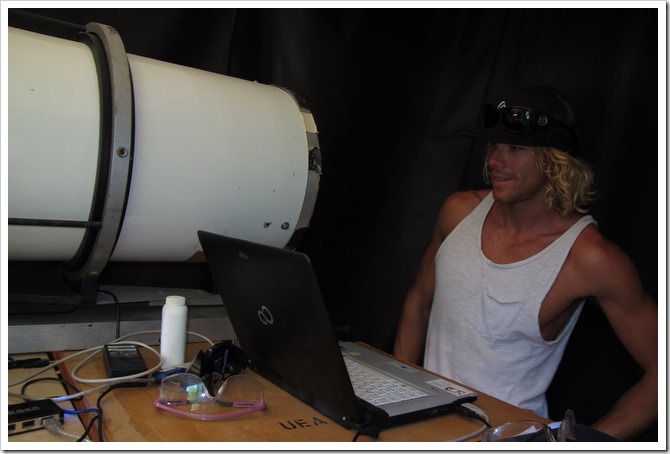 Andy checking out some of the gear.


Speaking of cool houses – how's this little beach pad?!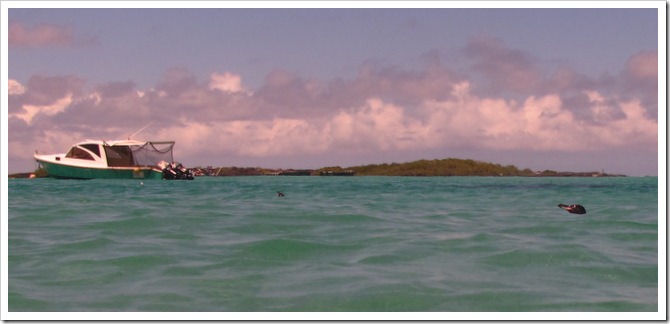 Chasing Penguins… Photographer and subject come up for air simultaneously! 
We had an afternoon snorkel looking for rays and sharks but only managed to spot this little fella.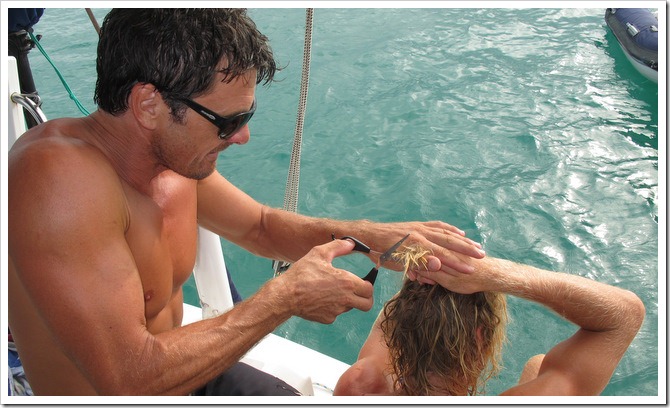 Siimown (as he is now known in hairdressing circles) added some layers to Andy's coiffure, whilst Andy hung on for dear life ensuring Siiimown didn't chop off too much – you should have heard the conversation that was going on….!! Naaah Mate I've seen it done hundreds of times… it's jus like this…. nooooo, my aunty emailed me tips… what is this??? I said 2 inches not 7!…. maaaaate you're lookin goood…. and so it went on…. very entertaining!
The next day we were meant to head up to the volcano…I wasn't feeling the best after drinking some of the local water or eating something that finally rocked the iron guts that we all seem to have developed. I decided a day off is what I needed and hung out on the boat catching up on some videos…. judging by the pics the boys had a great day.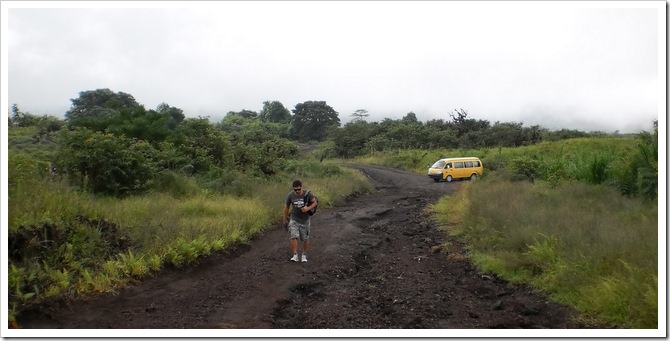 Having been driven an hour or so out of town to the base of the Volcano, the group of 40 or so tourists start walking the 2-3 hour hike….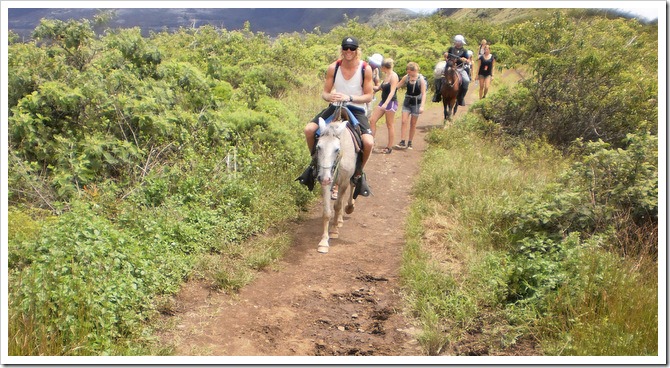 …. except from two Smart Aussie guys who booked horses….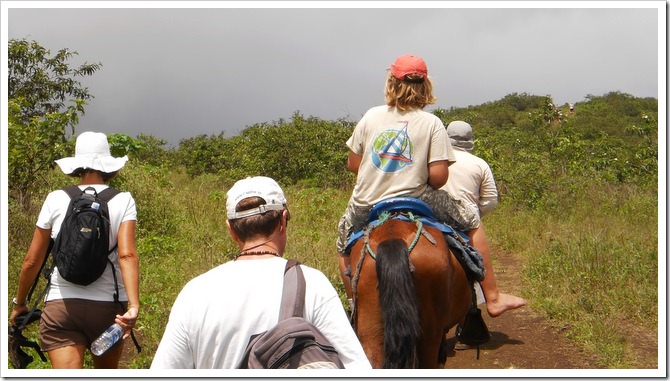 … and one lucky kid who gets to ride Gavin's horse!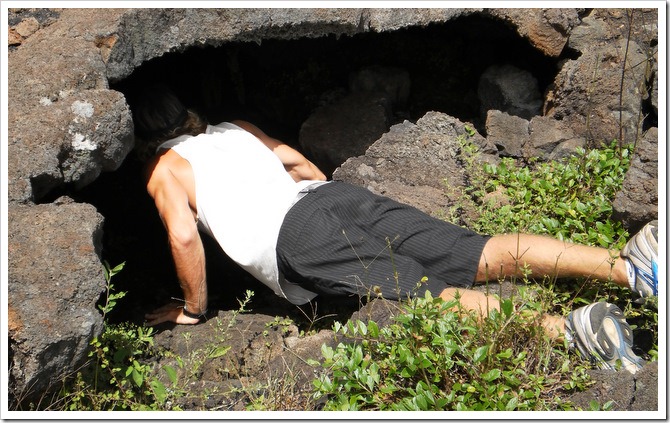 Andy's new regime includes crater push ups!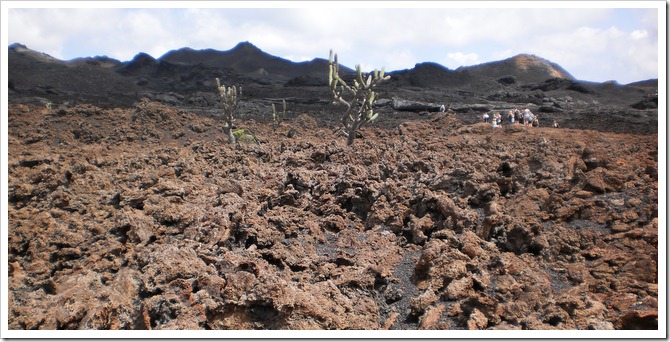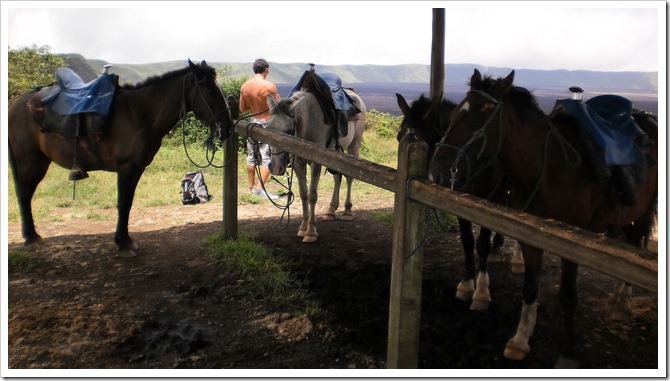 "gone fishing??!"
That night, we ran into Tony and David from Farr Fly, the Irish boat we first crossed paths with in the San Blas islands – it was their last night in town and we decided to make a night of it.
telling tall stories no doubt??!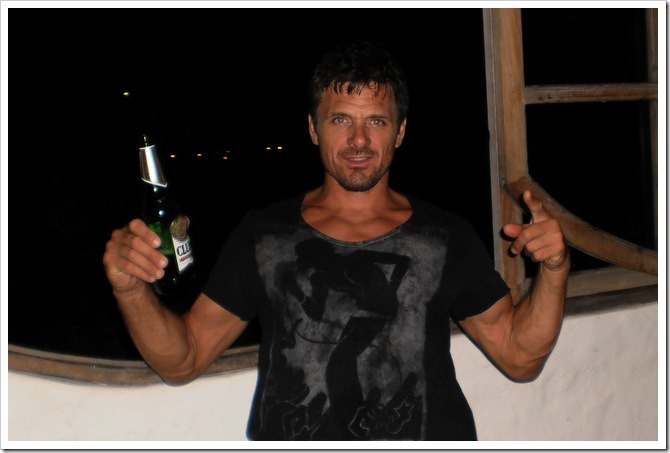 I'm the best!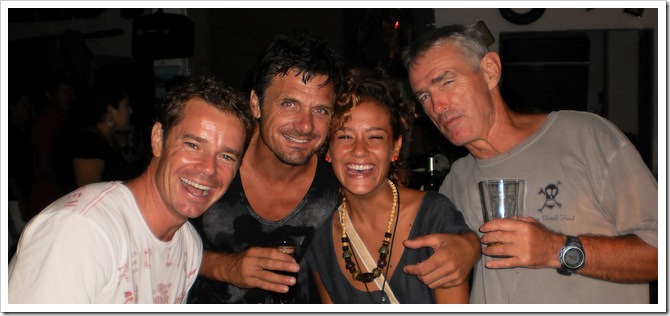 Carolina, smiling despite the three dirty old men fighting for her attention!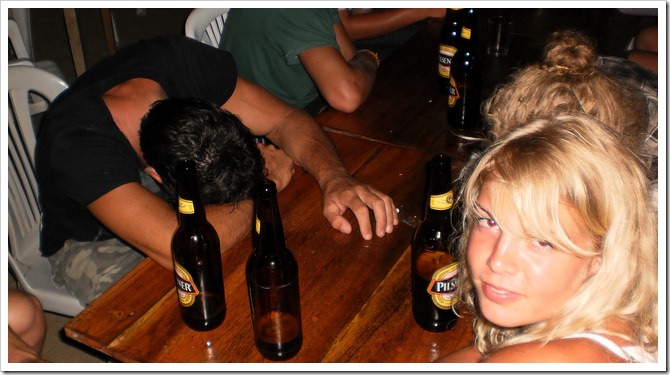 Don Simon bows his head in astonishment…..we ran into Yasmin, the young Swedish girl that Andy plucked out of the surf 2 weeks earlier, two islands away!


Now I know Andy saved your life, but…. ahmmm…. nah I've got nothing!

Tomorrow is another day – in Paradise!
The time has come to say goodbye to our new friends, and start the long journey to the Marquesas. With good winds and some luck on our side we should be there within 3 weeks.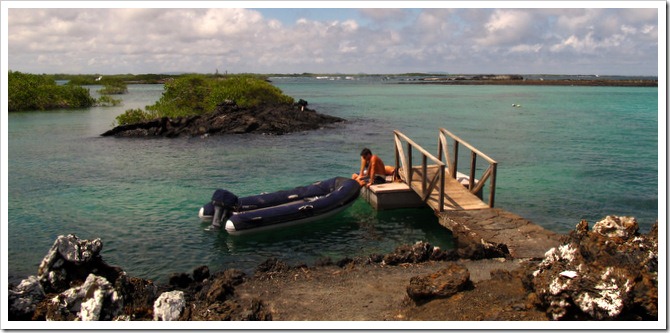 Thanks for reading and getting all the way to the end!
The Squanderers.