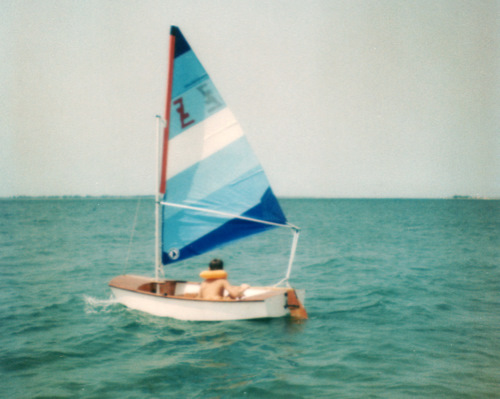 I started sailing when I was about 8 years old and by the time I was a teenager I started dreaming of sailing around the world.
20 years on, I'm now 36 and have decided to put my career on hold, and follow my dream… it's not easy, and many sacrifices have been made along the way.
Inspired by many a quote pinned on my office wall for the past 10 years, I finally decided to bite the bullet and do it!
" I've always wanted to sail to the south seas, but I can't afford it." What these men can't afford is not to go. They are enmeshed in the cancerous discipline of security. And in the worship of security we fling our lives beneath the wheels of routine – and before we know it our lives are gone. The years thunder by, The dreams of youth grow dim where they lie caked in dust on the shelves of patience. Before we know it, the tomb is sealed. Where, then, lies the answer? In choice. Which shall it be: bankruptcy of purse or bankruptcy of life?"
My offshore experience began some 10 years ago, and I have around 20,000 logged sea miles under my belt. About 5,000 of them were sailed in offshore racing and the rest cruising in the Pacific, the med and crossing the Atlantic three times. In many ways I consider myself a rookie of blue water sailing, yet I've got a solid foundation of living aboard, understanding weather, route planning, navigation, safety in various sea states as well as a reasonable amount of experience in heavy weather.
I consider sailing or cruising a voyage of discovery and learning. I expect that my crew will teach me as much, if not more, than I can teach them – of course learning to sail and live aboard will by default be part of the curriculum, but I welcome as wide a mix of people & skills on board as is reasonable for a good crew.
My party days are mostly behind me, although I have been known to make the odd guest appearance when the occasion calls for it. I'm into all manner of water sports from surfing, kiteboarding, kayaking, diving, snorkeling, windsurfing and will try anything else if the opportunity arises.
I imagine we will be staying away from tourist traps & party towns (occasionally we might visit one or two) in favour of unique islands, unspoiled bays, beaches and small townships.
If you have any questions feel free to contact me via email, phone or skype.
Gavin