Anyone remember Gilligan's island??
The weather started getting rough,
The tiny ship was tossed,
If not for the courage of the fearless crew
The minnow would be lost, the minnow would be lost.
Baptism of fire comes to mind – we sailed into what was meant to be a decent 20 knotter and ended up being a decent storm…
Leaving our BIG friends behind – thanks for all the help – skies look clear!
The skipper definitely had a slight hint of the guilts having had a cursory glance at the weather and dismissing all the tales of the Gulf stream as just another current that you had to deal with once you were out there!!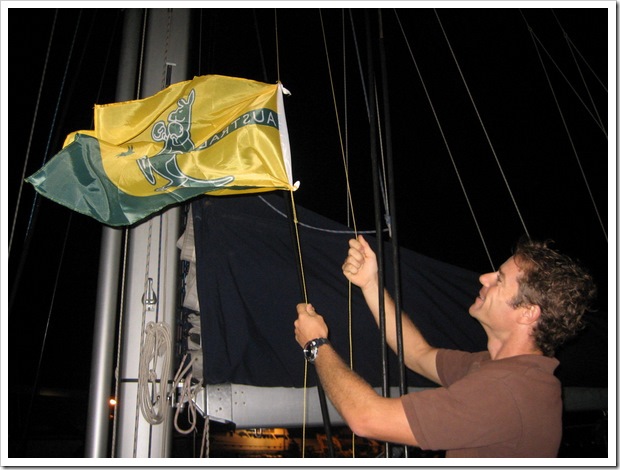 Hoisting the boxing Kangaroo pre departure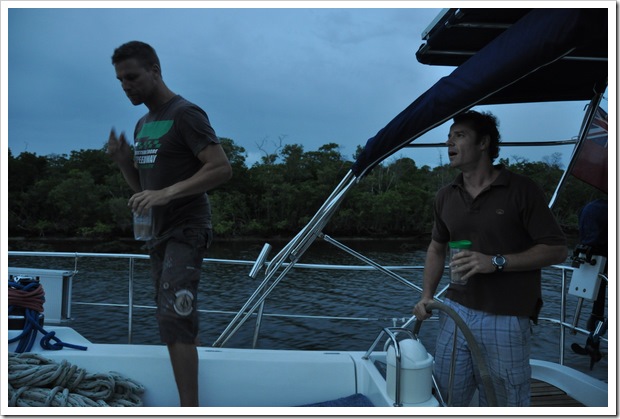 First signs that things may not be as planned??!

I have never travelled sideways almost as fast as I was travelling forwards, except for maybe when stumbling home after a few too many beers. Literally for every mile that we went forward we were getting swept north 3/4 of a mile. Add to that some fairly uncomfortable seas and big, black ugly storm clouds on the horizon and we had ourselves a 'situation' – I tried to keep a brave face, cooked up a good hot stewy soup for the crew, threw 2 reefs into the main and waited… not for long… 15, 18, 22, 25, 28, 30… and then three hours of my wind vane being stuck on 36 knots beating into it… fun fun!

It all looked great at the start
ahh boys – welcome to sailing!!! it was the first time any of the guys had sailed from one country to another, let alone being stuck in the joys of a big, black ugly night, wind against tide, big greenies everywhere sweeping over the decks …. and I'm proud to say it was all handled in great spirit and with no concern!

Fort Lauderdale in the distance – goodbye Florida.

Goodbye blue sky
…..
Nathan "Strike" Harvey here….
If not for the courage of the fearless skip the Squander would be lost.
Gav definately went above and beyond the call of duty in what was definately a tough night. He was awesome in that he had a new crew that was unfamiliar with the boat and with varying degrees of experience. That along with the fact that we were beating into a fickle system with wind speeds building from 15 to 35-40 knots made it a pretty challenging experience. He was the only one on deck all night. You know the drill 15mins awake 15 asleep. Good on ya Gav you're a legend and thanks from the crew.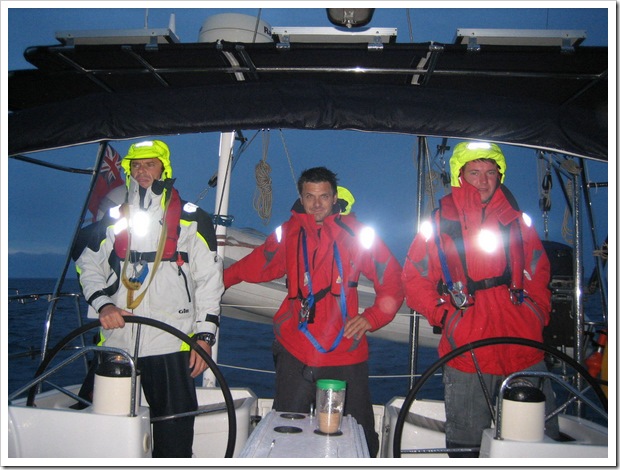 end of a tough sleepless night
I remember going up every now and then to check on him and seeing sheets of water flying over the forward bimini and him huddled in the cockpit next to the cabin hatch on duty as always.


Early morning departure shots a distant memory
Along with that we were all a little green around the gills.
Chief spewer goes to Dimitri by a country mile but to his credit he backed up later on with a big stint on night watch. By the way weve come up with a better name – he loves his camera so weve decided to call him FLASH but since hes been sick were thinking FLICK – a mixture of FLASH and SICK.
By the way were yet to come up with a pseudonym for Gav – were thinking BLADE because he loves to cook and cut things or CRUISE because hes definately a cruiser for dealing with us idiots with such grace. Any feed back from you guys would be appreciated.!!
Second place spewer goes unfortunately to me with a little sneaky one while no one was watching – into the kitchen wash tub – Shhhhhhhh – don't tell anyone.
I'm proud to say the rest of the boys are yet to open the account although Simon "Action" Fraumeni was definately looking like a contender for a while !!
I swear a weatherman is the only job that I've heard of where they can consistently get it wrong and still keep their job.
And hows this a weird weather warning came in when it was far too late  that wasnt predicted that they say basically never happens. BA HA HA !!
SPECIAL WARNING RECEIVED AT 6:36PM over navtex
(that Gav read at 3:30 am after the storm front passed)
NWS Doppler RA indicated a line of thunderstorms capable of producing strong winds of 34 knots or greater…. WHAT THE??!!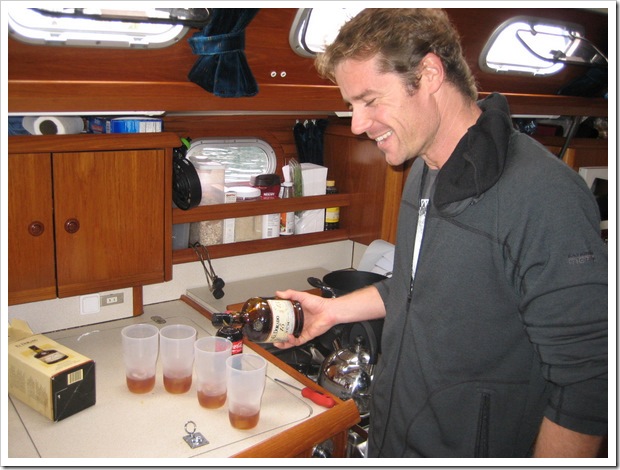 Breakfast celebratory el dorados – a local antacid!
Well after cursing the weatherman we made it through the night and Squander performed admirably and no bottles of Rum were smashed or anything else important.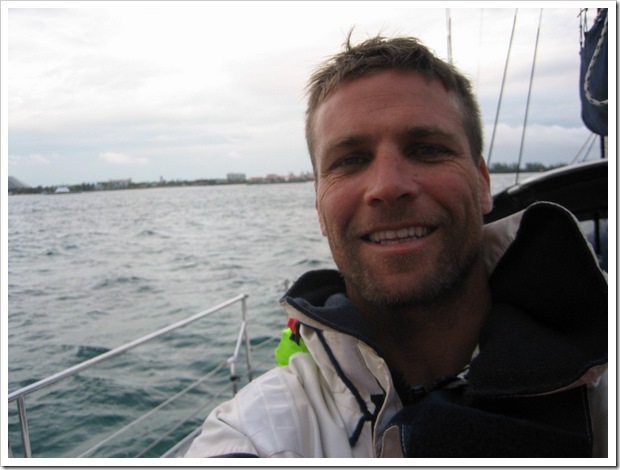 We were originally going to go into the biggest marina on Grand Bahama called Xanadu but the seaway looked more like Aunt Marys back creek in Coonamble and so given the low tide we decided to head to Port Lucaya instead and after a nervous low tide crossing of the bar – literally 10 to 20cm of clearance at times we made it to the marina.

Through the shallow channel.
This place is great !!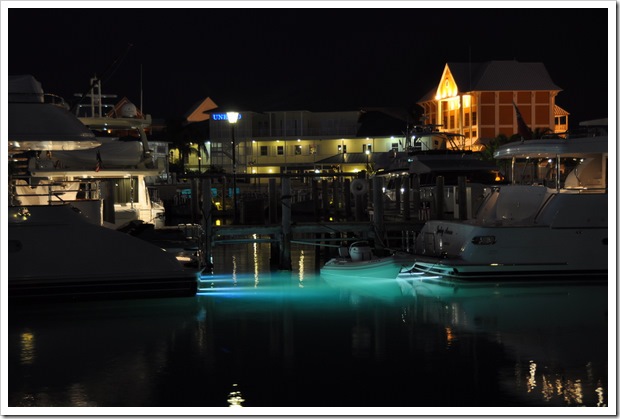 A lively little spot and plenty of little restaurants and bars all within a fifty to 100 metre walk . HAPPY DAYS !! After we had a nice lunch on land we cooked a great BBQ on board with the music from the Marina bars in the background. WOO HOOOO – were in the Bahamas and Gavs dream and ours is finally on its way – Time to celebrate.

Simon cooking up a steak or two.
We cleared customs with no probs and now have a crusing permit for the entire Bahamas and were certainly looking forward to the next leg.
Well that's about it now. Were going exploring for a bit tomorrow and then who knows where and when next.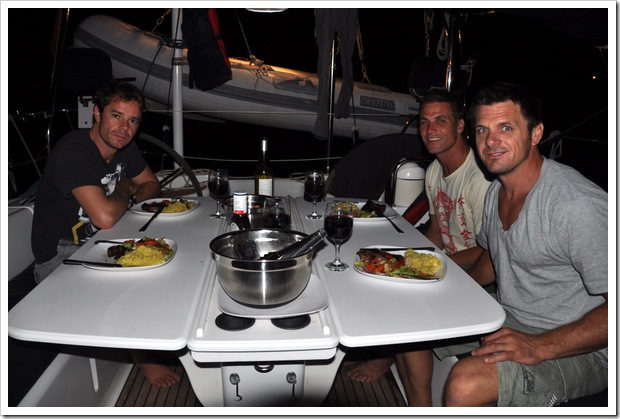 Depends on the weatherman- get it right ya bastard !!
Nathan STRIKE Harvey signing off for now , look out for the next installment.

Port Lucaya Sunset – nice to be here!
PS BIG SHOUT OUT TO THE CARPE DIEM BOYS – here's to seizing the day. By the way your tank water that we stole at 5:00 am tastes like shit!!