Fifth of January 2011, Squander seemed eerily quiet, like the morning after a big party, when all the guests have left and only the residents remain – it's both sad and enjoyable. Sad because the party is over, but a great time to reflect on all the fun that was had. The two weeks passed so quickly, we sat there recalling the fun moments, the various places visited, the experiences and people we met along the way… the only difference being that on Squander a new chapter was already unfolding.
AJ, an old mate from Sydney, had arrived a few short hours after Amanda and JB flew out – just enough time for us to clean up and make up his cabin – Aj had flown "direct" from Sydney – which means Sydney, LA, Miami, Puerto Rico, St Lucia, St Vincent – a hell of a flight…. unbeknown to us, AJ was superhuman – he turned up at 7:00pm with 2 bottles of rum and an appetite for a quiet drink or two that instantly made him fit in onboard.
The kids reaction when we told them we were ready for a few quiet nights without drinking!
The next day, whilst Aj slept off his jetlag, we all battled another hangover as we sailed from St Vincent back to Bequia Island to pick up our gas bottles, the repaired spinnaker and to deal with a bunch of other maintenance that needed our attention.
By 2:00pm we were all famished and we introduced AJ to Rotis – one of our favourite local dishes – a curried beef, chicken, conch or fish with freshly boiled potatoes wrapped in a flour 'tortilla meets pancake' – Yum!

Simon onto his last bite of his third Roti, as Aj tries to work out how to tuck into the goodness before him!
AJ's a keen fisherman and wasn't disappointed, catching a decent size Wahoo on only his second day onboard!
Sailing from Bequia to Walliloubou bay, we caught our first Wahoo and being my favourite Sashimi fish (similar to kingfish in Australia) I was stoked to get the Wahoo season underway!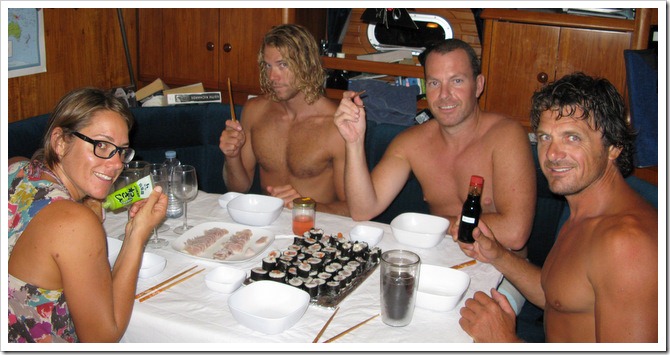 Sashimi, Sushi, Soy, Wasabi, chopsticks and good company!


Yum!
We had arrived at Wallilabou bay at night, which was an interesting experience that was worth the trip alone – Wallilabou was made famous by Disney when they transformed this sleepy horseshoe bay into the set of the first two Pirates of the Caribbean movies. It's a deep bay which means that you have to drop anchor very close to shore and tie the stern of your boat to a palm tree on shore. Luckily there are countless boat boys vying for the opportunity to help you out and get a tip and a few cold beers in return for the favour…. all good during daylight!!… but at night we assumed they would all be asleep….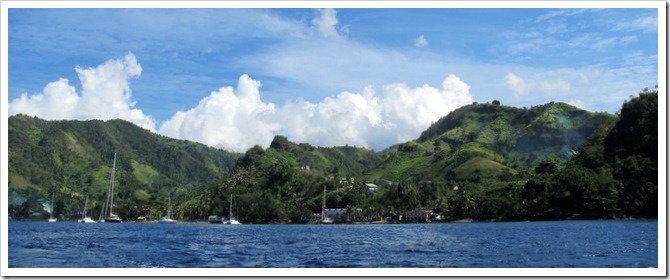 Wallilabou Bay in daylight
Simon and AJ were on the bow as we were approaching the bay in pitch darkness, whilst Andy and I were looking at the charts and steering when we heard a Dimitry-like "gooooo LEFFFFFT" cry from the bows – at first we cracked up laughing at what we assumed was another one of Simon's gags… but when we heard a second one from AJ and a bit more panic then humour in their voices we quickly spun the wheel narrowly avoiding a small dugout canoe that we wrongly assumed was about to be wiped out by us…. as it turns out it was the keenest of all boat boys, who had seen our nav lights in the distance and had rowed about a mile out to be the first to help us… once our nerves and heartbeat returned to a semi normal state we enquired about moorings and were told they were all full, but no problem to anchor and tie up – it all sounded too good to be true, but I felt i had to reward the effort these young guys went to and the industrious approach that they took eliminating the competition who were all waiting inside the bay – we threw them a line and towed them the mile or so towards the shore… what ensued was a comedy act as the boat boys fought for our attention promising moorings, no moorings, good place, bad place, legal, illegal – all in pitch darkness and at times totally invisible – in the end we told them where we wanted to go and it all somehow worked out… one of our favourite stops so far as far as local people go!

Waking up in Wallilabou Bay !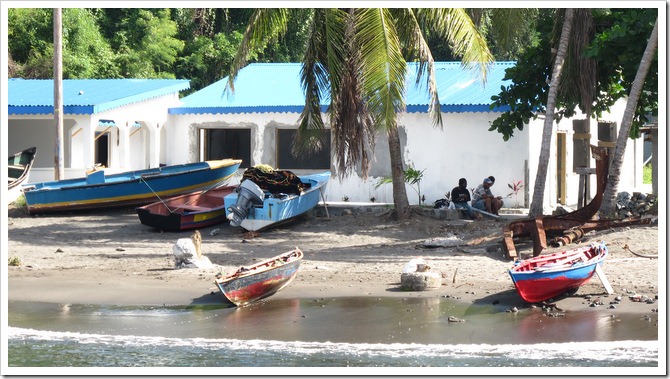 The local fishing fleet/welcoming committee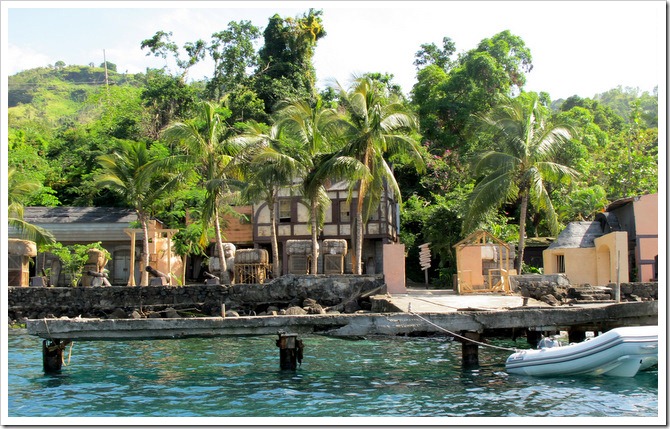 What's left of the Pirates of the Caribbean sets.
This little house is inhabited by a family of rastafarians!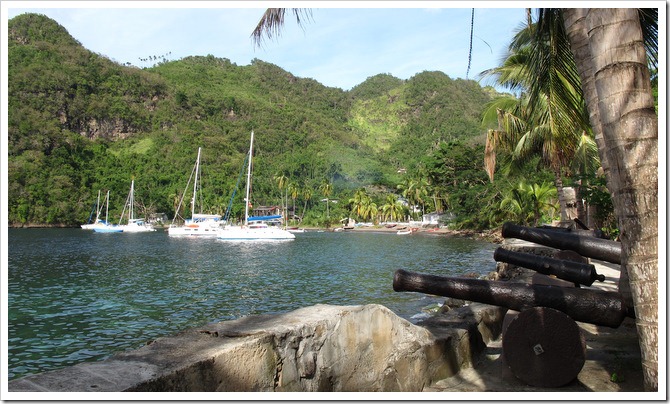 You may have heard about the cyclones that hit this area recently, they wiped out many of the sets that were left behind by Disney – it's sad and hopefully Disney will come back and rebuild them as they became a big part of the local economy over the past 8-9 years, drawing visitors to the small village.

After a visit ashore we jumped in the dinghy and went about exploring the surrounding bays and coves where we heard there was some good diving and snorkeling spots to be found!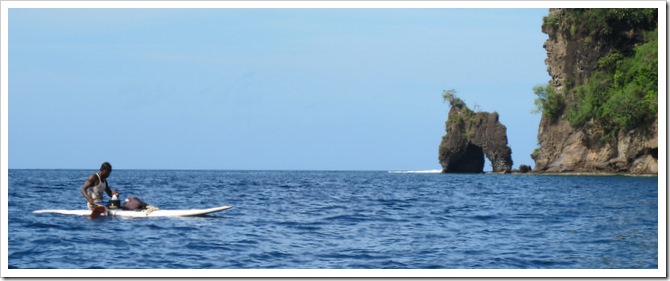 Apparently the filmmakers put a black sheet behind the hole in the rock above and used it as a makeshift cave in the films.

Andy & Simon checking out the sites.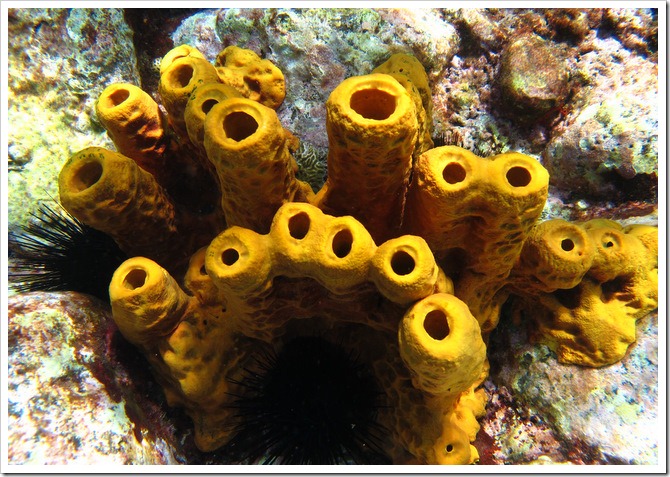 Andy searching for Cinderella.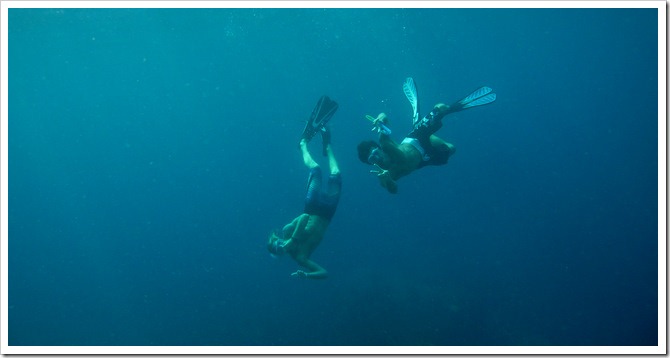 Andy & Simon exploring the deep blue

Gavin still looking for lobsters
In the afternoon, we checked out the local 'museum' along with original props and costumes from the Pirates of The Caribbean Trilogy.


AJ Sparrow!
And after lunch we walked to the local waterfalls for a freshwater shower!
The boys scrubbing up for a night out!
Agatha gets a massage from the pounding water!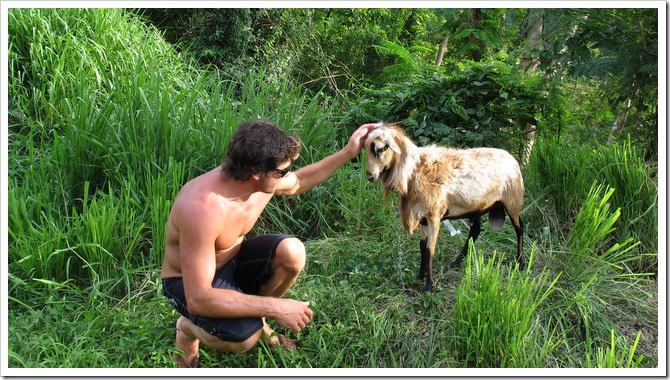 Simon making friends with the local ladies!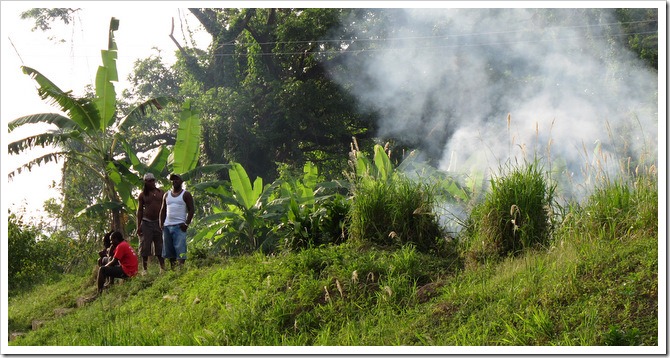 As the local guys watch on – everyone burns leaves outside their houses to keep mosquitoes away.

And as the sun set on a memorable day, we met Tony – a local character who runs a small bar/restaurant on the beach and speaks a little Polish and loves everything that is Polish – including Polish Vodka of course!!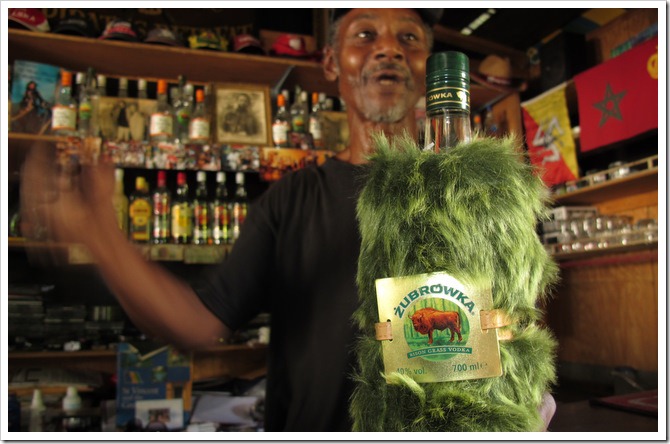 When he found out that Agatha & I were born in Poland, he insisted we come over for dinner and amongst other things try his famous Rum Punch!

Tony even has Polish writing on his Tshirts – "Fundacja Gniazdo Piratow"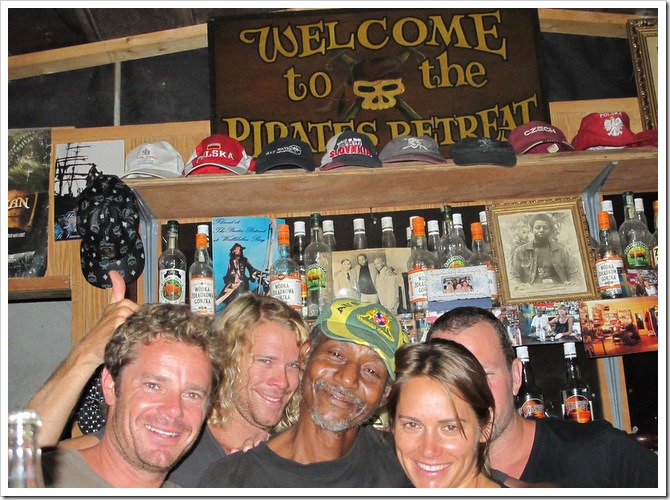 Everyone after one too many rum punches!!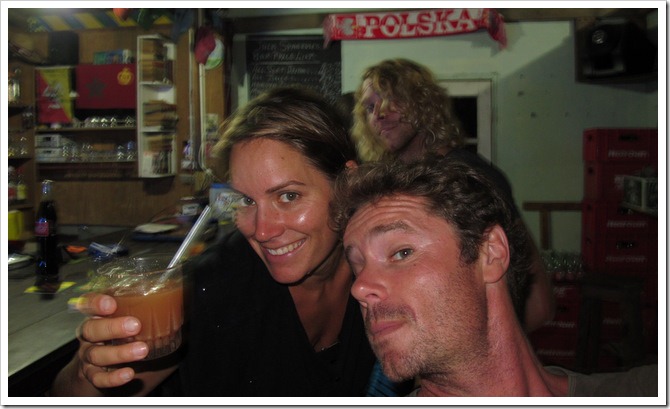 Agatha holding on to yet another glass of the magic stuff!
Shaba and her boyfriend help Tony out in the kitchen, preparing an amazing buffet dinner for us!
After Dinner Andy and Simon chipped in by washing up the Dishes, whilst AJ used his entrepreneurial skills to help one of the local guys design a bulletproof web hosting solution!


Gotta love a bar that has a backup power solution to make sure the music keeps playing even if the electricity cuts out!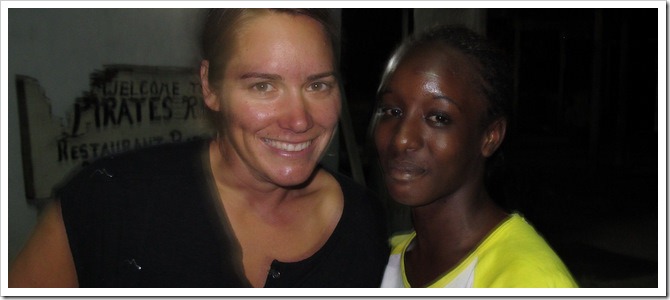 Agatha & Shaba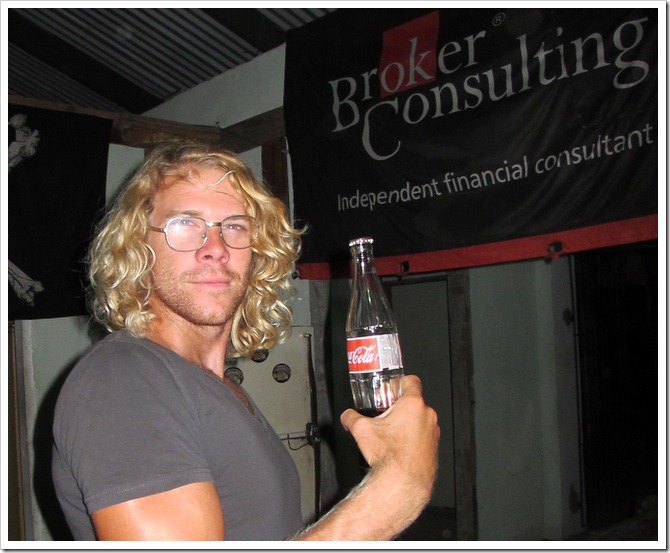 The new face of Broker Consulting??
It was sad saying goodbye the next morning as we really enjoyed our time here and met some great people who will remain firmly in our minds for years to come. But such is our life these days, the show must go on – new places to explore and countries to visit – and so it was time to say goodbye to St Vincent & the Grenadines and sail to the island nation of Saint Lucia!
We sailed north, with a few sore heads, and not much action onboard – so it was almost a pain when one of the fishing lines went off with a buzz like we hadn't heard in a  long time – we hooked something big. Simon was first to jump up and grab the rod, and he masterfully pulled in the biggest fish to date – a beautiful Wahoo!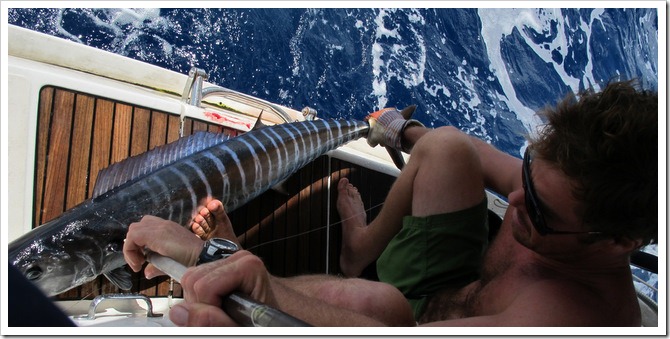 It was a team effort to wrestle the small monster onboard.


Somehow Simon never got a photo with his prize catch, but Andy did the honors for him!
So with our fish supplies well stocked we sailed into Saint Lucia!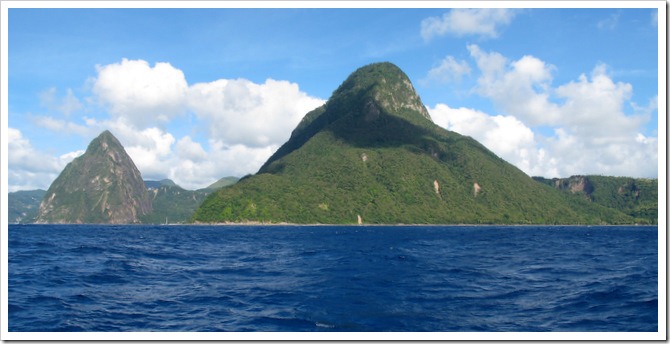 Les Pitons – the two peaks that have become the Symbol of St Lucia.

The ubiquitous boat boys, with the Grand Piton in the distance – we climbed it a few days later.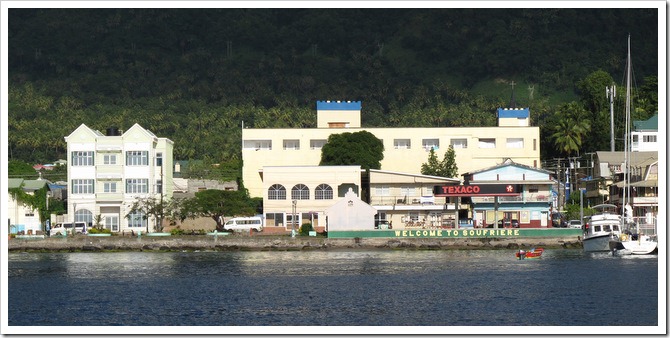 Arriving in the town of Soufriere where we checked into Saint Lucia.
Another fantastic sushi/sashimi dinner partly to say goodbye to Simon who jumped ship for a few weeks to spend some time with Mojgan on MAD.


Cabin A have their last breakfast of champions together. 6 weetbix, 1/2 a Litre of milk, 1/4 cup of sugar. The best!
As it turned out Rebecca, co-owner of MAD and general femme extraordinaire was/is a pilot – so she offered to fly from Union island to Saint Lucia to pick up Simon – Andy asked if she could take him up for a quick joy flight and she obliged!
Ahmmm… nice try lads, wrong plane!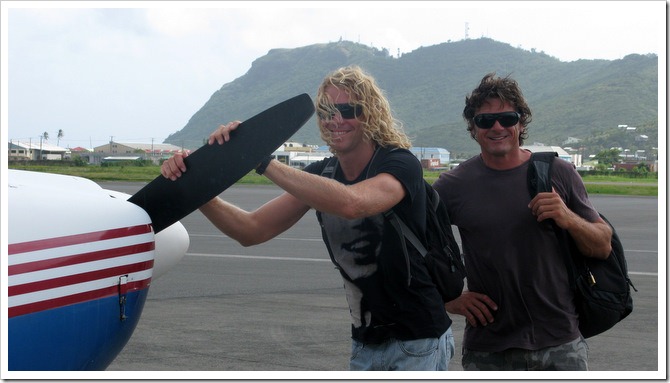 Andy helping to get things started!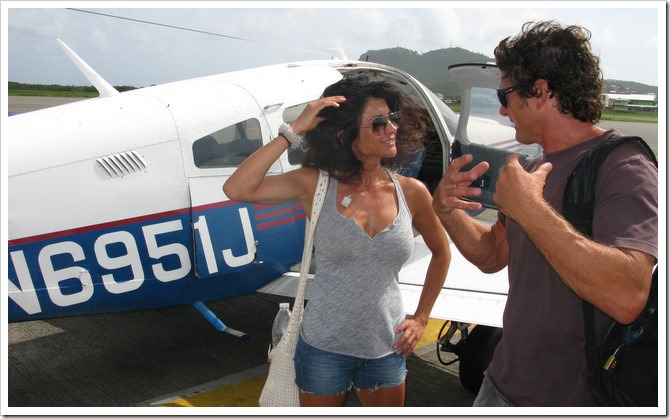 Pilot and passenger discussing Les Grand Pitons!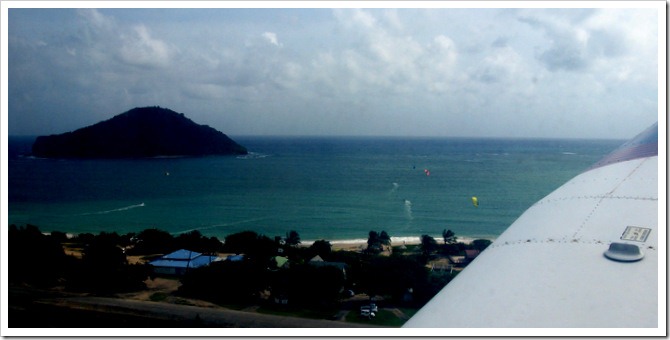 Saint Lucia from above!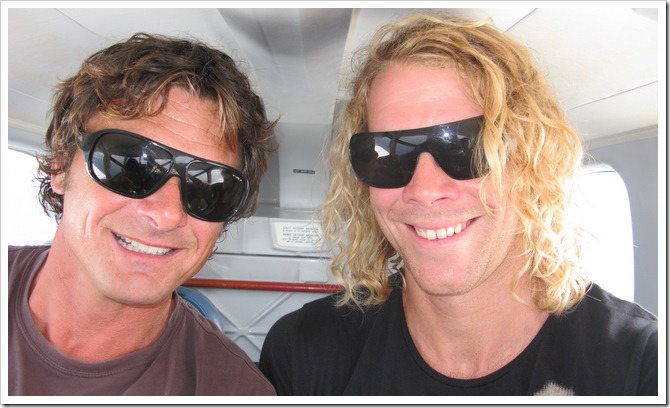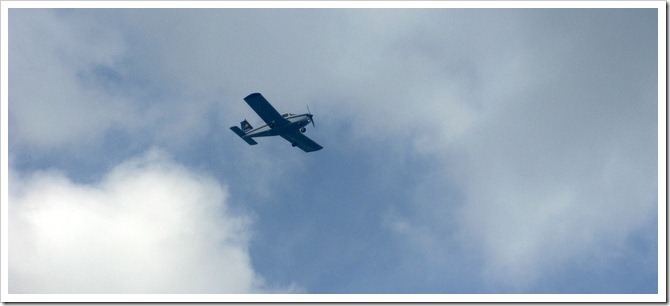 Bye Bye Simon – see you in a few weeks in Martinique!

Andy returned to Squander in time for sunset drinks and a few days of activities as another goodbye was fast approaching – Agatha only had 4 more days left aboard. We decided to get our butts into gear and squeeze as much as possible into the next few days!
We explored the local town, enquired about waterfalls, scuba diving, hiking, mud baths, volcanoes and kiteboarding!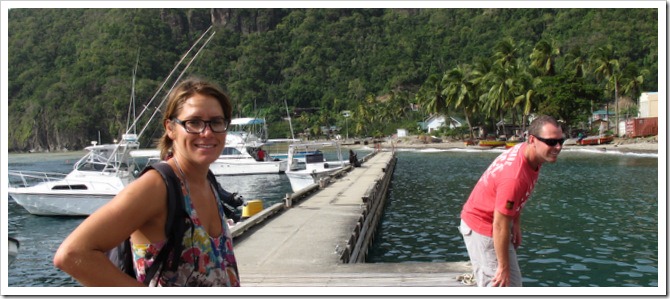 Agatha & Aj ready for action!
We left Squander safely moored, and dinghied to the local beach  – we negotiated with the local kids to look after the dinghy as we hiked up to the Piton Waterfalls.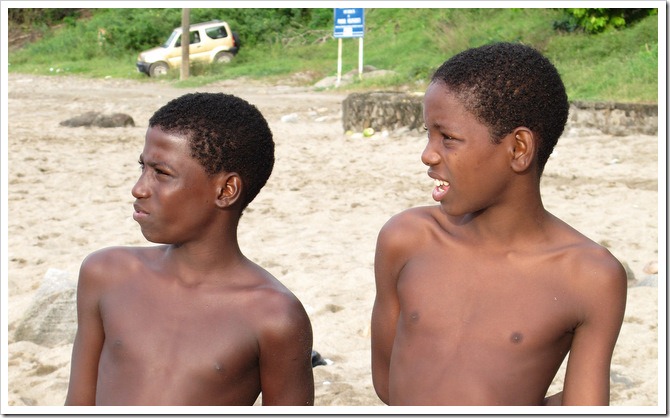 Bradley & Bradley were tough negotiators, but we soon agreed on a mutually satisfactory rate and they promised to guard our dinghy until we returned!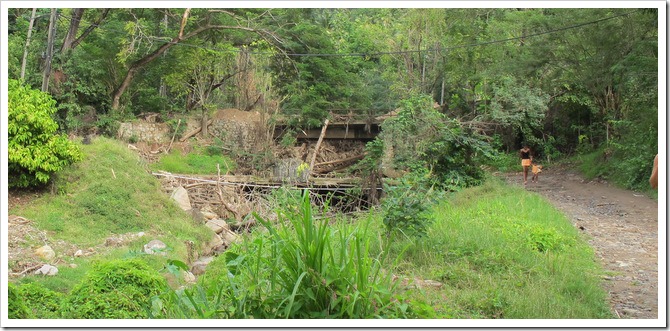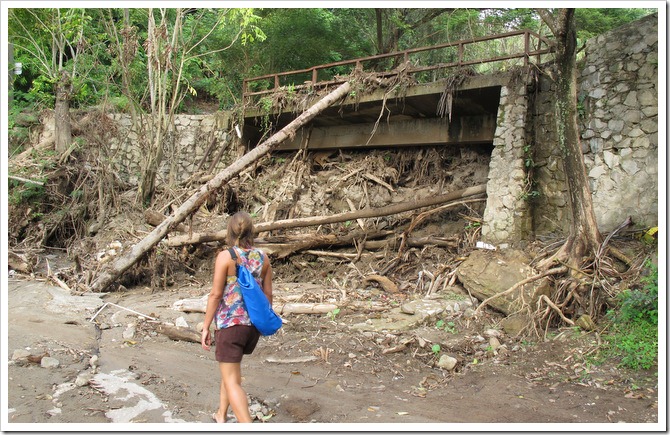 The devastation of the hurricane that swept through St Lucia in October 2010 is still omnipresent.
We walked to the local Piton Waterfalls.

The waterfalls were impressive – except that the huge amount of rain was causing a lot of unusual run off which meant the water was mixed with millions of little pebbles and sand – a good, if not a little painful, form of exfoliation!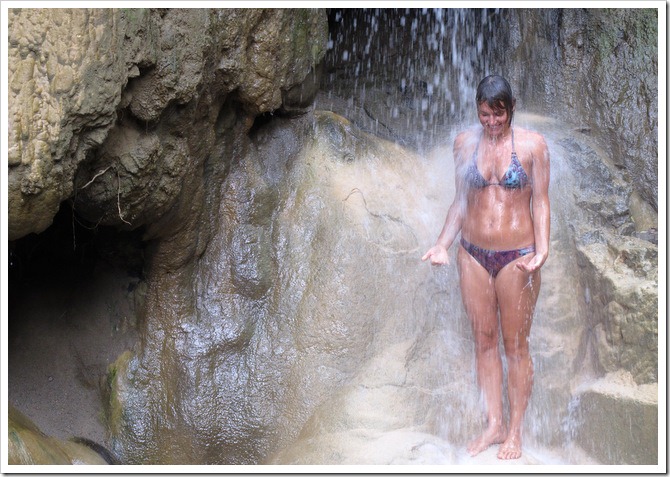 Agatha all smiles!
When we returned to the beach we found two strange sights – firstly a 60-something guy who was staring at the sunset in his chair whilst smoking a solid doze of whacky Tabacky…..

And secondly the diligence of our Dinghy guards blew us away, whilst all the other kids played on, Bradley and Bradley had stood guard for the better part of two hours!!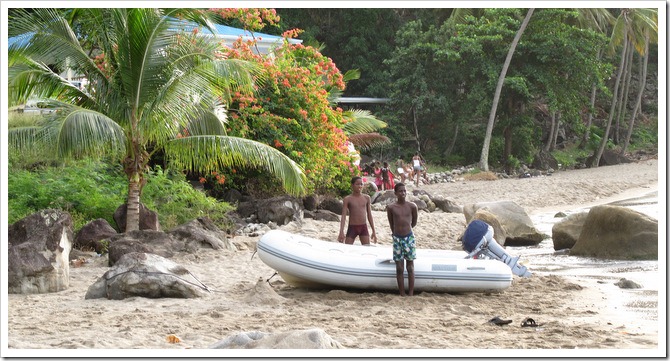 As the day drew to a close we headed back to pick up Andy who had been joy flying and to watch another sunset aboard!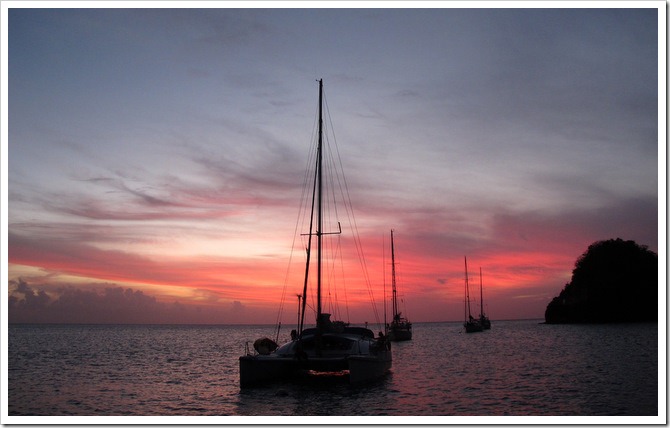 The next day, Aj decided to have a rest whilst Andy, Agatha & I conquered the Grand Piton – the highest of the two peaks – they aren't particularly high at 800m above sea level, however they are steep and the climb made me realise how unfit I am after 10 months of bobbing in the oceans!
The petit piton in the distance  – view from half way up!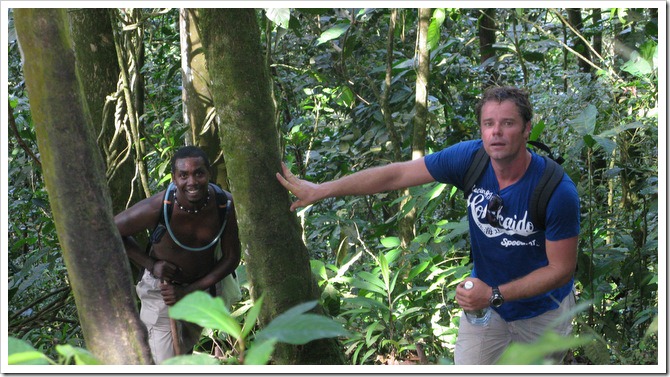 Holding up the trees – still another hour of climbing to go – I was struggling!! 🙂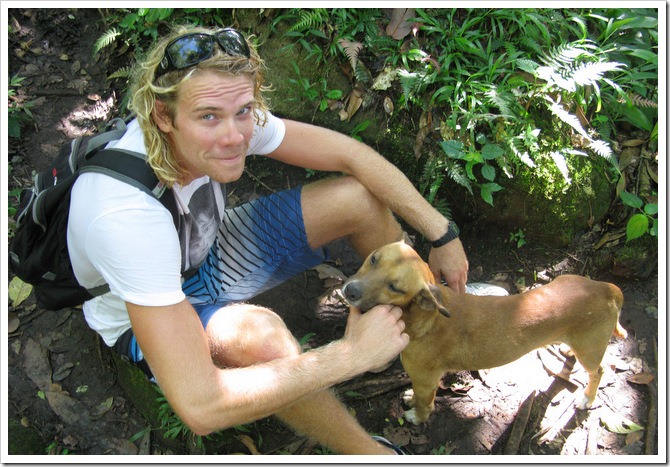 Andy and Brownie – the fittest dog in St Lucia!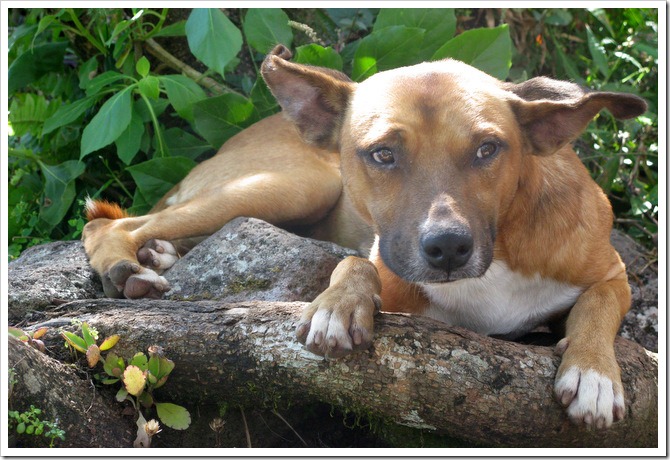 Finally at the top – an amazing view and great feeling to have some serious blood flowing through our veins!

Looking South-east towards the International airport.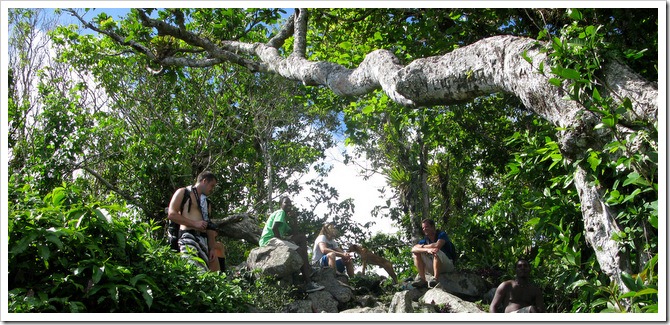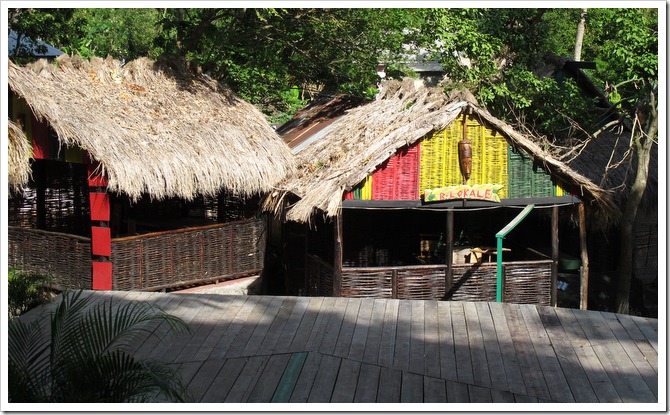 Some 4 hours after we started the ascent, we were back down at sea level and ready to head back to Squander… The young girl who drove us back to Soufrieres took a short cut through a Cocoa plantation owned by Hersheys Chocolate – she pulled over and picked a cocoa fruit for us – I had never tasted it before – it was amazing – an exotic creamy blend of Lychee & Grape flavours….!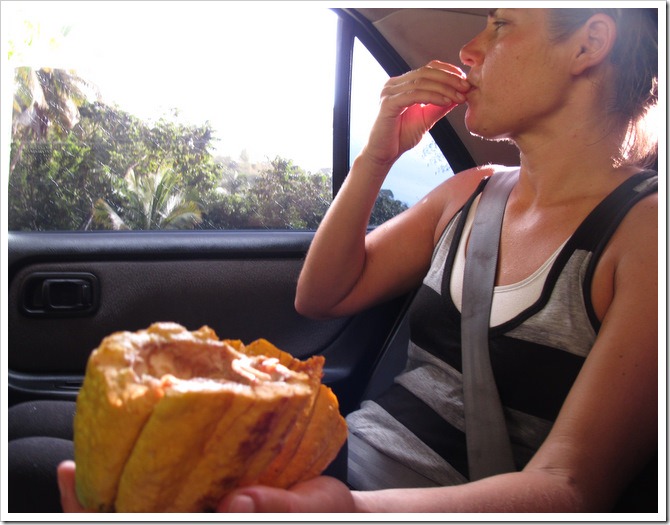 Agatha tucking into a Cocoa fruit!
We got back to Squander and decided to move to another mooring around the corner, that was reputed to have one of the best diving spots on the island.  

Just us and another boat, moored above an underwater paradise.
The next day we got the scuba diving gear out, tested it all and simply jumped off the back of Squander into the not so deep blue beneath us – with great visibility, some giant clams and plenty of fish, Agatha summed it up when she said that it was one of her favourite days yet – the kind of things you dream of when imagining sailing to far away lands.

All systems go!


AJ, our support crew testing out his safety floatation device!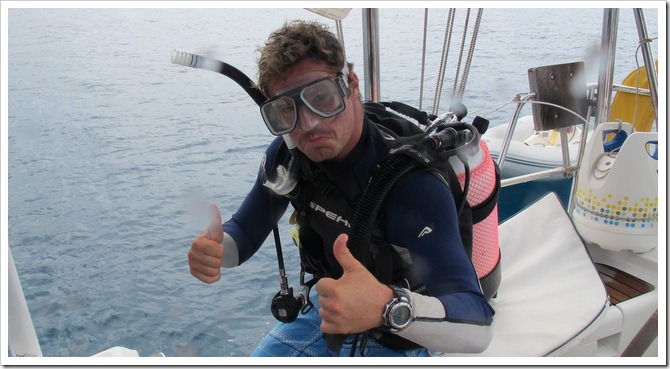 The photographer ready to roll…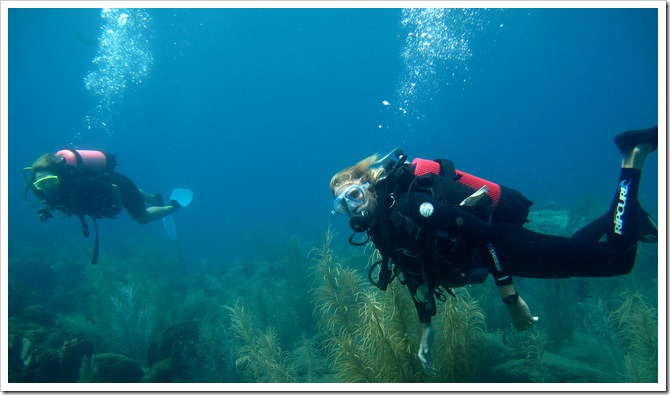 Agatha & Andy are away…

Agatha with some yellow Tube Sponge in the foreground


Andy & the giant clams – or at least we think that's what they were?!


This giant clam had a half decomposed lobster inside it…. anyone keen to grab it??!


This little fella was very intrigued by us…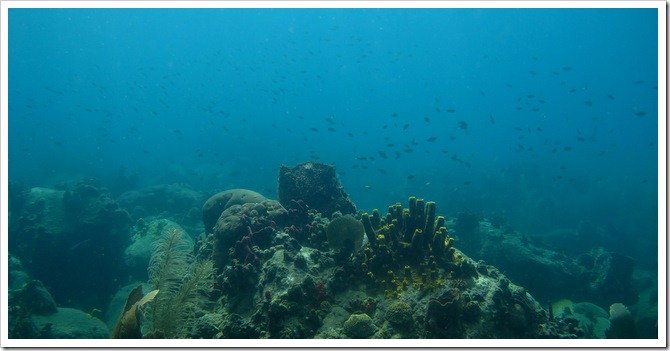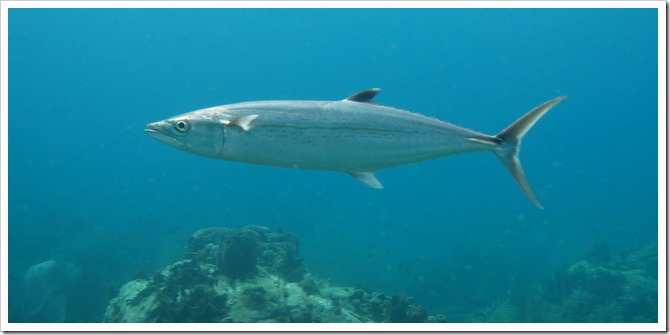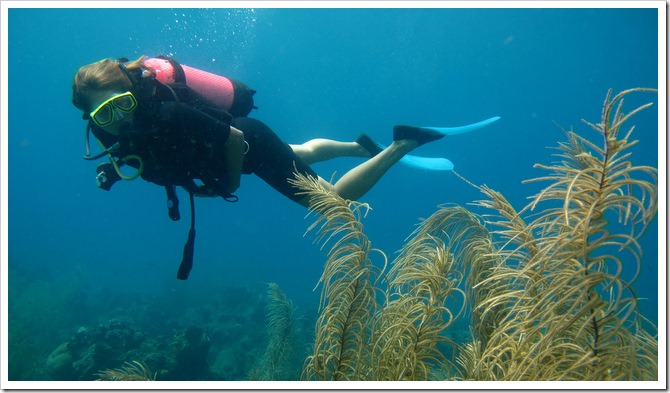 The dive wasn't without incident though, as we left AJ on the surface to be a spotter – he signaled to us that something wasn't right and we should come up – we surfaced half way through the dive to be confronted by a ranger who told us we needed permits and a guide and were facing a $5000 fine for breaking the law – in true Caribbean style we negotiated to finish our dive and discuss it later – he agreed – when he came back we fixed the issue by paying a $5/person dive permit fee!!!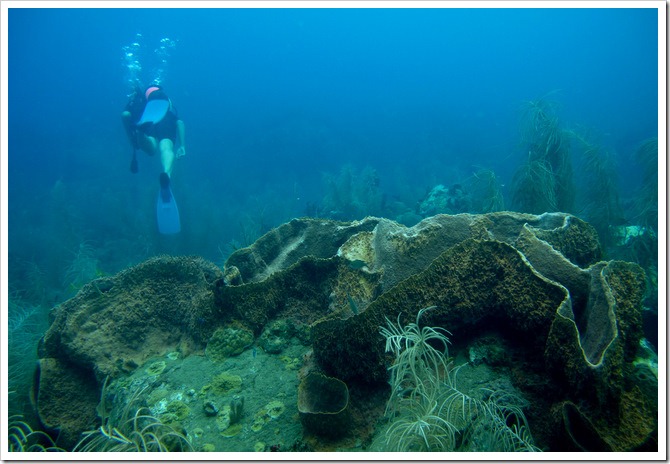 Agatha heading back to Squander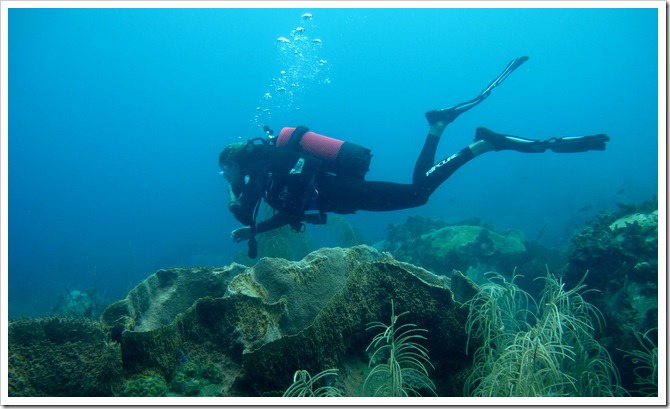 Andy could be lunch for this clam!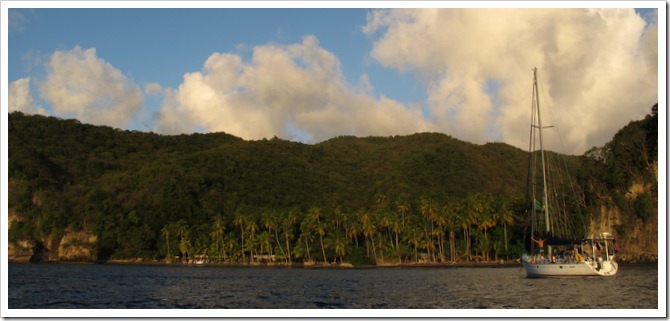 As the sun set on another day in Paradise, we enjoyed a few rum and cokes and got ready to move up to Marigot Bay the next day!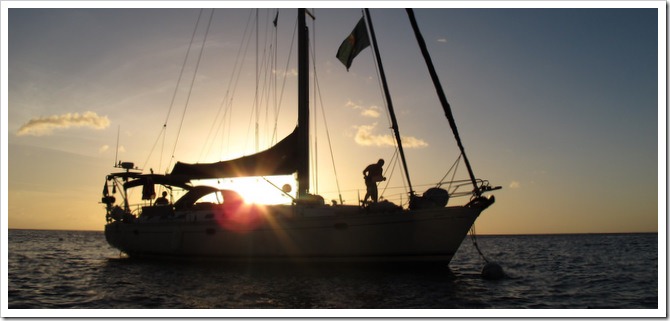 Putting away the dive gear at sunset.

The next day, and Agatha's last night aboard – we ended up in Marigot bay – a natural mini harbour, that was first made famous in the 1960's as the setting for the original Doctor Doolittle film – it has changed a lot since those days, with resorts on both banks and in our humble opinion, aside from being a great place to hide out from rough weather, it does not offer anything else out of the ordinary.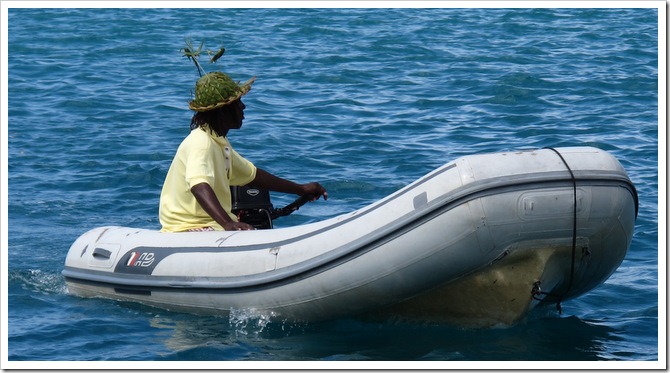 Plenty of local boat boys – selling anything from straw hats to Fruit and Veg.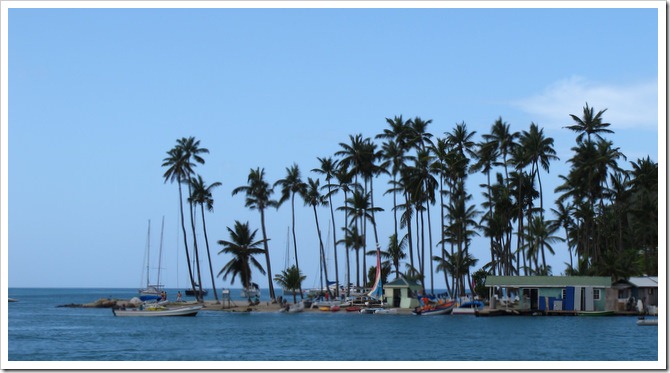 The north side of the bay is overrun with resorts.

Banana delivery guy!


we hung out for the day, explored the little bay and found a seaside restaurant to celebrate the 2 months that Agatha had spent with us onboard – great times, good fun and yet another amazing opportunity to spend time with my sister, talk, exchange ideas and one that would not have been possible in the real world. Thanks Ag – loved every minute of it!
We dropped Agatha off in Port Castries, the capital of St Lucia for her flight back to Paris and that afternoon sailed on to Rodney Bay in the northern tip of Saint Lucia – we had heard amongst other things about a Street Jump & Fish Fry in the adjoining town of Gros Ilet. We weren't disappointed – a great local scene, with fresh fish, other local delicacies, loud music and a great vibe!


We have termed this the best drum kit in the world – made of anything and evrything!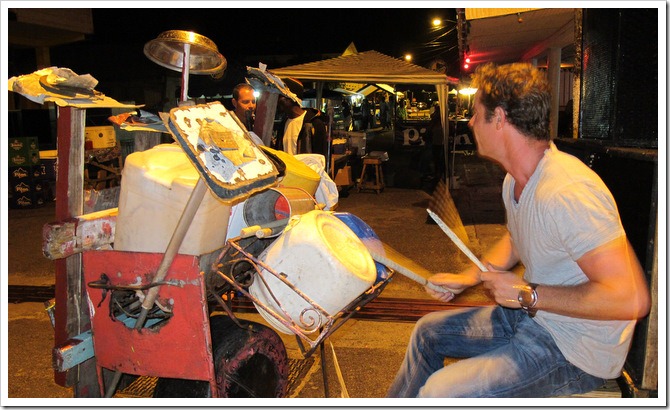 All those years of attempting to hit Scotty's Bongos at the shore club finally paid off!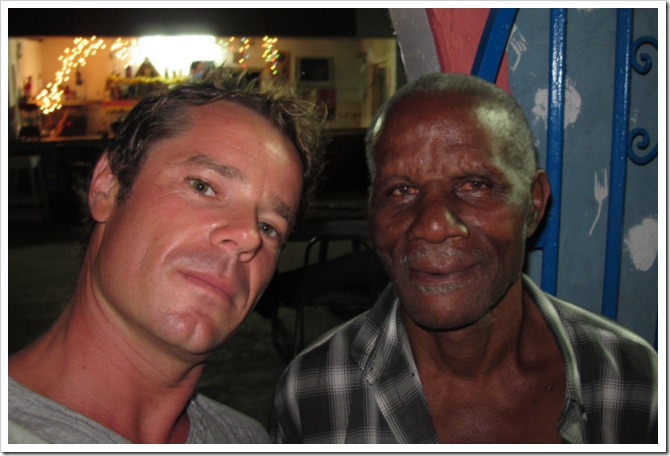 One of the local bar owners – we found the people of St Lucia to be really friendly, although a bit tougher to crack then St Vincent & the Grenadines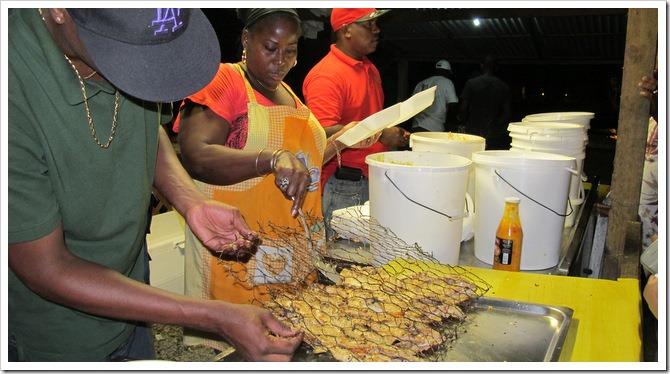 Freshly caught fish, marinated and cooked over charcoals in chicken wire contraptions – yum!!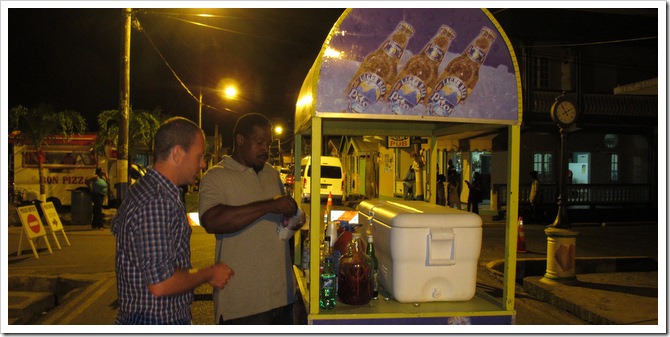 You're always close to another Piton, the local beer.


Andy hanging in downtown Gros Ilet.


Aj busting out some dance moves on the street!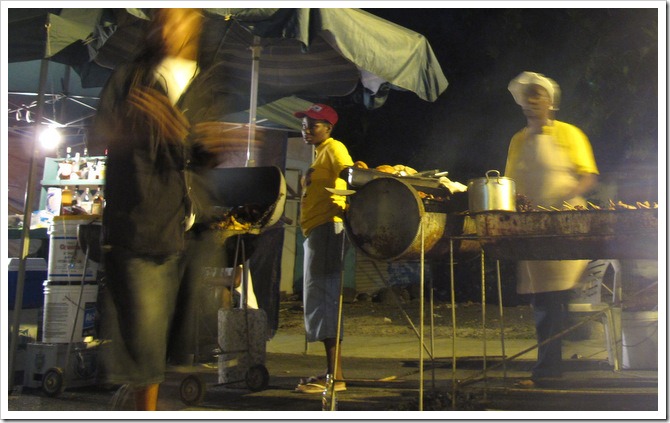 More food – yeaaaah!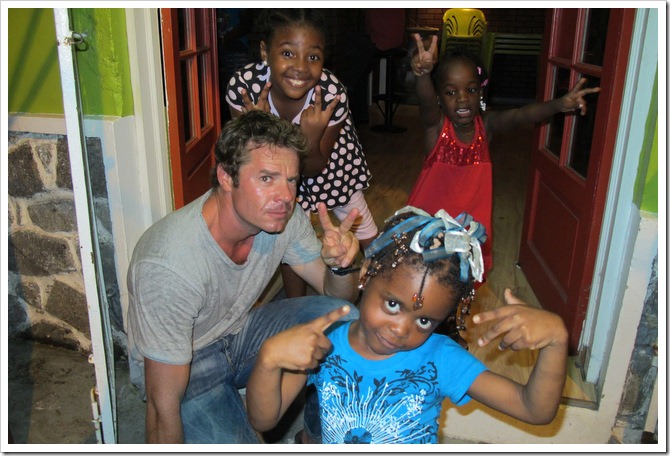 These three sisters partied all night long, as mum and dad chilled at a local bar!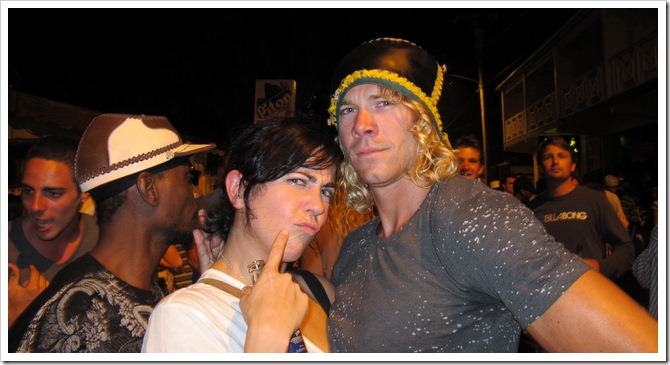 Andy making friends with crew form a super yacht.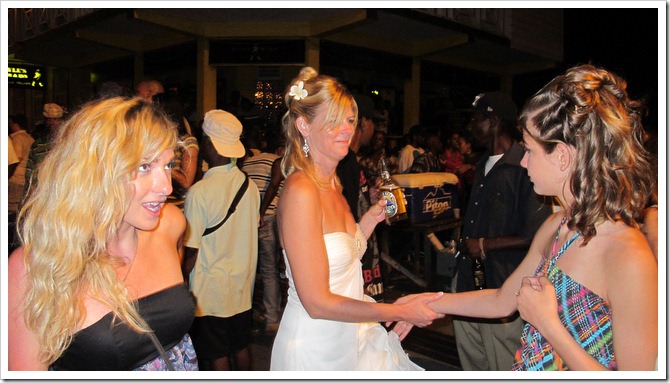 After wedding party!?
We partied till the early hours of the morning, moving onto to two nightclubs in town. The rest of our time in Rodney bay was a mix of chilling out in the Marina and enjoying the novelty of high speed internet, 220 Volt electricity, watching movies, having long showers and doing some ongoing maintenance on Squander.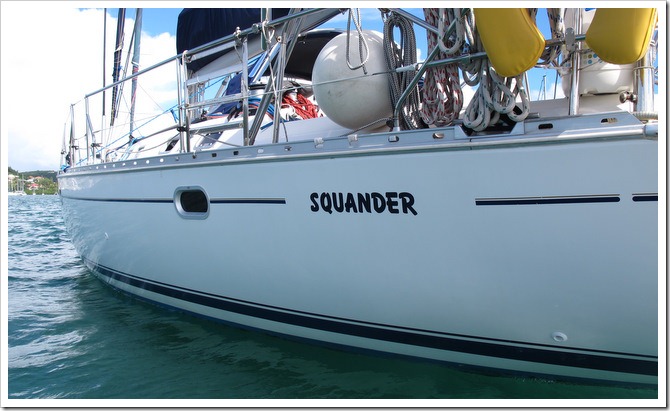 Amongst other things we shouted Squander a good Wax & Polish of her topsides – looking shmick!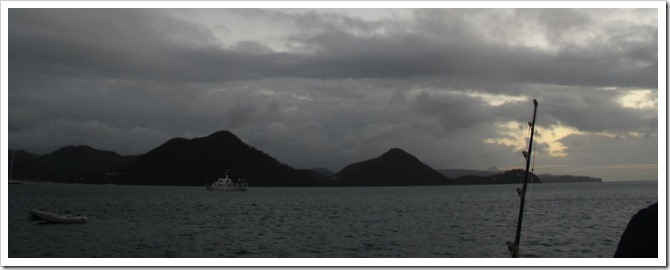 By Tuesday, we were ready to Sail to Martinique – we checked out of the Marina and out of the country of St Lucia, passports stamped – we sailed out Rodney Bay and straight into one of the fiercest storms we have seen to date – Dark, rain filled clouds covered the 25 mile long channel between Martinique and St Lucia, add to this shallow 20-30 M water, wind against tide and a constant 38 knots of wind, gusting to 40+ and we had ourselves an interesting upwind battle… we lasted an hour before deciding to turn back and try again the next day.

When we anchored back in Rodney Bay, near Pigeon Island, I spotted Matira a Compass 28 from Sydney – a slightly bigger boat then my old Top Hat 25 – that evening I went and said hello to Phil and his wife – they sailed out of Sydney 22 years ago and have got this far in that time – they intend to make it back to Sydney one year – great couple and an inspiring story!!
The next morning we set sail again for Martinique – and made it to Le Marin without incident by early afternoon. We checked in and went about getting our bearings – we had some major repairs to address here, as well as provisioning (including getting some of the great, cheap French wine).

Some 800-1000 yachts in Le Marin Harbour!
==========================================
Not all fun – here's a list of things we achieved in Le Marin
==========================================
Raymarine Type 2S Autopilot drivestop error.
solution – Installed new brushes and cleaned the entire unit, we will see if it works.
3 x 80W solar panels only delivering a combined total of 5 amps
Prognosis – not good – one of the panels is caput – apparently could be under warranty – in Turkey!!
Onan 4KW MDKAU generator – saga continues
I replaced the onboard control board and it started first go, then soon after proceeded to make some loud horrible noises – it took 3 of us 3 attempts to diagnose the issue – turns out the bearings in the generator itself are gone – a major job that will involve us having to lift the whole generator out of the boat!
The 7 house Batteries not holding their Charge
One of the leads was loose, voltmeter gauge inaccurate – issue resolved, kind of!
Yanmar 75HP turbo engine – small amounts of oil in the Turbo air intake
Diagnosis – not running the engine hard enough – should be run at 80% of maximum revs… we have been running it at 50% at best
OR
Using multigrade (15w – 40) oil in a hot climate – suggested changing to monograde oil.
Chaffing on halyards and reefing lines
replace as needed – a simple but expensive solution – a decent main halyard will cost us $400 – ouch!
Frigoboat freezer occasionally stopping and not working
Appears to be related to battery issue above – will keep an eye on it!
====================================
Once all the chores were out of the way, we planned to take some kiteboarding lessons and try and get some gear… add to all this Australia Day on the 26th of January and a call from MAD who were still in Union island and were going to sail straight here to meet us on the 22nd to celebrate Rebecca's birthday…. it was already shaping up to be a busy fun stop!
Oui, Oui – merci…. oooh la la – we are in ZE FRANCE!

An important part of entering a new nation – tasting the local brew – smiles all around!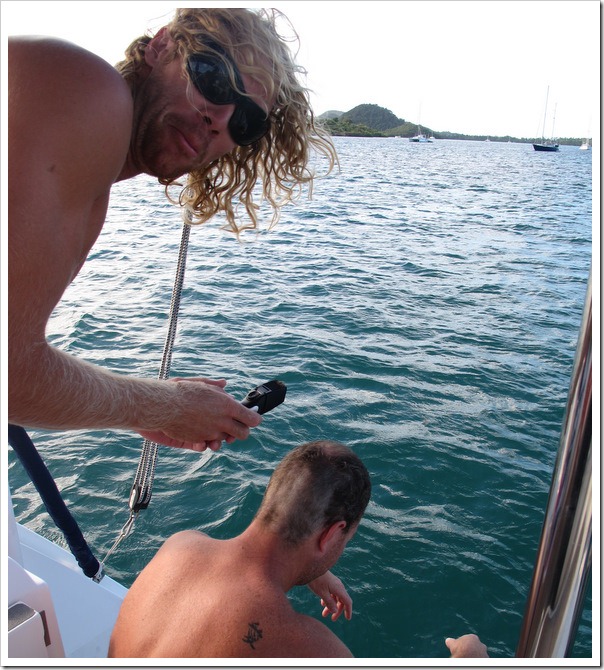 Andy's a man of many talents – hairdressing included!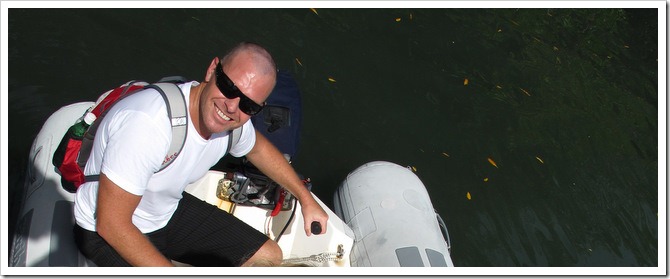 the new look Romper Stomper AJ!

Cruising the streets of Le Marin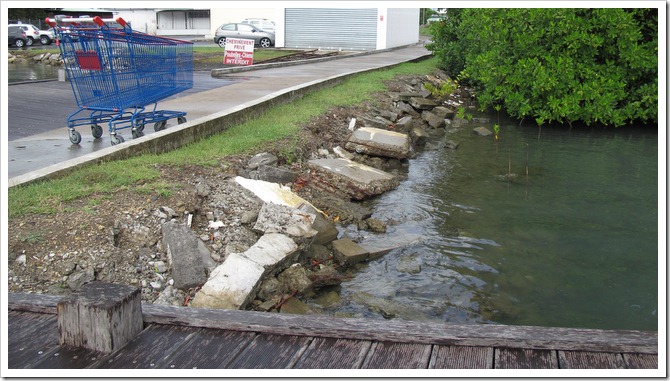 Gotta love a supermarket with a dinghy dock!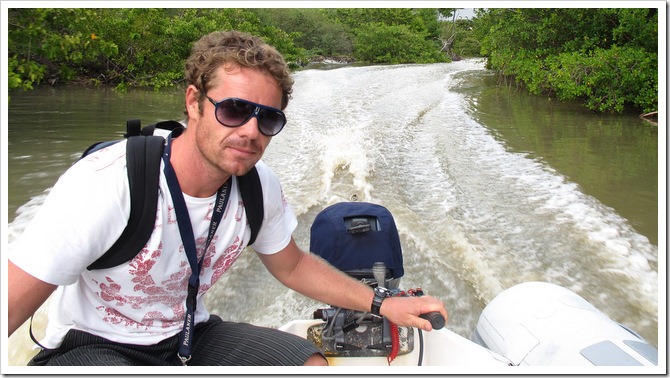 The industrial area is accessed via a creek – a dinghy is all you need to get anywhere in Le Marin!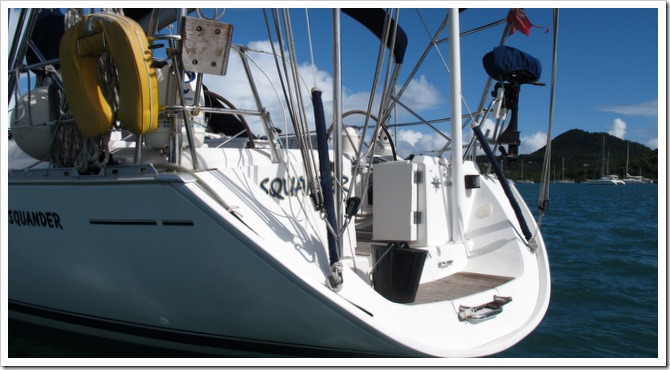 The new shiny Squander – Aj finished the job by using Acetone to clean the aft  rubber edge – nice work!!!
And then it was time to learn kite boarding!!!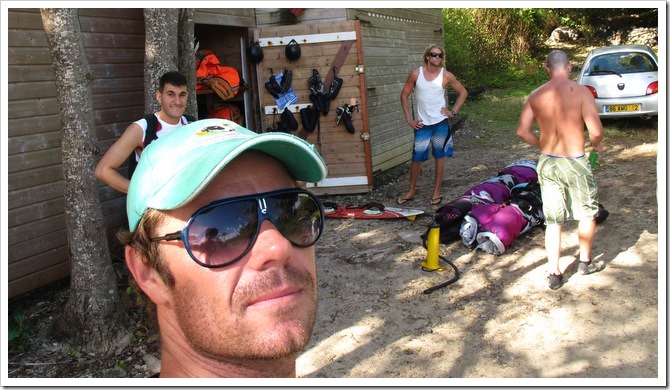 getting ready to go!
AJ picking his weapon!

A short ride to Baie de Anglais, which we had to ourselves for two days!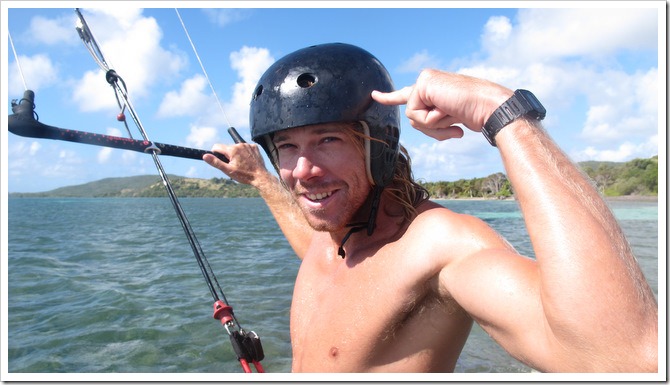 Safety first kids – Andy demonstrating his favourite piece of equipment!

Andy was up and away!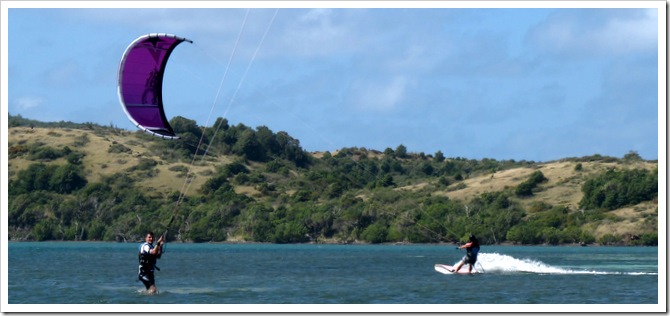 it took me a few goes to get it right – but once up it was great fun – seen here flying the purple kite!


Andy throwing some spray as AJ learns the basics.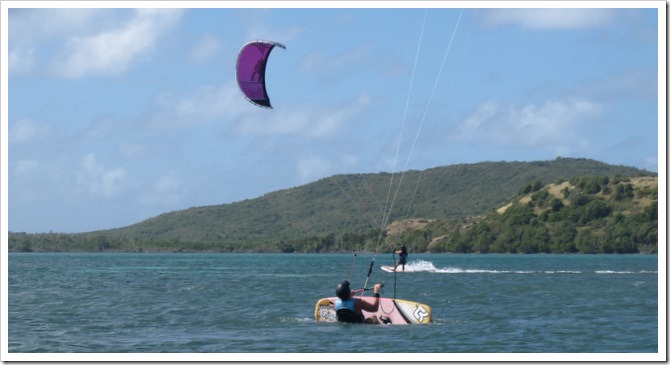 I think I have found another board sport I like – more toys??! Aj in the foreground starting to get on a board!


Team Squander -Kites from the top – AJ, Gavin and Andy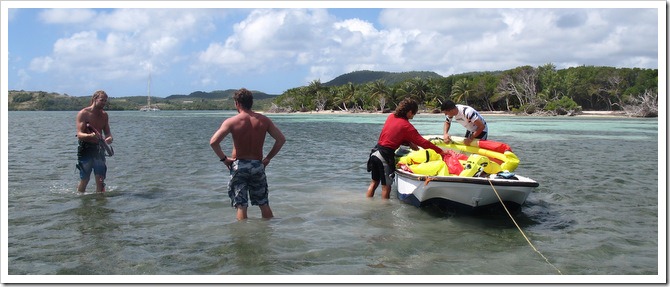 Packing up after a great day!


Gavin, Andy, Alain (from Alize Fun kite boarding) and Aj
Heading back – where can we get kites!!?
Soon after getting back to Squander, MAD sailed into the bay – it was Rebecca's birthday and time for a night out!!


Rebecca dancing away as Per and Simon drop the dinghy and finish off anchoring!

Elizabeth, Mojgan & Simon


No love lost between the co-owners of MAD


Andy stealing the birthday cake!
And so it was that we finished up another couple of weeks – the future is still a bit undecided as we may need to wait for parts for the generator, AJ is returning to Australia on the 1st of February and for now Simon is still living/sailing on MAD – so looks like Andy and I will hold the fort for a while longer and maybe get a short term crew member or two onboard… The next blog is already underway with a great celebration of Australia day last night! here's sneak preview – Aurevoir mes Amis!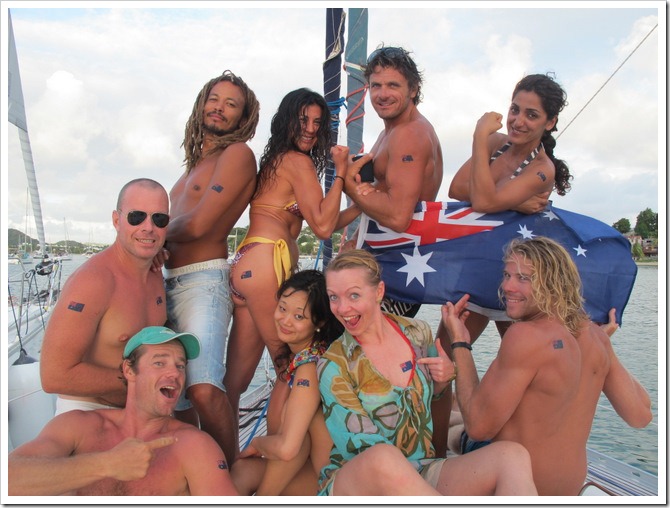 Australia day raft up – 26th January 2011 – St Anne bay in Martinique – Left to right – AJ, Gavin, Peer, Rebecca, Camilla, Elizabeth, Simon, Mojgan and Andy!