The Atlantic crossing is fast becoming a distant memory, as I attempt to recollect the past four weeks of fun times, friends, family – celebrating Christmas and new year, absorbing the vibe of three separate Caribbean nations and feeling like a kid in a candy shop with all of the beautiful, sweet, cheap rum at our disposal!
For those of you that followed our progress across the Atlantic, you may recall that the lack of trade winds in the early part of our crossing was threatening our planned stop in Barbados on the way to St Vincent & the Grenadines.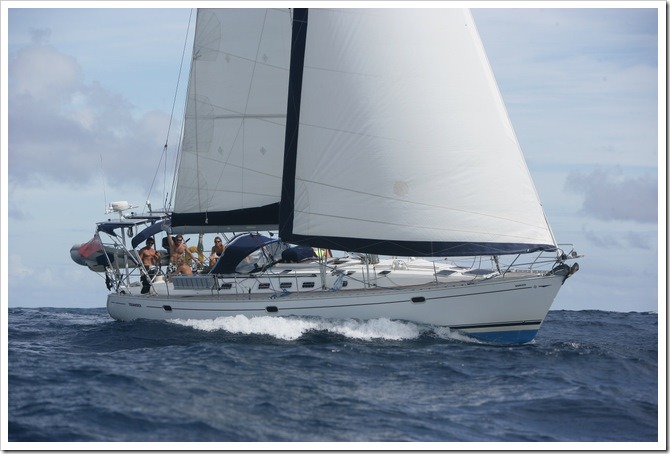 Squander reaching from St Vincent to Bequia island .
Being budding anthropologists, we desperately wanted to study the people of the nation that claims to have the oldest Rum in the world…
And we weren't disappointed! The people of Barbados are amongst the friendliest that we have come across thus far. An interesting array of Caucasian & west African races that reflect the history of this island nation named as the Island of beards – after the bearded fig trees trees  that impressed the English colonists back in 1627!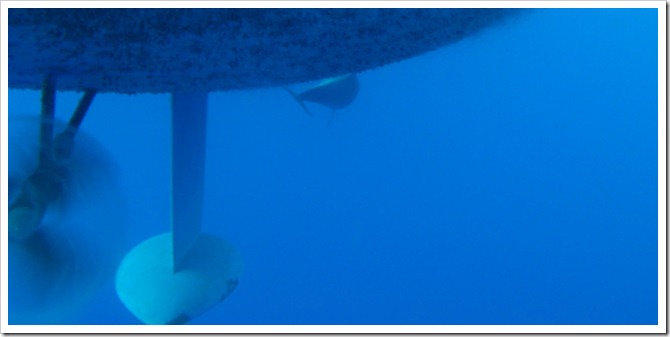 Our Dolphin escort into Barbados
And so with the wind gods deciding to give us a brief three day stop in the nation that invented Rum, we seized the opportunity to live, explore, recharge and sample the local delicacies!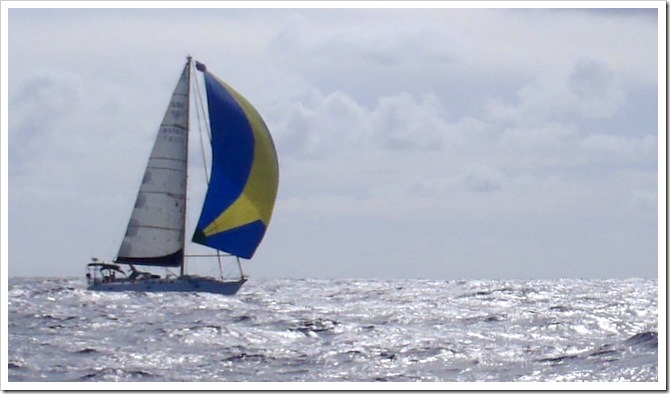 This photo was taken on DAY 14 of our Atlantic crossing by a passing yacht.
Having arrived in the early afternoon, we were informed that the port was full of cruise ships and we had to standby until 18:00 hours before being granted permission to enter port and clear customs.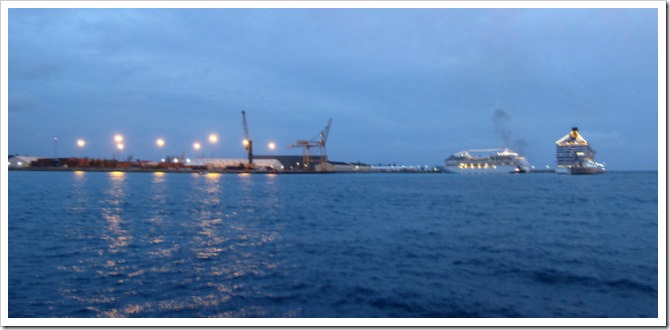 Bridgetown is over run with cruise ships – up to 5 per day dock here!
We dropped anchor and watched a spectacular sunset, drinking rum and celebrating a successful Atlantic crossing.
Having completed customs and clearance procedures, we moved Squander to Carlisle bay around the corner. The next day we woke up in a crystal clear anchorage, surrounded by white sand beaches, yachts from various parts of the world and the excitement of finally going ashore after two weeks at sea.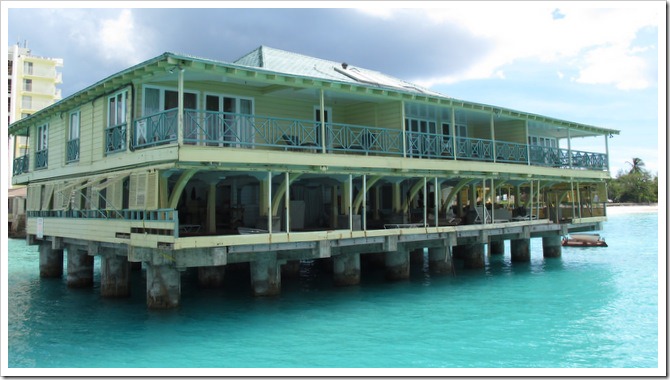 We walked around Bridgetown, the capital of Barbados, got our bearings and committed to spend the afternoon at the rum factory!

Agatha & Andy celebrating our arrival!

The museum – where you are encouraged to bring your complimentary drinks with you for the hour long tour – love this place!!
The tour includes more complimentary drinks and if you are lucky, you get invited for the lock in with the staff of the factory and end up going out with them that night!

Taking over the bar.       

At a little over 10 Aussie dollars a litre, we managed to put some extra ballast into the bilges.
The next day we spent the day exploring the streets, doing some provisioning and catching up on emails.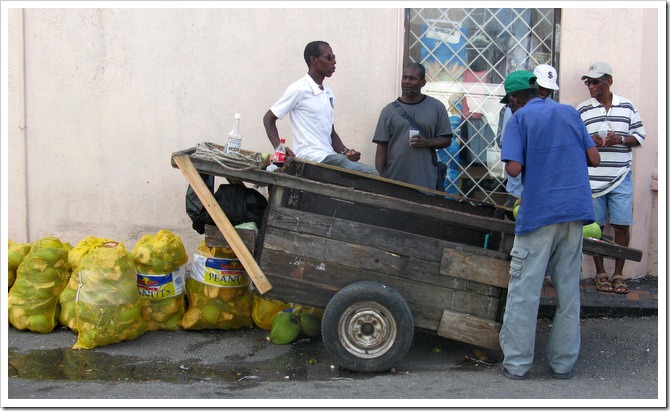 Local drinks stand – selling fresh coconut water! 
Bridgetown in the background!

That night we caught a taxi to the south of the island for the weekly fish fry! A Friday tradition where everyone comes out to play, eat freshly caught fish &Â  macaroni pie washed down with cold beer and rum!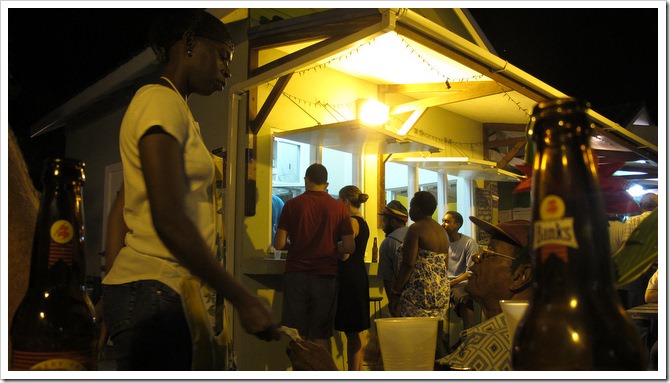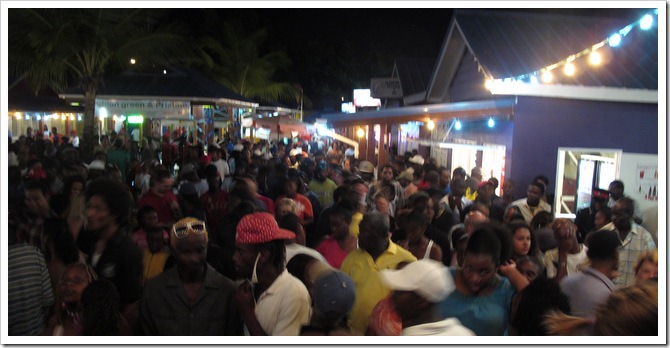 By 10pm the barbecues start cooling down, the rum starts flowing, the music goes up 10 decibels and the night heats up, with the street party going into the early hours of the morning. By midnight we were bushed, still feeling the effects of the museum tour of the previous day – so we took ourselves home to bed.
On the third and last day, Andy and Simon tried getting the dive compressor working – unfortunately it needs a new filter which we haven't been able to source in the Caribbean.
We also visited the infamous Barbados yacht club for lunch and to pick up some water – they run a hose out to a mooring buoy where you can tie up and fill your water tanks.              

Squander tied to the water mooring, as Andy heads to shore to ask for the water to be turned on!

Simon in the dinghy coming to pick us up from shore as the sunset lights up the sky.
And before long the sun was setting and it was time to say goodbye to Barbados and set sail west for an overnight trip to Saint Vincent & the Grenadines to pick up Amanda and JB who were flying in from New York and Paris respectively.
By Sunday morning we had St Vincent firmly on our sights

Young Island, St Vincent

The welcoming committee following us in – throughout the Caribbean these 'boat boys' approach yachts with anything from fresh fruit and veg, bread, fish, as well as offers of whacky tabbacky and help tying up to moorings.

Amanda & JB – guests aboard Squander for 2 weeks!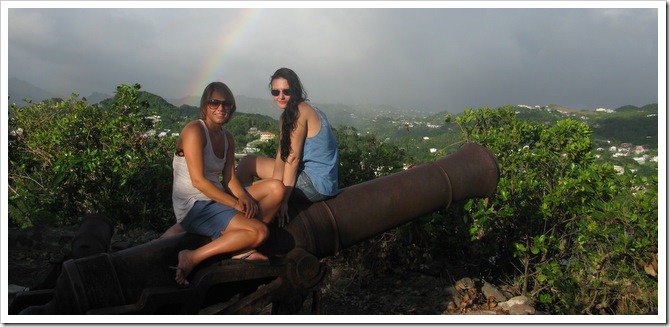 Exploring the sights, as our trusty dinghy waits below!


Simon's new nick name is "Don Simon" and apparently he is licensed to….

After a few days on St Vincent island, we had a Champagne Sail to Bequia island where we would spend Christmas!


Amanda finding her feet!


It's been a while since we've had champagne onboard…?!!
Ag and 'Manda – a Happy reunion after not seeing each other for 18 months!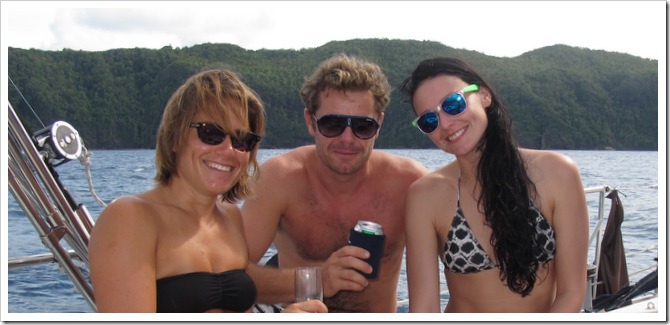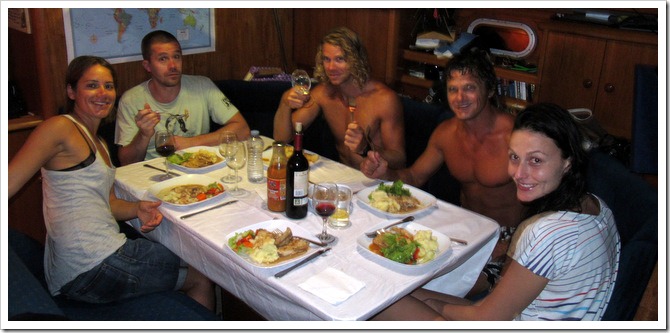 … and a traditional Squander dinner!

Agatha brought a xmas tree with her all the way across the Atlantic!
Amanda's bag was lost in transit which apart from the obvious inconvenience, was also terrible news as i had spent the previous two months ordering parts, flags, books, and other equipment online in the states and had it delivered to Amanda – all of which was now lost. As it turned out the bag, finally arrived some 3 days later and Amanda & Agatha jumped on a ferry to go and pick it up – whilst we had a boys Christmas Eve day out – snorkeling, trying to catch lobsters and lounging under palm trees!!

Life is tough!


Meanwhile on the ferry, the xmas spirit was well and truly alive!

The Bequia anchorage was packed over xmas with a huge amount of Swedish and Norwegian boats and only one other Aussie boat in sight!
We had a great xmas eve, playing frizbee, practicing our hand stands and forward flips and generally reflecting on the year that has been by far the most amazing one to date for me!
JB getting a good run up for his forward flip….
Boom… nice one JB!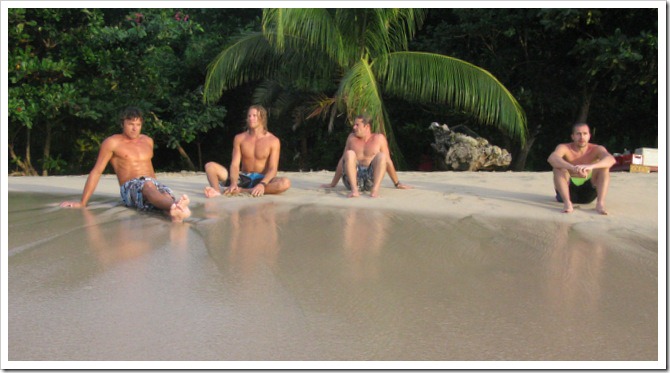 Awaiting Rum o'clock!

Through our friends onboard MAD, we were invited to the Norwegian Xmas eve BBQ. Amongst other organised things, there was a makeshift xmas tree that everyone had to contribute something to – the green glow stick was Squander's contribution. 
BBQ'd pork – one to remember for years to come – yum!!!
We have met loads of young Norwegians sailing around the world – they have a great adventurous spirit and are inspirational in their commitment – often sailing on tiny boats with only the bare necessities, yet enjoying every minute of it! The most impressive ones to date are three young girls (24-26 years old), with little sailing experience that decided to cross the Atlantic – awesome!
Mojgan and Rebecca from MAD!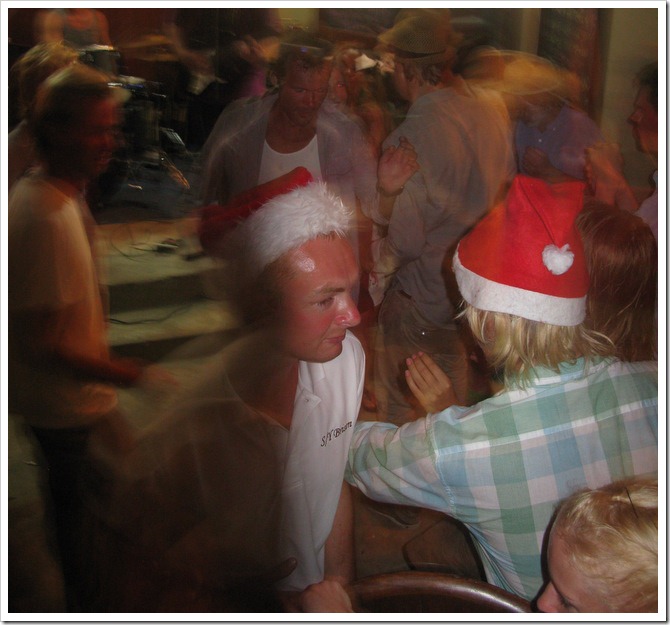 This photo is clearer then anyone's memories of xmas eve!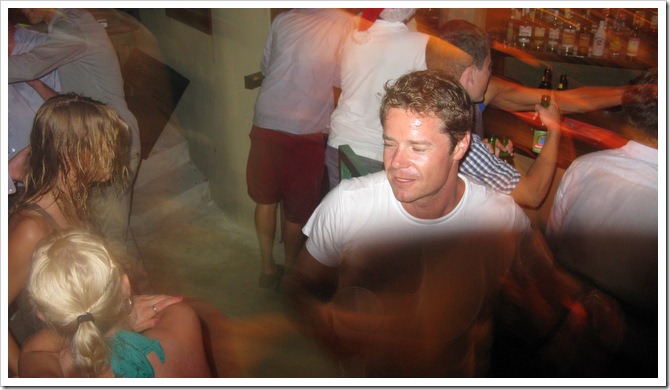 The Skipper of Squander – last sighting before a miraculous drenching that may have resulted from misjudging a Dinghy entry – ahhhh…. I am now underwater! 
Morten from MAD and one of the three young Norwegian girls who crossed the Atlantic! 

Amanda & Andy "Angel" Patrick.
Ag & JB!
Christmas day was great fun  – a hungover breakfast followed by dinghy rides wishing other boats a merry xmas whilst drinking cold local beers and trying to find a place for Christmas lunch – Agatha lead the charge and found a place called THE REEF which offered us lobster, pork, chicken fish and beef lunch with a complimentary drink for a grand sum of $25/head – a seaside table for the whole afternoon, and we could dinghy to it directly from Squander – Wow!!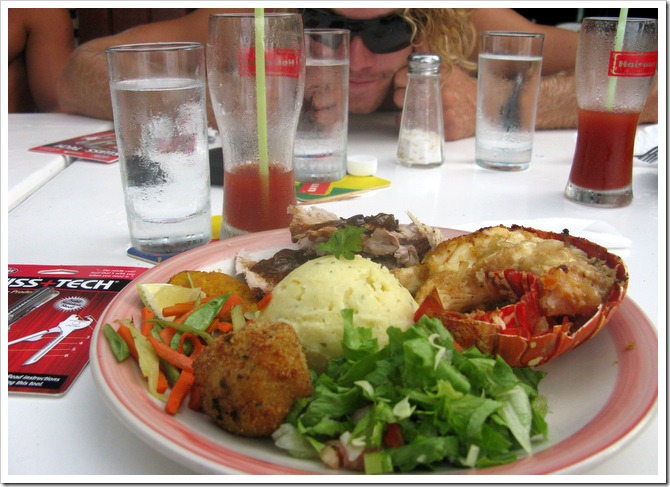 YUM!!!!!!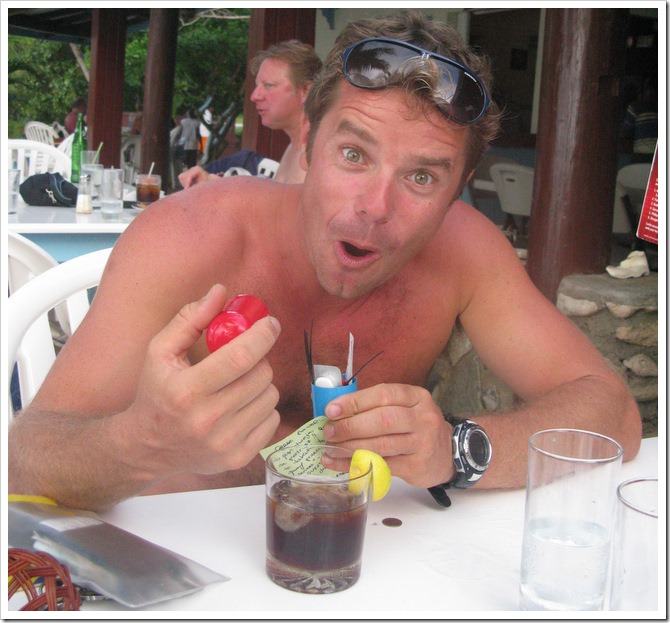 We also had some presents to open – some from as far away as Berlin – thank you COUSINS!!! Seen here opening my present from Julka, Tomek and Andrzej!!!
With Christmas all said and done, we decided to sail down to Tobago Cays on Boxing day – Tobago Cays is a group of five islands that has been declared a marine reserve – Spectacular uninhabited islands, crystal clear water, great snorkeling and white sand beaches!
Arriving in Tobago Cays at sunset!


Waking up in Paradise!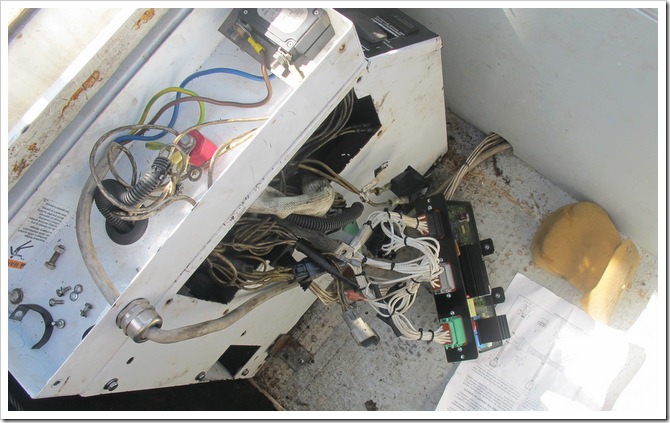 Maintenance and repairs are a never ending affair – trying to install the new control board for the generator…Still not working properly after 2 attempts!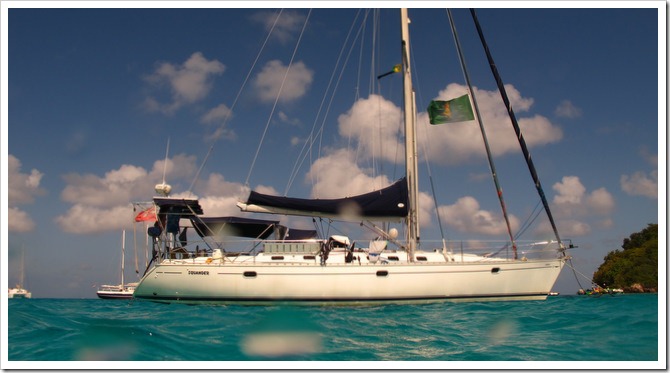 With work out of the way, it was time to play again…. swimming from Squander to the beach i spotted lunch, but then realized i wasn't allowed to catch it as it was a marine reserve!

Your lucky day Mister Lobster! This picture was taken in 7metres of  crystal clear water!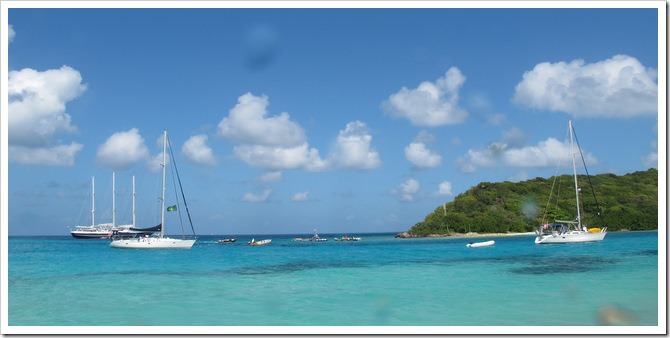 Our paradise anchorage!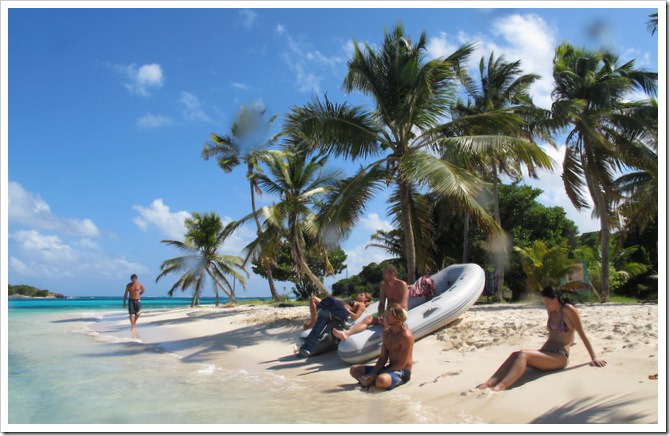 Chilling on our own private beach!
Andy was a bit bored and decided to engineer a swing on Squander – it has since become one of our most popular pass times! JB Showing his style above!

Don Simon with a reverse pike switch re-entry!


Gavino looking for lobsters from above!
JB taking control of the dinghy as we search for our next snorkelling spot!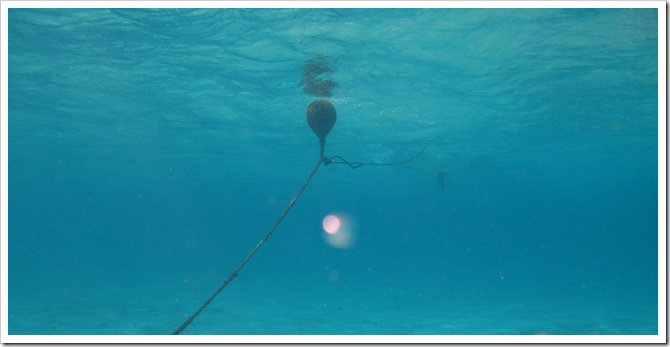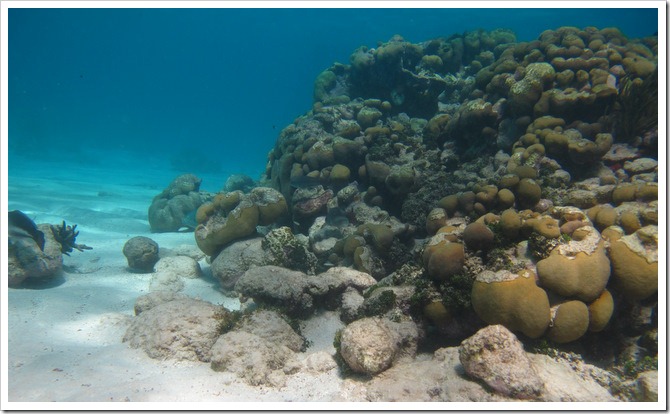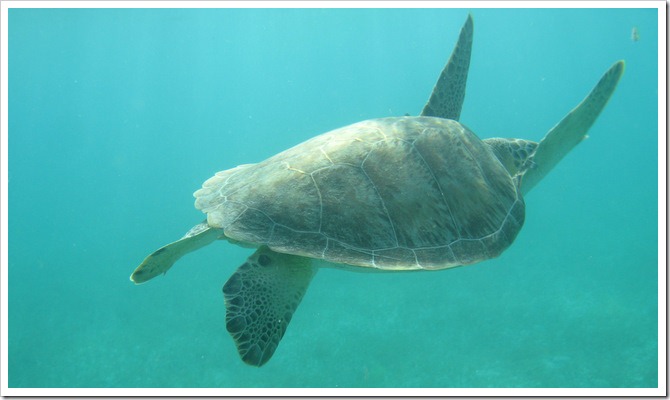 Turtles trying to get away from us – Andy and JB got a few good rides hanging on to their shells!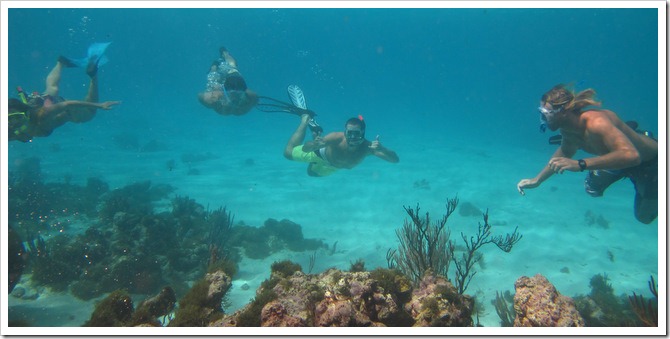 Floating around – Ag, Simon, JB and Andy!


Hi Mum!!! trying to get a brother/sister photo for mum….
It's not always blue skies – in fact most days you get a torrential downfall for 15 minutes or so – the boat boys hide under a tarp as they sit out the tropical storm!
Amanda getting getting ready for gorkelling – snorkelling with swimming goggles!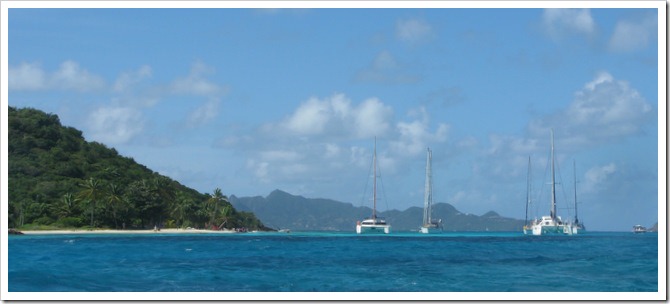 After 3 great days in Tobago Cays we heard from MAD who were on neighboring Mayreau Island seen in the distance in the above pic so we decided to join them for a night before cruising together back north to Mustique for New Year's eve.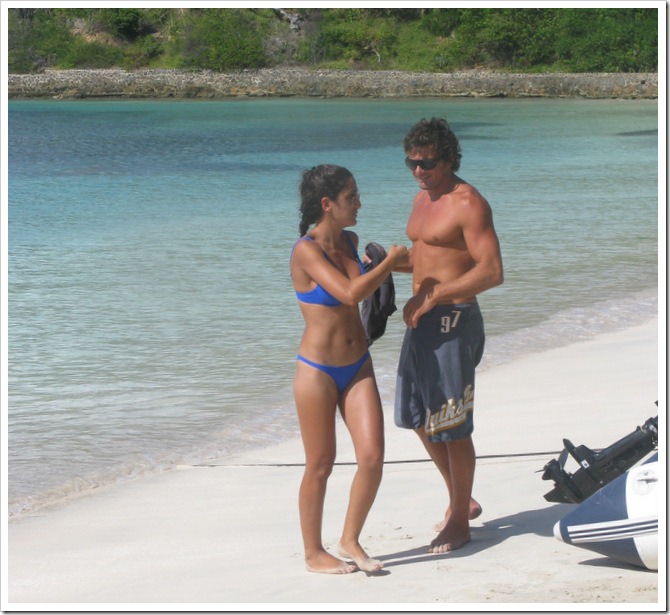 Don Simon and Mojgan getting sprung by the paparazzi again!
We had a fun afternoon, playing friz, watching Saskia take some new Yoga converts through the basics, eating lunch and finishing off the afternoon with an ultra competitive game of beach volleyball!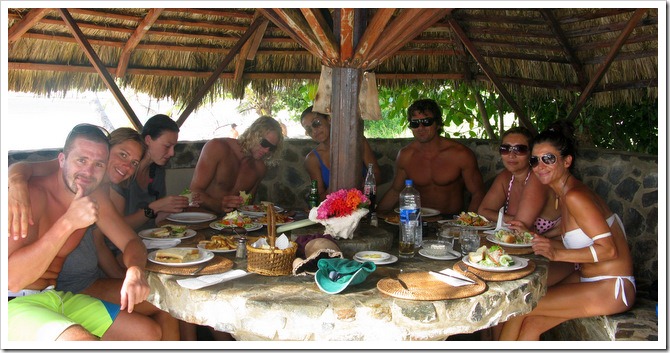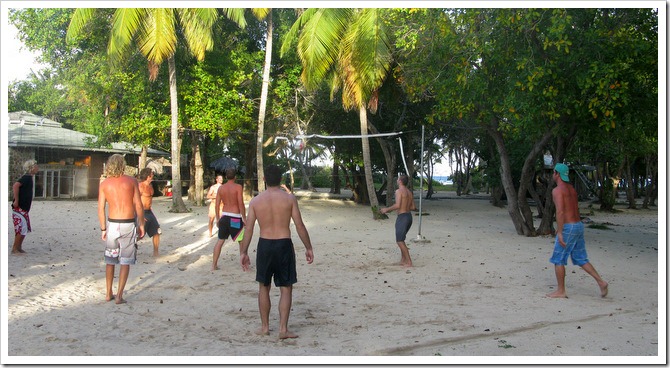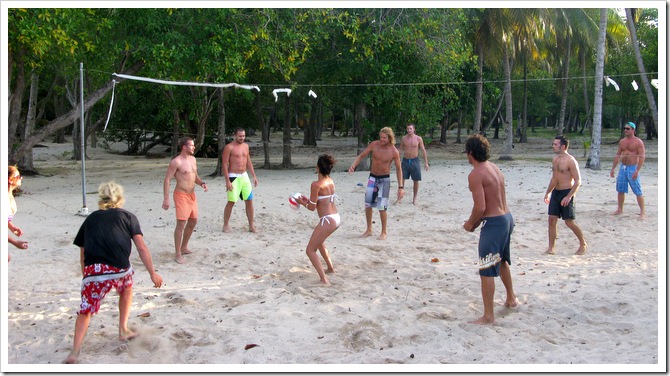 The action was heating up on the volleyball court as the "crowds" gathered to watch the spectacle that was unfolding!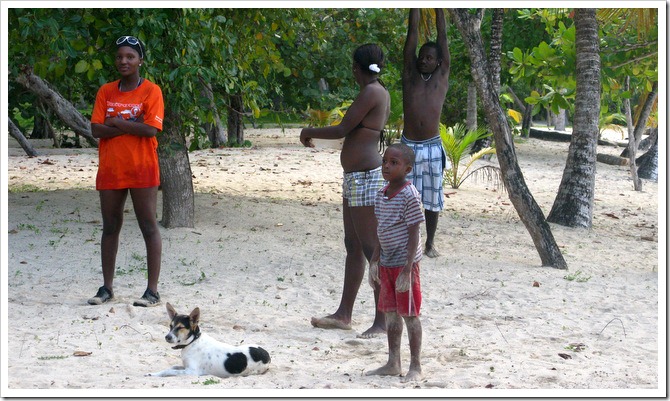 That afternoon, an idea was put forward to race to Mustique – we had a forecast of 25+knots on the nose which was going to make for an interesting 3-4 hours. The challenge was on – MAD VS Squander!
At 9:00 am Squander managed to make out of the bay some 8 minutes before MAD, we put the sails up, stacked the rail and were away. To our great surprise MAD were motor sailing and soon started getting ahead of us… We decided to sail on and see what would happen!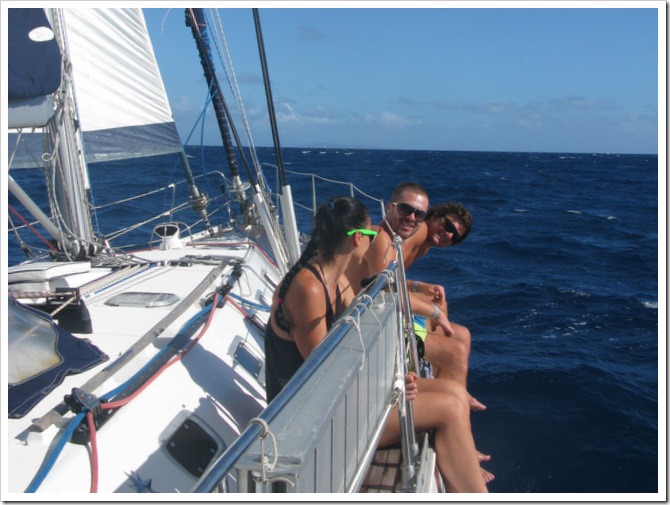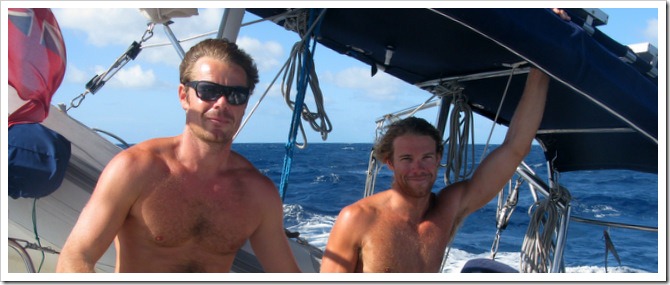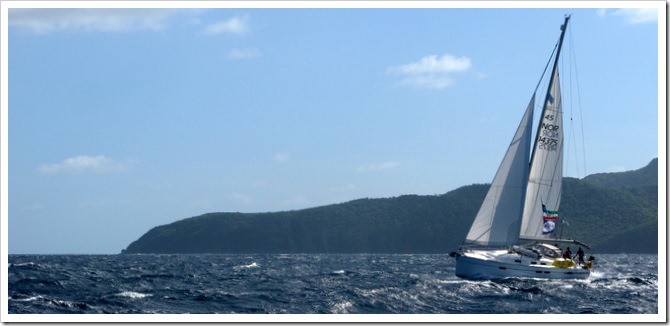 We didn't have to wait long – as MAD hoisted their sails and started heading straight for us, effectively restarting the race!
We put our secret weapon, Andy, on the helm and awaited the re-start!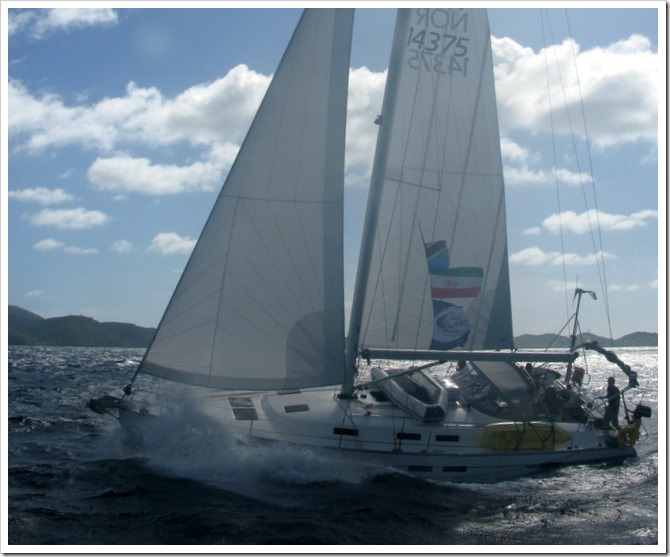 MAD were soon next to us and nicely powered up at that, punching through the waves… and I hate to say it, that was about the extent of the "race" – MAD were the faster boat and soon we saw them pull away from us.  
We tried a desperate tactical move by tacking early and heading for inshore waters in the hope of finding less swell, but even that brilliant masterstroke didn't pay the dividends that we were looking for – MAD won the race convincingly!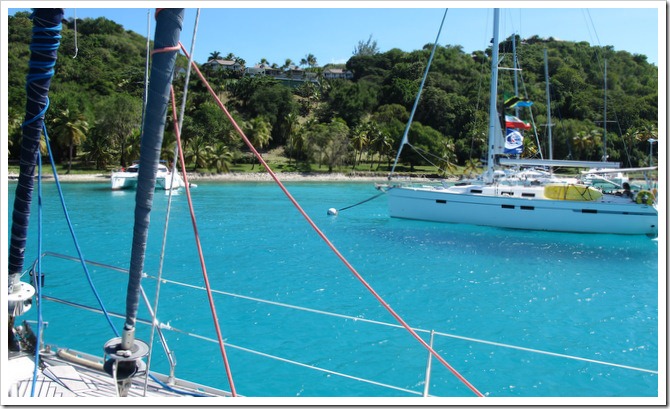 MAD & Squander at the finish line – in Mustique for New Year's eve!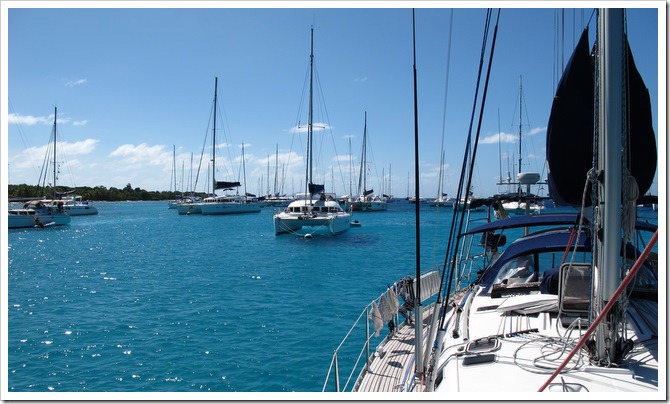 Mustique is an interesting place, a private island owned by a company which is made up of famous wealthy owners who have large houses in this Caribbean paradise… Bryan Adams, lives next door to Mick Jagger who lives next door to Tommy Hilfiger who looks across the bay at Messieur Lacoste amongst others…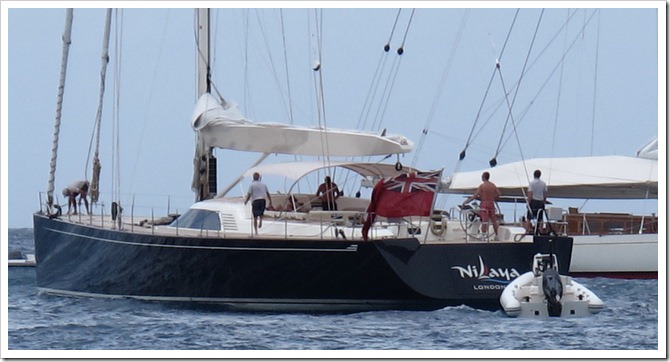 … and then there are the yachties in the anchorage – from all around the world and ranging from 25 foot to 250 foot boats – somehow it all kind of works… and you never know who you will find yourself chatting to.
We also invented a new game in Mustique – we call it Frisbee golf – rules are simple and very similar to Golf – except instead of using a golf ball and club, you use a Frisbee and instead of having to get it in a hole you have to hit a Palm tree – there are various degrees of difficulty – JB seen here trying to make Par on the 7th hole (palm tree)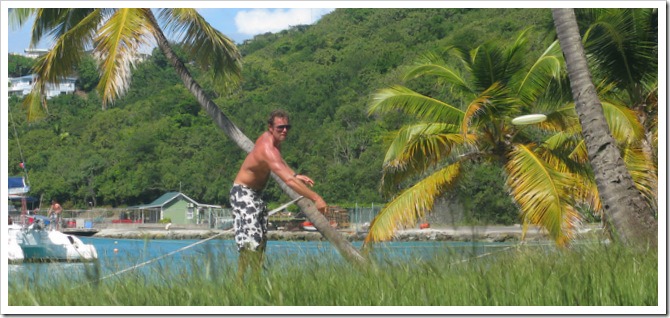 A bogie in the making!
Whilst the paparazzi was at it again!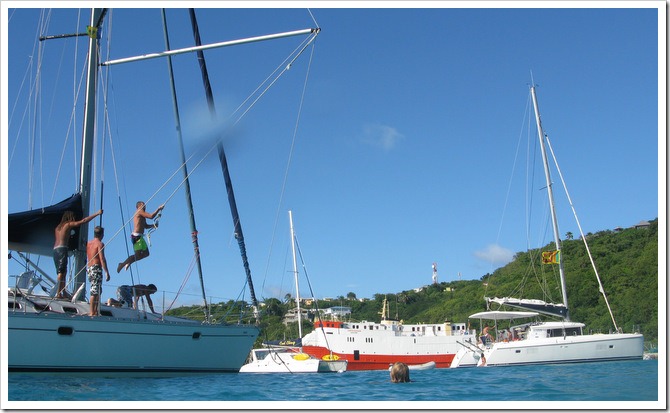 And after a few rounds of Friz-golf it was time to round off 2010 with more swing action – JB getting a bit of height on take off thanks to an obliging Don Simon on all fours!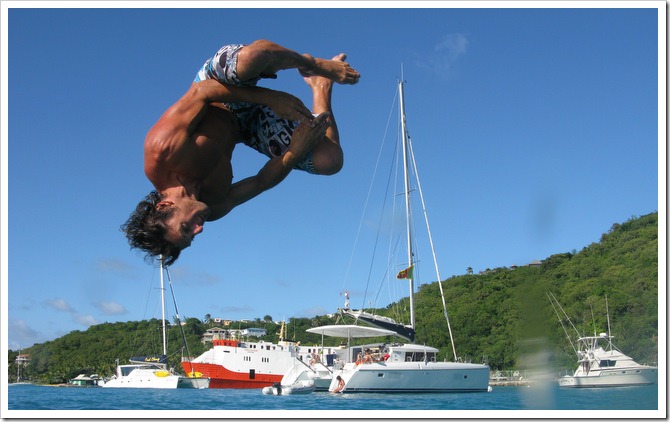 Don Simon performing his latest move – The Buddha! 

Gavino looking for a good landing spot as Agatha and Rebecca watch on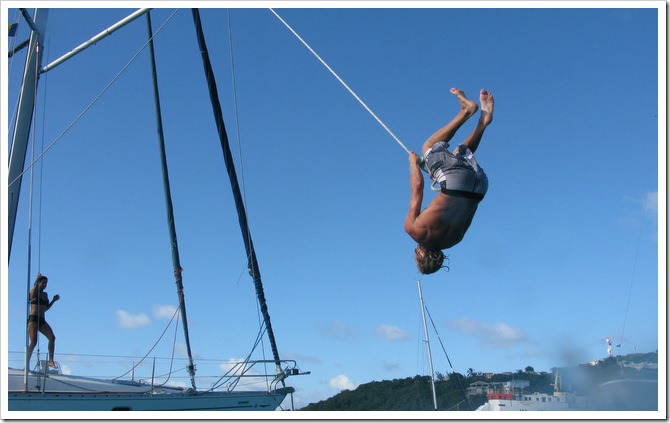 Let go Andy!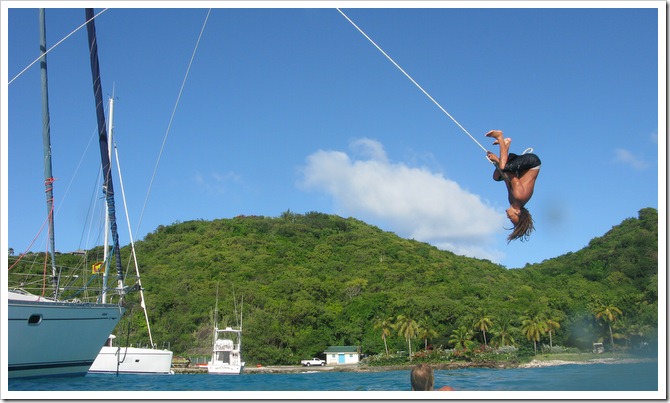 Peer, skipper of MAD showing some class upside down!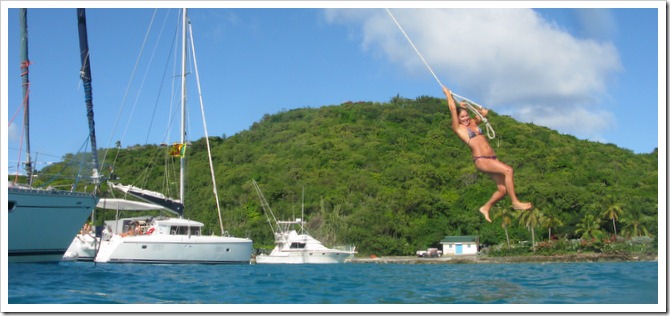 Agatha doing "The Walk"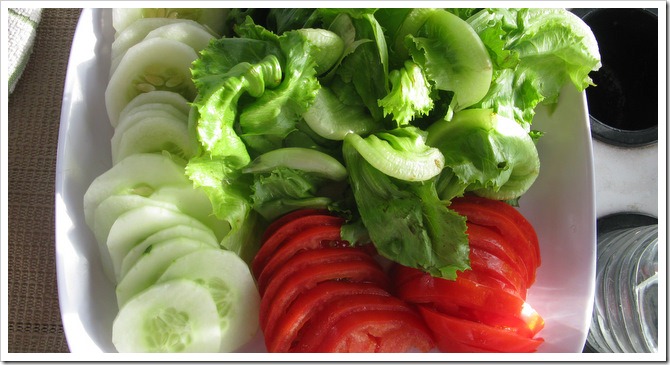 And then it was lunchtime… a final healthy feast before the inevitable debauchery of new Year's eve – hopefully partying with Mick!
After a few sundowners JB decided to get in the mood by rehearsing some classic Rolling Stones moves!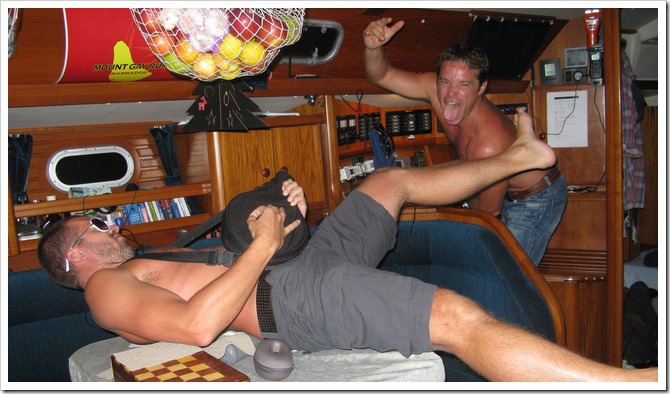 With the pre concert sound check done, we moved the infamous Basil's bar for a great New Year's eve dinner!
…and an opportunity to congratulate MAD on their win in the inaugural Mayreau to Mustique upwind challenge!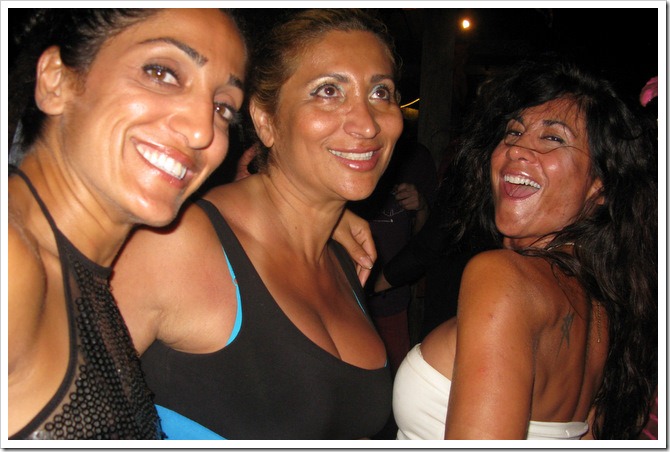 Mojgan and the Mahboubi sisters rocking out!
This guy kept on popping up everywhere – Norwegian but we swear he must have had Irish roots!
With 2011 underway, the camera got put away as we partied into the night at Basil's bar and then at Lisa's – a local bar that was rammed with a popping, ass-grinding, friendly local crowd, with loud Techno Reggae keeping the party going in absolutely pitch darkness!
We all had a fun night, but still no sight of Mick!
… and the Paparazzi started off 2011 with a pearler!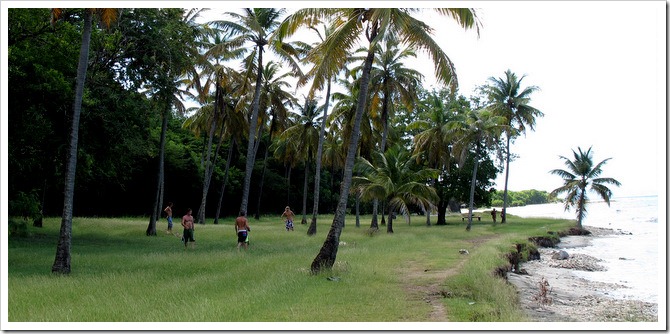 New year's day we got straight into a game of Friz Golf, before heading to "Cotton House" for a New year's day lunch!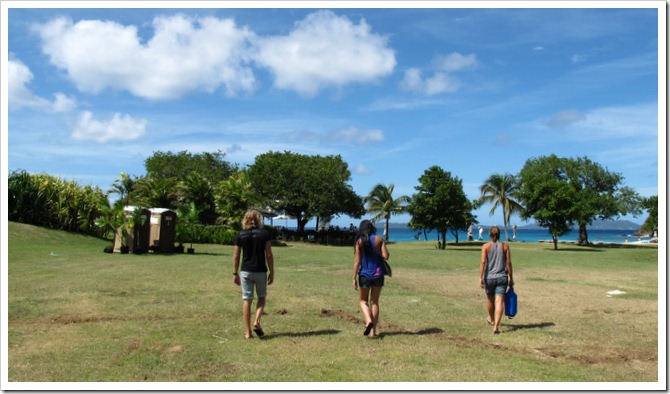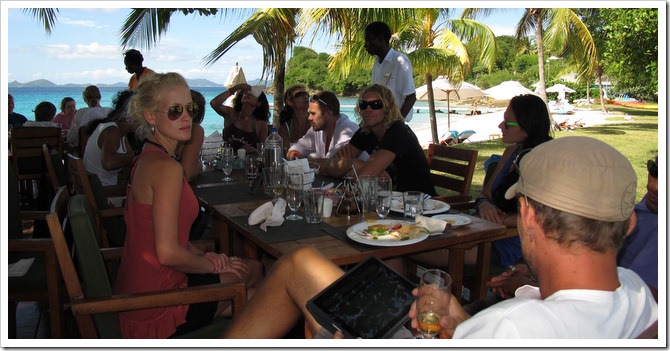 and… as we were finishing our food, in walks in Mick Jagger with L'wren Scott and kids and sits at the table next to us…Boom!
The anchorage cleared out pretty fast and the island quickly returned to its sleepy best!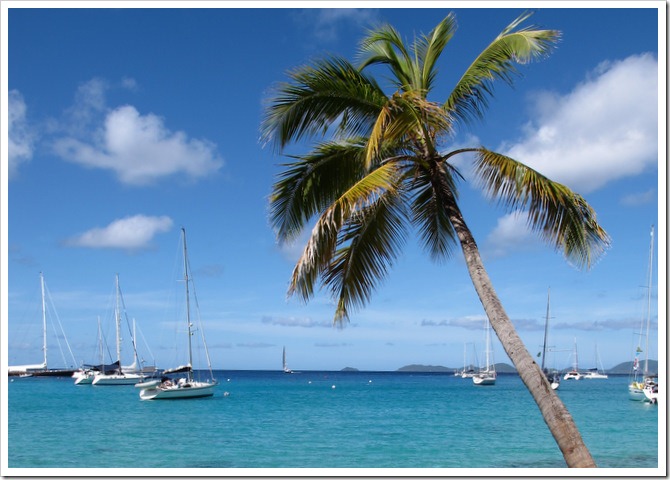 In the afternoon, we took a tour of the island – the airport is busy with light aircraft buzzing in and out all day long – apparently the flags represent the nationalities of home owners on the island!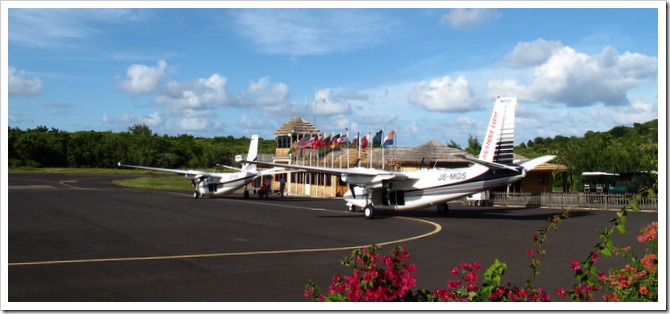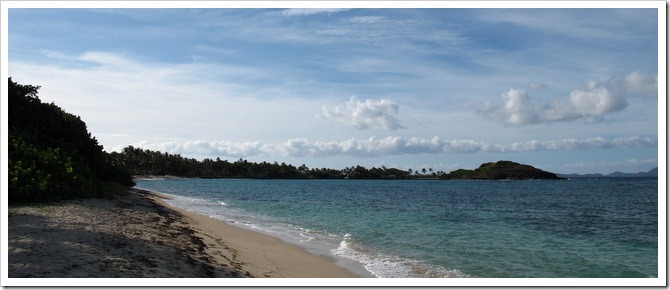 Bryan Adams has the point, Mick Jagger has the middle bit and Tommy's joint is on the left of the photo!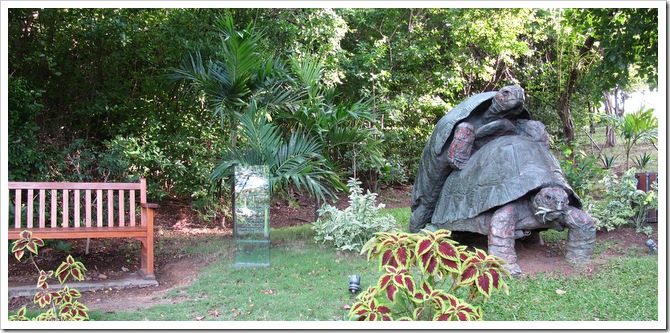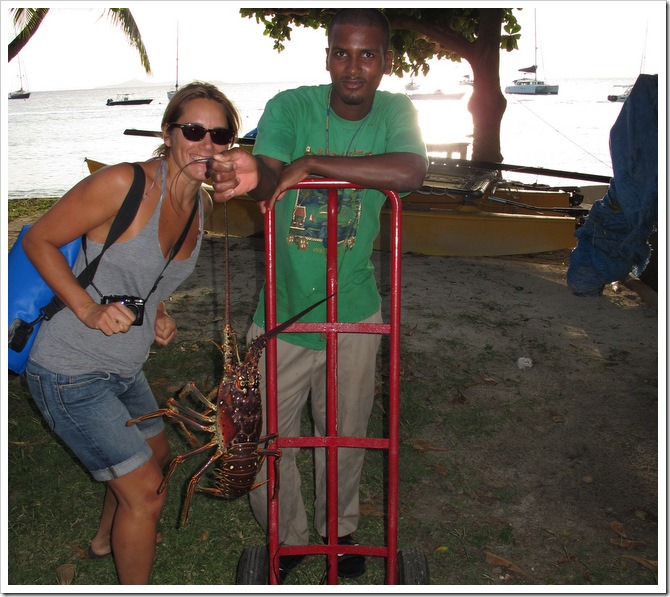 Learning how to hold a live lobster – gotta watch the spikes in the tail – keen to catch one in the wild some time soon!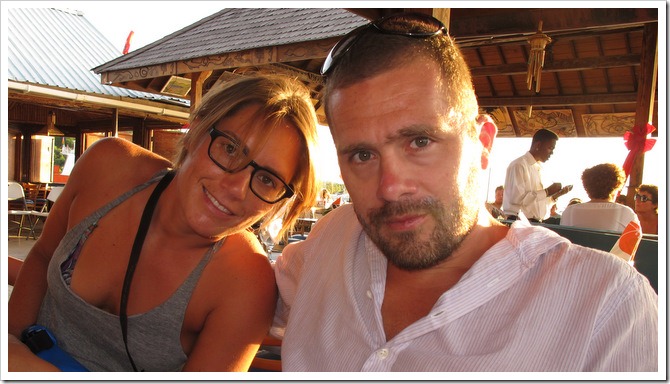 One last sunset in Mustique, before setting sail back to St Vincent to say a sad goodbye to Amanda and JB. Another fun afternoon as we watched and listened to the Jam session at Basils – pretty funny talent quest with rich people's kids and relatives joining in the fun – amongst others on the drums Nick Mason, drummer for pink floyd and Tommy Hilfriger's brother Andy rocking out on guitar.

Pre Jam Session – enjoying some sun downers!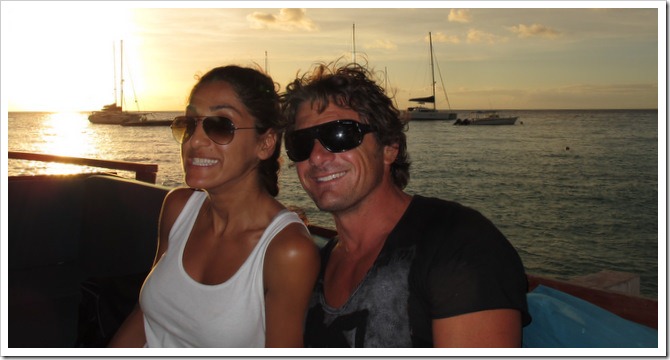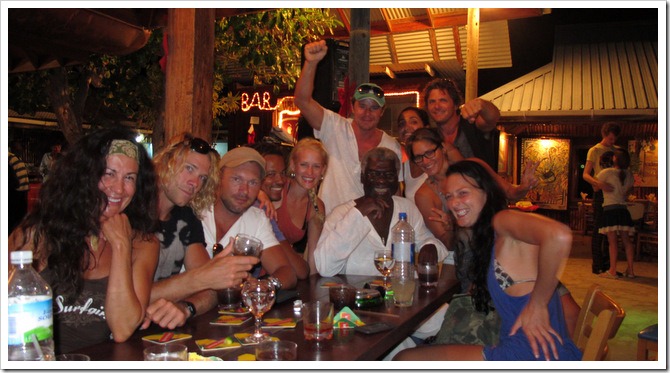 From Left to right, Rebecca, Andy, Morten, Peer, Saskia, Gavin, Basil, Mojgan, Agatha, Simon and Amanda – Fun times!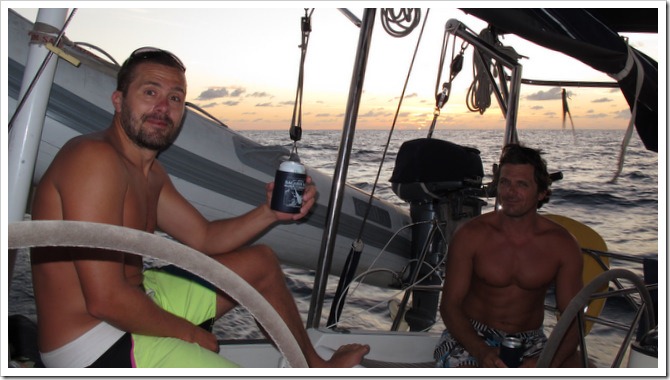 One last sail before heading home!
The last supper before flying home!
Aurevoir JB… and as JB and Amanda flew home, AJ flew in from Australia as our newest crew member… but more on that in the next blog!