We have 350 Nautical Miles to go as I begin to write this latest blog post on day 15 of our longest non stop crossing to date – 3000 Nautical miles (5,400 kms) of open ocean.  By the time I finish writing and editing it, we are likely to have covered another 500 miles on what has become our trip home… back to Australia. It will also mean that we are more then half way across the Pacific.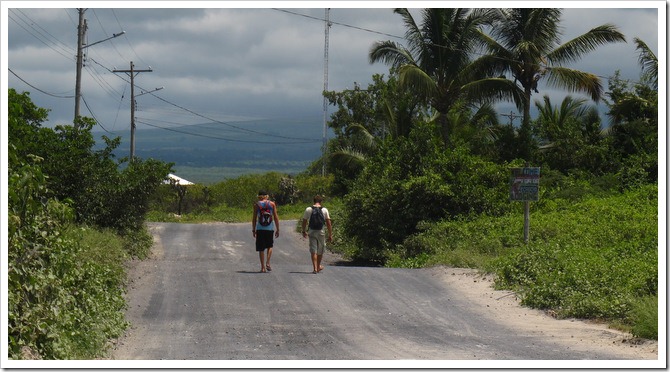 heading into town for last minute provisioning in the Galapagos islands.

We got lucky as the supply ship had just arrived with loads of fresh veggies.
We left the Galapagos on the 2nd of May 2011 at 13:30 local time bound for the Marquesa islands in French Polynesia. It was an unceremonious exit as we quietly slipped out of the small anchorage in Isabella island.

Thumbs up from Virtuo Michael.

Andy organising the Spinnaker

A Galapagos stowaway.
Our expectations had been tuned to a likelihood of up to 3 days motoring to get away from the Inter tropical Conversion Zone (ITCZ) otherwise known as the doldrums near the equator…. to our great surprise, one hour after leaving Isabella we picked up a nice steady breeze and turned off the engines – the propeller didn't start spinning again until 12 days later when we had a 36 hour stint of no wind.
Day 1: Sailing to Marquesas. Caught a yellow fin Tuna and a Mahi Mahi. Amazing night… let's hope it keeps up.
Day 2… was a looong day. it always is when you have another 2-3 weeks to go before seeing land again. Just below the equator and we have wind – that's a bonus!
The days tend to roll into each other when we're underway, we keep watch 24/7, so night and day tend to not be as significant. We each have 3 hours on, 6 hours off around the clock. For those of you on Facebook, you'll be familiar with my daily summaries… I thought i would include them in this blog post to add some visual context to the words.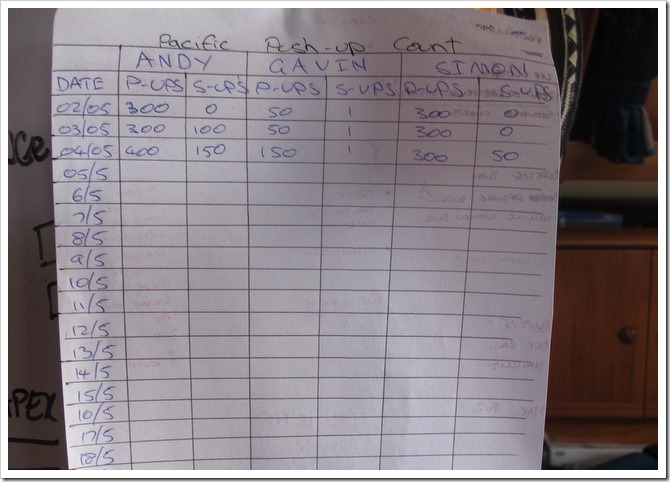 Simon and Andy lead the push up charge, I was definitely bringing the averages down. 1 sit up given for getting out of bed..
Day 3: Suicidal baby Squid keep throwing themselves onboard…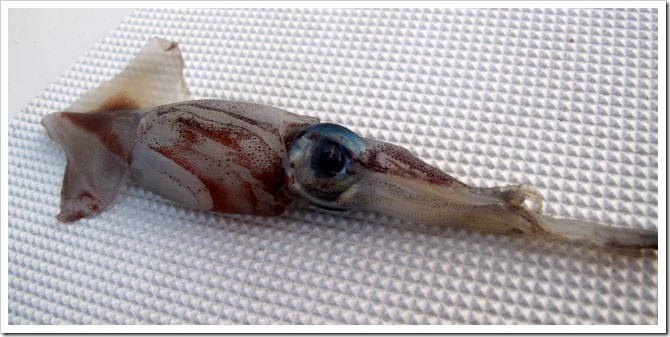 We stocked up on a fruit and veg and amazingly most of it lasted the whole way across… We have made a decision that our crossings are 'dry' – no alcohol, no coffee and healthy eating and living all the way!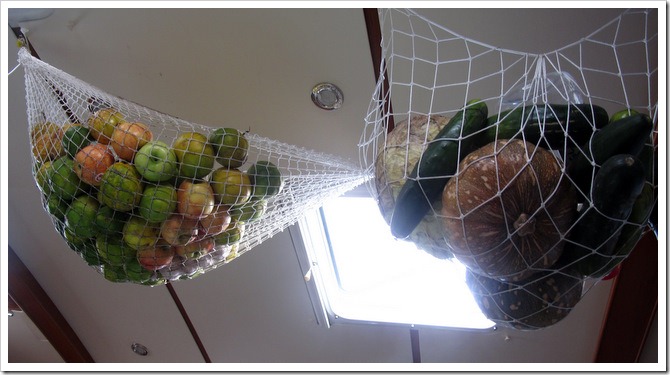 Day 4: Bananas! We bought a bunch of 60-80 green bananas for $4 at a local market in Isabela… they have all ripened at once!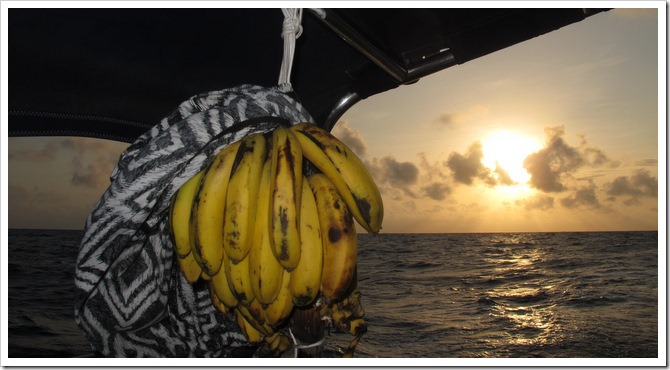 The conditions were made for "champagne sailing" – 15-18 knots, flat seas and warm weather. We had the Spinnaker out during the days and a poled out headsail for many of the nights.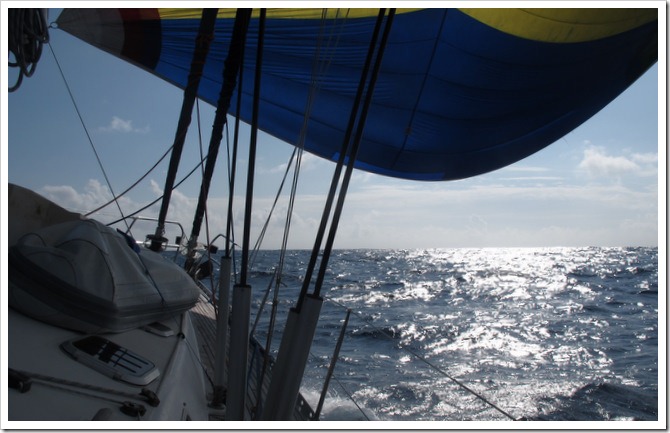 Day 5: What's the most memorable birthday you've ever had?
On the eve of my 37th birthday, conditions freshened somewhat and we had 3-4 metre seas with up to 30 knots of wind – it lasted a day and a half and allowed us to keep on pushing out the big 200+ mile days.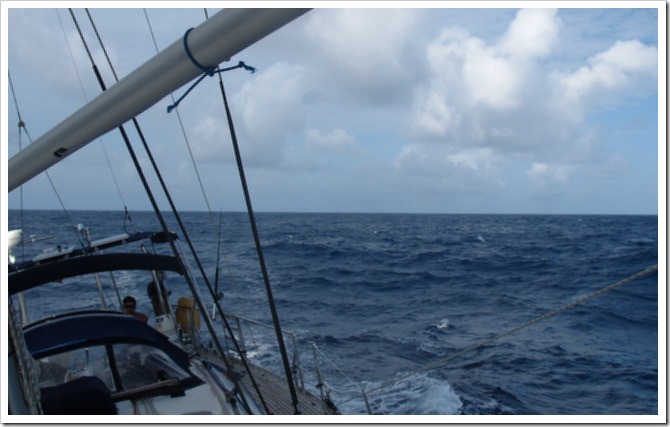 Simon put in some big hours hand steering on this trip.
Day 6: My birthday. Watched sun rise for 2 hours. Simon caught a fish. We ate it for lunch. Andy Baked Brownies. Asleep by 9:00pm ready for midnight to 3:00am watch. Happy!! Thank you for all the birthday messages!
As it turned out I had the 6-9 am watch on my birthday… I started off the day just before sunrise, Squander was covered in flying fish and baby squid and I amused myself for a while trying to find them all before the sun got up and started cooking them on deck.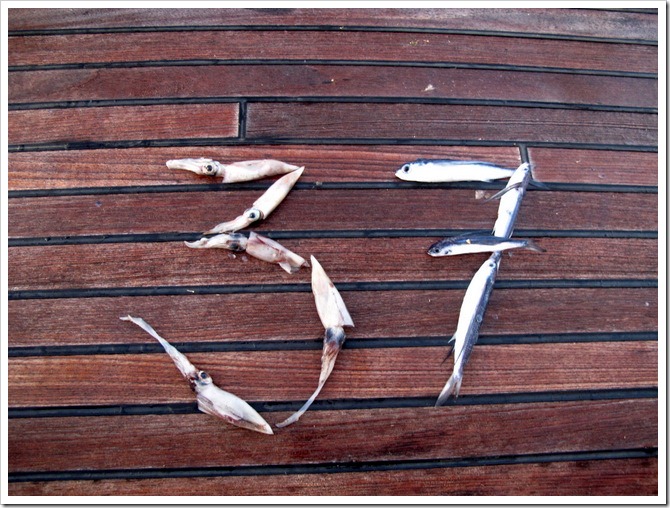 Happy birthday to me!
Andy & Simon got up by mid morning and soon after we landed a small Mahi Mahi. Andy filleted it and Simon didn't waste any time, marinating the whole fish in lime juice & coconut milk and making platefuls of cheviche for lunch.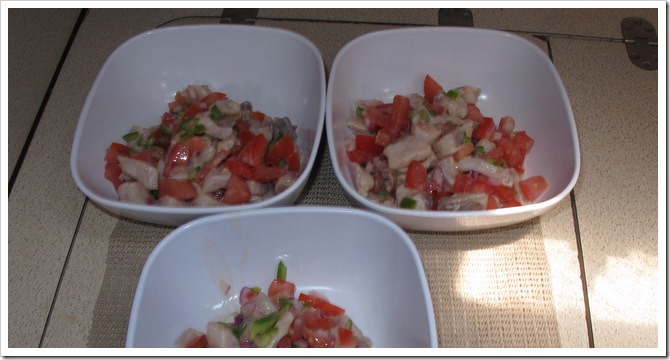 Andy baked a brownie cake and I cooked dinner for all of us.
All was going well and my first birthday in at least 20 years where not a drop of alcohol was consumed.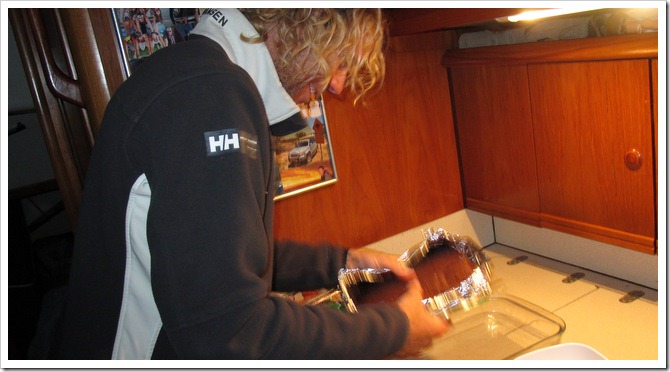 Andy checking out the Brownies… is he doing a shake test??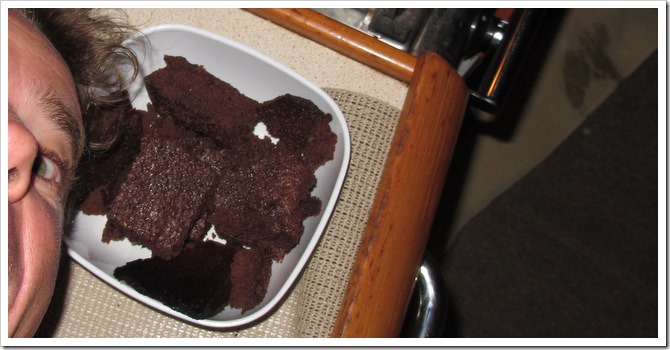 the poisoned brownies…!
Day 7: The irony of it. First birthday in 20 years without alcohol and I vomited and was sick all day. Bad egg in the brownie mix.
Thankfully the food poisoning didn't last too long, and we were all back in form soon after. As you may have gathered thus far, food and wind are the two most important things to us when we're underway… and the more consistent and favorable the winds, the more we tend to get excited about cooking and eating.
This is the first trip where we seriously got into baking breads… and although there are still a few improvements to be made, we were reasonably satisfied with the results.


Brown crusty.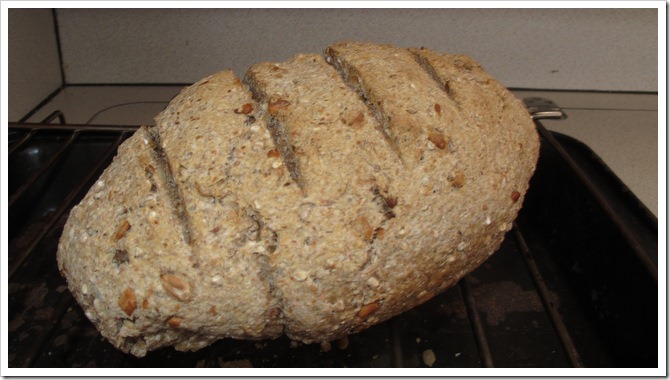 Wholegrain Mahboubi.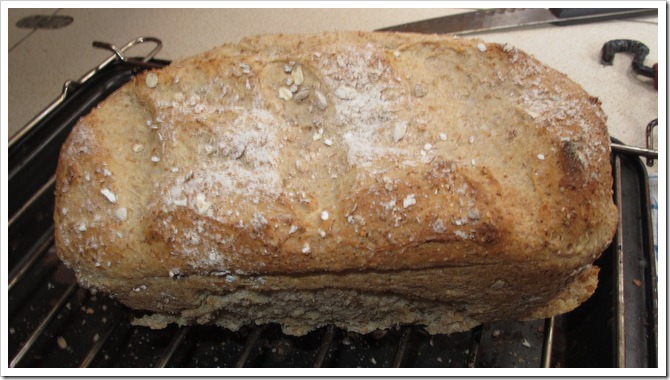 Multigrain loaf
Day 8: Approaching half way. New Squander record – 210 nautical mile day. freshly caught fish for lunch and dinner – yum!
Virtuo Michael conquered this solid Blue fun tuna….
Day 9: Sun was shining all day as we passed half way. Very little wind. Caught a beautiful Blue Fin Tuna late in the day – Sashimiiiii tomorrow!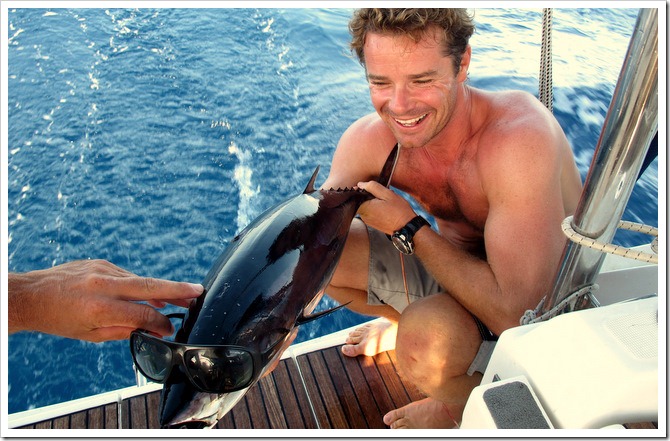 Running low on entertainment… Simon provided the props for the Mr Tuna puppet show… !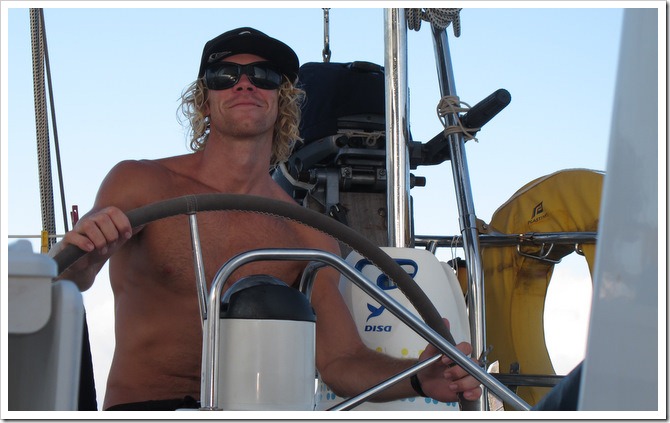 Andy happily steering away…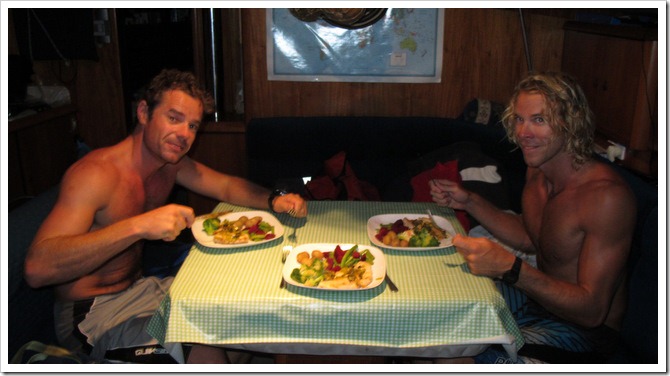 Speaking of food – Mahi Mahi for dinner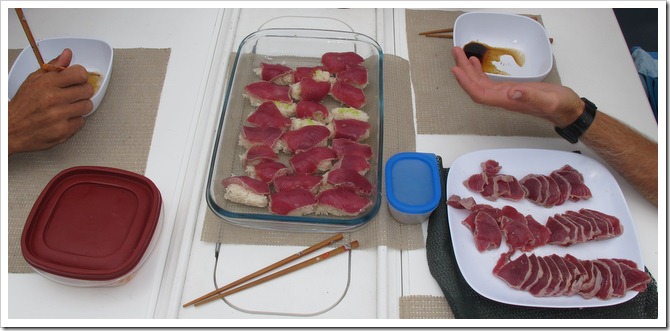 Blue fin Sushi n Sashimi for lunch
Day 10: Freshly baked bread, Blue fin tuna sushi and sashimi for lunch, steady breeze & calm seas – some days are better then others!
And Tuna again for Dinner… with Beans Galapagos style.
Good numbers… 19 knots of wind, True wind at 138 degrees relative to the boat, reaching at 10.3 knots – speed over the ground!
Day 11: We saw a ship on the horizon… first one in over a week.
The second half of the passage brought with it a lot more Squalls and dark clouds, not as fierce as the ones we had experienced in the Atlantic, but still enough to keep us on our toes.

Day 12: We had a loose nut on the wheel today – his name is Simon. He broached Squander (tipped on the side). We were flying a Spinnaker and full main when a sudden 30+ knot squall wiped us out… all is well!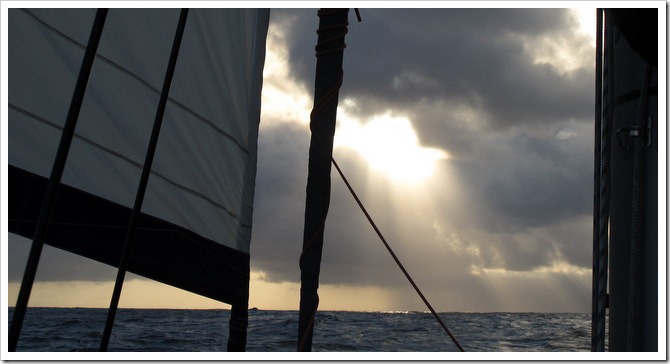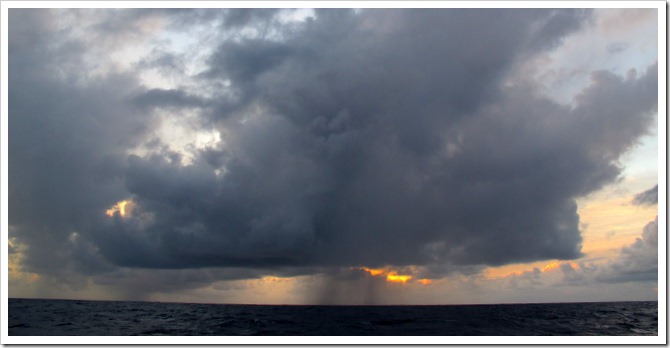 Sailing towards our fresh water shower for the day.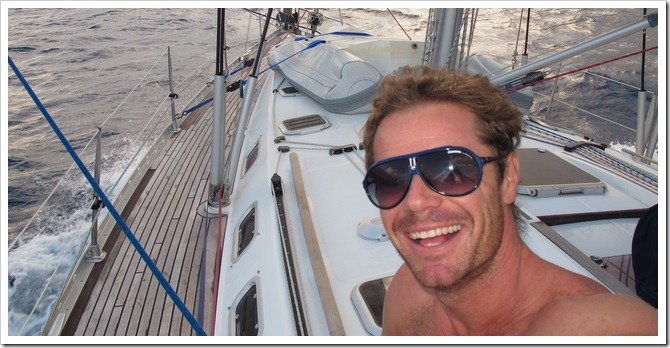 Day 13: Motoring in calm conditions. Pumpkin risotto and freshly caught Mahi Mahi for dinner – Yum!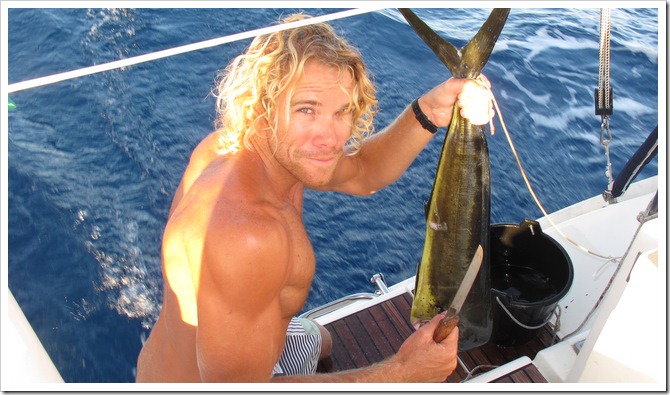 Day 14: 24 hrs of motoring. No wind. we watched a movie and did pushups – 2,450 in total for the day.

Looking for wind??! very serious stuff….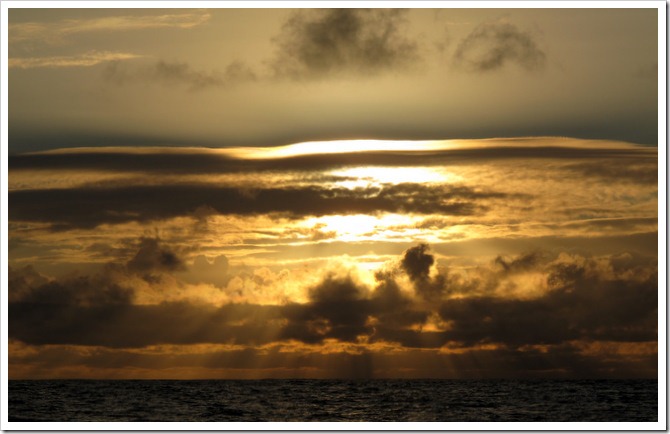 Day 15: Getting chased by big, black, ugly clouds all day…. arrrgh they have finally caught us – want to swap places for 12 hours or so?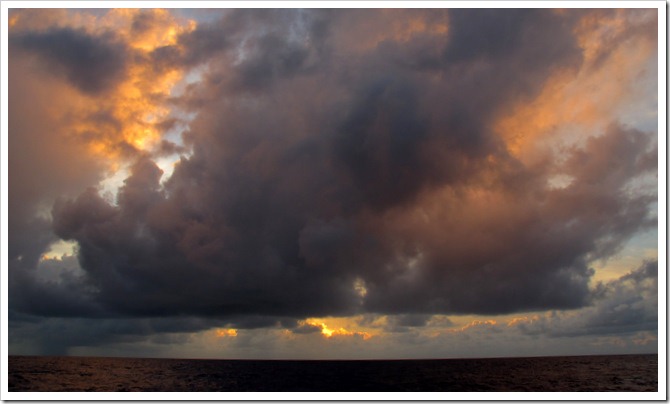 We were desperate to catch fish in the last coupe of days… reasonable size fish that we could eat… for some reason the ocean gods didn't want to deliver instead we caught BIG Short billed spearfish 2 days in a row… they are reasonably good fighters and a beautiful fish to look at, but apparently they're not the best eating (a cross between marlin and swordfish) so we let them go and hoped for more tuna, mahi mahi or even a Wahoo… but it wasn't to be!

It was this big – probably 1.5 metres head to toe…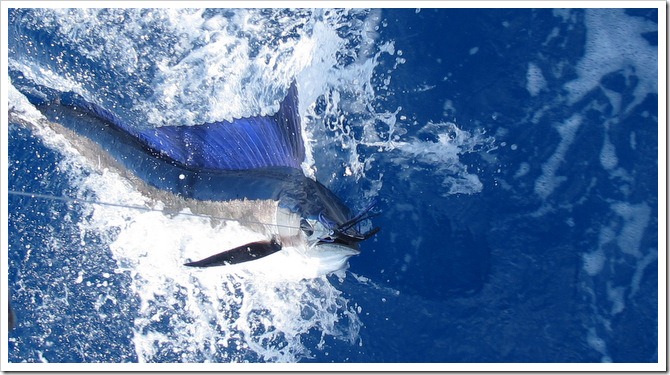 This majestic Short billed spearfish was lucky enough to live another day.
Day 16: a good day. Andy found his favourite Lady Gaga t-shirt, a monster 4-5 m Marlin put on a show for us, dolphins dropped in for a visit, we had strawberry jelly for desert and only 212 miles to go!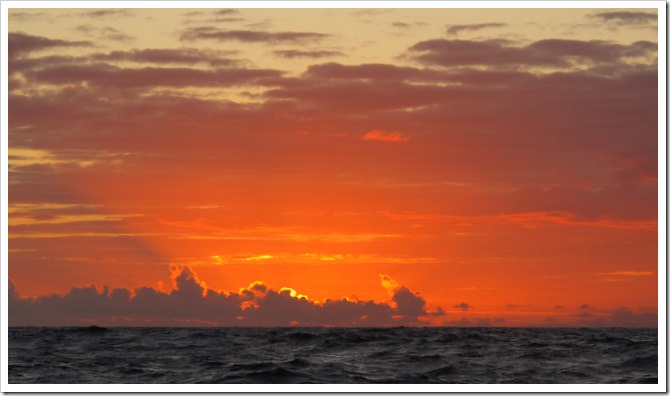 The final sunset of the trip.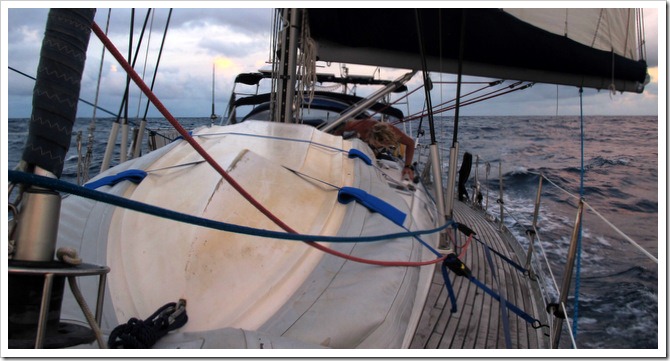 Starboard tack for a change??!  the wind swung to ENE for a few hours.



Looking for land ahoy!!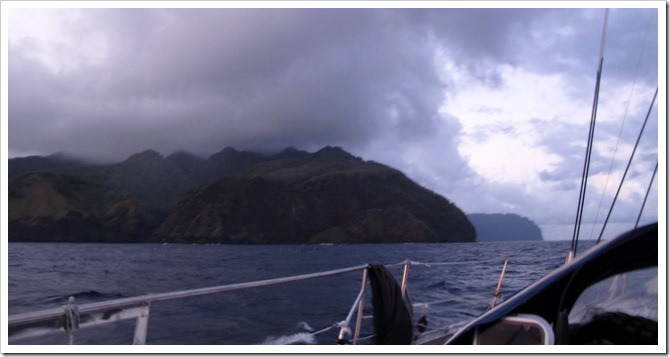 On the morning of Day 17, we arrived on the island of Fatu Hiva.  
It had been raining for 2-3 days and we managed to get a well timed torrential downpour as we arrived – giving Squander a much needed bath.
Approaching the almost mythical Bay of virgins.

Safely anchored as the clouds part and the sun comes out.
By Midday the clouds had lifted, and the sun was shining as we went ashore to check out the small village. The total population of Fatu Hiva island is approximately 600 people, with Bay of virgins being the smaller of the two villages.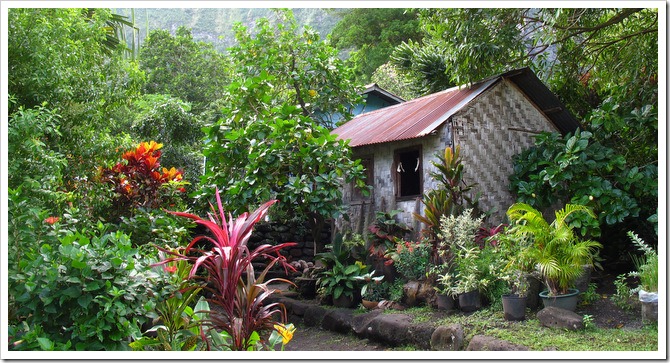 The island is like something that is a cross between scenes of Jurassic Park and Avatar… extremely steep, volcanic hills, lush, vegetation everywhere – wild goats and wild boars roaming the hills. Guava bushes growing next to coconut Palms… giant pampelmousse trees(sweet grapefruit), oranges, bananas, mangoes, limes – all in abundance growing everywhere.
Horse.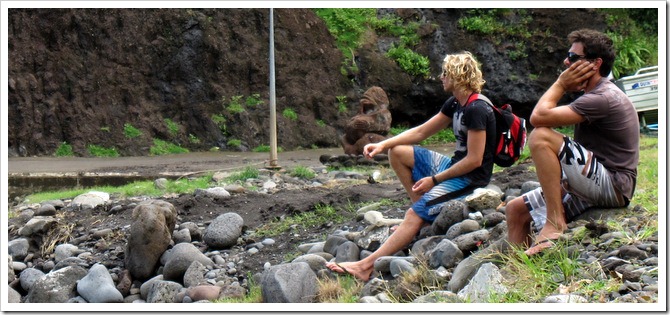 Gav, Andy and Simon looking out into the bay.
The bay was originally called Baie des Verges (Bay of Penises). Outraged, the missionaries decided the name was too wicked and hastened to add a redeeming 'i' to make the name Baie de Vierges (Bay of Virgins). Don't know where they got the original name from…??
.
A well placed confessional just in case the local rock formations possess your mind with evil thoughts…
Rush hour down at the dock. Aussie Quintrex does a roaring trade here.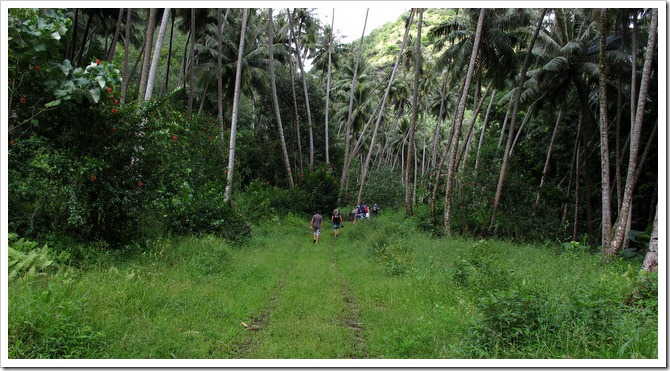 Heading up into the hills in search of  a waterfall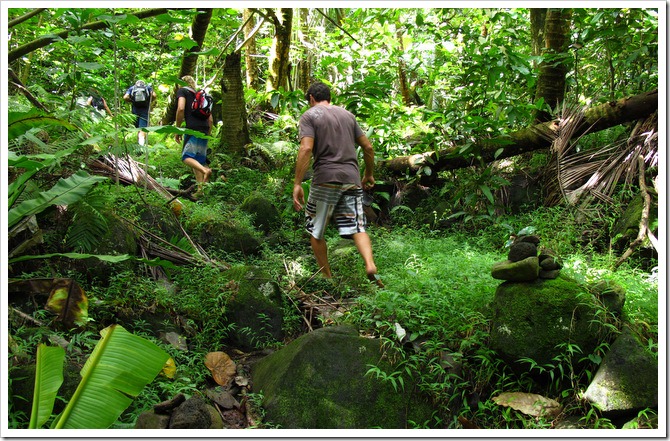 Half an hour later and the trek starts to get more taxing .Shoes are for stiffs so barefoot naturally.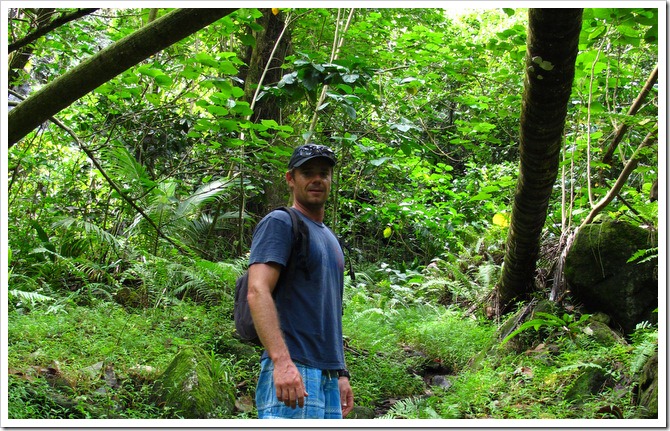 Gav, the sole camera owner, always manages a self portrait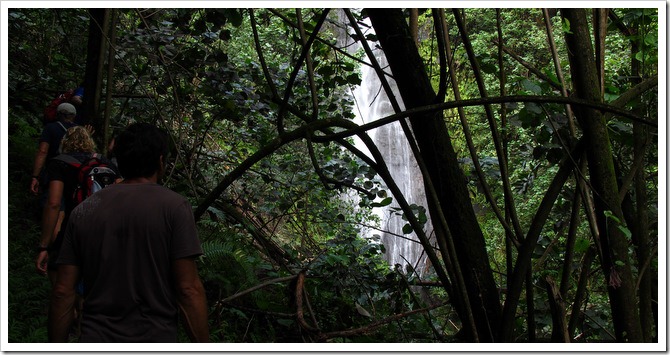 The light at the end of the tunnel
The final hurdle – remnants of a recent landslide……..
Voila!!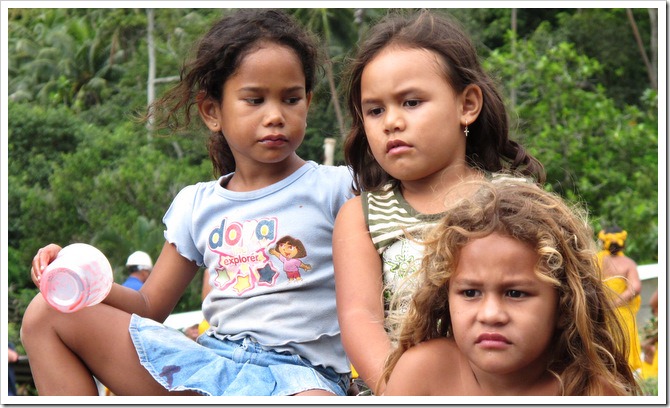 Local hoodlums…!
The locals put on a traditional display on the village volley ball court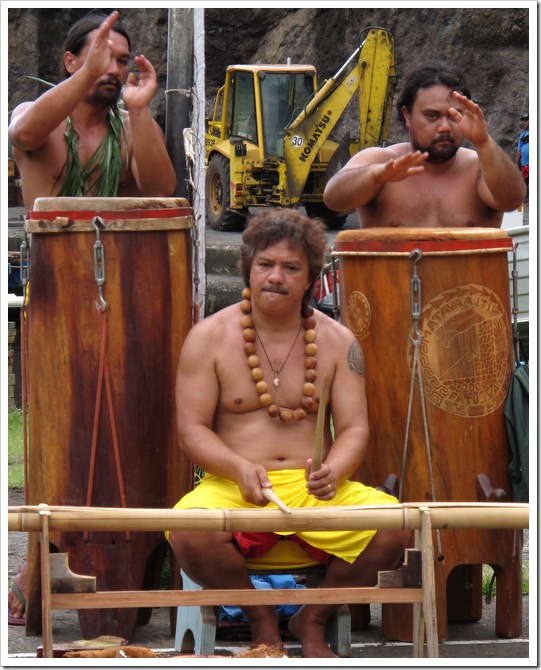 Four players from the local football team… Simon will clarify if anyone can't see the fourth player!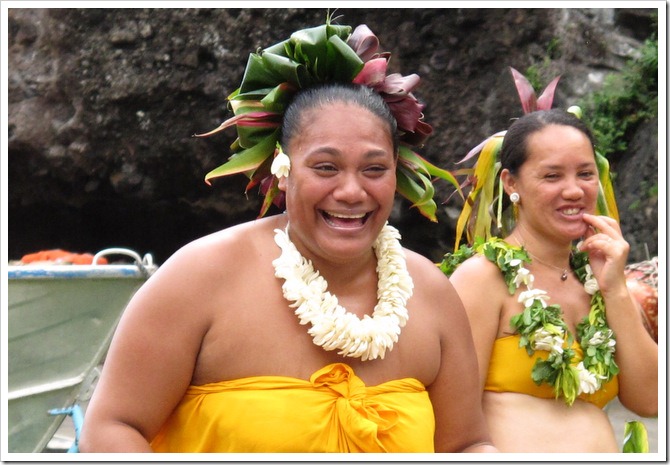 Gav and Andy managed to score a double date with two of the cast .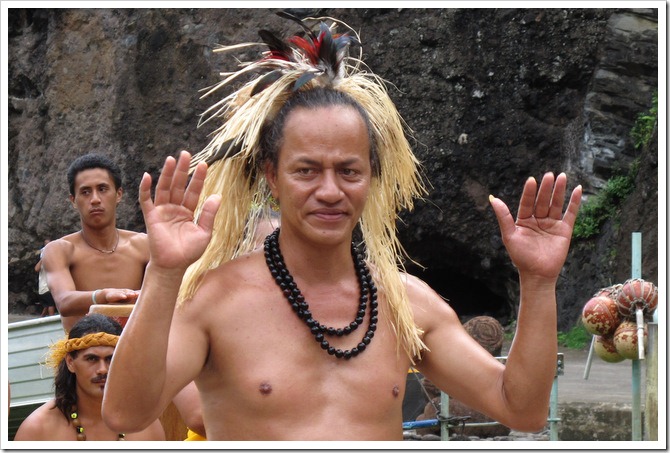 Having a thirst quencher after performing in the show.


We stopped in at Woolies and got chatting to one of the fresh food people.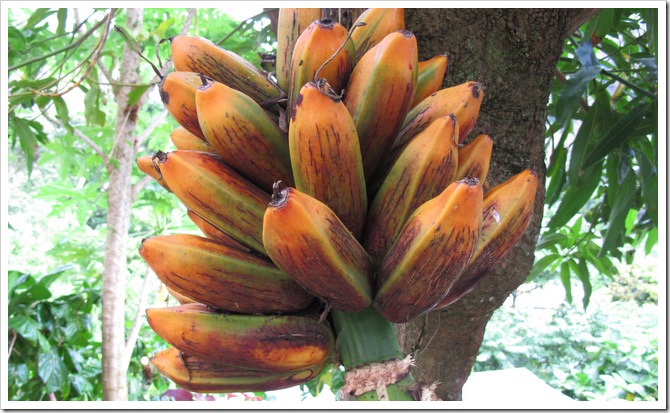 Plantains grow up, Bananas grow down. apparently….tasty boiled like potatoes.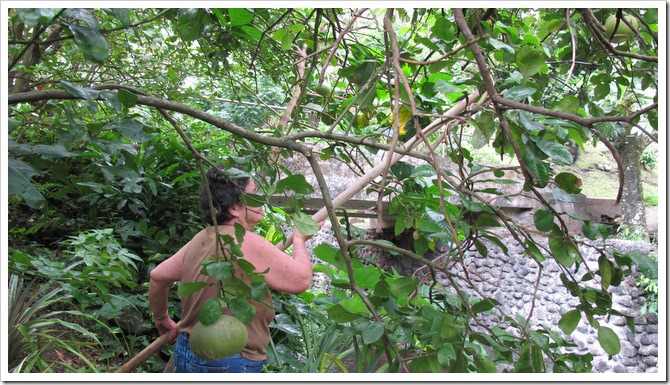 Picking Pamplemousse – how many would you like sir?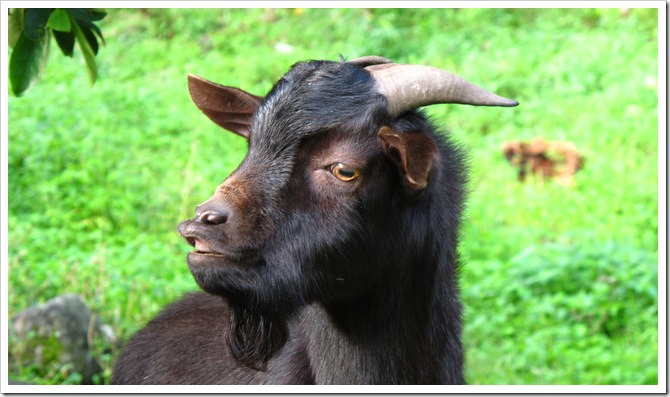 Poppee the goat. This guy has no idea how good he tastes diced up and curried with fresh coconut .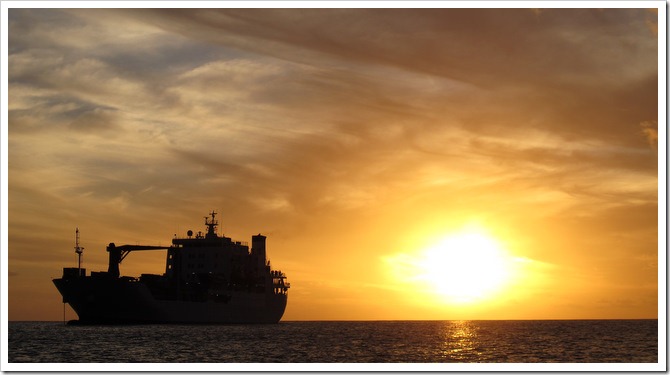 A supply ship drops anchor as the sun sets on another day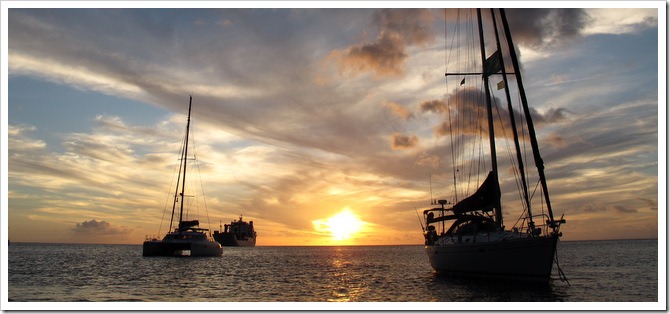 Sunset drinks on the back deck.
.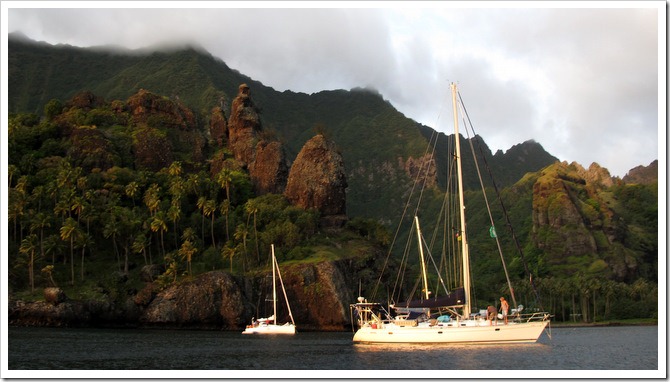 Andy and Simon restock our water supplies on the bow.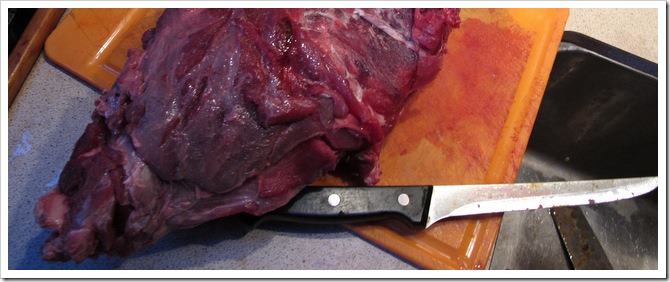 Goat leg – pre curry and coconut milk.


Coconut cream manufacturing plant.

Our little friend Poppee the goat, in his intended form.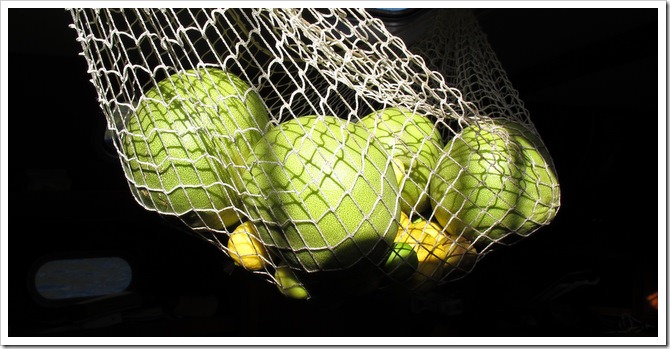 Le giant Pamplemousse.
Door to door butcher service -We could have got the head for an extra 2 beers but we politely declined. The local hunting dogs look on.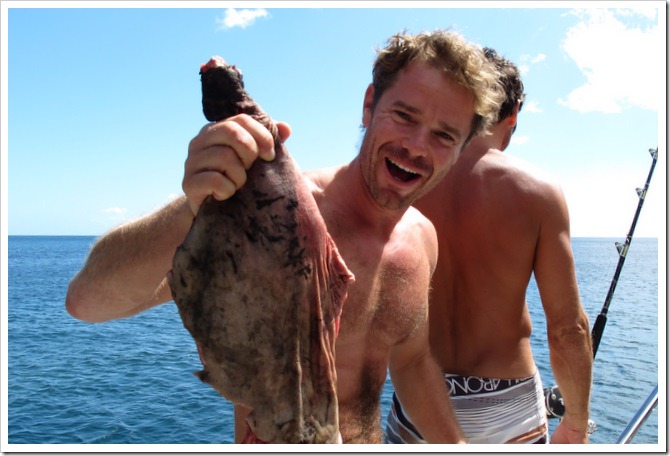 Fresh leg of pork for 3 cold beers and a $3 bottle of wine.
Looking down on the anchorage in The Bay of Virgins at Fatu Hiva.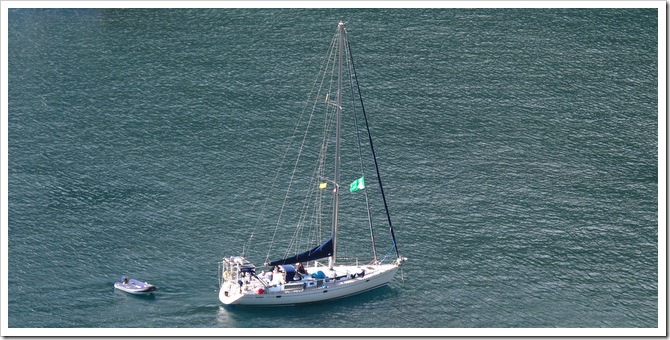 Squander at anchor with its token boxing Kangaroo flying high.
After eating goat for three meals in a row, we thought maybe their mountain climbing abilities wore off on us as we attempted to climb the adjacent mountain….
Simon's extra portions gave him added goatiness as he scaled the highest peak.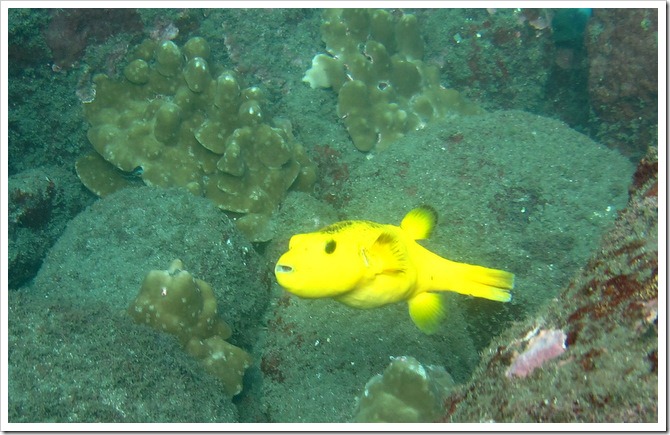 Yellow Submarine – AKA Guineafowl puffer fish
The rare DNA Jellyfish. Bred for its skills in magic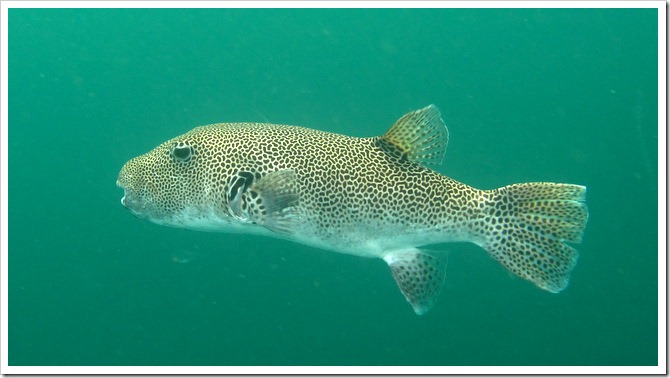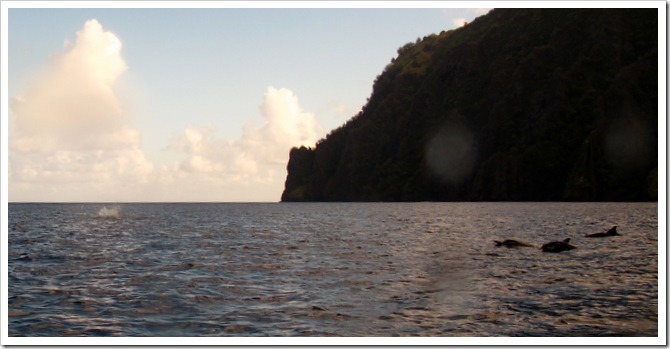 What blog would be complete without a series of dolphin shots so here they are. A hundred or more dolphins came within a few boats lengths the morning of our departure. Andy and Gav jumped in hoping to swim with them. There were many baby dolphins doing double back flips out of the water. Some only 50cm long.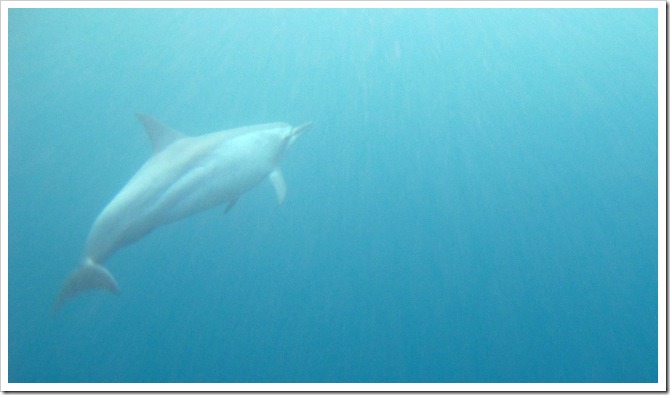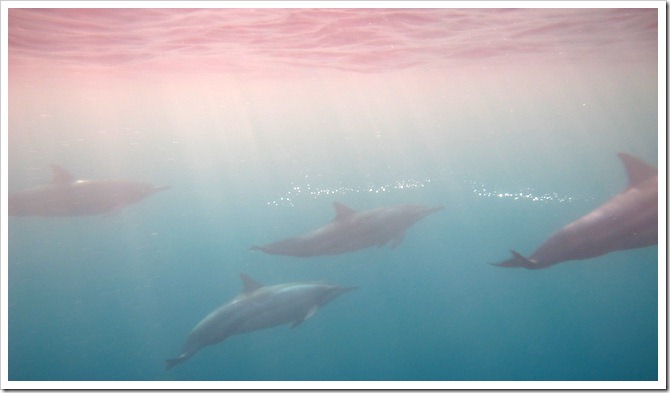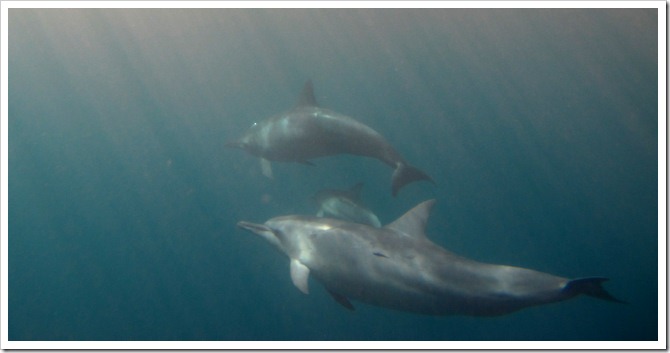 With the early morning dolphin show complete, we weighed anchor and set sail for the town of Atuona on the island of HIva Oa, in order to formerly clear into French Polynesia, restock on diesel, Gas, fresh food supplies as well as accessing the internet for the first time in over 3 weeks.
From here we'll sail down to the Tuamotu archipelago for 3-4 weeks before continuing to Tahiti at the end of June.
Until next time.