Port Lucaya on Grand Bahama was a beautiful place, but having arrived there on a Monday morning and in the mood for some fun after our eventful crossing of the gulf stream, we were somewhat underwhelmed by the empty bars, quiet casino and lack of other revelers to party with.
We did however meet some cool people like Rick Fleming (G'day Rick hope you've managed to get out of there and we will see you soon somewhere along the way!) who added to the experience of being in Grand Bahama.
Once we recharged our batteries (figuratively and literally as not only we all got plenty of rest, but our onboard Russian engineer worked out how to splice two 110V cables to give us 220V shore power and charge our boat batteries) we were ready to get exploring – we had heard that Harbour island was home to Elle Macpherson & Jimmy Buffet amongst others and so inspired by requests from some of our friends to provide tales of song, wine and women we decided to head there.
Our chosen departure morning greeted us with rain squalls and howling winds – but according to the radar it should all pass by the early afternoon and provide us with a nice clear run for the 120 or so Nautical Miles to Northern Eleuthera.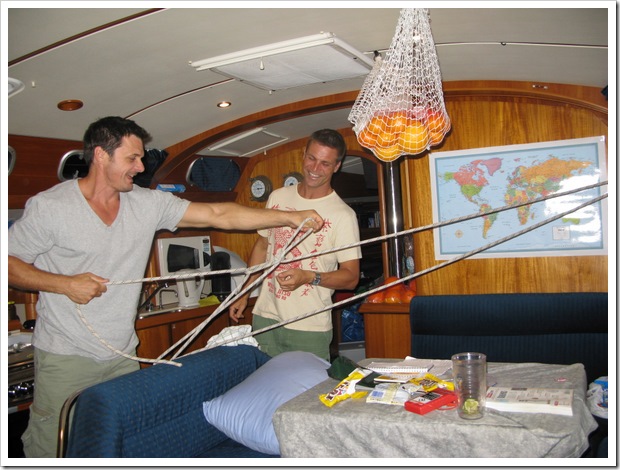 Simon showing us sailors what a real knot looks like – the old "Truckee's hitch!"
And so it was, coinciding with an afternoon high tide we took off in a gentle 10 knot breeze for the 120 miles or so to a place called "Devils' backbone" where we would meet a pilot called "Little woody"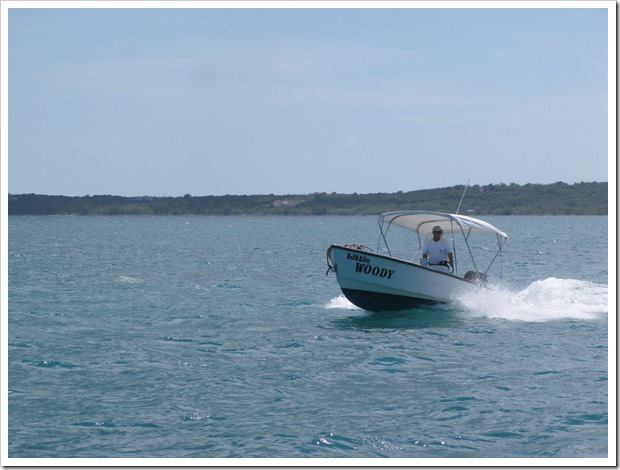 who would guide us through a reef system that provides an access to Harbour Island.
The trip was great in that we managed to test a watch system (we sailed overnight) and Dimitrji and Simon worked together to get the boat going, whilst Nath and I kicked back and provided tips if needed. The sailing lasted some 1.5 hrs before the wind totally dropped out and we were forced to motor for 20 hours – at least the seas were dead calm and we could not have picked a better day to pass through the Devil's backbone!

Navigating the Devils' backbone
The route involved us getting extremely close to the beach in 3-4 metres of water between sand and a reef…
Little woody asked us to anchor half way along as he had to go and pilot another boat through. We took the opportunity to sample the local swimming hole – ha!! this is what we're talking about!
Gday – Nathan here again.
Aaaah Elle – Where are you ???????
We had to freshen up for Elle after a stinky overnighter – you know how it is – four guys on a yacht. This photo above was our first taste of literally jumping into the open water over the side of the boat without being at a Marina with water of questionable quality. It was BEAUTIFUL , AMAZING. The water was crystal clear, we had arrived at our new destination. !!
Harbour Island is a beautiful place otherwise known as Briland as the locals like to abbreviate – they have more in common with us Aussies than you might think !!
This stretch of water really is as the charts state – one of the most treacherous in the Bahamas.
Thanks to little Woody we made it safely to Harbour Island and decided to anchor instead of tying up to a Marina.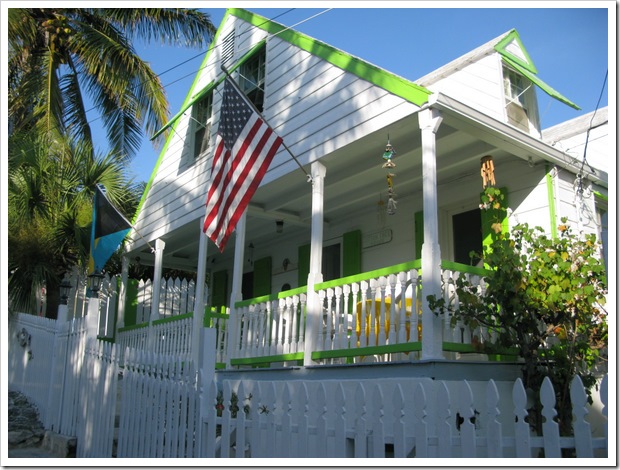 Looking into shore all you can see is brightly painted well maintained houses leading down to the water and as usual a marina with the usual assortment of super yachts and high flyers.
Well after we had put our SUPER DINGHY complete with a 9.9 turbo charged outboard into the water we decided to explore places where we were actually allowed to come to shore and by either pure ignorance or just pure luck we managed to tie up to the swishest marina and of course went straight to the bar "Valentines"  to sample the local beer – a growing custom of ours.
By the way local beer is called Sands but our favourite was KALIK as it was quite strong and it is named after the sound of the bells kaliking around a goats head which we thought was rather appropriate.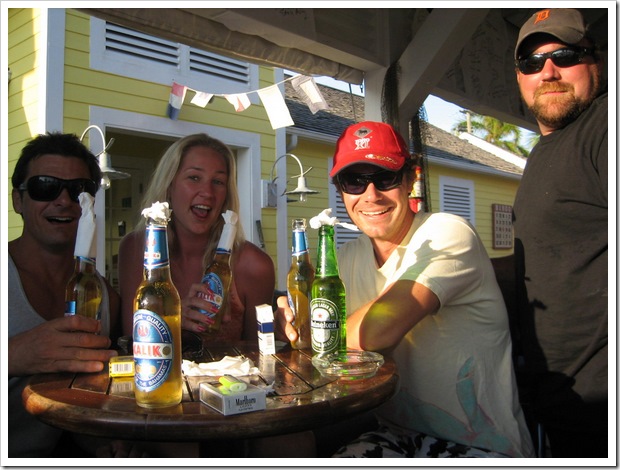 Wheres Elle ???
Couldnt find her or anyone else for that matter. The place was pretty quiet.

Elle??
One thing we did find was a sneaky place to shower which we thought was deserving for us due to our already kind custom of injecting dollars into the local bar economy.
We went for a walk and this place is definately not for the light of wallet.
Lucky we were on an anchorage in a yacht.
Fancy pants shops and restaurants with entrees starting at 20 bucks and seriously climbing.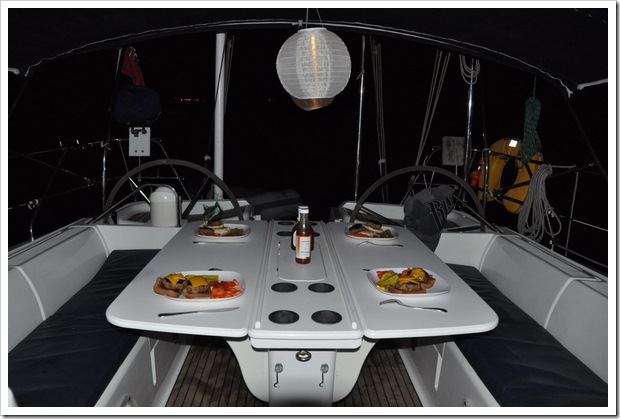 Dinner on Squander – tonight we have prime beef burgers!
After exploring for a bit and walking a mile or so to check out the beach on the other side of the island which was fantastic we settled on another local shop and bought some more beers before heading home.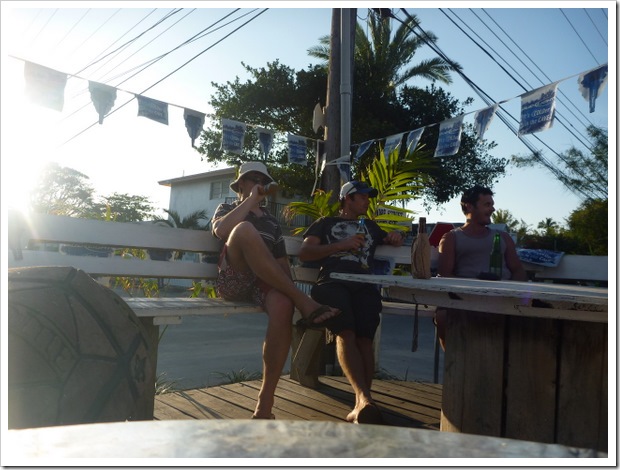 Just as well we had heaps of steaks and food on the yacht and so we made some dinner and prepared ourselves for activity day the next day.
I'm proud to say that Gavin gave me the title of Captain the next day in charge of activities and after a morning of scurfing behind our super dinghy we made our way to the marina and hired a golf buggy.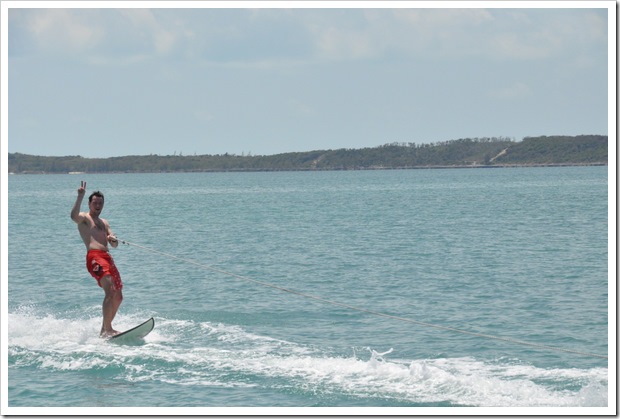 50 bucks saw us get a buggy for 24 hours and after going the wrong way for an hour or so looking for Elle we eventually headed back to the beach we visited the day before for some snorkelling and fun.
We had decided that we were lacking in fitness and so we made up a frisbee game that if you stuffed up you had to do push ups.
Hilarious – Dimitri was so tired from push ups that he had to do lunges to compromise. He also has this funny habit of changing from one red pair of quick dry shorts to the other red pair . He has four red pairs and this photo was trying to dack him in the process.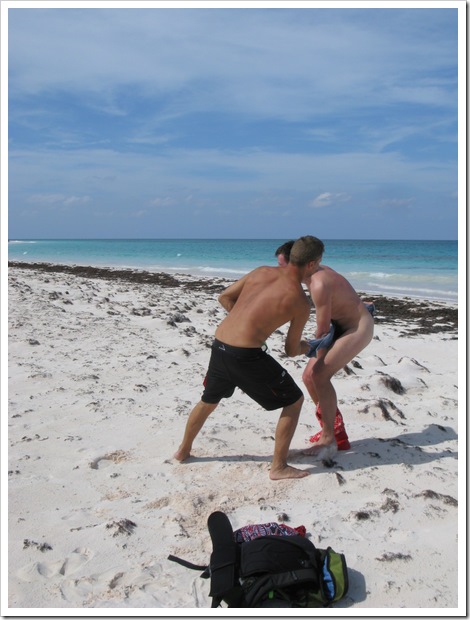 After Dimitri finally managed to get out of his red boardies and into his other pair of red boardies we jumped into our buggy and headed for the bar at Valentines to have a few well earned beers.

The only Warning sign that we saw on the whole island – we like this place
Still no sign of Elle nor Jimmy Buffet. WHAT THE ??????
We had heard of some places to go to during the day and after scoping some out in the buggy we headed back to the boat and had dinner ready to gear up for a Friday night Island style.
First stop was Gustys – a cool bar on the north side of the island overlooking the inlet – definitely for the well heeled, in fact plenty of heels were getting stuck in the pure sand floor – it was awesome and it was also the place we met a great couple from Michigan named Shaun and Renee !!

Shaun & Renae – our new friends on Squander.
After that we went to Daddy ds and then drank the night away at the infamous Vic Hum – a reggae bar which doesn't discriminate and happily blends people from ALL walks of life in a potent cocktail of loud music, plenty of alcohol, an outdoor basketball court and BIG booty shaking on the dance floor – kinda like that bar in the first episode of star wars!!! We fit right in. hahaha
We had a great night that included bum dancing with Big Caribbean mummas, shots, and a buggy ride and dinghy ride home that we cant quite remember.
The next day the wind was up and so our Russian friend decided to go kite surfing – more like kite walking – he spent most of his time walking back up the beach but to his credit he got much better as the day went along and the wind picked up.
It was so funny – suddenly we knew everyone after just one night out – its such a friendly place both locals and tourists alike.
Its here that we saw Shaun and Renee from Michigan again and had a great time chilling with a lunch brought to the beach by Gav which was perfect hangover food !!
Shaun is a pilot and Renee works for a private airline – we spent the afternoon on the beach swapping war stories and pestering Shaun for a joyride. Before we knew it the sun was setting and it was time for happy hour at Valentines.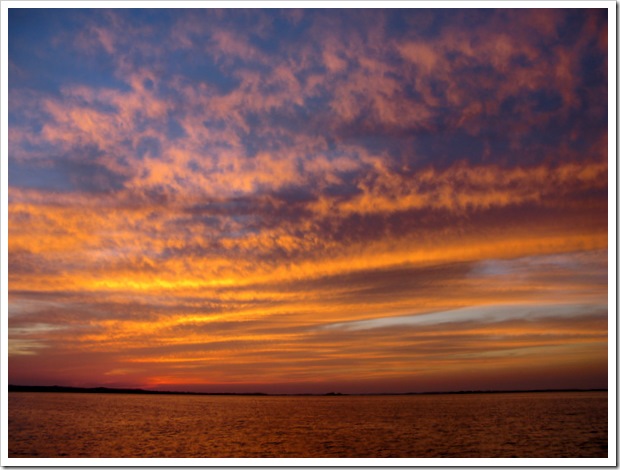 Well this turned into ten and after going to the boat to check on Dimitri who was napping after his kite surf we found that Little Woody had revisited us and dropped off some of his famous Crab claws. WOW !!
Thanks Dimitri – we werent sure about dinner and instead of eating at the bar we went straight back to the boat and tucked into SURF AND TURF SQUANDER STYLE ' Crab claws steak and salad with plenty of Rum , Gin and CC to boot.

A quiet Gin anybody – we've got our tiny 1.75 litre bottle of Bombay.

Dimitrij – babeeee !
Now the boys were firing up – Afterall it was ANZAC DAY and after another interesting night on the town both Simon and I woke up with ANZAC morning scrapes from A) Simon falling off the buggy and deciding to take on Shaun in a friendly wrestle ( ps – Shaun is a multi disciplined fighter that weighs about 110kgs and B) Me deciding to take on Simon in the spirit of the ANZACS. Needless to say we were both a bit sorry for ourselves the next morning.

"Shaun, I'll give ya 50 bucks if you let me win the next wrestle!"
Still no sign of Elle – even on ANZAC day !!
Well after a very slow Sunday morning after Dimitri came back from Kite surfing we pulled up anchor at about 4 in the afternoon and made our way (solo this time) back through the Devils backbone with quite a few nervous moments and onwards to Spanish Wells a small fishing village a couple of hours from Harbour Island.
Goodbye Elle , goodbye Harbour Island – many happy memories remain !!
SPANISH WELLS – a great little family village
Spanish Wells was a trip as we had heard that it was essentially a small fishing village with about 1000 people that didn't particularly like visitors and that they all shared the same surname.
Scenes from Deliverance instantly sprang to mind and we half expected to hear duelling Banjoes as we sailed in.
Its actually a pretty cool spot and just what we needed to recharge the batteries and head on our next adventure.
The EXUMAS here we come !!
It's 12.30 am now and we head off in 6 hrs so time to sleep.
A big shout out to our new friends SHAUN and RENEE from Michigan and our neighbours at Spanish Wells – PAUL and CAROL from Colorado Springs. You guys are welcome additions to our guest book.
Smooth Flying and sailing and see you guys soon.
Nathan and Gav signing off from Squander and see you for the next installment.
BYE BYE ELLE !!!!!!!!!!!!!!!!!!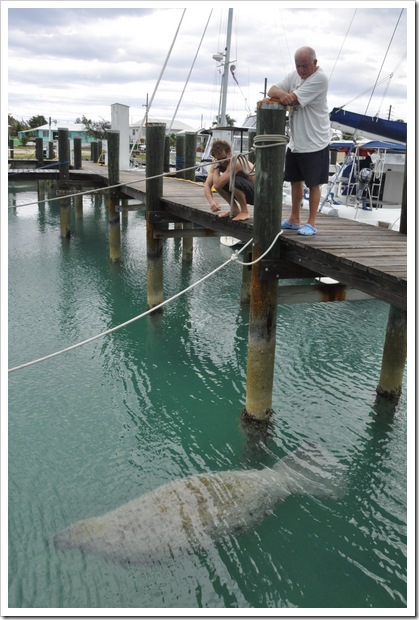 A Manatee coming to visit us at Spanish Wells Yacht Haven – coolest local we've met!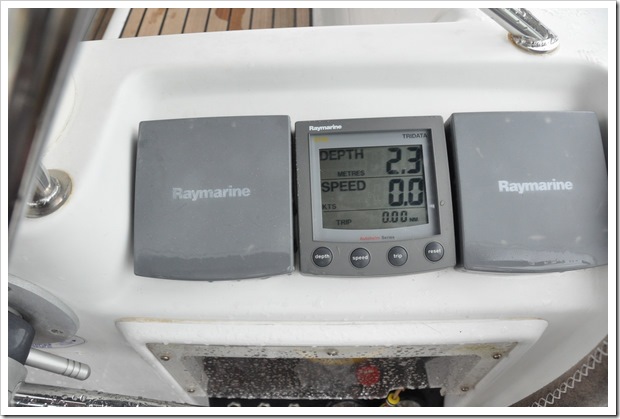 Depths around here are scarry – we have 20 cms under our keel.
The only fish we have caught – a sea bass caught on camera