There are times in life when you feel like you need to pinch yourself just to make sure you're not dreaming. I am sore from pinching myself!!
Since our last blog, we sailed off into the sunset leaving behind the beautiful Staniel Cay and the Exumas .
An incredible downwind sail in calm waters, with the spinnaker flying and beers in hand. I had read that it's possible to anchor totally out of sight of land when conditions are calm and suggested this as an idea to the guys.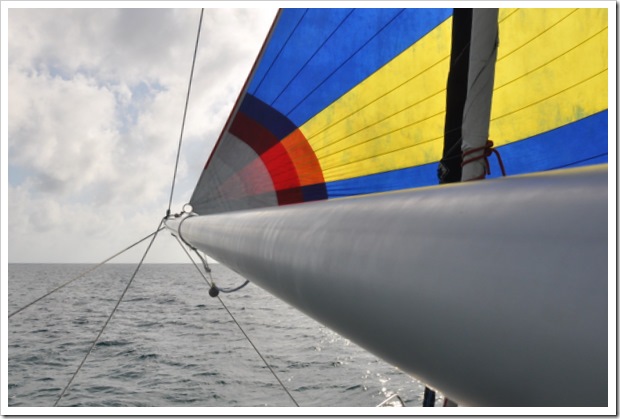 It was met with great enthusiasm and so we sailed about 35 NM literally into the sunset, found a nice bit of sand in 5m of water and dropped anchor, fired up the BBQ and cooked some great steaks surrounded by a star lit sky & a calm dark ocean. Definitely an experience that i won't forget.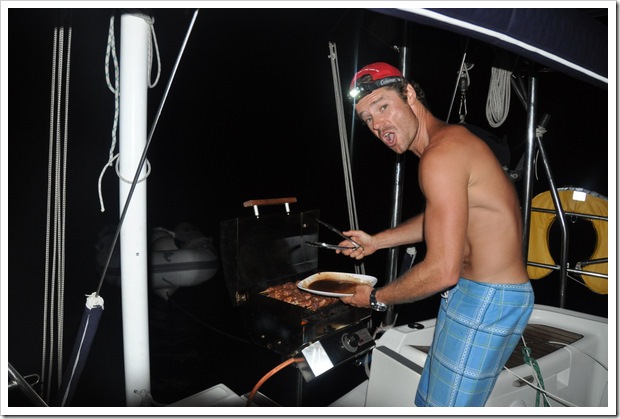 BBQ out of sight of land!


I went to bed around 11:00pm content, but somewhat uncomfortable as some clouds had formed on the horizon late in the evening and the barometer dropped a couple of notches over the course of the evening.
By 1:00am we started rolling as the swell came up a little and the wind picked up to about 15 knots… it was still manageable and with a plenty of snubber taking the pressure off our windlass I decided to try and get a couple more hours sleep – by 3:00am I was sure it was time to weigh anchor soon… I had a quick look at the charts and decided to wake the guys up at around 4:00am –  by 5:00am we were sailing again, fishing rods out and the sun rising behind us.
Another great day had by all as we sailed some 80Nm almost entirely under Spinnaker again.
We got a couple of strikes on the lures but it wasn't until the early afternoon that we finally managed to bag a fish  – a beautiful Mutton Snapper.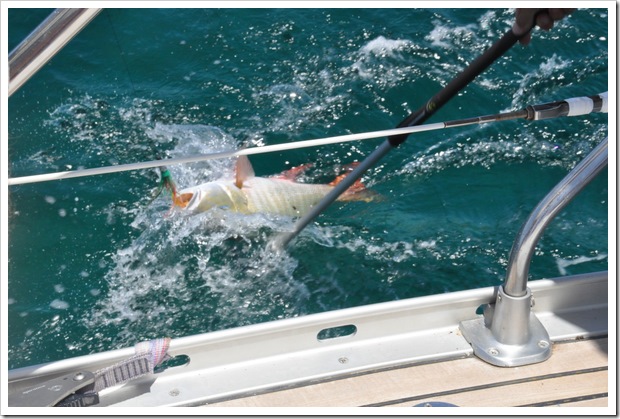 Got him, the "action" gaffer strikes again.
The guys took care of dropping the Spinny as I reeled the fish in and proceeded to fillet it.
With 2-3 hours to go before we got to Nassau, it presented a perfect opportunity to make some fish stock with the leftover head and bones and cook up the famous Gorazdowski fish soup!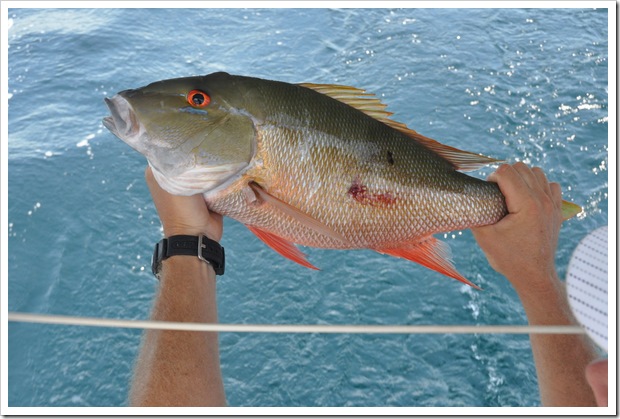 Mutton Snapper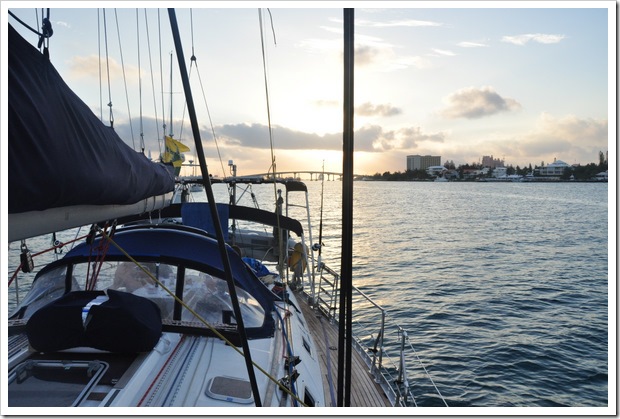 We sailed into Nassau as the sun was setting, scraped under the two bridges  and cruised past all the huge cruise ships before finding a spot to anchor overnight.

Woah, that was close

The local fisherman watching us scrape under the bridges
We all woke up on Thursday morning ready to hit the glitz and glamour of Atlantis Resort & Marina!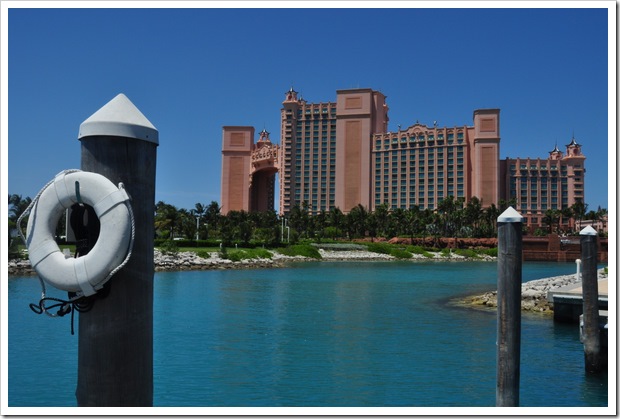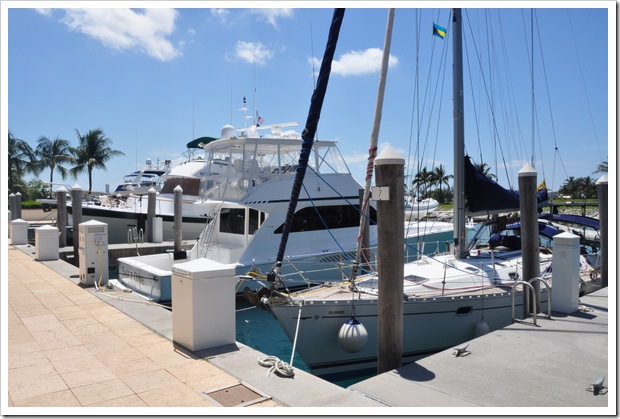 Squander in lucky slip 7


This place was by far the most ritzy of all marinas we've been to. They have a minimum 40 foot boat policy, with the actual average being more like 140 foot – we managed to get the cheapest berth available in the marina (Slip number 7) and damn well nearly missed it entering the channel to the marina – it was a very quiet spot, a good 700m walk from the actual glamour spots reserved for the big boats willing to pay big boat prices.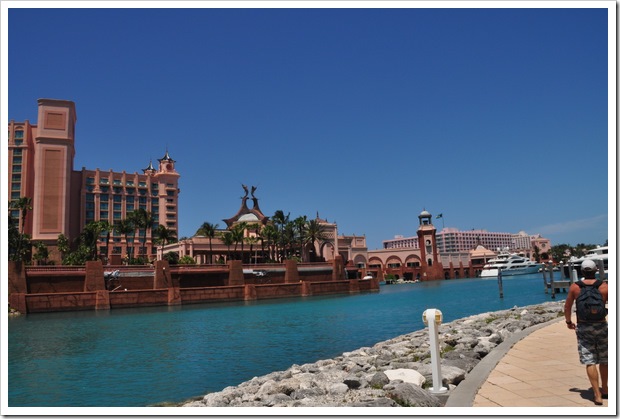 Walking to the hotspots!
but hey we were in Atlantis and there was a golf cart pickup service
and as we found out we had access to all the rides, beaches, aquariums,  casinos, nightclubs, cinemas and fun we could imagine all included in our marina fees !! This was going to be a great birthday.

One of the main lobbies with massive Aquarium behind it – seriously impressive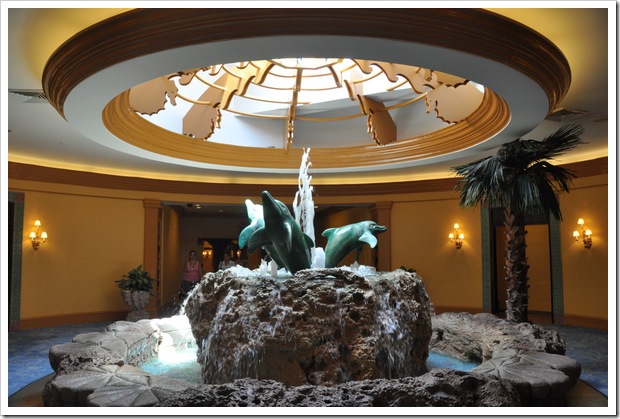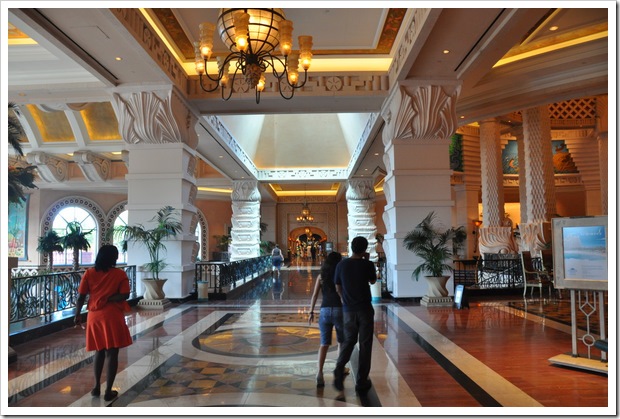 Sharks in the Aquarium


The Squander Salute
We all decided that we would get through all the little maintenance jobs on Thursday morning, have a quiet night on Thursday night and wait for Todd to arrive on my birthday (Friday) before getting into the action…
This was all going well until a local Bahamian guy called Sean turned up and offered to clean the entire boat for $40 from head to toe… hmmm that's $10 each we all thought in unison as Atlantis flickered it's pink building eye lids saying come to me Squanderers – you will love the fun…!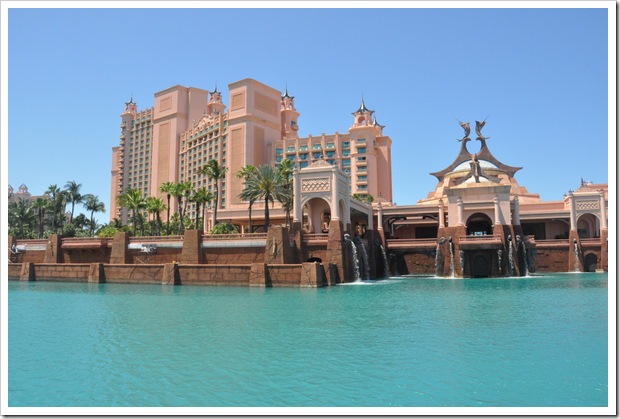 Vegashamas!
There are some people that naturally fall into roles in life, and Nathan "Strike" Harvey is a born activities coordinator – I will never forget when Luciana and I visited him at Seaworld last year and Nath met us with a hand written hour by hour itinerary, strategically thought out to minimise  queues, maximise fun and cut out all the crap that's overrated – legendary stuff – we had a great day and so it was a no brainer when Nath volunteered to step up to the plate and organise my birthday day of activities that he should be the chosen one to lead us through the land of fun known as ATLANTIS!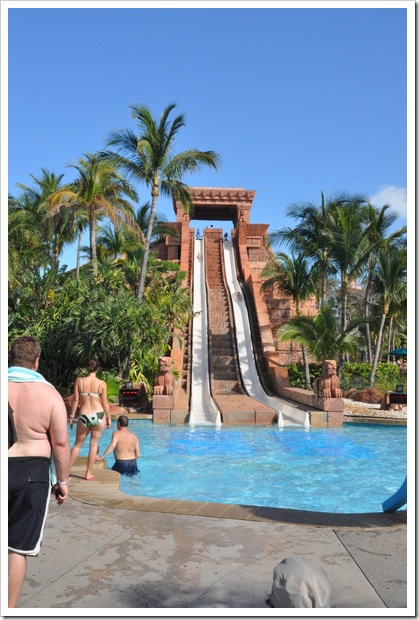 The water slides where you get clocked to see who goes fastest – great fun!
He picked up the brochure, the maps, the flyers and within 45 minutes announced all was under control – we had a briefing explaining the day's activities and left Sean to finish polishing Squander's decks, nooks and crannies as we went in search of fun….
and what a day it was, water slides, ice cream stops,white water rapids, underwater tunnels, aquariums, a swim at the beach a drink at the bar and a definite sense that we were starting to get to know the resort's hot spots – thanks Strike a great day had by all!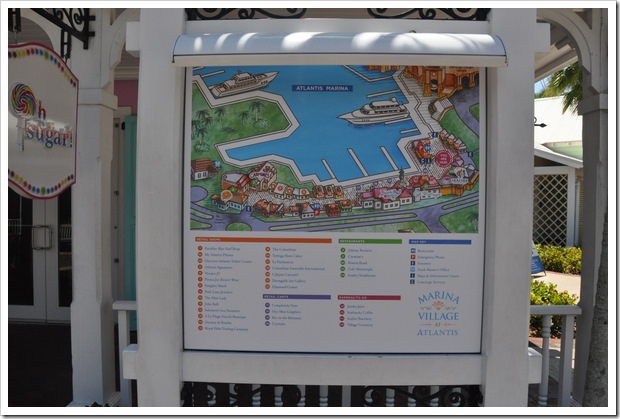 Stopping at the local Rum Cake shop for a tasting and a good laugh with the locals

The ice cream stop – a great addition to the afternoon's activities

For those of you that have met my parents, Elizabeth and Matthew or anyone else in our extended family – you would know that we are very hospitable people that love to entertain and live life to the fullest -and so it's no surprise that there are few countries in this world in which mum, dad  or my uncles and aunties do not have friends from various walks of life – The Bahamas have been a definite standout – My dad's sister's best friend, Rosa and her husband Geoffrey live here with their 4 kids… Wow talk about getting introduced to Bahamian hospitality – you guys have been amazing!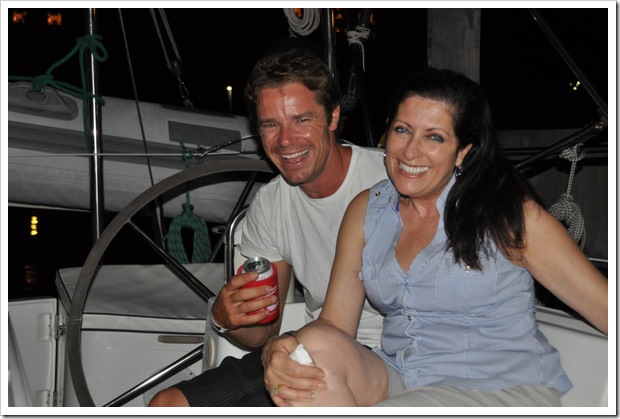 Simon, Amanda & Strike Harvey

Gav, Rosa & Dmitrij
It all kicked off on that fateful "quiet" Thursday night – Rosa and her daughter Amanda came over to Squander for a quiet drink – we all had so much fun that before long it turned into a typical Squander night – drinks, a last minute dinner whipped up from the ship's stores – with Rosa volunteering to jump into the kitchen to help out –  and before we knew it, the clock spun past 2:00am…and the end was not in sight!

Rosa helping out in the Galley – great team effort!
The girls had to work the next day, and very sensibly headed home around 3:00 am whereas we decided that it was time to discover the late night secrets of Atlantis (just to make sure we could show Todd around!!!!) – we headed straight for Aura, the nightclub that was talked up to be the be all and end all. Unfortunately it was already closed and so it was we ended up at the Casino – Action had a quick run which ended on him breaking even whereas Strike was all over the Roulette table like a seasoned pro and was going well enough that we all finally got a free round of drinks out of the Casino (around 4:00am) – none of us were quite aware of the fact they were FREE and so Action handed over a crisp $50 note to the buxom waitress who smiled, whistled and skipped off into the distance… with a $50 tip!!! hahahahha
We all finally crawled into bed at 5:00 am, not before sending Todd a quick text message advising him that his welcoming committee at the airport was unable to make it due to technical reasons and that he had to catch a taxis to party trap Atlantis and head for Slip 7….!
I was the first to get up at around 10:30, quickly jumped online to check if Todd's fight had landed and was relieved to see it had been delayed – I quickly made enough noise to wake up the rest of the crew and went about tidying up the evidence of the previous night's activities – I wonder if there will be a sharp rise in Rum sales as a result of our recent stay in the area???!


Todd looking thirsty after his 30 hour flight from Oz
Todd arrived at 11:00 am and it wasn't long before he was doing his customary liver slap indicating he would like a beer, we all put on a brave face and cracked a cold one to celebrate his arrival and of course my birthday – this was starting to feel like one of THOSE birthdays!!!

Todd's birthday present for me – a fantastic Aussie Flag!
We had a couple of beers and by 1:00pm decided to hit the fun park on our doorstep and show Todd the attractions – another great afternoon of water slides, beach, lunch at the beachside Cave Bar & Grill and living life to the fullest.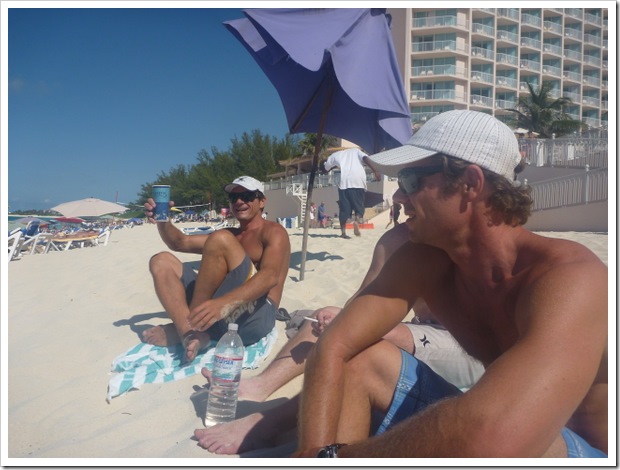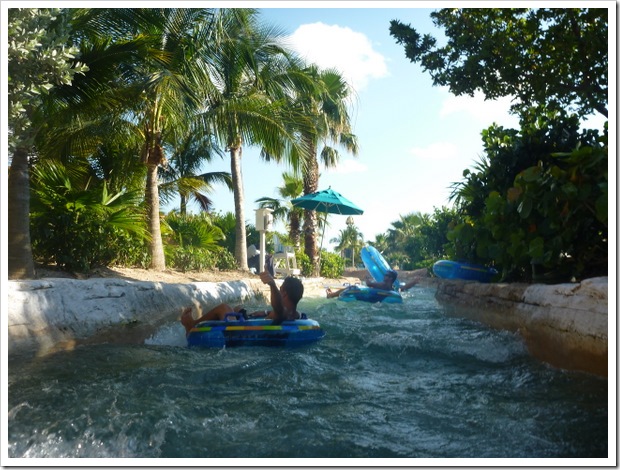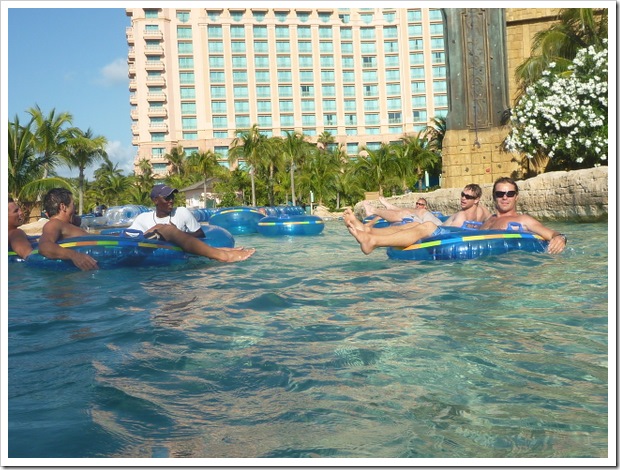 We all got back to the boat by 7:00pm just in time to receive a message from Rosa that they were coming to pick us up at 8:30 pm – WOW!!! We gave Rosa and Amanda a call and I was again pinching myself – Amanda had gathered a bunch of her friends, Rosa had baked a birthday cake for me and we were all going out to dinner to a cool waterside bar/restaurant to have a few drinks, have dinner and celebrate my birthday in traditional style – with a  good old BIRTHDAY CAKE and 2 bottles of Aussie wine!!!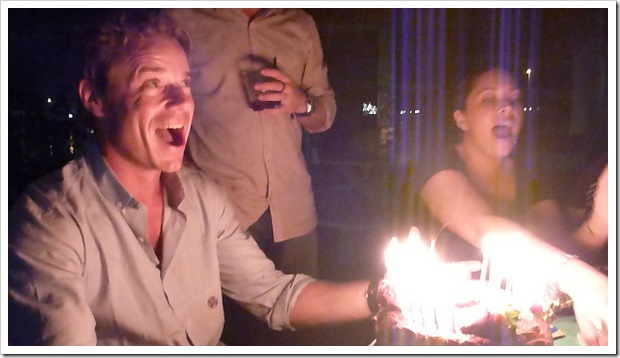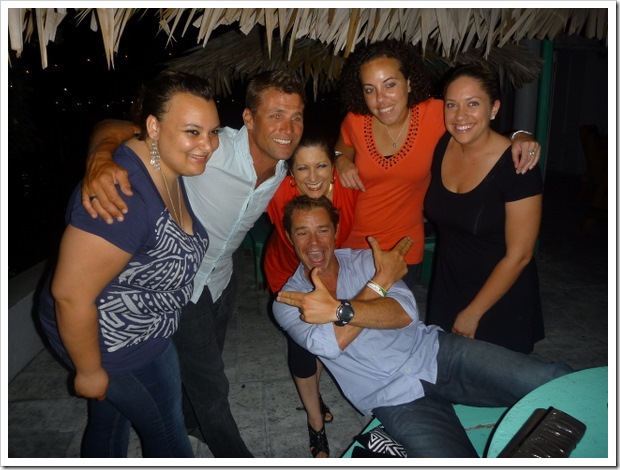 Thank you Rosa, Amanda, Kim, Janelle, Janine and everyone else that made it such a memorable night!
I also got a set of traditional Russian dolls from Dmitry!!!!
We all headed to the famed AURA nightclub for a boogie and a drink, but soon realised it wasn't the scene we were after –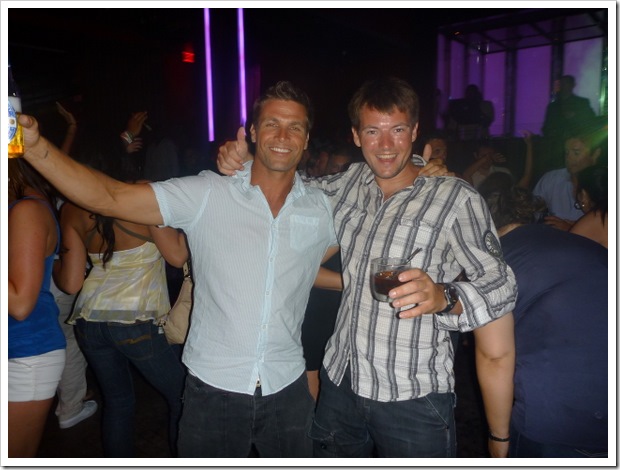 the girls recommended a local club called Bamboo and we were soon carving up the dance floor there – it all somehow went a bit pear shaped as our Australian appetite for drinks, shots, beers, and anything else that's alcoholic took over and we culminated the evening at 4;45 am taking over what was left of the dance floor with our unique mix of headstands, wrestles, drunk stumbles lamely disguised as dance moves (have you seen the kangaroo hop trip??) and god knows what else – thank god for the fact that old Dimitrij's Camera battery went dead and nothing was recorded.
A huge thank you to Amanda, Ryan and Janine who drove us home at the ungodly hour of 5:00am… you guys rock!!
Saturday, I finally felt all of my 36 years – ouch. That last Tequilla shot mixed with the beer I had with the Mexican dudes that Simon & I met at slip 23 at 6:00am must have done some serious damage.

Nath impersonating Bernie, from weekend at Bernies!
Saturday was a write off – in more ways then one – we were meant to head to Rose island with Amanda's friends but everyone was passed out. Todd and Nathan had stayed up to see the sunrise and were inspired by the white water rides to a point of spending 3 hours going around them at 9:00 am drinking rum and squirting lifeguards with water bottles before finally hitting the hay at 11:30 am – nice effort, whereas I was too confused to work out North from South and felt it was wise not to try and negotiate the shallow waters by taking Squander to the outer islands…
I fired up the computer and was blown away by all the birthday messages – Thank you guys – It's always great to get a birthday messages, but especially so when you're half a world away form friends and family.
After reading and responding to all of the messages, we had a relaxing day on the beach, soaked our bodies in the crystal clear Caribbean waters in the hope that some magic elixir would take away the pain and pondered what the night held for us – we had been invited by Amanda and her friends to a Rugby Party but weren't sure if the invite stood after our previous night's antics… the unfaltering Bahamian hospitality shone through again.     

Our resident Russian Stud steals a kiss to Amanda's Surprise


Someone stop that guy – he's on fire!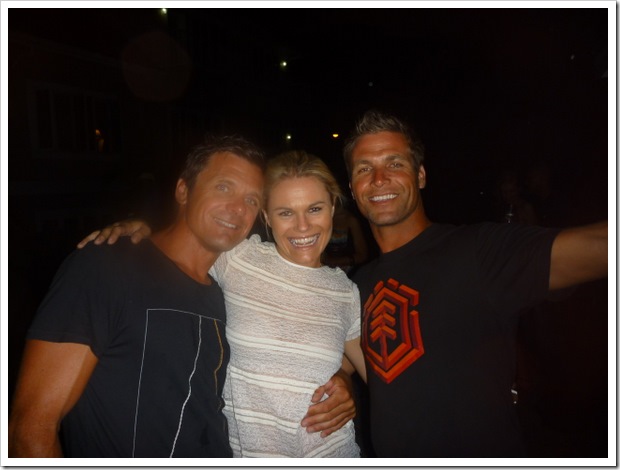 Team Aussie – with Kate from Paddo joining in the festivities


And he's back at it again!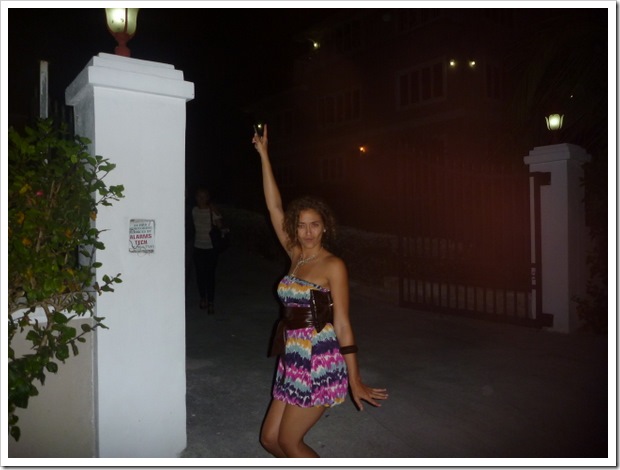 The ever elusive Jenine striking a pose


The Russian charm never ends!
Amanda got her friends to drive their speed boat into Atlantis to give us an update – we would be picked up at 9:45.

Quick bite to eat before heading out again.
We were humbled and excited to have a party to get to – we showered, got dressed and headed out to the local Marina Village for a healthy meal in an attempt to apologize to our bodies for the punishment we were putting ourselves through.

by 10:30 pm we were at Phil's parents house, feeling incredibly welcome and meeting the local Rugby team and their friends- another great night, amazing people and… an open bar!!!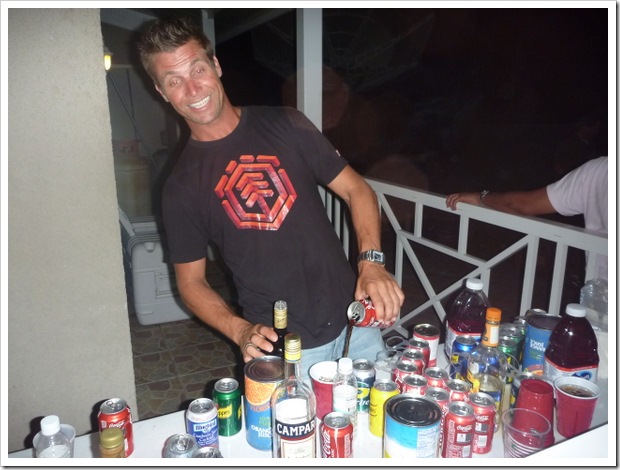 Nath taking over bar tending duties
Someone mentioned it was my birthday and before we we knew it shots were flying again – Thank you guys!!
We all agreed one of our favourite 'learnings' of the night was during the presentation of the rugby awards – for anyone that hasn't played rugby skip to the next paragraph now – our favourite award was the "Matador Award" – given to the player that has the most consistent track record of gracefully stepping aside just as the opposition player is about to barrel over them…. in this case given to a 300pound prop nicknamed "Alice" – priceless!!!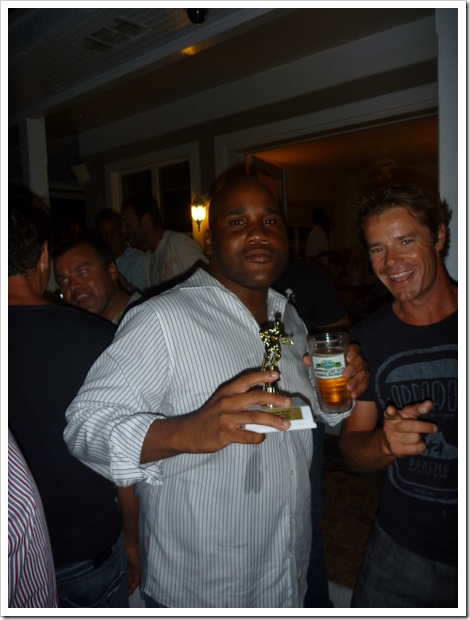 MVP award… not the MATADOR!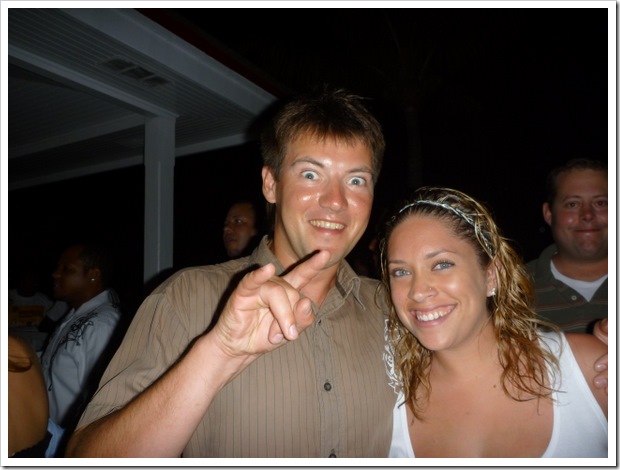 We made some great friends at the party before heading for night 2 at Bamboo…. and another 5:00 am finish.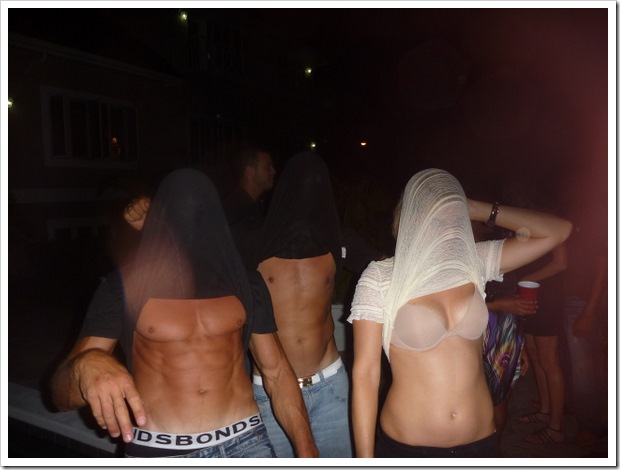 Woahhhhhhhh….. someone press pause on this weekend!!
Sunday was quietttttt… shhhhh no one move!
We all kinda woke up, mumbled, went for a walk, advised the marina that we would be staying for another day as we were in no state to depart and went back to bed at 6:30pm to sleeeeeeep all night long.
Monday was a day of action – we were all up by 7:30 am and got stuck into the long list of jobs to do – fix the floor boards that have been progressively falling apart under the weight of 5 heavy weights,  fill the gas bottles, the fuel tanks, the water tanks, do the grocery shopping, download the latest GRIB files, do the washing, clean the boat, change the stay sail and re-stock the ship's store of rum!
so here I am again… enjoying a quiet rum on the eve of departing the Bahamas, with great old friends onboard and new friends on land – pinching myself in that sore spot and making sure I'm not dreaming – Thank you everyone – it was the most memorable birthday to date!