Andy and I are sitting in a cafe in Bora Bora, listening to Polynesian Reggae music, catching up on emails and writing the latest installment of the blog – Elyse and Scott are pearl shopping, Squander is anchored out the front in a perfect blue lagoon, dancing around in the light trade winds – it will be difficult to say goodbye to French Polynesia after almost two months of cruising these idyllic waters.


Approaching Northern Tahiti.

Having left the Tuamotu archipelago we did an overnight sail from Apataki Atoll to the island of Tahiti. We desperately wanted to get there in time to catch the massive 15 foot SW swell that was hitting the islands and specifically the world famous Teahupoo pass where the likes of Laird Hamilton were putting on a show.

Moorea island in the distance seen from North western Tahiti
Unfortunately we left our run too late and all we got is queasy stomachs as we sailed in the big confused seas in company with MAD, and arrived just as the weather returned to its glorious normal self, with the swell evaporating with the morning clouds.

July in French Polynesia is all about the Heiva festival – kids are on holidays, there are public holidays almost weekly, dance contests, beauty pageants, singing contests, live music, outrigger racing and a general festival atmosphere. Amongst enjoying the festivities, we had a few jobs to do, as well as prepping Squander for our latest crew arrivals.

The lagoon around Tahiti is full of outriggers training for the upcoming races. TIARA in the background – a giant yacht we last saw in Ibiza in August 2010.
In other news, fourteen months after first setting foot onboard Squander, Simon has "moved next door" onto MAD who are more or less sailing a similar route to us, so he is never too far away. Before leaving, Simon put in a big effort helping us out with usual maintenance, servicing and so on. We managed to get a lot done whilst anchored off the Marina Taina on the North west coast. We re-provisioned, picked up cooking gas, diesel, water, fixed both toilets, replaced the freezer, serviced the generator, replaced some running rigging and did a bunch of other smaller jobs.

the town dock in downtown Papeete.

By the time the weekend rolled around, we were ready to check out Papeete's night life, so we moved Squander to the town dock in order to be closer to the action.

Rauata Temauri – Miss Tahiti 2011
It was Friday night and somehow the camera never made it out, but we had a classic party night at Morrisons where the Miss Tahiti after party was being held.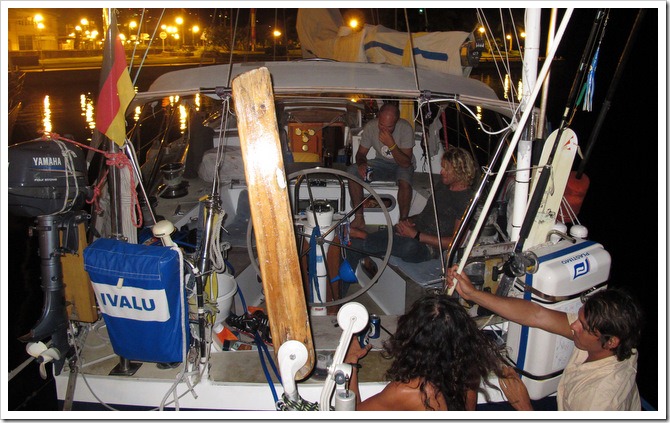 Hanging out on Ivalu.
Before heading out, we ran into Martin and his sister Barbara on a yacht called Ivalu – a great story of brother and sister circumnavigating the world on mum & dad's yacht – hailing all the way from Germany we instantly hit it off with them and managed to party with them and MAD till 6:00 am.
The next day (or afternoon) everyone was a bit tired, so we took it easy. Martin, Barbara, Eric and i took Squander's dinghy and went exploring the nearby reefs.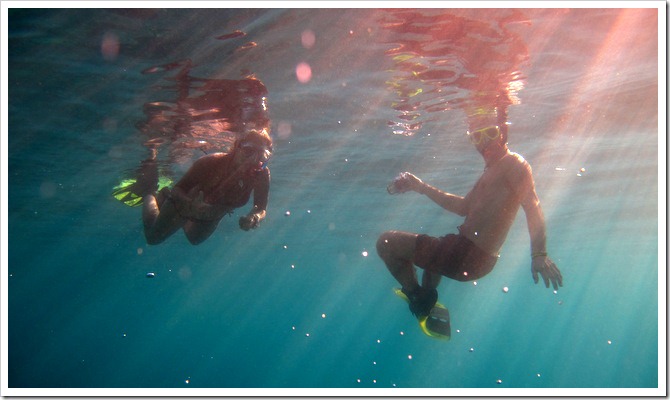 Brother and Sister enjoying the good times
We saw a bunch of local families raft up 4-5 boats in the middle of the lagoon for lunch, so we decided to ask them if we could tie up to them. They were welcoming and we spent an hour or so snorkeling and hanging out in the middle of the shallow lagoon – One of the men on board dropped a simple net as everyone else proceeded to enjoy the day, swim, drink and wait for lunch to catch itself.

The lunch catching net.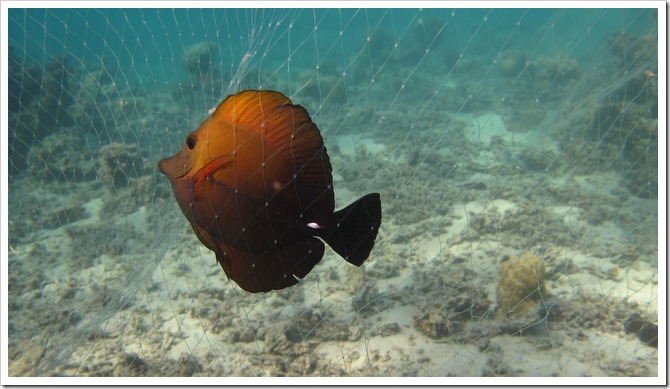 Soon after, as the tide turned, the lunch selection swam into trouble.


Manybar Goatfish soon to be on the BBQ!

Barbara taking pity on one of the fish and trying to set it free when no one was looking.

A Chinese research vessel – our neighbours in port.

That evening, being Saturday night, we hit the local street food markets in Papeete. Andy in the distance as Barbara and Tony from Farr Fly discuss the menu.
As soon as we walked into the markets we spotted Shay and Ben from La Pelicana, the Aussie lads from Brisbane whom we had last seen a week or so ago in Apataki – the boys were keen for a night out, so we dug deep and headed out for round two in as many nights.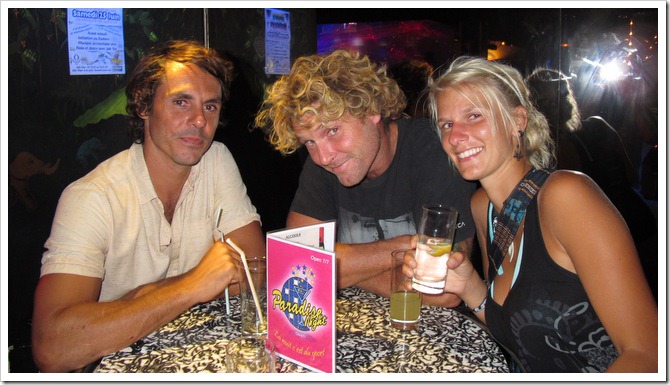 Ben, Shay and Barbara enjoying a drink at Paradise Night
The eclectic crowd included the local front row forward dressed as a woman in grey. I think she's pregnant


Barbara going off on the checkered dance floor.
We had a relaxing Sunday morning, said goodbye to Martin and Barbara who set sail for Tonga/Fiji where they planned to replace their main engine which was on its last legs. As for us we gave Squander a wash and motored back to Marina Taina to replace the freezer and meet Scotty who flew in on Monday night!

Scotty arrived in his usual good spirits and fitted in straight away.

We introduced Scotty to our friends on various boats, showed him the local surf break which we managed to surf a couple of mornings in a row and generally let him acclimatize to the pace of Polynesia! 
These barges are anchored in the lagoon and people swim, paddle or boat over at sunset for a beer or two.
With all said and done, it was time to set sail for Moorea and onto Huahine where we were meeting Elyse.

Leaving Tahiti in our wake
At this point I will hand over the BLOG reigns to our guest blogger SCOTTY – take it away mate!   
Our guest blogger Scotty admiring Moorea's south coast.
For those of you who don't know, I am a long time mate of Gav's. We met in 1996 travelling through Portugal in Kombi vans. Our mutual interests, sparked a long lasting friendship that has included many trips to locations all around the world. As an avid reader of this blog, I am super stoked to be able to join the crew for a month or so. Tahiti certainly hasn't disappointed. It's everything the brochure says and more. Travelling by boat offers hidden treasures and has allowed us access to locations most can't get too.
The locals showing that a beach umbrella can be used anywhere.
The pass into Haapiti on the west coast of Moorea. (The Tahiti main island is in the background)
It's not often you get to sail into a tropical island, park the boat and take a 5 minute dinghy ride to a glassy 4-6 foot left hand reef break. That pic is of me post surf, just a little bit excited!
Perfection.. all to ourselves
Raffa (from neighbouring yacht BackBeat) sets up a barrel . Ash looks for the drop-in.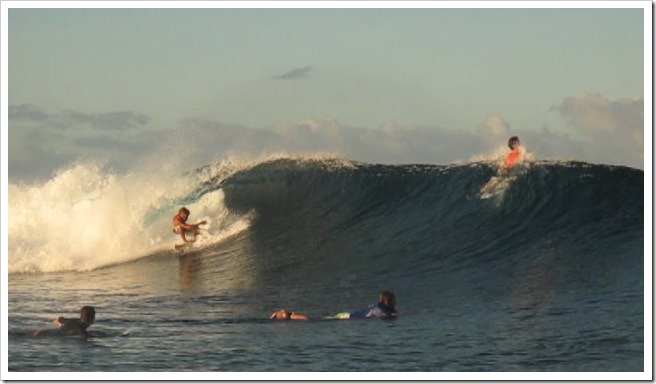 Squander's captain "Gav", launches into a sweet left.  
Scotty-stalling for the barrel
Andy sitting on a dinghy taking photos of Gav surfing- why you ask??
sets roll in in the distance as La Pelicana (QLD), Squander (NSW) and Backbeat (VIC) lie at anchor in the lagoon
Our neighbours from Backbeat, the smiles say it all. from left to right. Ashley, Kate and Raffa
Snapped. The 2nd  "Unbreakable" Hayden Epoxy FibreFlex with carbon rails to be snapped by Andy in the last year. Name and shame.
We did hit a small snag. Andy's frown is matching the shape of his board in this pic. It wasn't  the reef that was the culprit. His size 12 was just too much for the fiberglass. This left Andy on photo duty for the 6 am morning session. As luck had it, a local Tahitian surfer Gav befriended in the water, was able to take Andy's board to be repaired by a local shaper.
Perfect 6 foot sets roll in on one side and this as a backdrop on the other… tough gig
Ben and Shay from 'La Pelicana'. say goodbye as they leave for a huge passage straight to Fiji.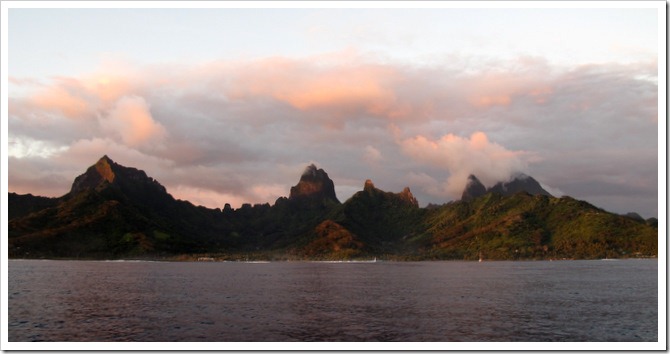 Our stay in Moorea was brief, but super rewarding. It's certainly a place we would all love to come back to.
SAILING TO HUAHINE
We opted to sail overnight to beat the new swell arriving. It was my first serious passage and my first introduction of what it's like on the open seas at night. We departed at 5pm and arrived in Huahine at 7am the next morning. My Sea legs held up, and I now understand how amazing the journey has been for Squander. It's certainly more of a physical and mental challenge than I anticipated.


Another beautiful sunrise as we approach Huahine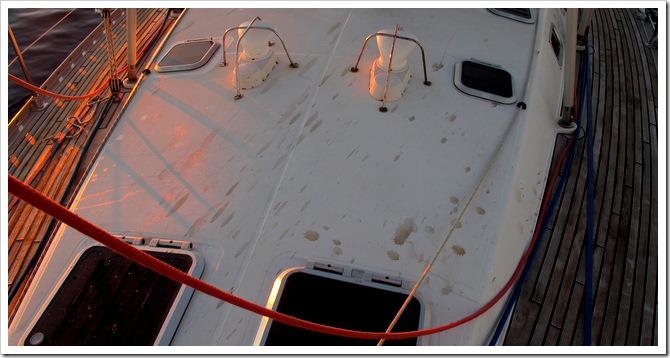 Sometime during the night a giant Squid tried to make sweet love to Squander. This was the result.
A captain's job is never done – scrubbing the Squid ink from the decks as we motor past Northern Huahine. Andy had to show him how to hold it…

Dream Shack.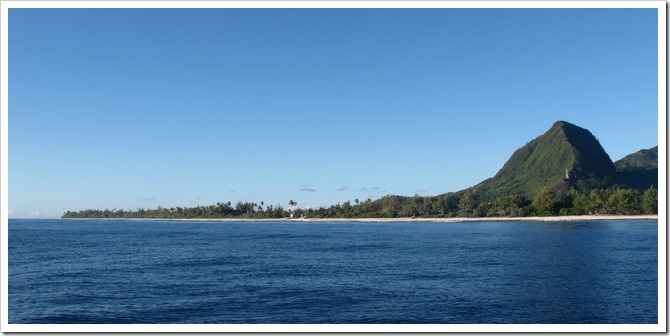 As we rounded the northern end of Huahine we were greeted by another perfect Polynesian setting of mountains, sunshine and picture perfect reef break. This island is known for it's surfing localism and we were warned to paddle out with caution. The right hander is a definite no go zone. Unless you can get your surfing done by 8.30am. The locals aren't early risers apparently. We opted for the left which was slightly more forgiving and were treated to some spectacular waves and surfing by some of the local Tahitians. They are true water men and I will never forget the experience of sharing the waves with them.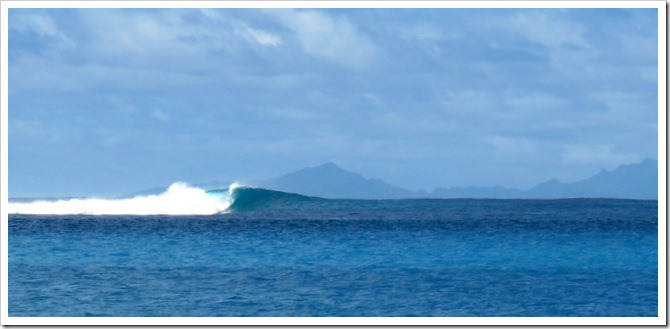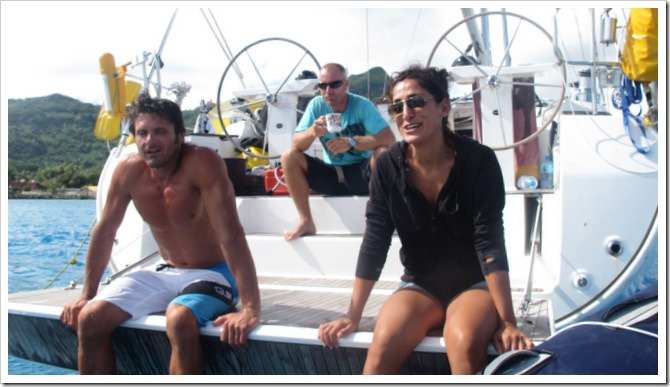 It wasn't long before we were reunited with MAD … again

Rebecca from MAD, showing how to drive a dingy on her stomach
My girlfriend Elyse arrived on day 2 at Huahine. After the long flight from Sydney, an overnight stop in Papeete, (Tahiti's capital) and a motion sickness tablet, she was a little worse for wear, but still smiling.
Elyse realises she's not dreaming – she actually is aboard Squander.
With Elyse settling in, we headed to the protected south of the Island. 
The search for waves never ceases
Scotty and Elyse Enjoying the serenity
Once there, it was time for Gav to put his mechanical hat on. It seems owning your own boat is not always as glamorous as it sounds. Before buying Squander, Gav knew nothing about engines, look at him now!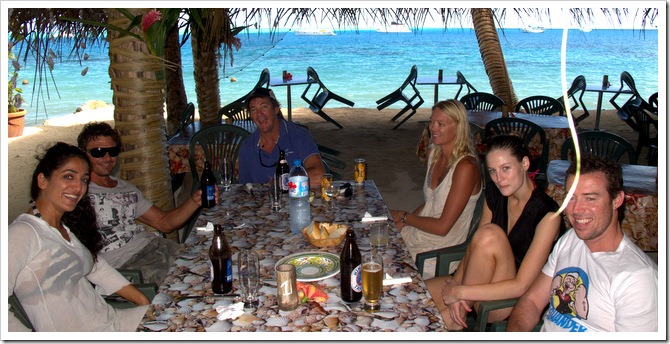 Socialising and boating go hand in hand. Once down south of Huahine we met up with Sequel and MAD and the first of many a get togethers with the other 2 boats took place.   
The after lunch stroll
Simon Rebecca and Moji scoping the Kite Boarding situation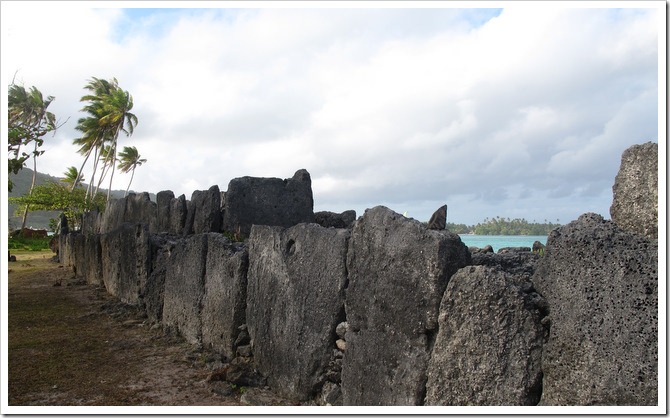 Stonehenge
Elyse enjoying a well earned rest from her Sydney life as a primary school teacher.
My first catch of the trip. A Brassy Jack.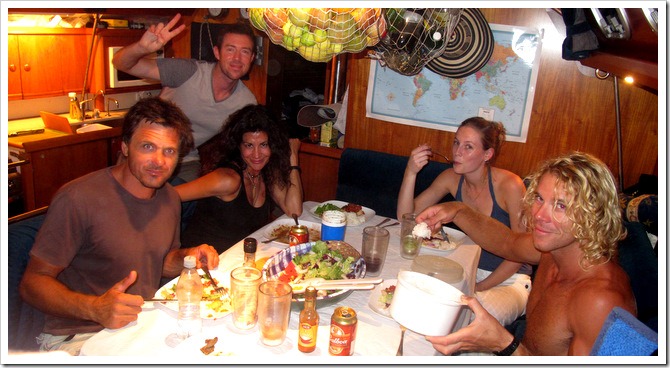 It always tastes better when you catch and cook it yourself.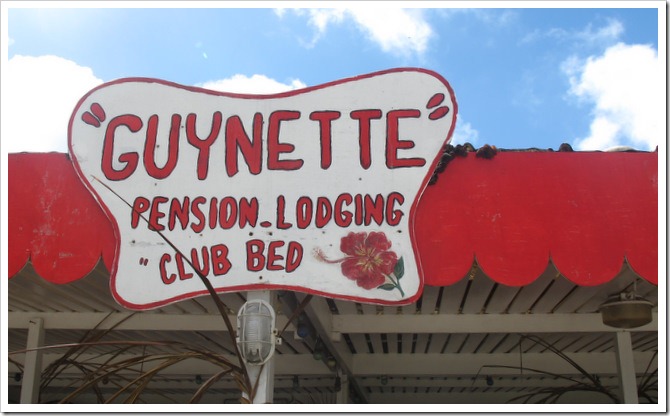 It's no Club Med
Rebecca, Rob, Moji, Hanne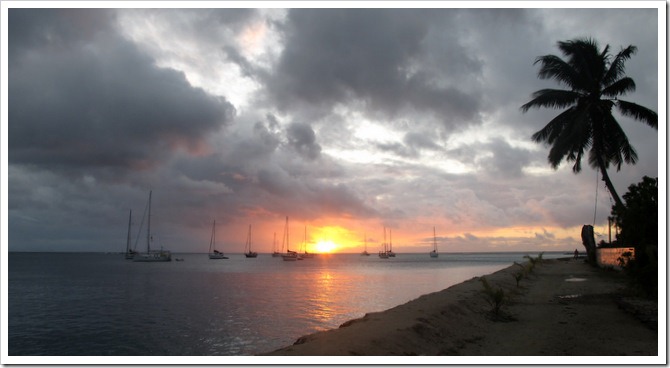 The view from the bar whilst enjoying a couple of happy hour beers in Fare
Possibly the cutest 5 year old alive. Freya from Sequel
TAHAA
Our stay in Huahine finished with sunset drinks with our travelling companions. The next morning we all packed up and set sail for the nearby island of Tahaa. With the wind at our back we made good progress in the choppy seas. After 4 hours we arrived to another slice of paradise.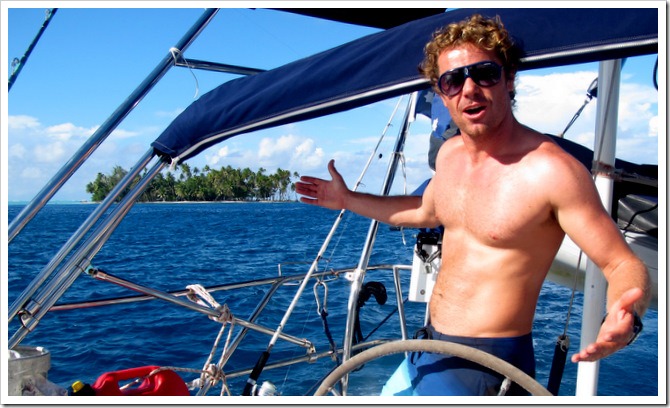 The captain delivers the goods again.
Soon after our arrival the weather came in and we postponed the snorkeling. That was the last bad weather we have seen for some time.
The weather turning  quickly . Mad once again dropping the anchor next to us.
Jack of all trades. Gav is a DIY hairdresser too.

The following day was picture perfect and we headed to a small motu (island), for a beach day.   
The king of romance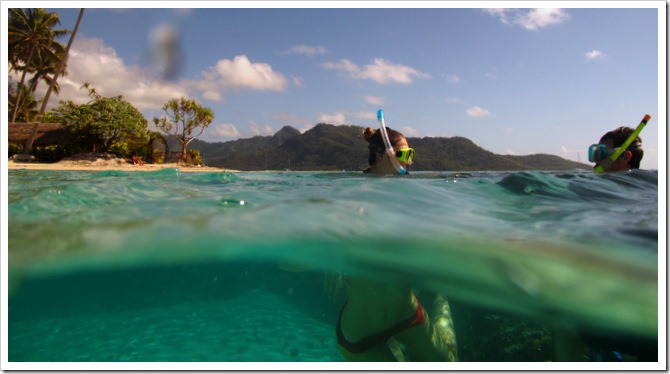 Elyse's first Snorkel. The mask is hiding a huge grin.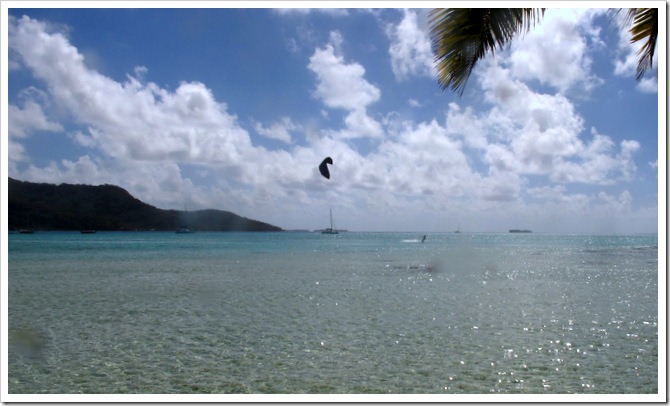 Gav kiting as the afternoon wind picked up.
After a rewarding day at the beach we decided to move the western side of Tahaa to escape the wind.

We ended up dropping anchor outside the most expensive resort in the Society Islands.  
More sunset drinks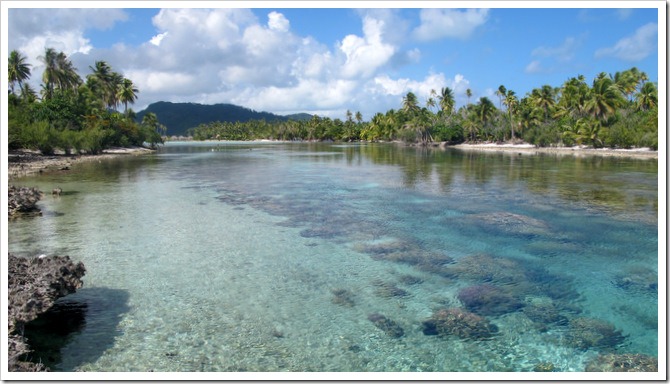 The next day we discovered a coral reef river that flows between 2 Motu's. You start at one end and you drift with the current through a maze of spectacular coral and marine life.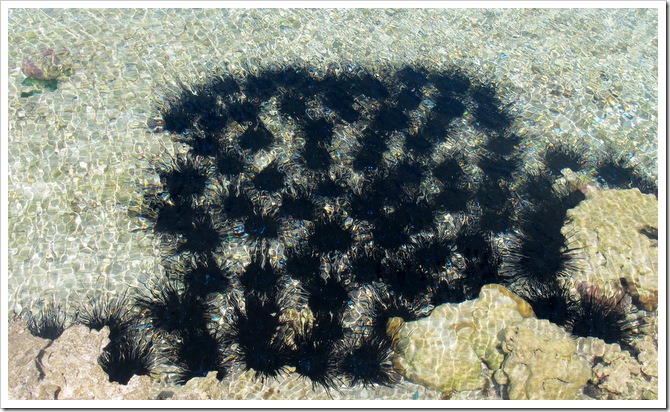 The coral river front door mat.
The Coral river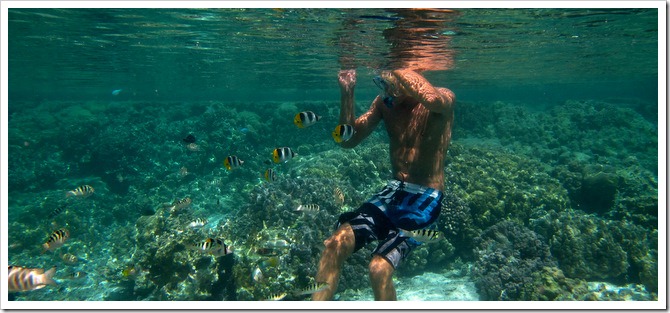 At one with the locals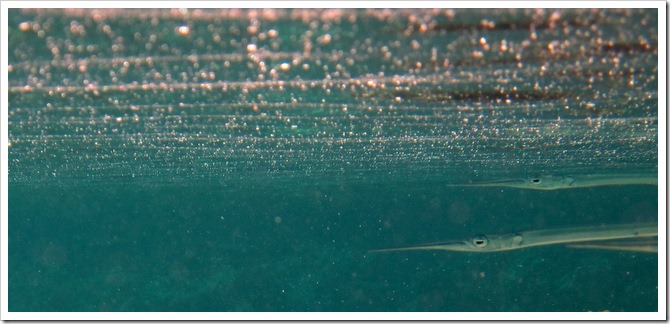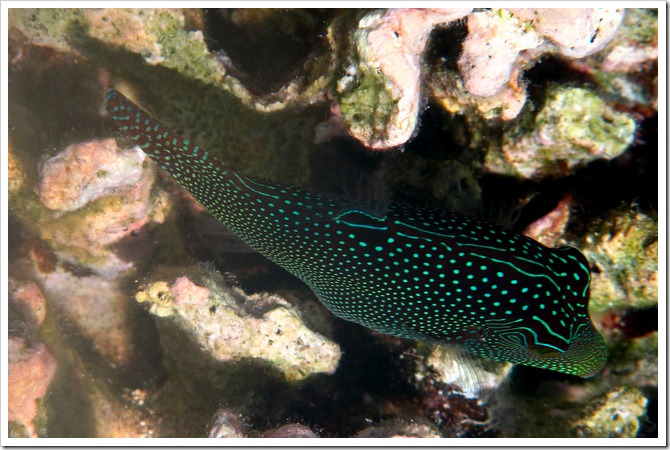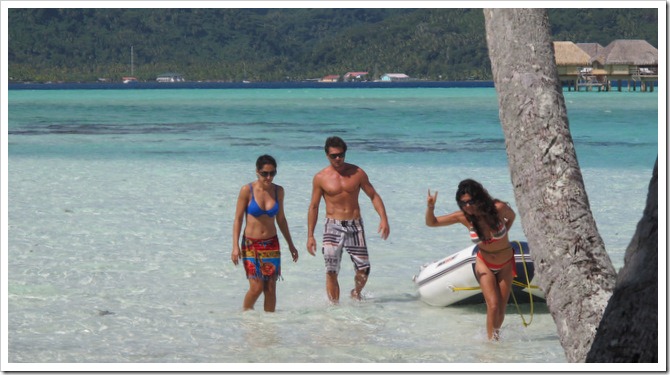 Team Fitness First
Someone is being cheeky again!
Motoring to see a local dance festival with Bora Bora, (Our next destination) in the background.
Gav put's his chef hat on and prepares a feast after buying a huge whole yellow fin tuna for $20.
Tahaa hosting an inter Island dance festival.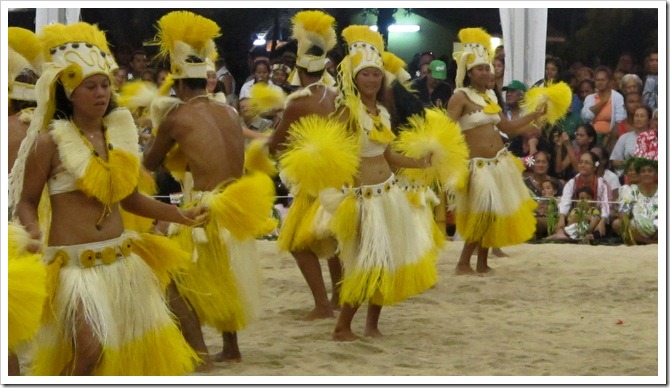 Shake them hips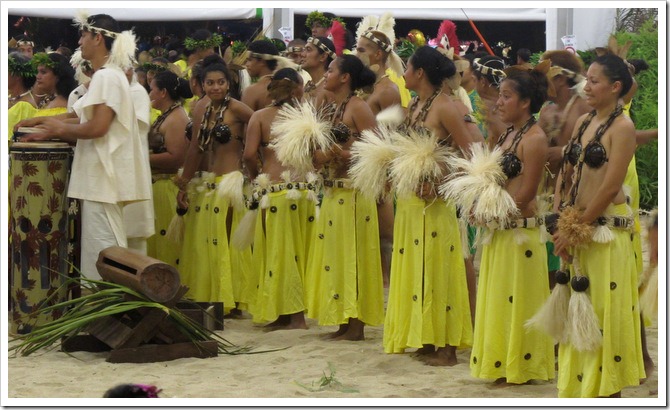 The band consisting of Drums, ukalalee, and choir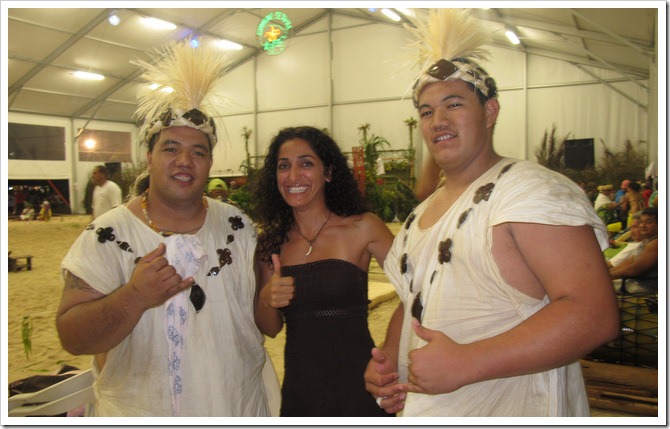 Mooshy, in with the locals
BORA BORA
It's the jewel in the crown of the society Islands and a stop that we couldn't wait to get to. This Island has it all and we have ticked all the boxes, including Shark diving, swimming with sting rays, circumnavigating the island, Kite boarding, Eating at famous Bloody Mary's and of course hosting drinks and socialising with anyone who is up for it. The pictures will tell the story here.
To lazy to fly the kite for the passage to Bora Bora. Sailing along under Main, poled out Genoa and Staysail kept the speeds high.
Sequel sailing into Bora Bora slightly ahead of us. 
A private motu that we swum to. Roughly a 1.6Km round trip.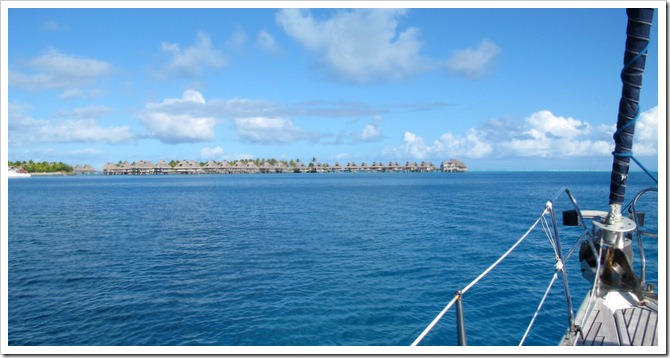 The Hilton…
Elyse up the mast enjoying the view and shaking off a little sea sickness from the crossing.
Freya and Elyse
Ken, Tony, Hanne, Gav and Andy. Drinks in Paradise!
Kyle and Angus. Incidentally Angus at 6 years of age could probably beat most adults at Chess. Careful of being polite and accepting his challenge.
Our morning swimming destination. Only to be chased away because its privately owned
Gav, Rob and Simon perched above the turquoise water
Rob on his way to visit the sharks just outside the pass into Bora Bora
Scott
The Lemon Shark grows to 13 feet. Responsible for over 20 attacks worldwide but never a fatality.  They prefer to eat limbs and not entire bodies. These bad boys were around the 10 feet mark . Enough to raise the heart a few BPM when they come back for their 7th look at your feet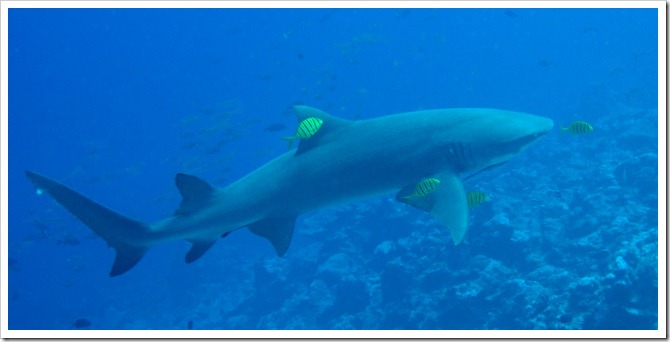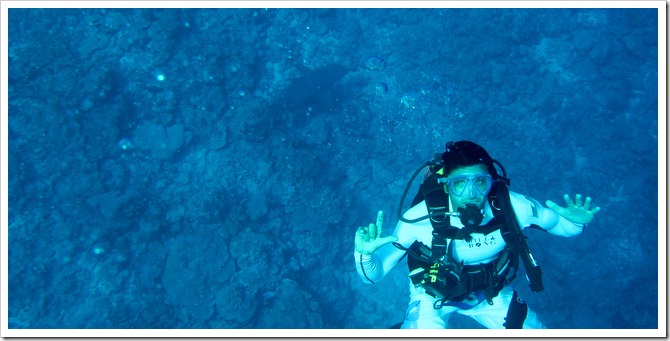 Simon with Shark behind him
Dinner at Famous Bloody Marys.
The urinal at Bloody Mary's. Remember to flush. Errr just yanking your chain..
Simon and Moji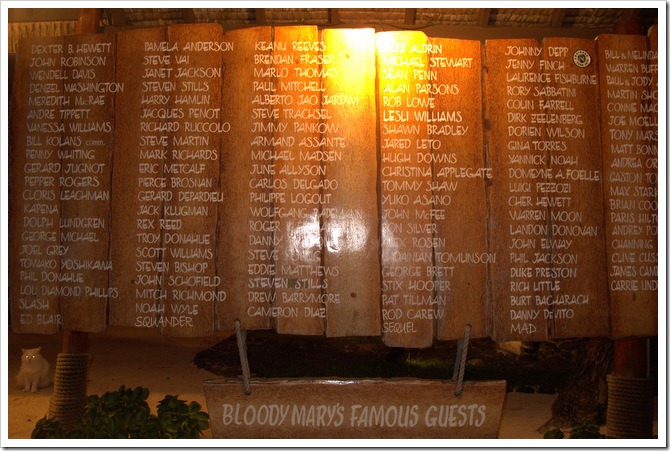 A few additions with a white pen made the board outside Blood Mary's complete Who the hell is Rex Reed?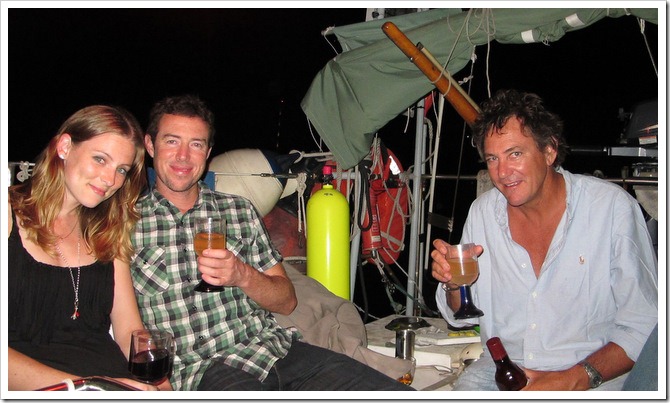 After dinner drinks on Sequel. Elyse, Scott (plastered) and Rob (not far behind)
Squander's usual hangout on a Sunday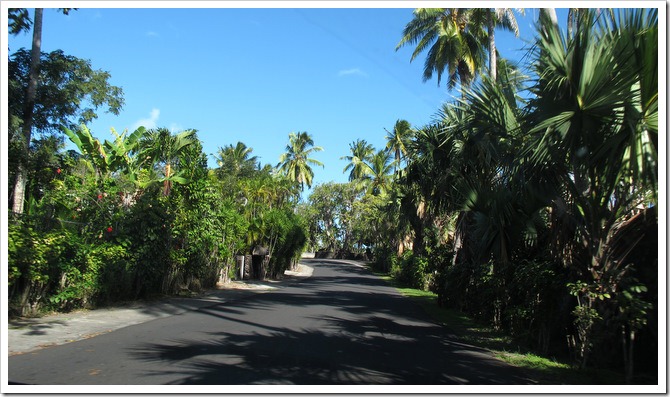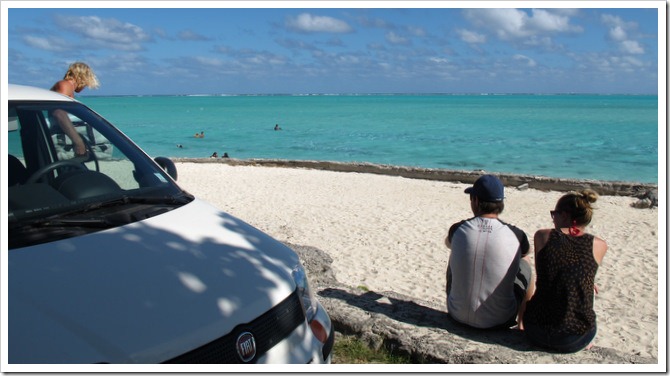 While Gav and Andy set up the Kites the local kids brought in a freshly caught Octopus.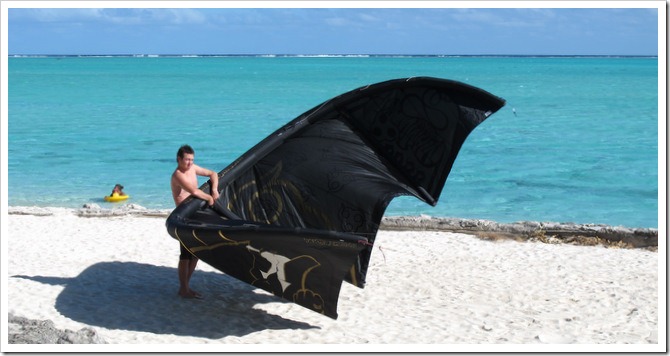 Playing support crew. Matira Point is a perfect kiting platform. 20 knot trades in chest deep water as far as the eye can see.
The Bora Bora Heiva festival choir.
The Bora Bora Heiva festival dancers.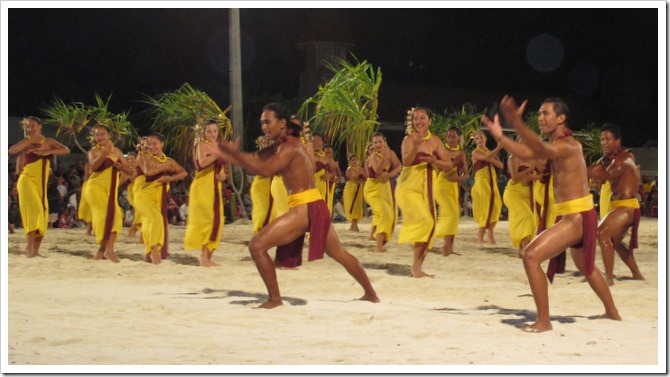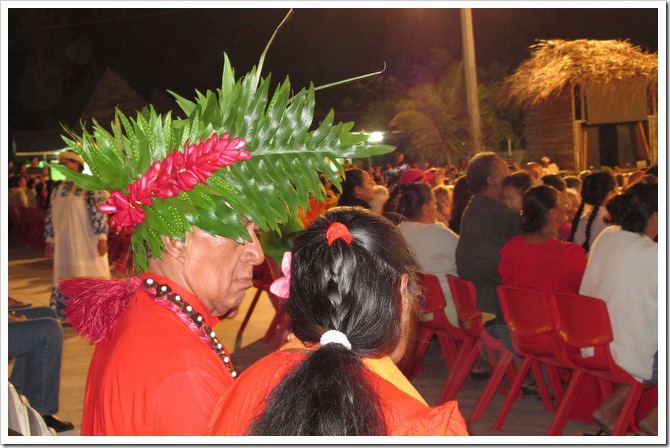 The choir leader decided to annoy everyone sitting behind him
The hip movement of the women is spellbinding!
Andy with some down time at St James restaurant. Not a bad office to work from with Squander in the background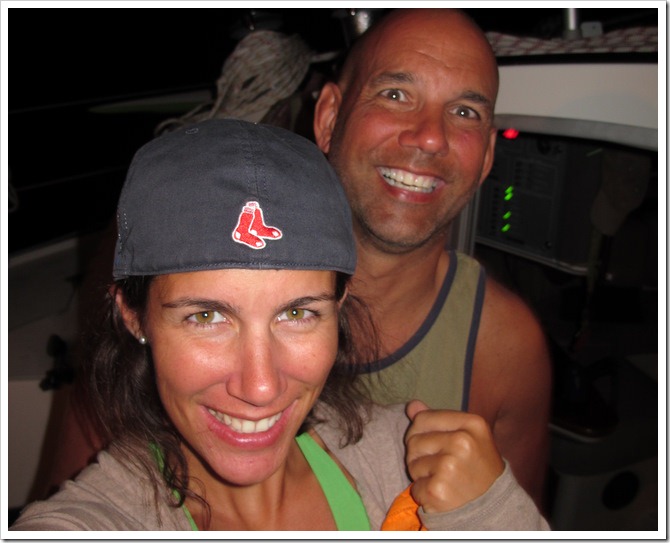 Ash and her father Rick host a Banquet on Backbeat.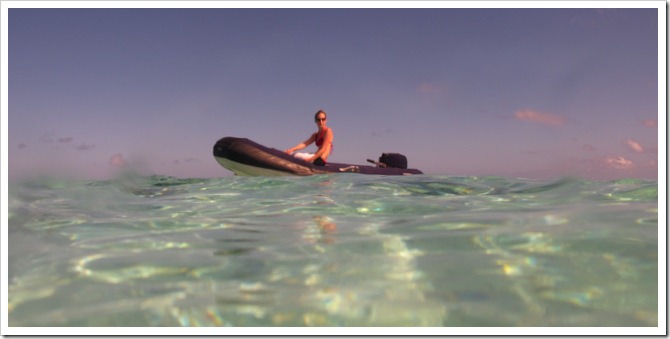 Elyse not so keen to get in the water with the Sting Rays.
Snorkeling with the sting Rays
Every day the tourist boats come and offer the sting rays a free feed. The sharks are onto it and circle for the scraps.   
The Rays love a free feed.
Smiles all as the local tour guide finds a sting ray without a stinger for Gav to hold.  
Gav learning nothing from Steve Irwin, provoking this guy by yanking on it's tail.
Hercules AKA Gav
Elyse laughing as she relives the trip/ fall down the stairs from another night of Squandering
Unfortunately it was time to say goodbye to Elyse. Her 2 week school holiday period ended, and Squander was starting to prepare for the Arrival of Gavin's dad.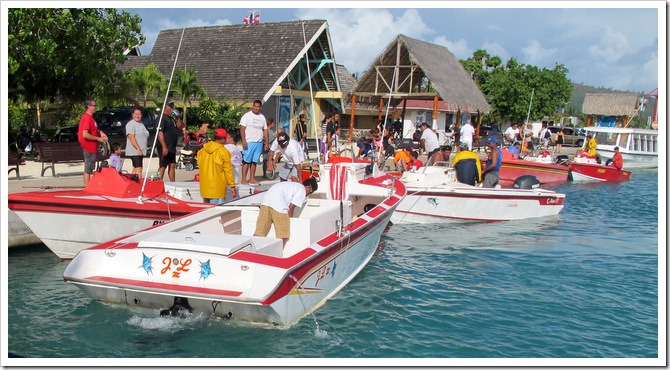 The locals prepare for a fishing competition. $50 entry fee and $1500 first prize.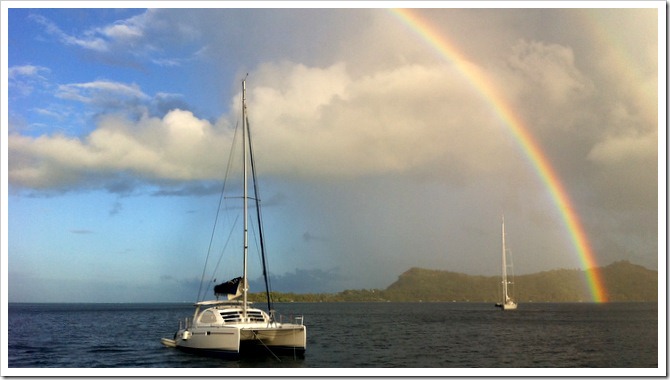 The changing face of Bora Bora
Scott and Andy heading for a party at an undisclosed location.
Soon after the food and the booze began to flow.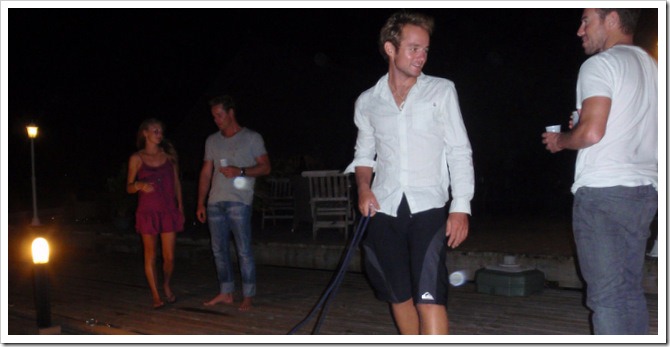 Kyle and Nikita our gracious hosts lead the way to the night club
The local security guard kept watch on the Gringo's
Rebecca and Moji strutting their stuff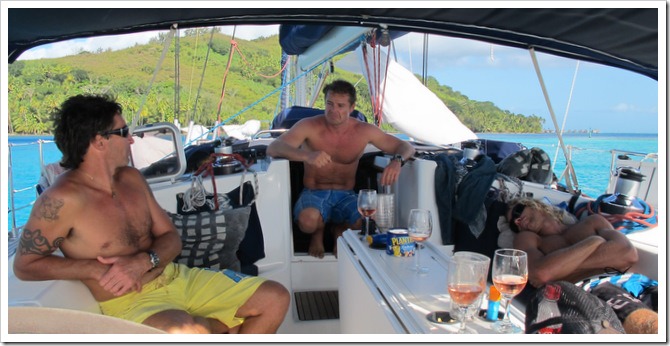 Slightly hurting from the night before, but Bora Bora has the antidote and soon the smiles where back.
Kyle instigated Scurfing and Wake boarding. Mad and the Bora Bora mountain in the background
We phsyched our friends to come and check out the rays again. Nikita showed no fear.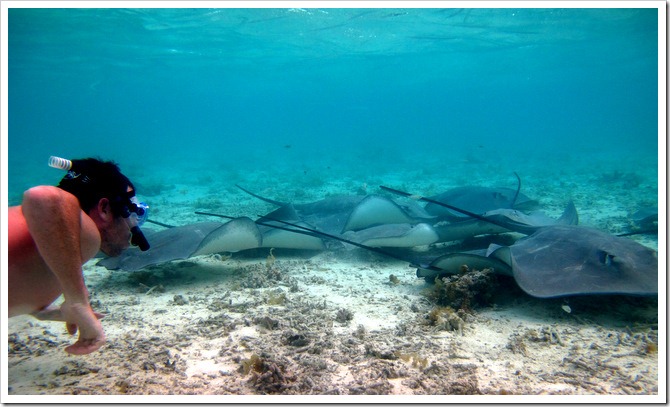 Mathew Gorazdowski, AKA Pappa G arrives
The last 2 days has been spent showing Gav's dad the sights and getting him and Squander ready to go sea. Fuel, water, repairs, and provisions have been made…and we're setting sail for the Cook islands!