As the one year anniversary of moving on Squander draws near, I have found myself reflecting a lot on the trip that has been, the lifestyle that we continue to lead and the challenges that face us in crossing the biggest of all oceans – The Pacific. As I start writing this, we are less then 500 miles from Panama – we have an agent organised who will hopefully speed our paperwork through, lend us the necessary 125 foot long, 50mm thick lines that we will use to make sure Squander doesn't wipe out on the side of the Canal as well as helping us deal with any bureaucracy that may arise along the way.
We've also got a bunch of other things in the pipeline – we've applied for a special permit that will allow us to cruise independently through at least 3 Galapagos islands, we have joined The "Pacific Paddle Jump" group which is basically a network of yachts crossing the Pacific from the Americas to French Polynesia – this has proven invaluable for sharing information on anything from legal advice, to destination, weather, route and other tips and we have decided to make an unplanned stop in Colombia for a week or two!
But let's get back to the month that has been – we left off in Martinique on Australia day!!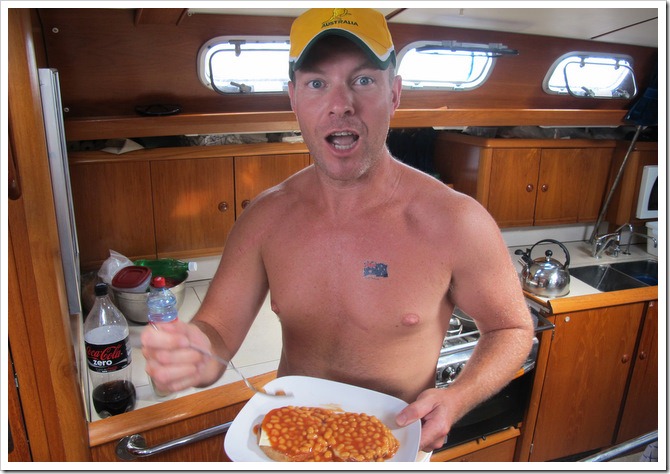 26th January 2011 – AJ kicking off the day with an Aussie baked beans on toast!
Followed by setting up the Squander swing and having a couple of beers on the bow.
MAD were anchored just in front of us and we came up with the genial idea of having an Australia day raft up.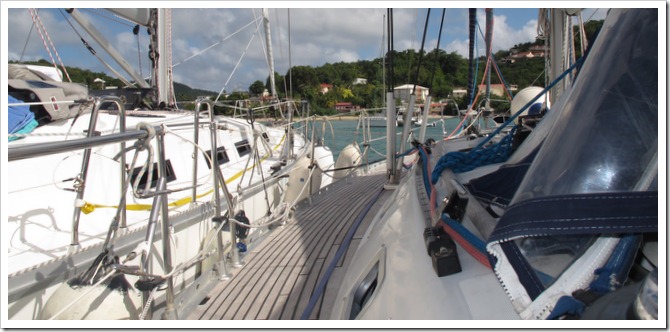 With our two floating homes combining to pretend we were a twin masted Catamaran called MAD Squander, we went about briefing our non Australian friends on the order of the day.

1. Girls you make the salads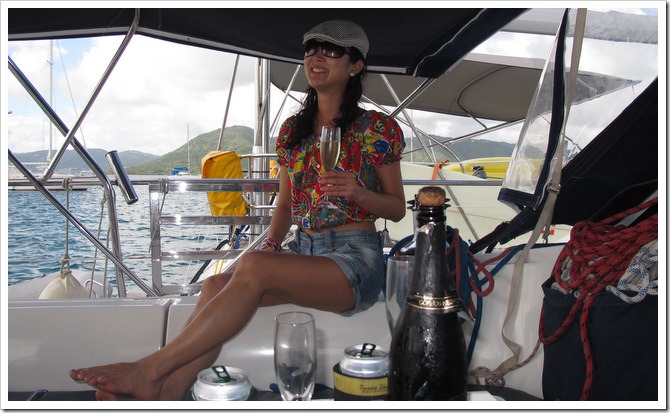 2. get into an early champagne or two.
3. The Aussie men take care of the meat and prawns on the Barbie – no shrimp here mate!

4. We eat, drink and be merry all afternoon.

5. Everyone needs an aussie flag tattoo – resistance is futile and shall be met by us placing the tattoo on a part of your body that we feel most deserves it!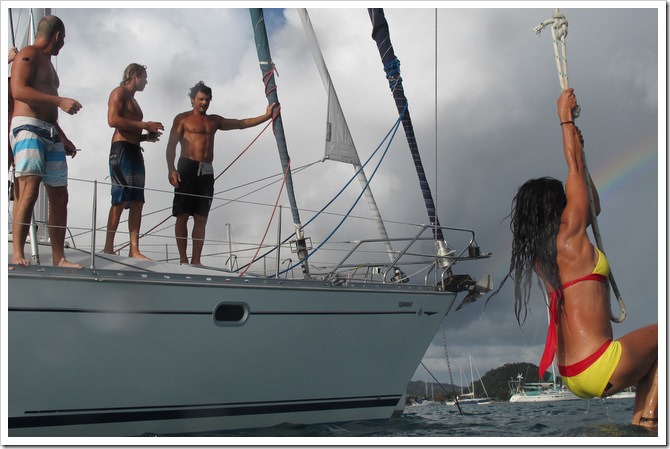 6. Always wait half an hour before swimming or swinging!
 

7. use your new found vigor, fuelled by food and alcohol to accomplish previously unachievable feats

The French must have confused Australia day with St Patrick's – no we're not leprechauns looking for a pot of gold at the end of the rainbow!
yep, still got it -  an absolute inability to have a normal photo taken! 
Speaking of gammin photos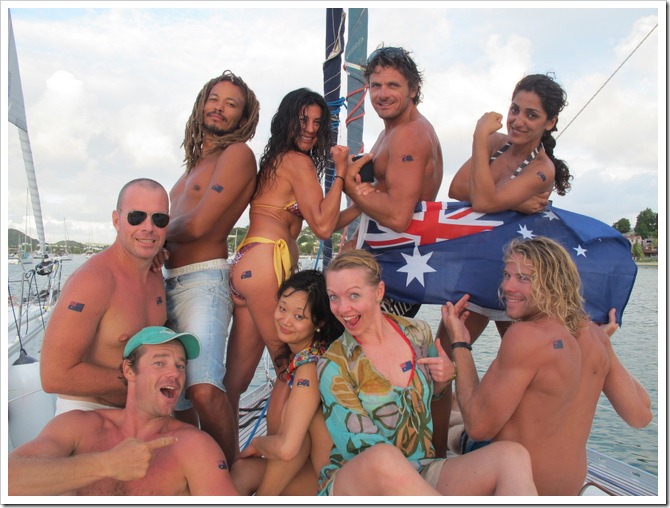 10… last but not least, take the Annual Australia day photo, before everyone has that one too many drinks!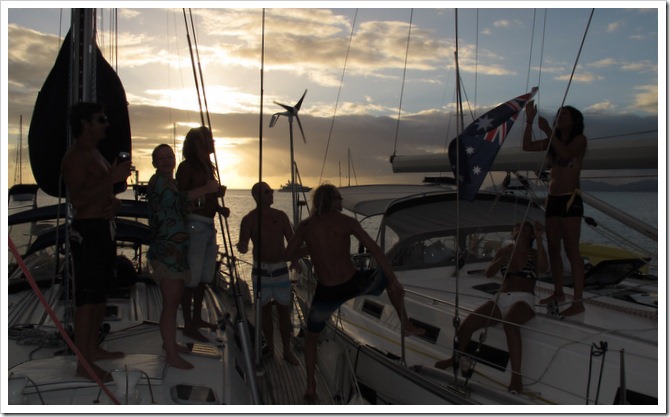 As the sun set on the 26th of January 2011, Rebecca finally came to her senses and hoisted an Aussie flag on MAD – that act alone was cause enough for a celebration and we took our cue to party all night long!
The next day was an early start as we decided to visit the windward side of Martinique to go kitebaording, windsurfing and spend a day at the beach.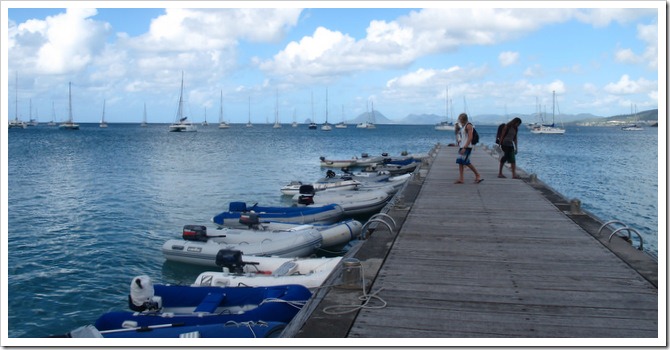 We dropped off our dinghy at Saint Anne pier and managed to find a minibus that would drive us the 20 minutes or so to the windward side of the island for a grand sum of 2.50 Euros each – bargain!
Andy kiting in the centre of the pic, whilst I hired a windsurfer for the day. Peer brought along his own gear and we had ourselves a fun morning of cruising around the bay whilst the girls soaked up the Martinique rays.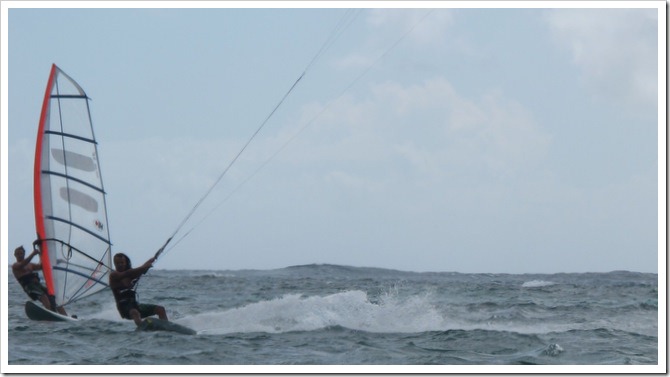 Captain vs Captain – Peer from MAD on the kiteboard outrunning me on the windsurfer.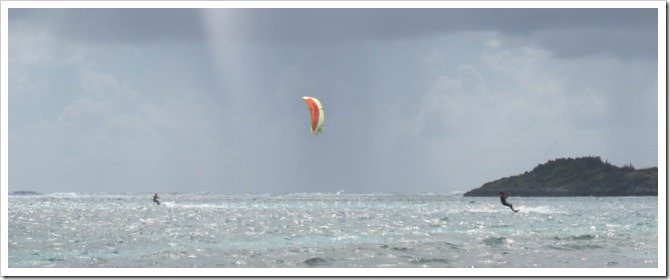 Andy & Peer racing it out – Andy with orange and yellow kite.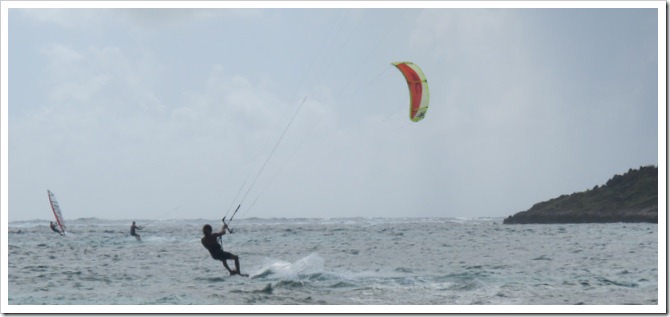 Gav, Andy and Peer – nice photo work by AJ onshore. 
Peer boosting some nice air!
 

(thought bubble_ "That's it, I'm buying my own gear – Gav we're going shopping!!"
   
With the morning activities out of the way, we found a cool local restaurant to replenish our energies.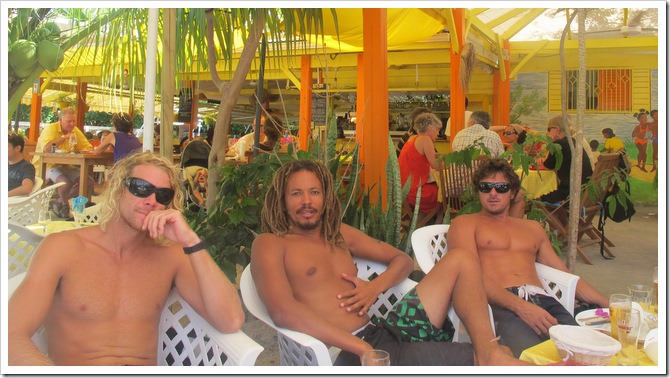 Andy, Peer & Simon ready for an afternoon session at the beach!
We wrapped up the day at the beach and had a quiet evening on the yachts – the next day we decided to sail towards the capital of Martinique – partly to check it out and partly to get AJ closer to the airport – after a great month onboard Squander the time was nearing to bid AJ farewell and good luck, but not before a few more fun days and nights!
Sailing around the south western corner of Martinique.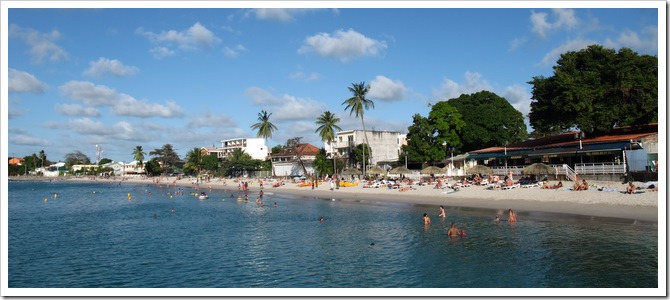 We arrived in Anse Mitan near Trois Islets – a resort town and weekend escape for local residents of Fort de France.
 
With Squander & MAD anchored in our new home, we went about exploring the local village and small marina – mainly in search of a suitable venue for a goodbye dinner for AJ
Peer, Simon & Mojgan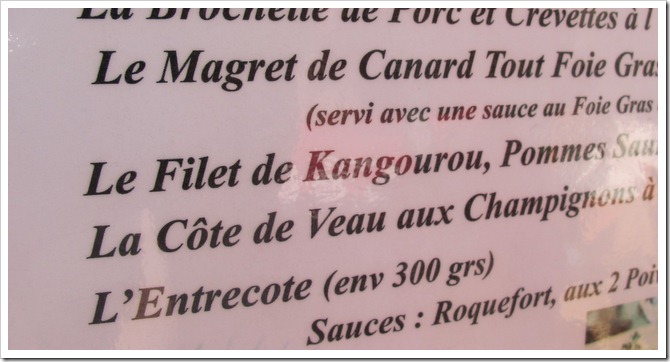 Le Filet de KANGOUROU anybody???
 
As the sun set on another day, we retreated to our respective boats for showers and a pre dinner drink before re-grouping on land for a great dinner in town.

AJ, Peer and Camilla.

Rebecca had had one too many red bulls and was in fine form!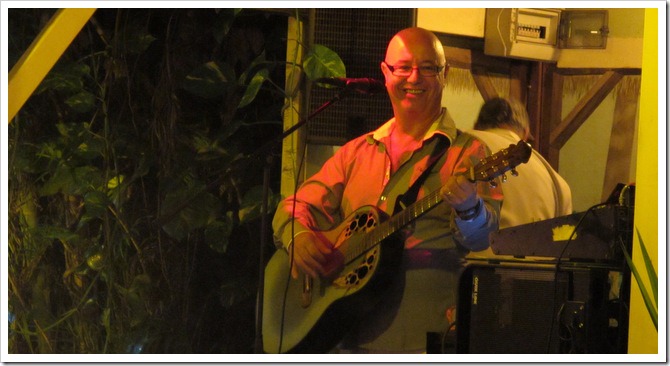 As was the entertainer for the evening!
With a great dinner under our belt, with lots of good French wine – a motion was put forward to try and find a local place to go for another drink and a dance… we found a local nightclub, playing "crazy hip hop, R&B, techno Reggae mix" – yes that is one genre!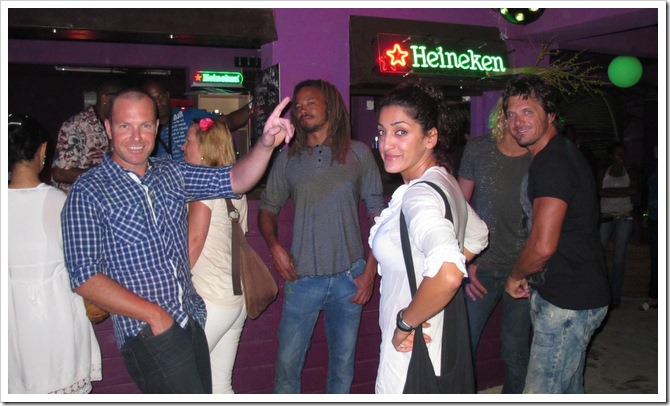 It was underground in a basement, with a nice touch of having the concrete floor covered in sand for that extra Caribbean basement feel – it worked!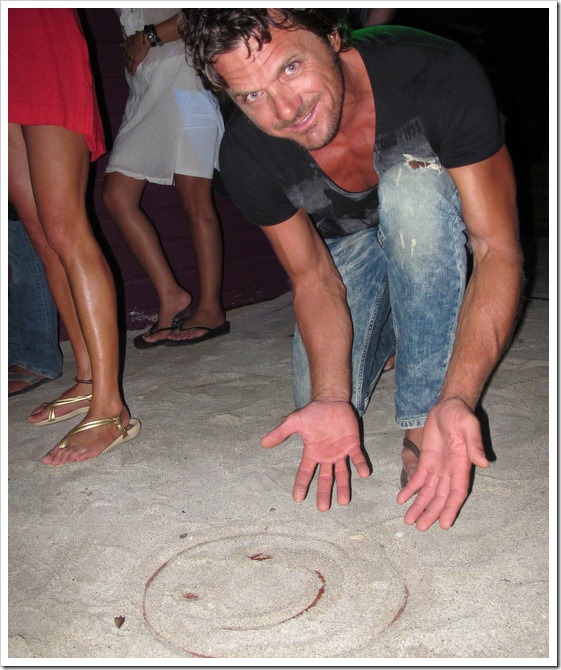 With the music not being overly exciting, we all found our own sources of entertainment – as always Don Simon lead the charge  with his creativity!

Seen here admiring his work, Andy is not convinced??!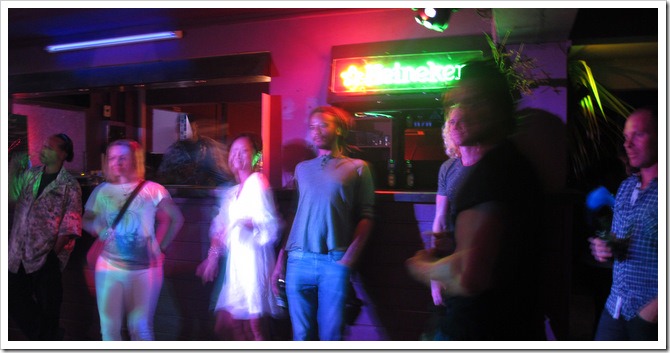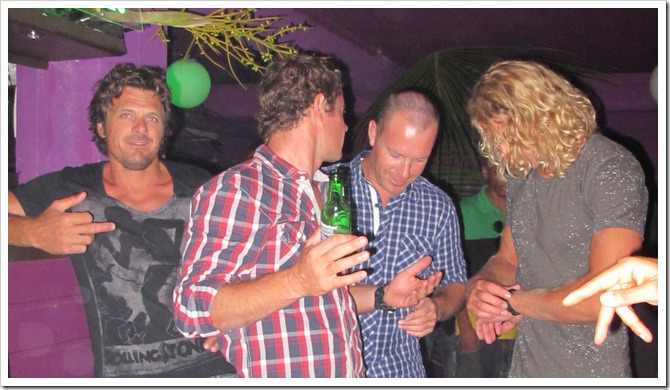 Ok, synchronise watches and on the count of three….

We will finally acknowledge how good Don Simon's hair looks after the girls went at it with Gel, combs, conditioner and an Italian fashion magazine for inspiration!
More Chins than a chinese phone book! 
With the night still young we decided to use our dinghy to sneak into a private hotel where the party seemed to be a notch above our chosen venue, as it turned out it was not only a private hotel, but a private party and we crashed someone's wedding – we didn't last long and found ourselves safely asleep at a very reasonable 1:00am.
The next day we set sail again, some 6 miles south to " Grande Anse D'Arlets" – a beautiful bay, with a small old fishing village and the best Sunday night party venue in Martinique – Ti Sable on Sunday nights! 
Entering Anse D'Arlets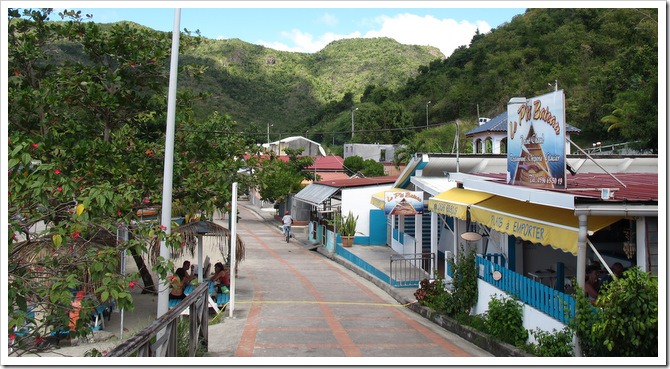 The main street of the small village is closed to traffic.
After snorkeling with turtles, playing Frizbee-golf and having a relaxing afternoon, we headed off to AJ's second (in as many nights) last night outs – a fun Sunday afternoon at Ti Sable!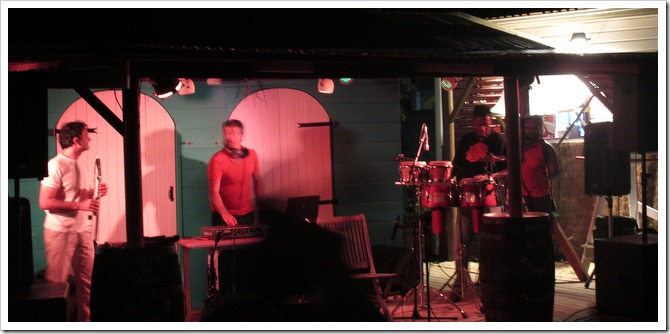 The local DJ/live band went off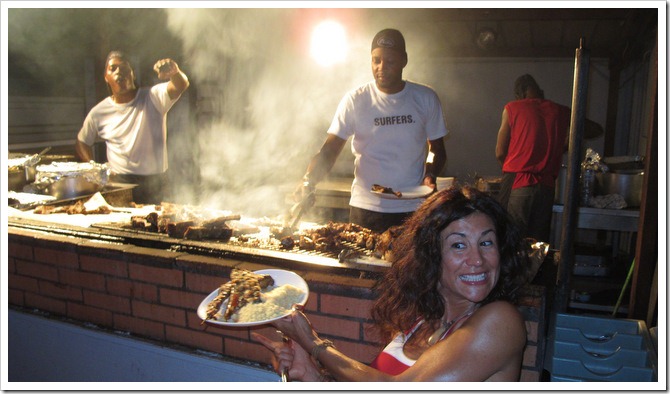 As did the Sunday Barbecue! 

Rebecaa and Mojgan strutting their stuff on the barefoot beach dancefloor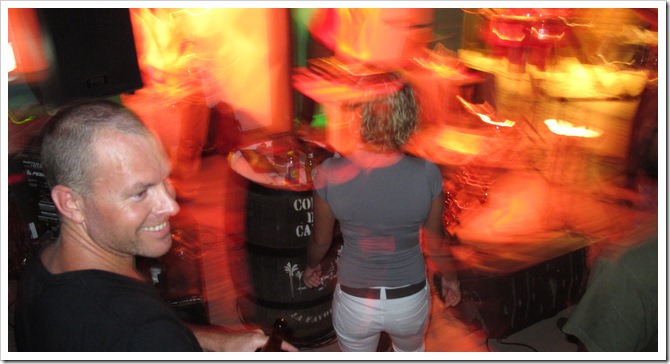 AJ put in an impressive performance that earned him a free round of drinks at the bar.
The next day we sailed north again, this time to Fort de France – the capital of Martinique.  Mojgan and Rebecca decided to jump ship from MAD for a few nights and join us in Fort de France to try and source an oven to help out a woman in Union island in the Grenadines. It's part of the Make A Difference – MAD charity project helping women in under privileged situations get back on their feet by helping them setup businesses.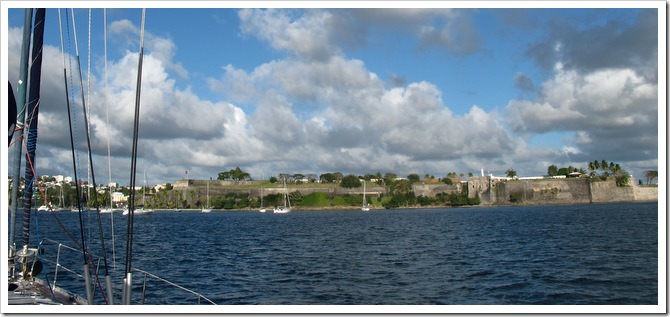 Approaching Fort de France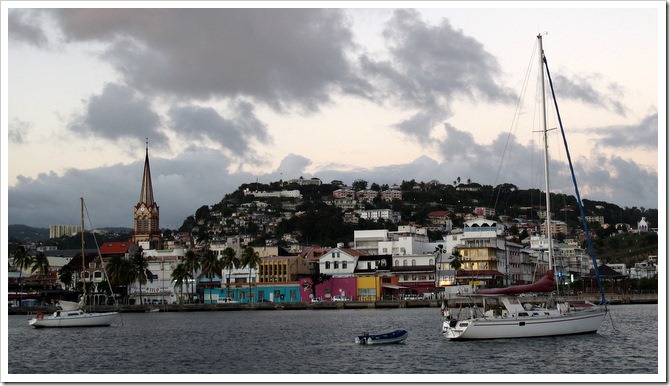 Sunset in the anchorage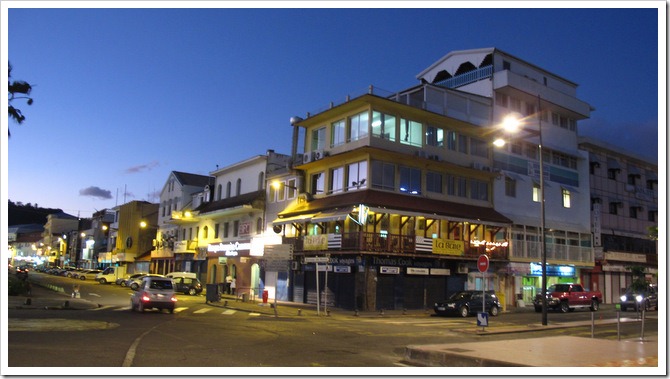 With Squander a little packed with 6 of us onboard, Rebecca and Mojgan decided to treat themselves (and Simon) to a night in a hotel… we went into town and found a great little hotel for them.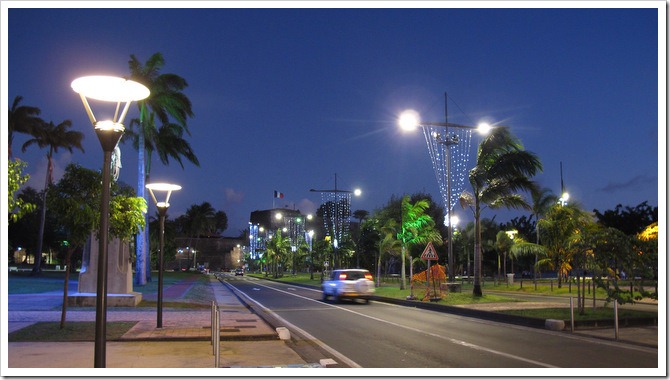 Fort de France by night – biggest city in the Caribbean. 


The next morning, at 5:00 am AJ took off for his long journey back to OZ. Great times mate!!
 Cruising the streets of Fort de France as the girls went looking for an oven.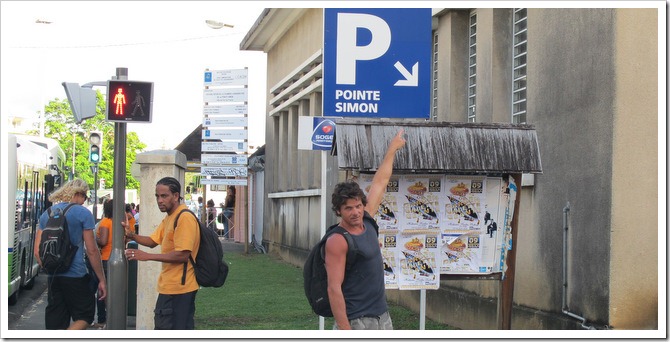 Simon says "point Simon"…
The next day Peer sailed up in MAD and we all hired a car and went exploring the island and looking for kite boarding gear to buy.
We'd also heard that there are waves on Martinique, so we threw the boards on the roof and went searching. We soon found the spot, but the waves weren't anything exciting – in saying that we found one of the best situated surf shops I've ever seen, perched right above the beach with awesome views of the surrounding bays.

The 7 seater Pajero – cruising in style!


Wave check – a generous 2 out of 10! 🙁


We amused ourselves for ages watching this beach dog digging for crabs…

With no surf and plenty of wind we decided to check out another kite boarding spot – Le Vauclin – home to the only kiteboarding shop on the island. Arnou who runs the shop was very helpful and sorted us out with some great gear at competitive prices.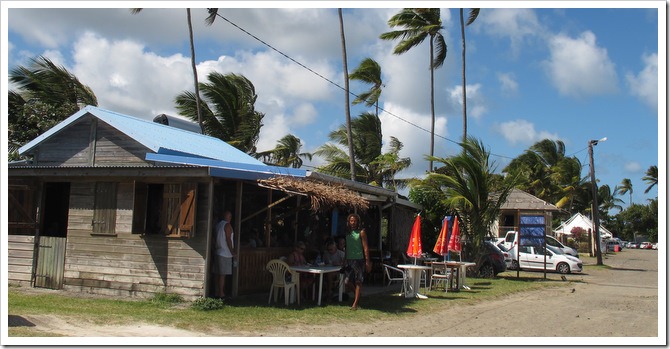 Peer outside one of the many lunch shacks at Le Vauclin.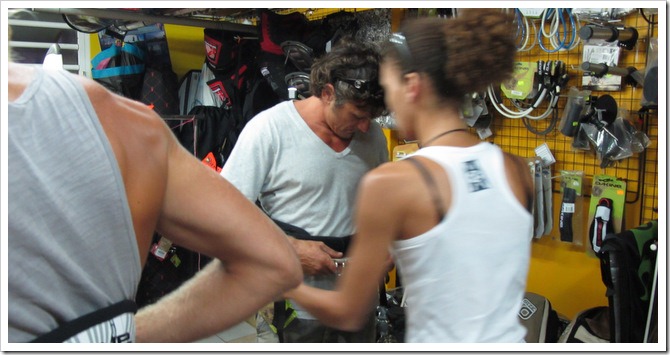 Simon and Andy getting fitted for harnesses.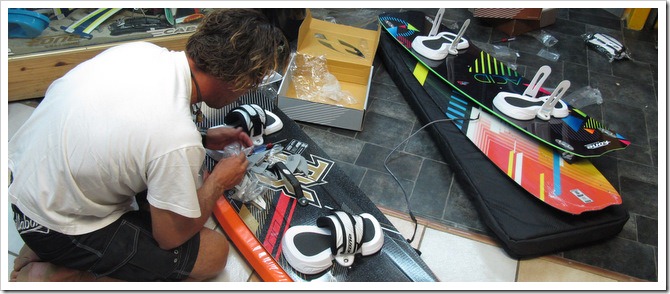 the new boards – Gav's, Simon's and Andy's on the far right

Having completed the kite purchases at 8:00pm we decided to keep the car for an extra day and go in search of our maiden kite session… The next day, there was hardly any wind in the morning as we scoured the island for a good kite spot!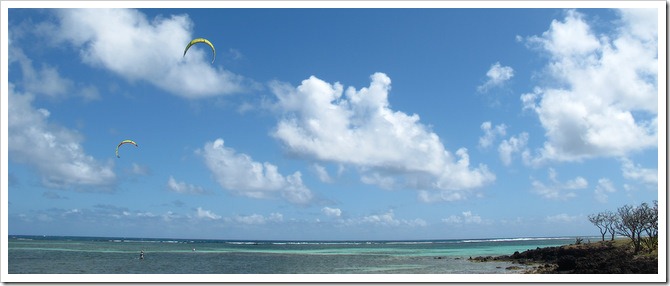 A couple of kites trying in the light conditions at Cap Est.
In the afternoon we eventually ended up back in Le Vauclin and managed to get some kiting done – the camera was nowhere to be seen as we were too busy kiting – so you will just have to take our word for it!
The next day we sailed back to Anse D'Arlet and hung out there for a few days before heading further south back to Le Marin to deal with our generator and a bunch of other maintenance issues that we had put off.
 

Sailing past Club Med entering the large harbour in the south of Martinique
 
 
Servicing the Raymarine ST 6001+ Autopilot – cleaned and changed the brushes.
The Onan dealer in Martinique put us in touch with a mechanic who went one step further then we had and pulled the generator away from the engine that drives the generator – the news was not good – we were hoping it was just a worn bearing, but as it turned out the bearing was fine however the axle upon which it spins was extremely worn and the bearing had been literally rattling on the axis causing damage to the rotor and further wearing away the axle… to make things even more painful, we could get a new rotor/axle assembly sent from France except that the french post and customs were on strike in France and it would take at least three weeks….

The old generator in pieces ready to be pulled out.
I tried one last avenue which was to get the axle machined or welded, but the machine shop didn't even want to know about it… The entire time I was trying to ignore what was staring me in the face – a brand spanking new generator sitting on the floor of the dealership – it looked like it had a been there for a while and I had a gut feeling they would be keen to get rid of it for a good price… but still a good price was roughly twice the cost of my first car!!!
I took a few deep breaths and contemplated the situation – I had already spent over $2000 on maintenance of the old generator, and although strictly speaking not an absolute necessary part of equipment on the boat, life with it is infinitely easier and especially so in the Pacific where we expect to see the grand total of 2 marinas in over 6 months – therefore self sufficiency will be paramount!
The decision was made – I had to buy the new generator… The dealer agreed on taking the old one and took almost $2,500 off the price of the new generator – plus it came with a 2 year warranty – which i will hopefully never have to use!!!!

bye bye old friend!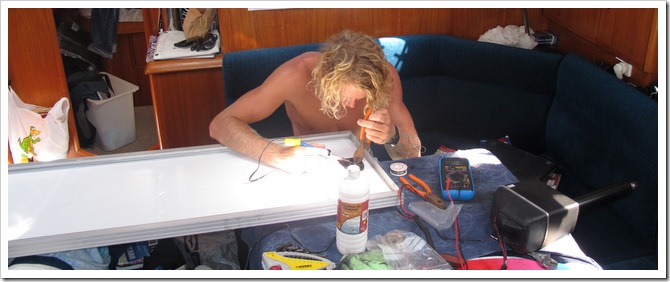 Andy changing  the blocking diodes on one of our solar panels.
We still have a 2-3 BIG jobs to take care of including pulling Squander out of the water and antifouling the hull and keel to ensure we get good speeds across the Pacific and maximise our time to enjoy the destinations.
Incidentally if you're interested in seeing our planned journey across the Pacific, I have setup a google MAP with rough dates and places.
The next series of photos is nearing comedy – it's the Antillean way of working – bits of wood, undersized trolleys, lazy apprentices and a determined mechanic who believes in taking things one step at a time – not to mention three concerned and slightly bemused Aussies!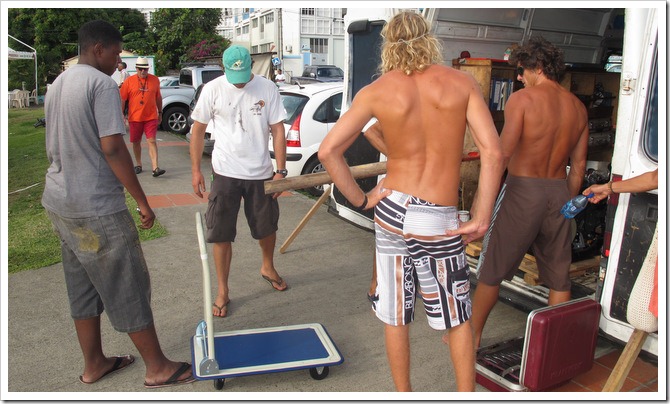 Antoine bought himself a new trolley to transport our 160 kg generator!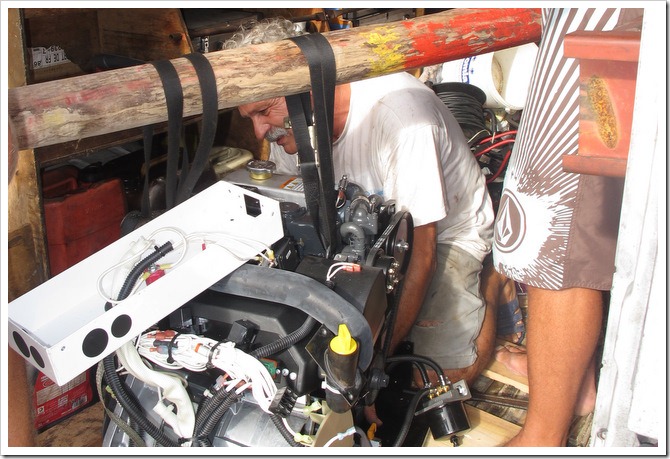 then he stripped the entire thing inside his truck before thinking about how to get it to our boat – no problem we get a bit of wood and my old surfboard straps – easy…
Simon giving Antoine some much needed encouragement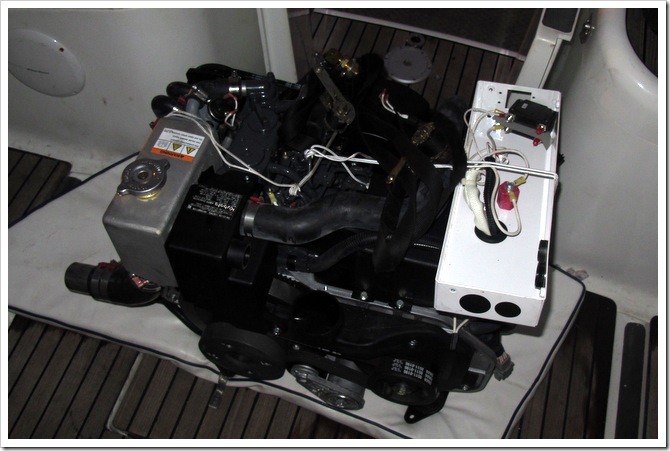 As the sun set, technically speaking the new generator was on Squander, but far from installed!


This is what my life has been reduced to, i sleep with brand spanking new generator parts and like a kid on Christmas day wake up admiring the shiny new toy!

Transformers, robots in disguise?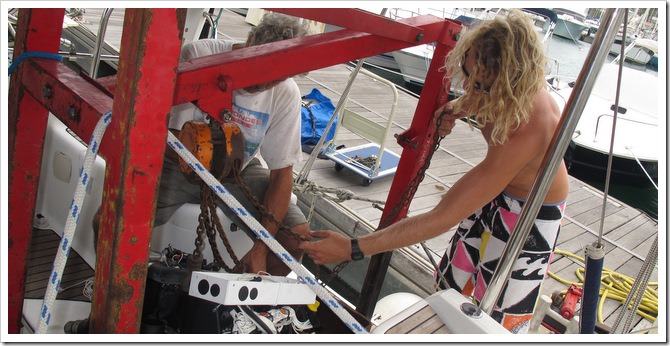 the next morning Antonie turned up much better equipped – he looked tired and admitted he hadn't slept all night trying to figure out how to install the thing… and full credit to him – we somewhat skeptically followed his instructions and built a frame on Squander that allowed us to lower the engine in pieces and reconstruct it inside the well. Our skepticism was unfounded!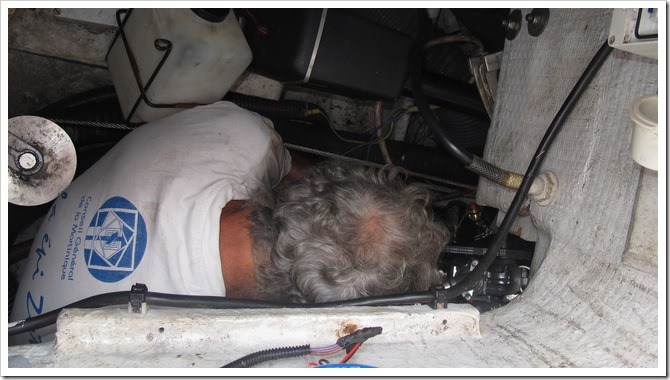 Frank, that's what we now call Antoine, nick named after a German guy we met some 4 months ago whilst working on the dive compressor – he enthusiastically introduced himself "….Hello I aaaam Fraaaaank, I am a University qualified Master in mechanical engineering – I help you fix your engine" since that day all mechanics are Frank. Anyway, back to Frank/Antoine – he had a talent for squeezing into small spaces and spent some 2 hours doing an intensive Yoga routine with screw drivers, hose clamps, fuel lines and water supply lines… nice work Frank!!
Smiles all around – it fits!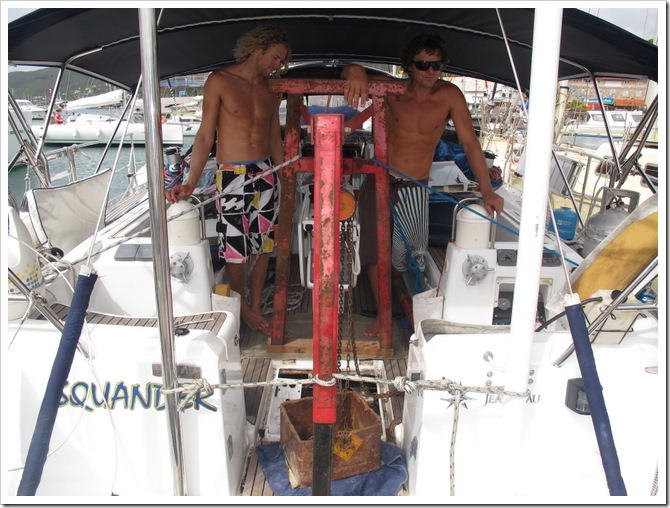 Midway though the day we spotted something on the horizon… Simon couldn't believe his eyes… it was Mojgan, powering along in the MAD dinghy with a huge smile on her face – the MADianos had sailed into town for some moral support.
that evening with the new generator purring away on Squander, the girls invited us over for dinner on MAD.
We had a great evening, with amazing home cooked Persian food. At one point the discussion turned to the oven that needed delivering from Martinique to the small island of Union in the Grenadines some 100 miles south.
Rebecca had exhausted all avenues and was running out of ideas…. the solution seemed to jump out at us – let's put the oven on Squander and sail it down there!!!
The decision was made – the next day we would provision and get outta here….
Canned escargots anyone?? Simon has been doing an awesome job running the ship's stores.

Andy was on delivery detail – running loads of groceries, french wine and beer back to Squander as we shopped up a  storm.


The above photo would probably look more appropriate on our next blog from Colombia….. no it's not what you may think. They are bags of wholegrain bread mix that were kindly donated to us by MAD who had some 70Kgs of bread mix onboard. We're sure it will come in very handy !
And so with the oven packed onto Squander (under the blue tarp) it was time to bid farewell to Peer who was staying behind on MAD whilst we hijacked Mojgan & Rebecca and sailed down to Union island.

Peer looking a little too happy to see the girls go??!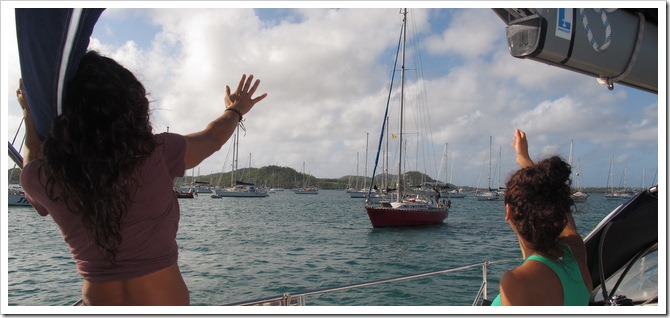 An emotional goodbye as a big chapter draws to a close and a new one begins – Peer has since sailed MAD  north to Antigua, however there are rumours that MAD may be turning around and joining us in the Pacific!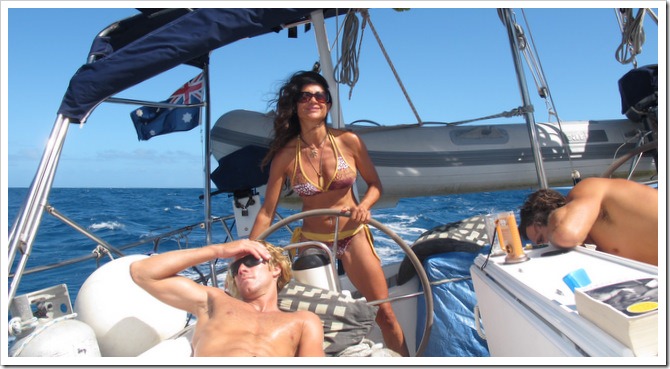 Rebecca taking over Squander, Andy's looking concerned as Simon double checks the charts!


The oven provided a whole new level of comfort!

Simon and Mojgan – when will the reunion happen??!

We pulled in a Barracuda, our first big toothed 'cuda since the Bahamas in May 2010 – we didn't keep this one despite all locals telling us that the Barracuda this far south are safe to eat.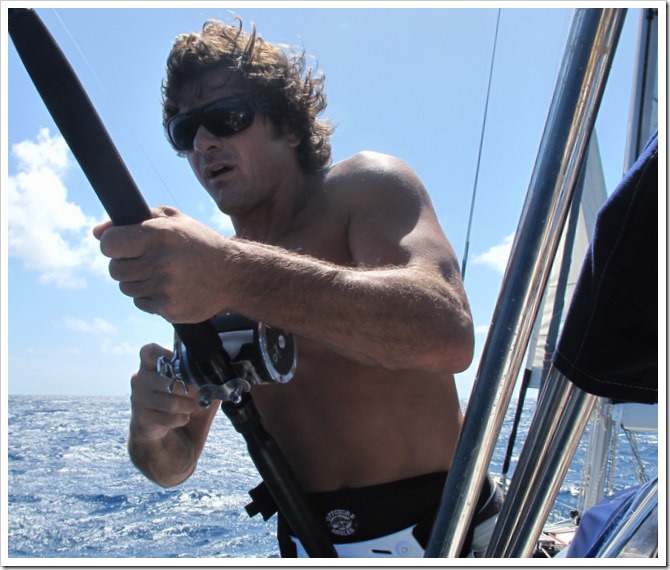 No sooner had we released the Barracuda, that the line went again – this time we liked what we saw – a nice big Tuna!

Been a while since we've caught one of these – they are the best tuna for sashimi that we have tried so far!
 
is it a tuna or is it Mojgan??  
Arriving in Union Island – a definite mini paradise – the little island above is called happy island – a small sunset bar built on a man made reef made from discarded conch shells.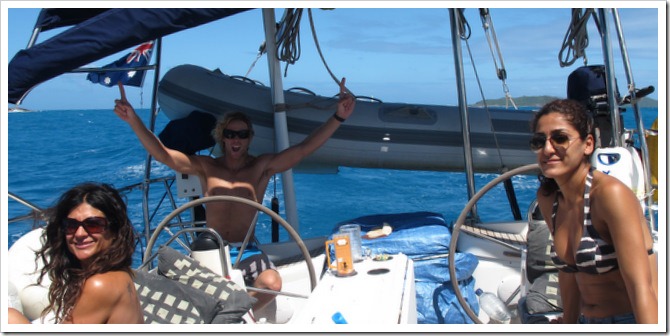 Andy celebrating our arrival!



We managed to tie up to the small wharf here, and as the girls were staying behind at the local hotel they allowed us to stay overnight on the wharf for free!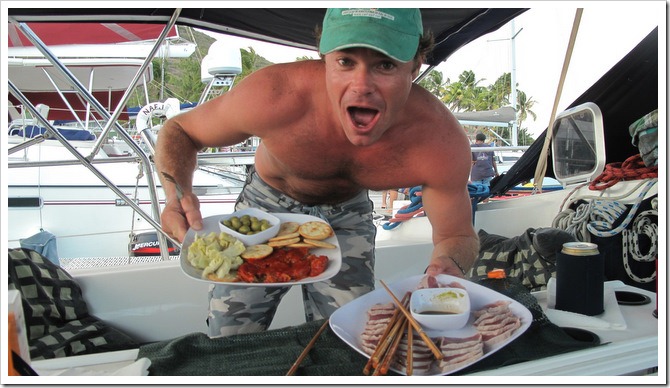 A few quick snacks before hitting the beach – fresh tuna yum! 

Union Island is an explosion of colour and has a great vibe around it – it's a quietly industrious place, with happy people and an amazing setting on the door step of the famous Tobago Cays marine reserve.

This dog had what appeared like dread locks under its tail – a RASTAFARIAN DOG!
The local fleet of fishing/delivery/taxi boats!

There are two small marinas in Union island.
With the tour of the small town complete, it was time to give the new kites a good work out. It took a while to work things out, but once we got up and kiting we couldn't get enough – Andy's got the white Rabbit and Gavin's got the black!

Andy's weapon!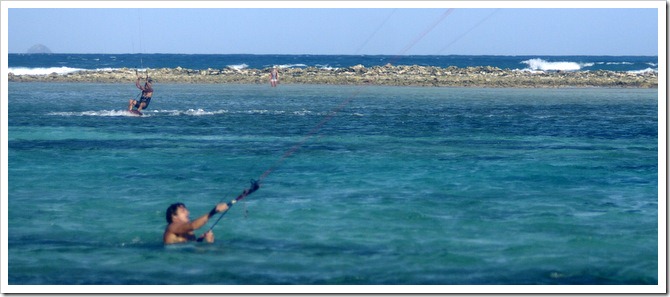 Simon is quickly catching up – seen here mastering his Cabrinha Switch blade!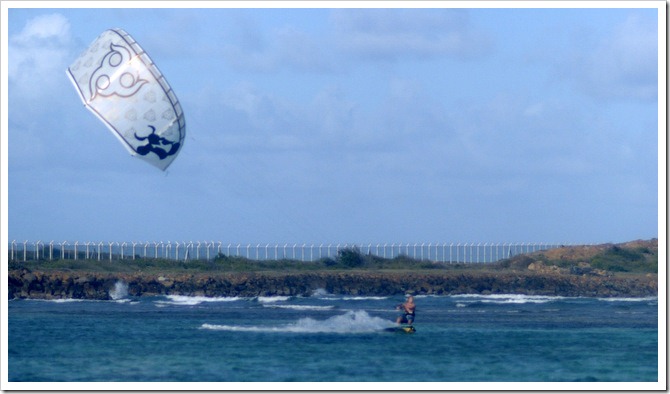 Andy powered up!


Team Squander.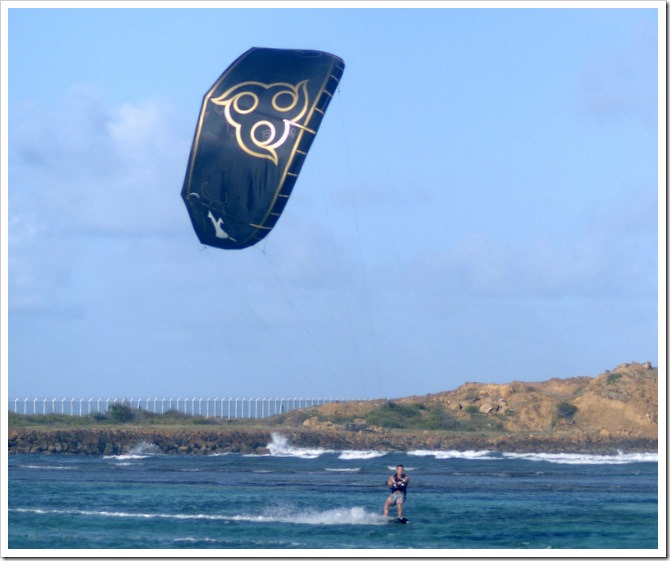 Finally up and going – it took me a while to get the hang of the black Rabbit!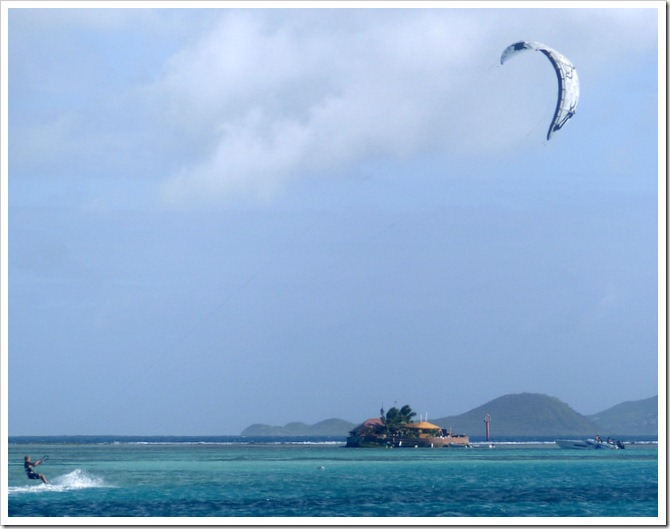 Andy heading towards Happy Island.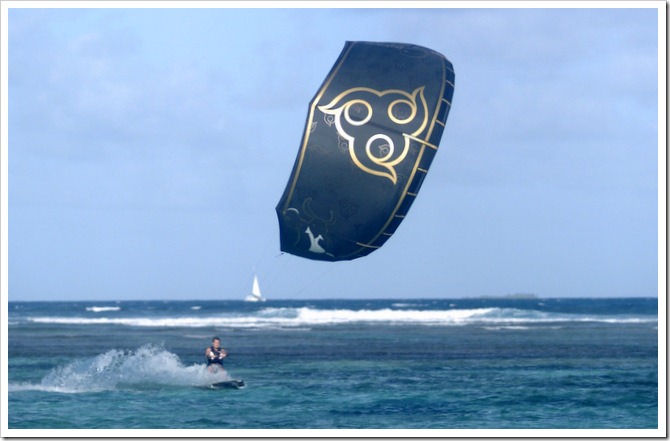 Starting to really enjoy this sport.
 

Gotta look out for the yachts in the anchorage… all part of the challenge!

Whilst onshore Simon was involved with a modeling photo shoot with his Persian princesses! 
With smiles all around after a great day, we went into town to a tasty local restaurant before settling in for a quiet night on the boat.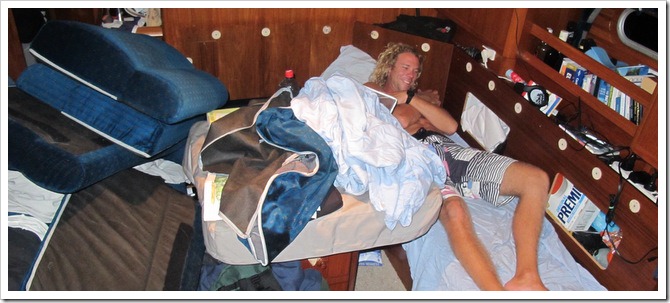 Andy donated his cabin to Rebecca and made himself feel at home in the Saloon – What the????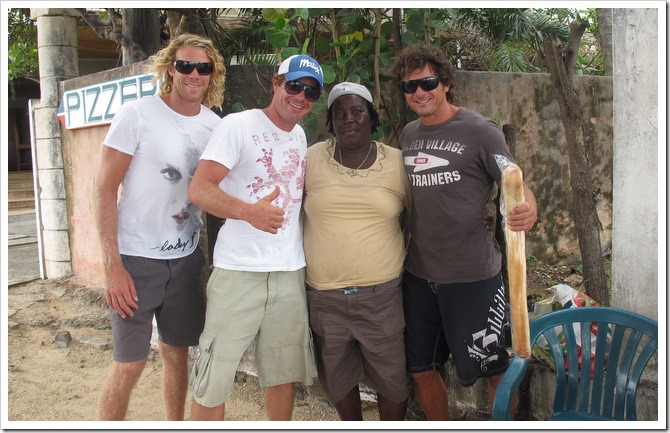 The next day we delivered the oven to Stephanie who will now be able to bake Banana cake to sell in her hut in the marketplace.
With all said and done, it was time to say goodbye to Mojgan and Rebecca -they were staying behind in Union and flying from there to Argentina via Trinidad and Brazil. Until next time girls!!
Whilst we set sail towards Bonaire island, some 2-3 days sail away. Bonaire is the smallest and least spoilt of the three islands known as the ABC islands – Aruba, Bonaire and Curacao – Bonaire has also been voted as one of the top 3 dive spots in the world!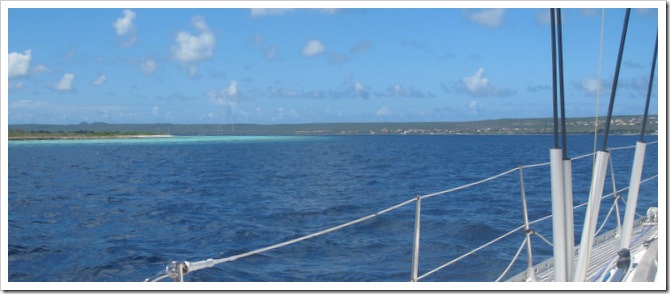 Sailing past Klein Bonaire  a small uninhabited island just west of Bonaire
We arrived in Bonaire in the early hours of the morning of the 17th of February – as we sailed into the bay in Kralendijk, a KLM jet plane circled above us – soon after we sailed past the runway, realizing we were potentially blocking his landing, our newest crew member Caitlin touched down from London via Amsterdam.
Caitlin is an old friend of Andy's from Brisbane who's been working in London for the past few months and needed to thaw out… welcome aboard Caitlin!
As soon as the sun rose, we jumped in the dinghy and went exploring – low and behold the dinghy dock is at the bar??!!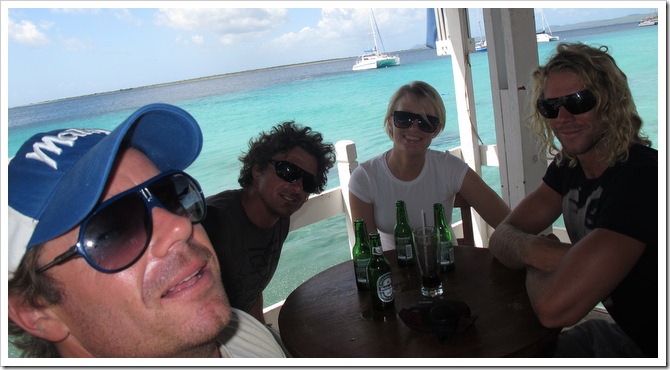 Welcome to Bonaire!

By the afternoon we were ready to jump in the water and check out some of the underwater sights.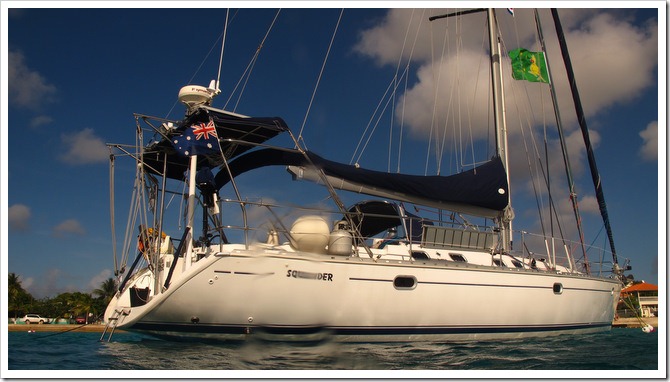 Anchoring is not allowed, however there are many moorings available for a mere $10/night right on the edge of the drop off – so you can literally jump off the back to snorkel or dive.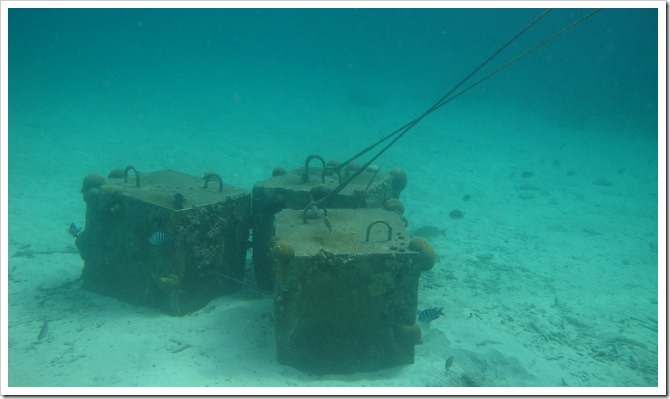 Even the moorings 'anchors' have become mini reefs in their own right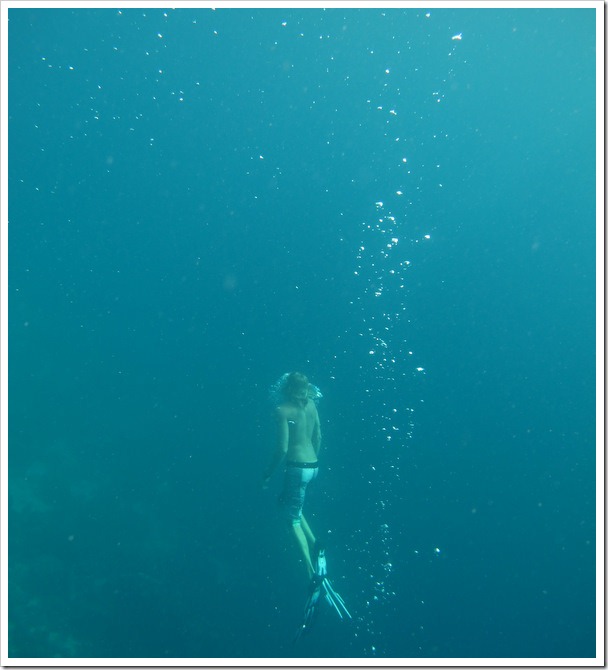 Andy seeing how deep he can go.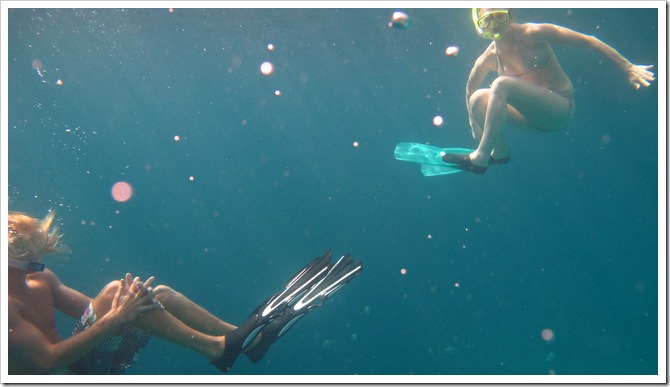 Caitlin and Andy hanging out.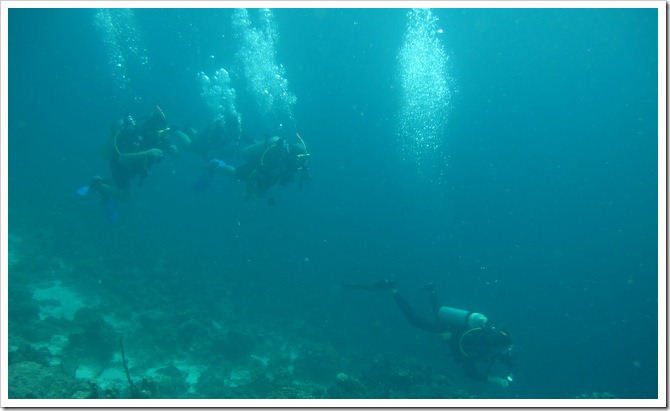 Everywhere you turn someone is diving, this crew were diving under Squander!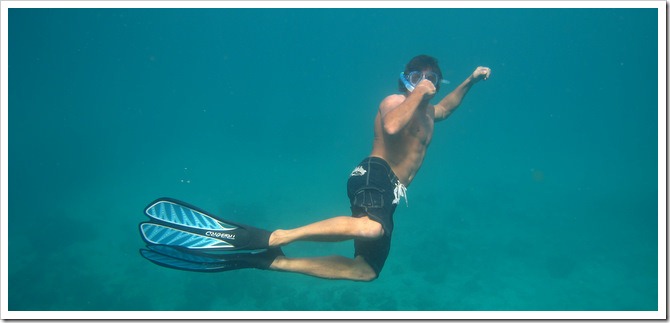 Simon swimming down to freak out the divers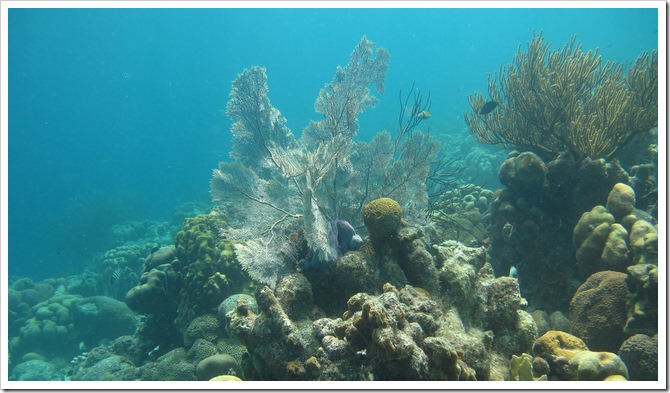 Many of the sights start at around 6-7m so you can still snorkel down to check it out.

Coral munching Parrot fish everywhere!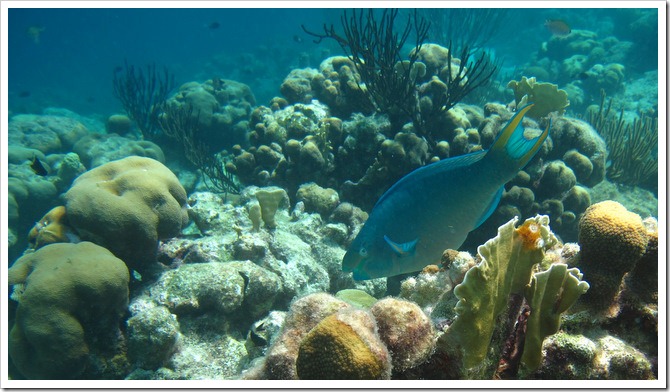 With such a great playground at our disposal, Andy suggested doing an advanced diving course. Simon decided he was happy for us to do it as he was conserving his funds. So Andy and I signed up for the 5 dive training course which included a navigation dive, deep dive, wreck dive, Search and recovery dive as well as a night dive!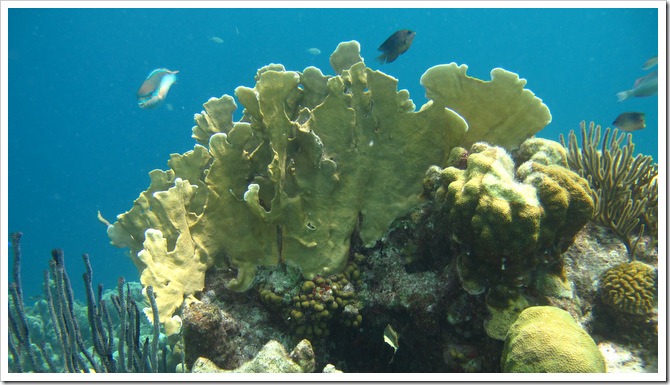 The above shots were taken whilst snorkeling on Klein Bonaire, where we ran into our new friends Steve and Cheryl from Adelaide (sailing with their kids Nick and Chelsea) on a catamaran called "Connect 4" seen below having a snorkeling break onshore.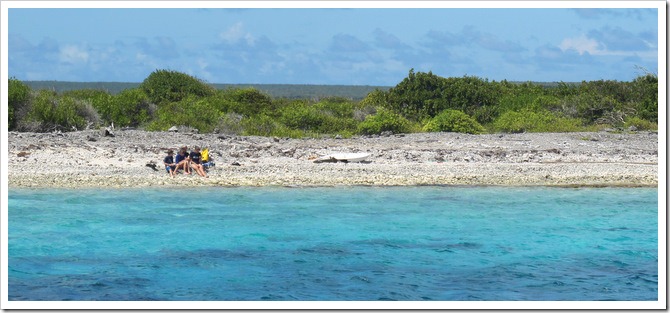 The next day we kicked off the diving course. The next series of shots is Andy & I diving the wreck of the Wilma Hooka at depths of 80-100 feet – awesome fun in crystal clear deep water!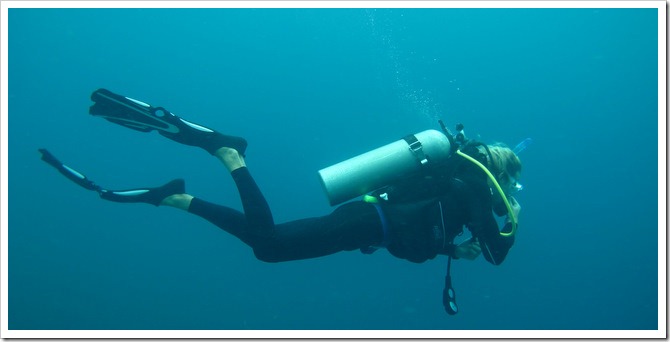 Andy descending and looking for the shipwreck.


The deeper you go the more the colours wash out…


At about 60-70 feet we spot the shipwreck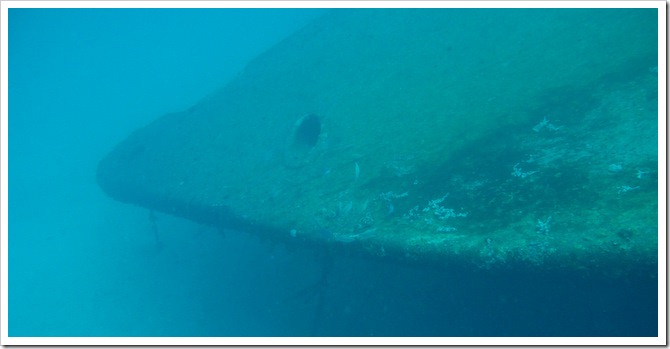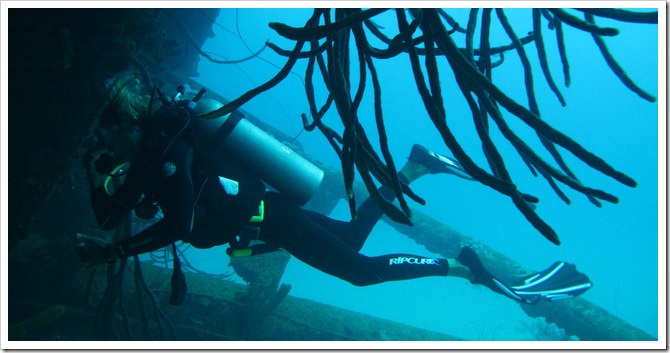 Andy entering the 'hold' whilst I shoot from within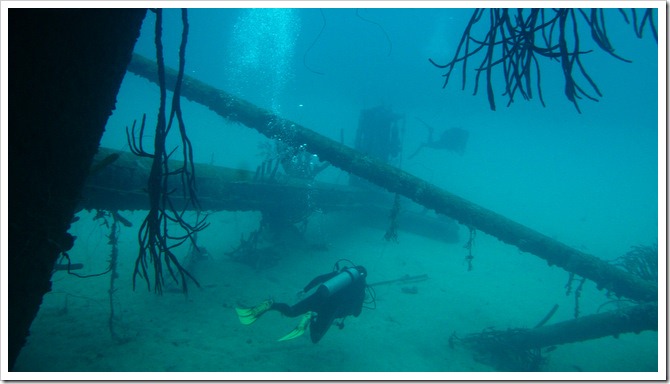 Our instructor Craig from NZ leading us.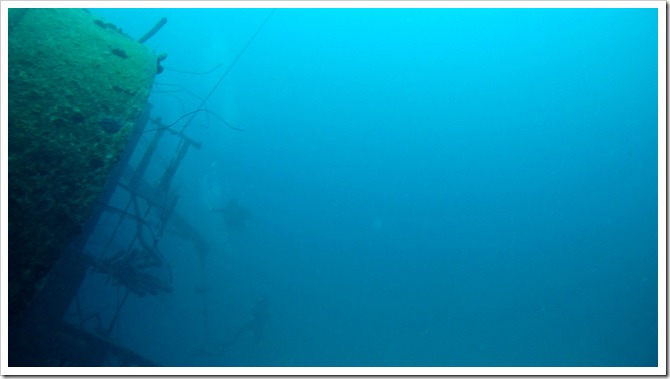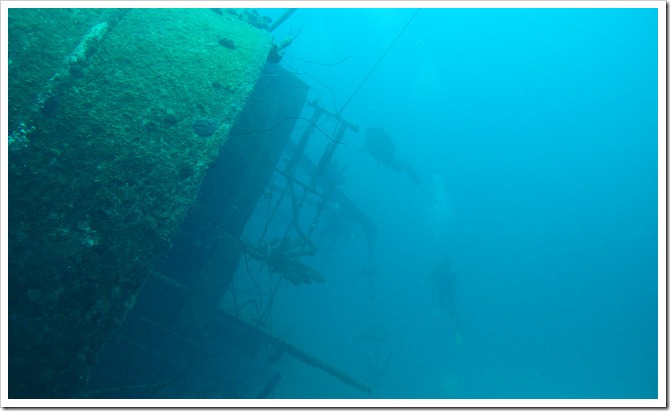 Big Tarpon swimming around seemingly unaware of our presence.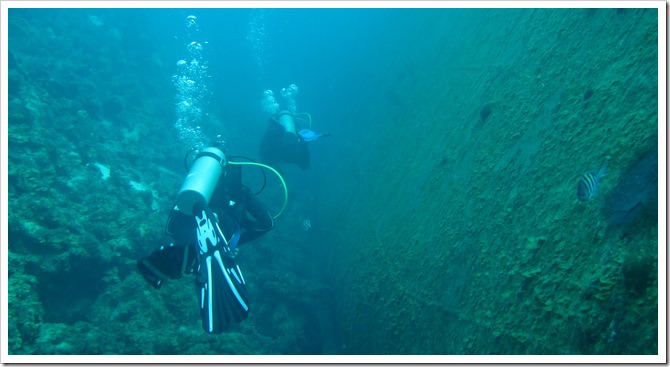 Diving along the upturned Hull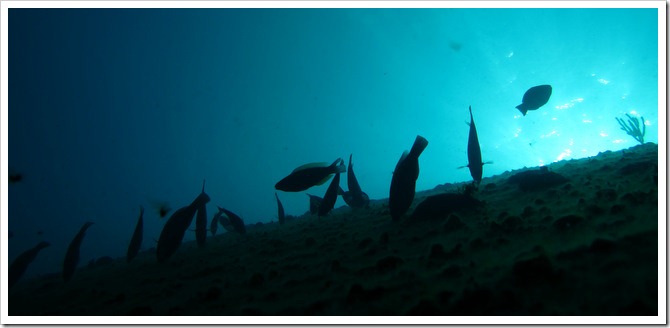 It gets dark all the way down here.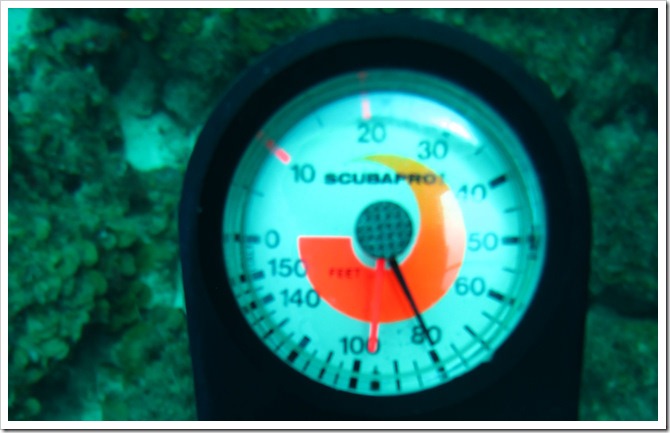 Maxing out the depth gauge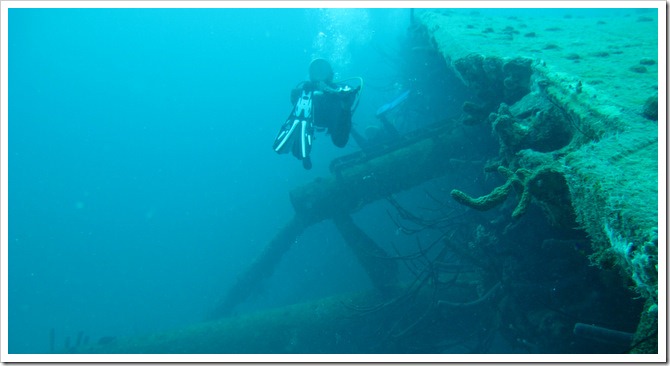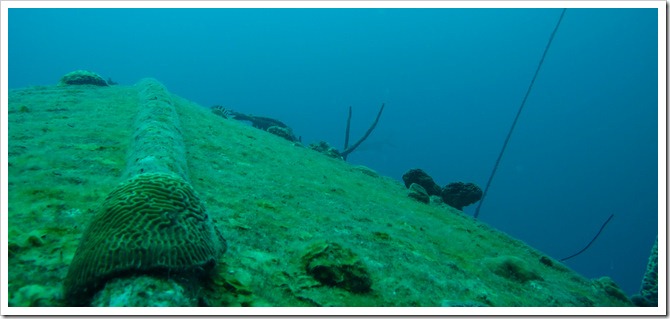 With the wreck dive done, we turned our attention to a night dive – a wicked experience and one i would love to repeat sometime soon. We dived at about 8:00pm which is not ideal as the daytime fish are already in hiding, yet the nocturnal predators aren't 100% active yet, however we got  a great dive in anyway as soon after descending to 60 feet we were joined by 2 huge Tarpon – they were almost as long as we were and used the light of our torches to hunt for small fish. These giant fish would literally swim under us brushing past. We could literally grab them. They would swim in from the darkness and  then follow our torch beams to spot and launch themselves at small fish – 45 minutes of the most fun I have ever had with a torch!!

Craig our dive master


the closest thing to a respectable underwater photo at night… need to practice more
Caitlin had also decided to get her diving ticket. She was doing the 3-4 day PADI open water course which meant we had a boys day out as she completed her dives and exams.
We hired mountain bikes, had a big lunch and setout for  a ride to the eastern side of Bonaire.
 

Squander moored next to Connect4 with a Caribbean swimming pool in the foreground. 

After 2 hours of riding, we arrived on the barren east coast.

We were exhausted and somewhat pissed off as kitebaording was banned here – windsurfers only!
 

A windsurfer's paradise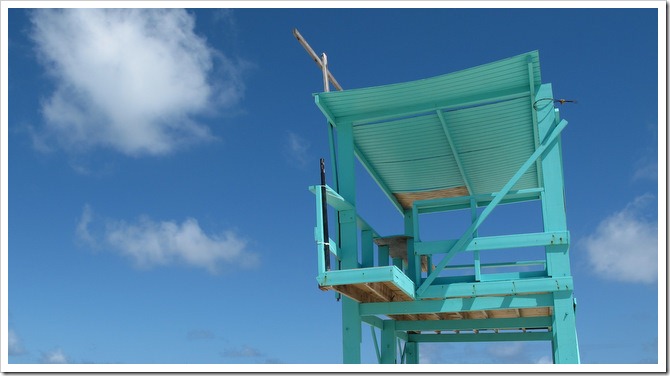 So we decided to replenish the energies with some fresh juices at the Hangout bar.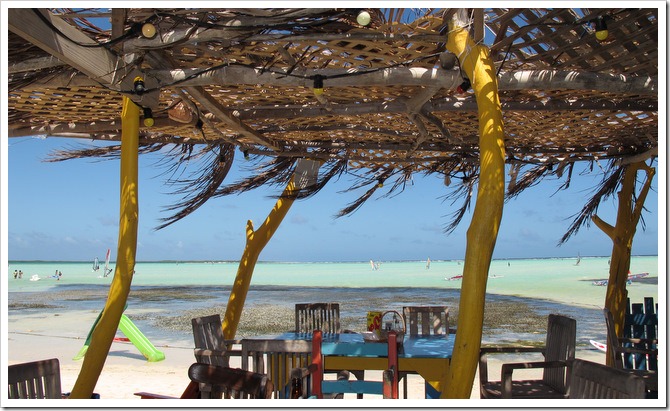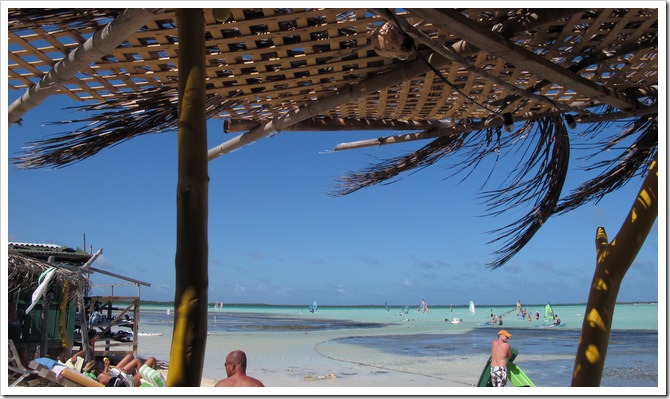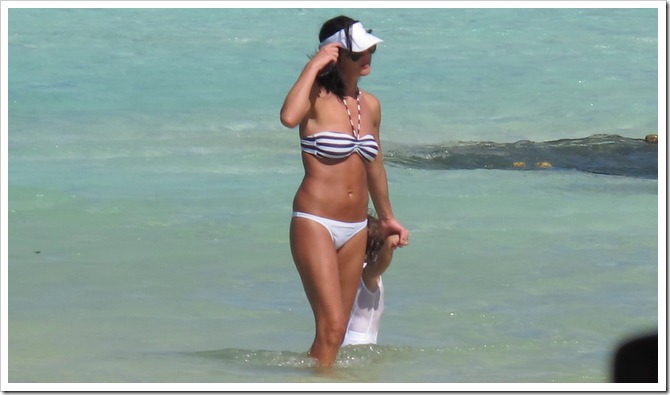 The water was crystal clear.

On the way home, we took a different path home through cactus fields and not much else!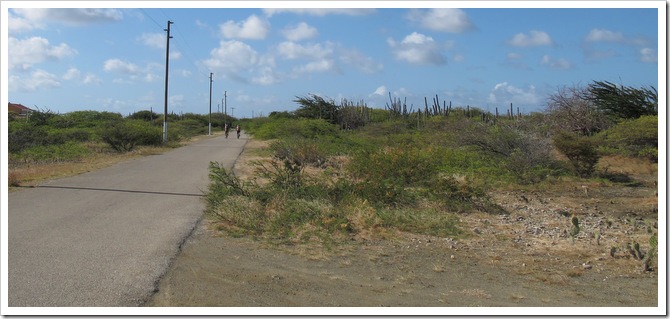 The next day we had to meet up with Craig to do our exams and get officially certified as advanced PADI divers. with all said and done, Craig invited us all to his house for a BBQ – Craig and his wife moved here form the UK some 5 months earlier and plan to spend a few years diving and running a hotel here in Bonaire.
We had a great night and amongst other things walked away with 6 bottles of amazing NZ wine that Craig and a mate of his had made for them by a vineyard in NZ – we have committed to document at least one bottle's journey from Bonaire back to Australia, specifically crossing the Panama Canal, crossing the equator and crossing the longitude of NZ!
So after a great 9 days in Bonaire we yet again set sail, spending some 3 days at sea sailing to Santa Marta in Colombia.  We've since sailed to Cartagena and will stay here for a week or so.